Action Alert - 4/24/20
This alert was distributed via email to subscribers of the GFB Legislative Team's Action Alert on April 24, 2020.

Subscribe to GFB's Action Alerts
---
Agriculture + COVID Week of April 20
As we navigate these uncertain and unprecedented times, Georgia Farm Bureau (GFB) is here to make sure that our farmers are prepared to face the challenges ahead. To assist in this effort, we have created a webpage that houses an abundance of resources that may be helpful to you during this time.. As always, please do not hesitate to reach out to anyone in the Public Policy Department if we can be of assistance to you during this time.
---
Federal Updates
---
USDA ANNOUNCES $19 BILLION CORONAVIRUS FOOD ASSISTANCE PROGRAM
On Friday, April 17, Secretary Sonny Perdue and the United States Department of Agriculture (USDA) announced the Coronavirus Food Assistance Program to assist farmers, ranchers, and consumers impacted by the COVID-19 pandemic.
The Coronavirus Food Assistance Program (CFAP) will use the funding and authorities provided in the Coronavirus Aid, Relief, and Economic Security Act (CARES), the Families First Coronavirus Response Act (FFCRA), and other USDA existing authorities. The CFAP is made of two components: direct payments to farmers and ranchers totaling $16 billion, and $3 billion in food product purchases for distribution.
The direct payments will financially assist producers with additional adjustment and marketing costs resulting from lost demand due to COVID-19. The payments will be coupled to actual production and based on actual losses agricultural producers experienced in response to price declines and supply chain disruptions, i.e., sales of commodities impacted by COVID-19. To qualify for a payment, a commodity must have declined in price by at least 5% between January and April.
Of the $16 billion provided for direct payments to producers, it's been reported that $9.6 billion is directed toward the livestock industry, e.g., cattle, dairy and hogs; $3.9 billion is for producers of row crops, such as cotton; $2.1 billion is for specialty crop producers; and $500 million is for other crops. USDA has yet to confirm this distribution of funding. While these "buckets" of money are current estimates of what may be needed for each industry, if one "bucket" needs more or less, USDA will have the discretion to shift funds where most appropriate. A breakdown of direct payments by commodity can be seen in the graph below.
Further details regarding eligibility, rates, and other implementation will be released at a later date. For a deeper dive into the CFAP, you can view AFBF's Market Intel report by clicking here. USDA's full press release can be read here.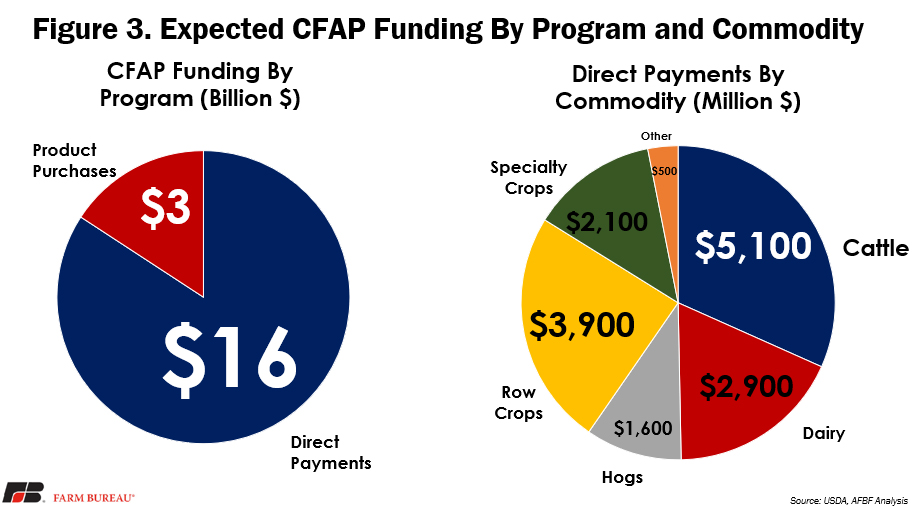 ---
SENATE VOTES TO INCREASE LOAN OPTIONS FOR FARMERS
On Tuesday, the U.S. Senate voted to approve H.R. 266 (116), allowing for an additional $484 billion in coronavirus aid. Included in the package is an additional $310 billion towards the Paycheck Protection Program (PPP).
The bipartisan agreement would also allow agricultural operations with fewer than 500 employees to qualify for the Small Business Administration's (SBA) Economic Injury Disaster Loan (EIDL), which offers up to $10,000 in advance to businesses that are losing revenue amid the coronavirus pandemic. Lawmakers and agricultural organizations, including the American Farm Bureau Federation (AFBF) and Georgia Farm Bureau (GFB), had previously asked SBA to make corrections to the bill to ensure that farmers and ranchers were eligible for the program.
"It is encouraging news that we are making another tool available to U.S. agricultural producers through the EIDL program. Farmers and ranchers have suffered economic injury and need every bit of help they can get," said House Agriculture Chairman Mike Conaway (R-TX). "This new eligibility, while urgently critical, is no substitute for a comprehensive, fully funded relief program through the Department of Agriculture."
Agriculture and related industries are set to receive about $4.4 billion of additional funds in total, according to data from the SBA. The House is expected to take a vote on Thursday, April 23. To keep farmers up to date on the PPP and other ag-related COVID-19 concerns, the United States Department of Agriculture has published a FAQ website that you can access by clicking here.
NOTE: Farmers and ranchers should continue consulting with their accountant, tax preparer and/or financial advisor about the PPP and EIDL application for their particular situation because this additional funding will be available on a first-come-first-serve basis and will go quickly.
---
TRUMP SIGNS EXECUTIVE ORDER SUSPENDING ENTRY OF IMMIGRANTS INTO THE UNITED STATES
On Wednesday, President Trump signed an executive order suspending the entry of immigrants into the United States in an effort to counteract the recent growing unemployment rates resulting from the COVID-19 pandemic. Many in the ag sector worried that this suspension would negatively impact the industry and its need for a reliable labor source, much of which comes from the immigrant population in the form of temporary visa and H-2A workers.
The following excerpt from the Executive Order outlines immigrants that are exempt from the ban.
The suspension and limitation on entry pursuant to section 1 of this proclamation shall not apply to:
(i) any lawful permanent resident of the United States;
(ii) any alien seeking to enter the United States on an immigrant visa as a physician, nurse, or other healthcare professional; to perform medical research or other research intended to combat the spread of COVID-19; or to perform work essential to combating, recovering from, or otherwise alleviating the effects of the COVID-19 outbreak, as determined by the Secretary of State, the Secretary of Homeland Security, or their respective designees; and any spouse and unmarried children under 21 years old of any such alien who are accompanying or following to join the alien;
(iii) any alien applying for a visa to enter the United States pursuant to the EB-5 Immigrant Investor Program;
(iv) any alien who is the spouse of a United States citizen;
(v) any alien who is under 21 years old and is the child of a United States citizen, or who is a prospective adoptee seeking to enter the United States pursuant to the IR-4 or IH-4 visa classifications;
(vi) any alien whose entry would further important United States law enforcement objectives, as determined by the Secretary of State, the Secretary of Homeland Security, or their respective designees, based on a recommendation of the Attorney General or his designee;
(vii) any member of the United States Armed Forces and any spouse and children of a member of the United States Armed Forces;
(viii) any alien seeking to enter the United States pursuant to a Special Immigrant Visa in the SI or SQ classification, subject to such conditions as the Secretary of State may impose, and any spouse and children of any such individual; or
(ix) any alien whose entry would be in the national interest, as determined by the Secretary of State, the Secretary of Homeland Security, or their respective designees.
In addition to the order, United States Department of Agriculture Secretary Sonny Perdue tweeted that agricultural workers are exempt.
---
AFBF, OTHER ORGANIZATIONS WRITE TO TRUMP REGARDING MEAT PROCESSING FACILITY CLOSURES
The American Farm Bureau Federation (AFBF) and several other organizations concerned about possible disruptions in the food supply chain have jointly sent a letter to President Trump emphasizing the critical nature of meat processing facilities. The letter follows increasing reports of facilities that have either been temporarily closed or that have suspended operations due to the coronavirus emergency. You can read a copy of the letter here.
---
State Updates
---
FARM RECOVERY BLOCK GRANT DEADLINE NEXT THURSDAY, APRIL 30
The deadline for the Farm Recovery Block Grant program is next Thursday, April 30.
"We recognize that normal business operations across the state have been disrupted or altered over the past few weeks," said Commissioner Black. "We want every eligible producer to have an opportunity to complete their application with full confidence, while continuing the critical work of providing food and fiber during these unsettling times."
Georgia farmers and forest landowners in 95 eligible counties who suffered losses to beef, dairy, fruit and vegetable, pecan, poultry, timber, and uninsured infrastructure are eligible to apply for the recovery program at farmrecovery.com.
---
LAWMAKERS CONSIDER A JUNE 11 DATE TO RESUME LEGISLATIVE SESSION
Georgia lawmakers are considering heading back to the Capitol on June 11 to resume the 2020 legislative session. While a May 14 return date has also been floated, it is looking like the June date will be more likely, which will bring lawmakers back to the Capitol only two days after the state's postponed primary election on June 9. The proposed June 11 date has not yet been confirmed and will have to be approved by both Lieutenant Governor Geoff Duncan and House Speaker David Ralston, who earlier this week appointed a committee to plan for the legislature's return.
The Georgia General Assembly has been suspended since March 13, or day 29 of the typically 40-day session. While most years the legislature meets for the entirety of the 40 days, their only constitutional requirement is to pass the state's amended budget, which must be done by the end of the fiscal year on June 30. In addition to the 2021 budget, hundreds of additional bills, including House Bill 545, the Right to Farm Bill, are still pending.
---
Additional Resources
---
GEORGIA MILK PRODUCERS INTRODUCES FARMER TO FARMER SUPPORT PROGRAM
Farmers across the Southeast are experiencing uncertain times like never before. All aspects of agriculture have been hit by market losses due to COVID-19, but dairy has reached a level of uncertainty that many have never experienced.
As we navigate through these next few months, dairy producers across the Southeast have come together to introduce the "Farmer to Farmer Support Program." If you find that you need support or would like to talk to a fellow farmer or industry friend, they have several volunteers that are willing and able to help. Georgia Milk Producers has also put together a packet on the program that you can access by clicking here.
For more information on the program, please reach out to Farrah Newberry at gamilkproducers@gmail.com.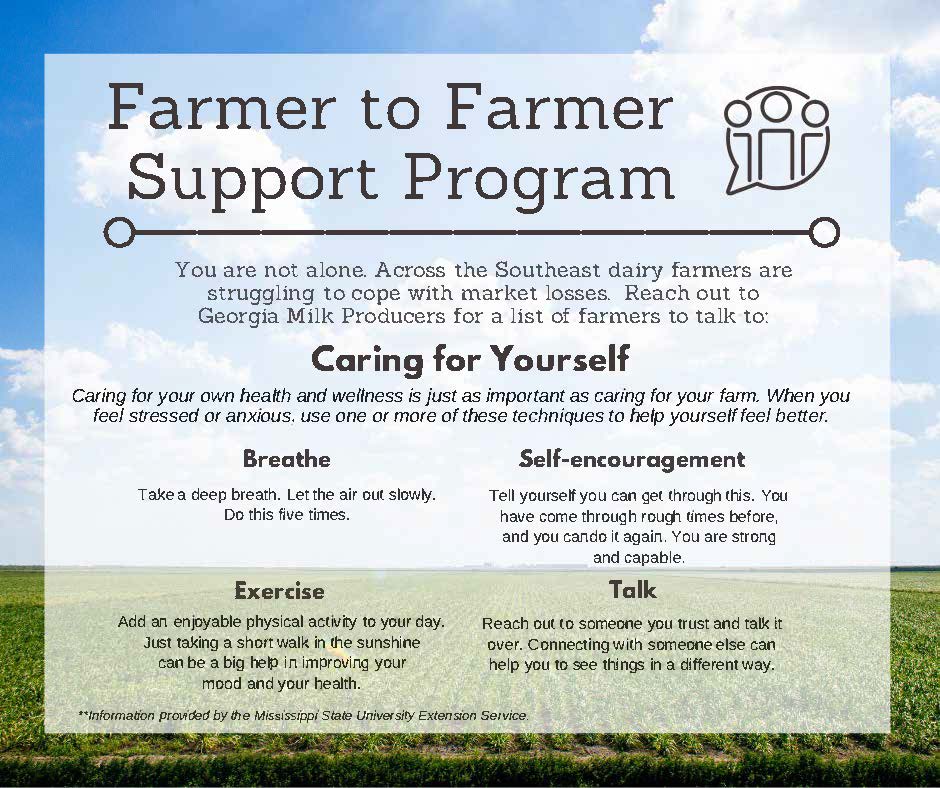 ---
AMERICAN FARMLAND TRUST ESTABLISHES FARMER RELIEF FUND
To help directly support farmers impacted by the current crisis, American Farmland Trust (AFT) is launching a new Farmer Relief Fund. 100% of donations to the fund will go directly to farmers.
AFT's Farmer Relief Fund will award farmers with cash grants of up to $1,000 each to help them weather the current storm of market disruptions caused by the coronavirus crisis.

Initially, eligible applicants include any small and mid-size direct-market producers. These are defined as producers with annual gross revenue of between $10,000 and $1 million from sales at farmers markets and/or direct sales to restaurants, caterers, schools, stores, or makers who use farm products as inputs.
The application (linked here in both English and Spanish) is simple and easy to complete but includes sufficient detail to ensure AFT is awarding producers that have the greatest needs. Applicants will be asked to estimate their financial loss.
AFT envisions an initial application round extending until April 23, with grants beginning to be made by May 1.
For more information on the fund and to apply, visit AFT's website by clicking here.
---
TAKE THE 2020 CENSUS TODAY
If you have not already, please take a moment to take the 2020 Census. This year is the first year that you can take the census online by clicking here. To see how your community is doing in reaching a "complete count" of its citizens, click here.
The census website is safe, secure and confidential. The census provides critical data that lawmakers, business owners, teachers, and many others use to provide daily services, products, and support for you and your community. The results of the census also determine the number of seats each state will have in the U.S. House of Representatives, and they are used to draw congressional and state legislative districts.
In addition to shaping legislative districts, the census dictates how key funds are distributed. The federal government distributes over $675 billion dollars to states based on the population for healthcare, food, education, and roads. Key programs using census data to drive funding include:
Federal Medical Assistance Programs (FMAP)
The Supplemental Nutrition Assistance Program
Medicare Part B
Highway Planning and Construction
The Federal Pell Grant Program
Cooperative Extension Service
Georgia's rural assistance programs received more than $1.4 billion annually in the federal FY 2016.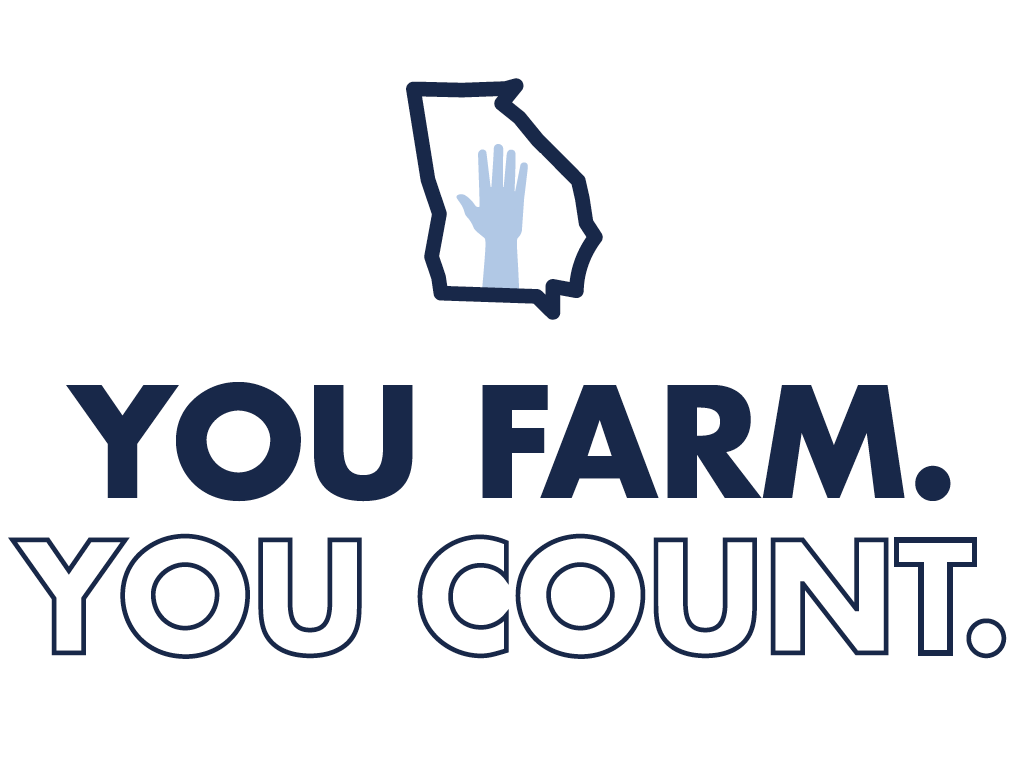 ---
FIVE QUALIFY FOR GEORGIA SENATE DISTRICT 4 SPECIAL ELECTION
Five have qualified for the special election that will be held in Georgia Senate District 4 to fill the seat left vacant by Senator Jack Hill's untimely passing earlier this month. The election will be held in conjunction with the state's primary elections, which have been moved to Tuesday, June 9.
Those who qualified for the seat include Middle Judicial Circuit Chief Judge Kathy S. Palmer of Swainsboro; Dr. Scott Bohlke, a practicing physician from Brooklet; Billy Hickman, a Certified Public Accountant and partner in the Statesboro firm Dabbs, Hickman, Hill and Cannon; Tattnall County Gulf War Army veteran Neil Singleton; and Stephen Jared Sammons of Emanuel County, who is on track to graduate from law school this year. Palmer, Hickman, Singleton and Bohlke are running as Republicans while Sammons is running as an independent.
The election will be held on June 9 on the General Primary with a runoff on August 11 if needed. The Senate Seat will again appear on the Nov. 3 ballot for the regular two-year term as the State Senator.
The 4th Senate District includes Bulloch, Candler, Effingham, Evans, and portions of Emanuel and Tattnall counties. To check your voter registration status or to register to vote, please click here.