Action Alert - 4/16/2020
This alert was distributed via email to subscribers of the GFB Legislative Team's Action Alert on April 16, 2020.

Subscribe to GFB's Action Alerts
---
Federal Updates
---
FARMERS CAN TEMPORARILY HIRE H2A WORKERS FROM U.S. POOL
On Wednesday, April 15, the U.S. Department of Homeland Security, with the support of the U.S. Department of Agriculture, announced a temporary final rule to change certain H-2A requirements to allow for farmers to employ guest workers within the United States. This rule will help employers avoid disruptions on the farm due to an inadequate supply of workers, protect the nation's food supply chain, and lessen impacts from the COVID-19 public health emergency. The rule will also allow those in the country under H-2A visas to stay beyond the three-year maximum period. These changes, however, are only temporary.
A press release from the Department of Homeland Security detailing the amended requirements can be read here.
---
DOT EXTENDS NATIONAL EMERGENCY DECLARATION FOR COMMERCIAL VEHICLES
The U.S. Department of Transportation's Federal Motor Carrier Safety Administration (FMCSA) has extended their expanded national emergency declaration to provide hours-of-service regulatory relief to commercial vehicle drivers.
The emergency declaration allows motor carriers and drivers providing direct assistance in support of relief efforts related to the COVID-19 outbreaks emergency relief from certain parts the Federal Motor Carrier Safety Regulations (FMCSR). Direct assistance includes transportation and other relief services provided by a motor carrier or its driver for the immediate restoration of essential services (such as medical care) or essential supplies (such as food and fuel) related to COVID-19 outbreaks during the emergency.
The previous emergency declaration was set to end on April 12th. The declaration is now extended through May 15, 2020. You can view the expanded emergency declaration by clicking here.
---
USDA'S RISK MANAGEMENT AGENCY ANNOUNCES FLEXIBILITY TO HELP DAIRY PRODUCERS
USDA's Risk Management Agency (RMA) has announced new provisions to address milk dumping and provide other flexibilities to help producers amid the coronavirus pandemic. RMA is ensuring that milk producers are not inappropriately penalized if their milk must be dumped because of recent market disruptions caused by the pandemic. In addition, RMA is extending inspection deadlines, waiving inspection requirements and authorizing more crop insurance transactions over the phone and electronically to help producers during the crisis.
Details on all of these changes can be found in the Manager's Bulletins on the RMA website by clicking here.
---
INTERIM GUIDANCE FOR IMPLEMENTING SAFETY MEASURES FOR CRITICAL INFRASTRUCTURE WORKERS WHO MAY HAVE HAD EXPOSURE TO A PERSON WITH SUSPECTED OR CONFIRMED COVID-19
The Centers for Disease Control and Prevention (CDC) and the Cybersecurity and Infrastructure Security Agency (CISA) have released interim guidance regarding how to implement safety measures for those critical infrastructure workers, including those in agriculture and food services, who may have had exposure to a person with suspected or confirmed COVID-19.
The interim guidance can be found on the CDC's website here. A list of "do's and don't's" regarding exposure can be found here.
---
LOEFFLER ASKS ADMINISTRATION TO PROVIDE SWIFT SUPPORT TO GEORGIA'S SPECIALTY CROP FARMERS HURT BY COVID-19
This week, Senator Kelly Loeffler sent a letter to United States Department of Agriculture (USDA) Secretary Sonny Perdue asking for support of Georgia's specialty crop producers impacted by COVID-19. Many Georgia farmers sell their produce to schools, restaurant, and hotels, most of which remain closed during this time. Loeffler's letter, which can be read here, asked that USDA address these losses in an any upcoming aid program. She also asked that the administration look into ways for Georgia's farmers to be able to sell and distribute their products both domestically and abroad.
Georgia vegetables have a combined farm gate value of $1.13 billion and contribute $2.6 billion to Georgia's economy annually. Additionally, the state's fruits and nuts have an estimated farm gate value of $614 million and contribute $1.9 million to the local economy. Georgia ranks top five in the country in blueberries, pecans, peaches, bell peppers, cucumbers, and watermelon, among others.
---
State Updates
---
BEST PRACTICES TO PREVENT SPREAD OF COVID-19 AMONG MIGRANT WORKERS
The Georgia Department of Agriculture has released a best practices document intended to educate those on farms on how to best prevent the spread of COVID-19 among migrant workers. The document, which includes a detailed list of best practices, a migrant worker health assessment log, and educational workplace posters, can be found in both English and Spanish on our COVID-19 resources page.
---
FARM RECOVERY BLOCK GRANT DEADLINE EXTENDED
Commissioner Gary Black recently announced that the deadline for the Farm Recovery Block Grant program has been extended to April 30.
"We recognize that normal business operations across the state have been disrupted or altered over the past few weeks," said Commissioner Black. "We want every eligible producer to have an opportunity to complete their application with full confidence, while continuing the critical work of providing food and fiber during these unsettling times."
Georgia farmers and forest landowners in 95 eligible counties who suffered losses to beef, dairy, fruit and vegetable, pecan, poultry, timber, and uninsured infrastructure are eligible to apply for the recovery program at farmrecovery.com.
---
Additional Resources
---
GEORGIA MILK PRODUCERS INTRODUCES FARMER TO FARMER SUPPORT PROGRAM
Farmers across the Southeast are experiencing uncertain times like never before. All aspects of agriculture have been hit by market losses due to COVID-19, but dairy has reached a level of uncertainty that many have never experienced.
As we navigate through these next few months, dairy producers across the Southeast have come together to introduce the "Farmer to Farmer Support Program." If you find that you need support or would like to talk to a fellow farmer or industry friend, they have several volunteers that are willing and able to help. Georgia Milk Producers has also put together a packet on the program that you can access by clicking here.
For more information on the program, please reach out to Farrah Newberry at gamilkproducers@gmail.com.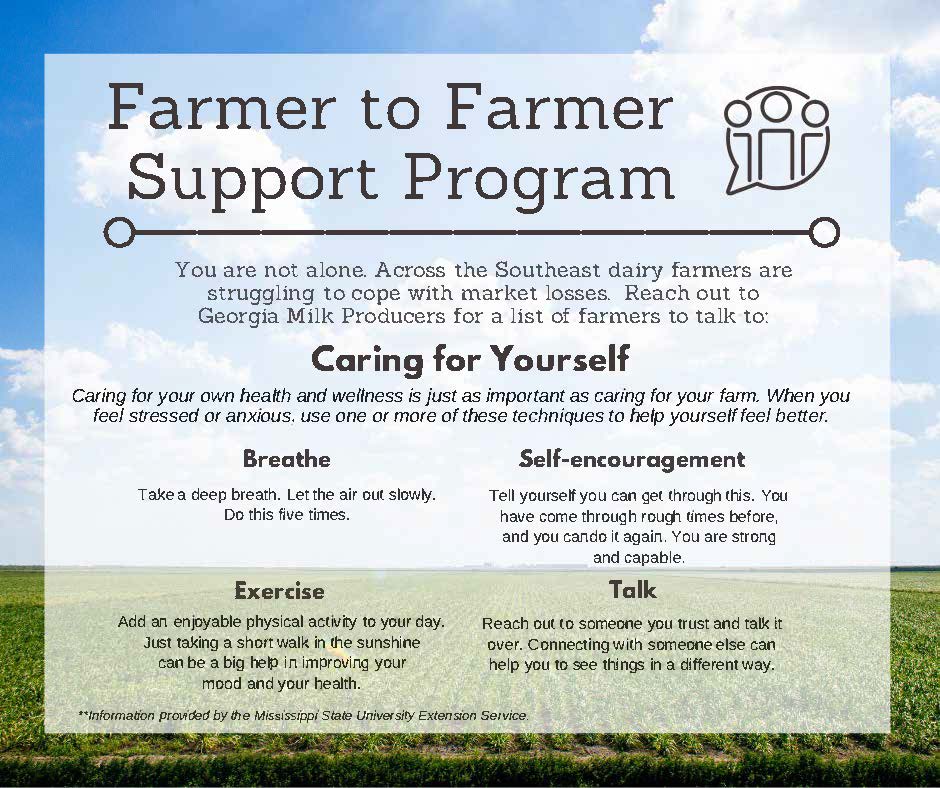 ---
AMERICAN FARMLAND TRUST ESTABLISHES FARMER RELIEF FUND
To help directly support farmers impacted by the current crisis, American Farmland Trust (AFT) is launching a new Farmer Relief Fund. 100% of donations to the fund will go directly to farmers.
AFT's Farmer Relief Fund will award farmers with cash grants of up to $1,000 each to help them weather the current storm of market disruptions caused by the coronavirus crisis.

Initially, eligible applicants include any small and mid-size direct-market producers. These are defined as producers with annual gross revenue of between $10,000 and $1 million from sales at farmers markets and/or direct sales to restaurants, caterers, schools, stores, or makers who use farm products as inputs.
The application (linked here in both English and Spanish) is simple and easy to complete but includes sufficient detail to ensure AFT is awarding producers that have the greatest needs. Applicants will be asked to estimate their financial loss.
AFT envisions an initial application round extending until April 23, with grants beginning to be made by May 1.
For more information on the fund and to apply, visit AFT's website by clicking here.
---
TAKE THE 2020 CENSUS TODAY
If you have not already, please take a moment to take the 2020 Census. This year is the first year that you can take the census online by clicking here. To see how your community is doing in reaching a "complete count" of its citizens, click here.
The census website is safe, secure and confidential. The census provides critical data that lawmakers, business owners, teachers, and many others use to provide daily services, products, and support for you and your community. The results of the census also determine the number of seats each state will have in the U.S. House of Representatives, and they are used to draw congressional and state legislative districts.
In addition to shaping legislative districts, the census dictates how key funds are distributed. The federal government distributes over $675 billion dollars to states based on the population for healthcare, food, education, and roads. Key programs using census data to drive funding include:
Federal Medical Assistance Programs (FMAP)
The Supplemental Nutrition Assistance Program
Medicare Part B
Highway Planning and Construction
The Federal Pell Grant Program
Cooperative Extension Service
Georgia's rural assistance programs received more than $1.4 billion annually in the federal FY 2016.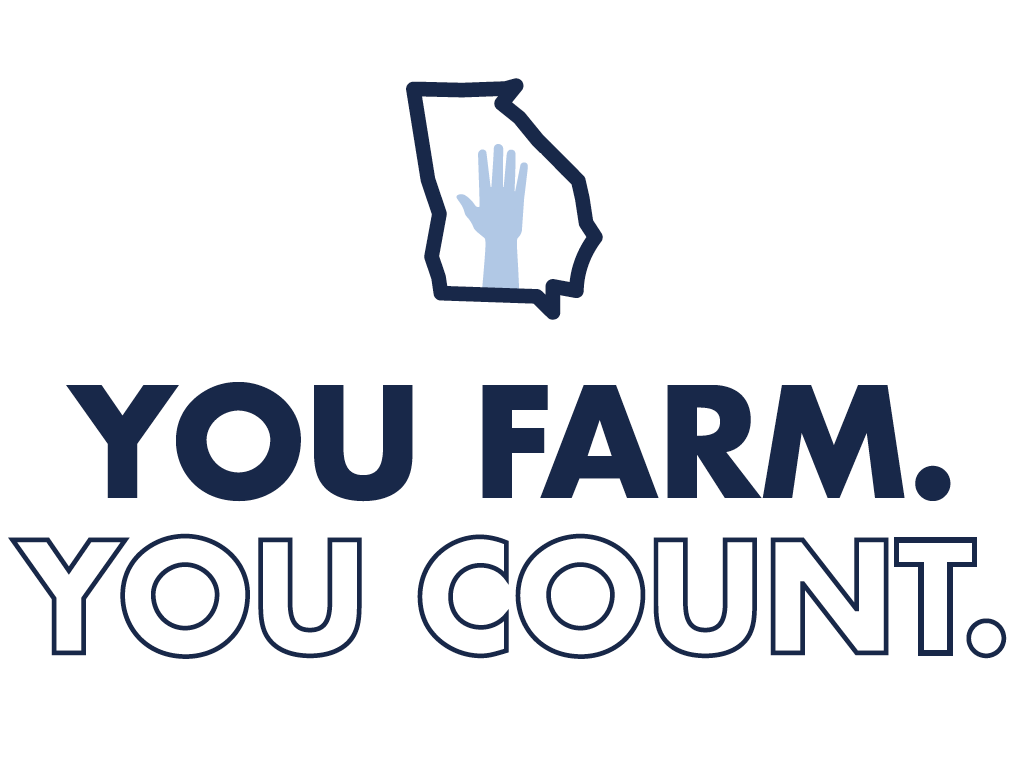 ---
SECRETARY OF STATE RAFFENSPERGER POSTPONES GEORGIA PRIMARY ELECTION
In an effort to further prevent the spread of COVID-19, Georgia Secretary of State Brad Raffensperger has announced that the state's primary elections, originally scheduled for Tuesday, May 19, have been postponed until Tuesday, June 9.
"Due to the Governor's extension of the state of emergency through a time period that includes almost every day of in-person voting for an election on May 19, and after careful consideration, I am now comfortable exercising the authority vested in me by Georgia law to postpone the primary election until June 9," said Secretary Raffensperger. "This decision allows our office and county election officials to continue to put in place contingency plans to ensure that voting can be safe and secure when in-person voting begins and prioritizes the health and safety of voters, county election officials, and poll workers."
The voter registration deadline for the June 9, 2020 election will be May 11, 2020. Early voting will begin on May 18, 2020. Pursuant to O.C.G.A. § 21-2-501, moving the primary election to June 9, 2020 will move the primary runoff to August 11, 2020. Pushing back the primary to June 9 gives Georgia election officials additional time to put in place contingency plans to allow for safe and secure voting, but pushing back the primary election any further could potentially have negative consequences on preparation for the November 3, 2020 General Election. Given existing deadlines to prepare and send ballots for the November election, particularly for military voters, moving forward on June 9 is the best way to ensure a successful election year in Georgia.
Absentee ballot applications for the upcoming primary election will continue to be accepted and processed by counties even if the application said May 19. Once county election officials properly verify the signature on the application, the voter will be sent an absentee ballot for the primary election now to be held on June 9.
To check your voter registration status or to register to vote, please click here.
---
SPECIAL ELECTION TO BE HELD IN GEORGIA SENATE DISTRICT 4
Governor Brian Kemp announced that a special election will be held in Georgia Senate District 4 to fill the seat left vacant by Senator Jack Hill's untimely passing earlier this month. The election will be held in conjunction with the state's primary elections, which have been moved to Tuesday, June 9.
District 4 includes parts of Bulloch, Candler, Effingham, Emanuel, Evans, and Tattnall counties. To check your voter registration status or to register to vote, please click here.