Legislative Session Report Week 1


January 15, 2021
---
GEORGIA GENERAL ASSEMBLY BEGINS 2021 LEGISLATIVE SESSION
The 2021 legislative session began on Monday under the Gold Dome with elected officials gathering for the first year of the new two-year session. The challenges of the ongoing COVID-19 pandemic were evident during the first four days of the 40-day session, as newly elected members were sworn in one group at a time in an effort to maintain social distancing.
Much is still unknown as the session gets underway. Precautions including weekly testing and capacity limits are in place in an effort to prevent the spread of the Coronavirus. The scene at the State Capitol is one that resembles the two weeks of the 2020 Special Session last June, when legislators returned after a 3-month break due to COVID-19. Discussion on which issues will take priority this session includes the constitutionally required state budget and possible election reform legislation.
Appropriations hearings will begin next week as the General Assembly seeks to amend the FY21 budget and determine the budget for FY22. Legislators will return to the Capitol for the 5th legislative day on Tuesday, January 26th. Georgia Farm Bureau staff will be at the Capitol each day to monitor the issues that impact our members and advocate for Georgia agriculture.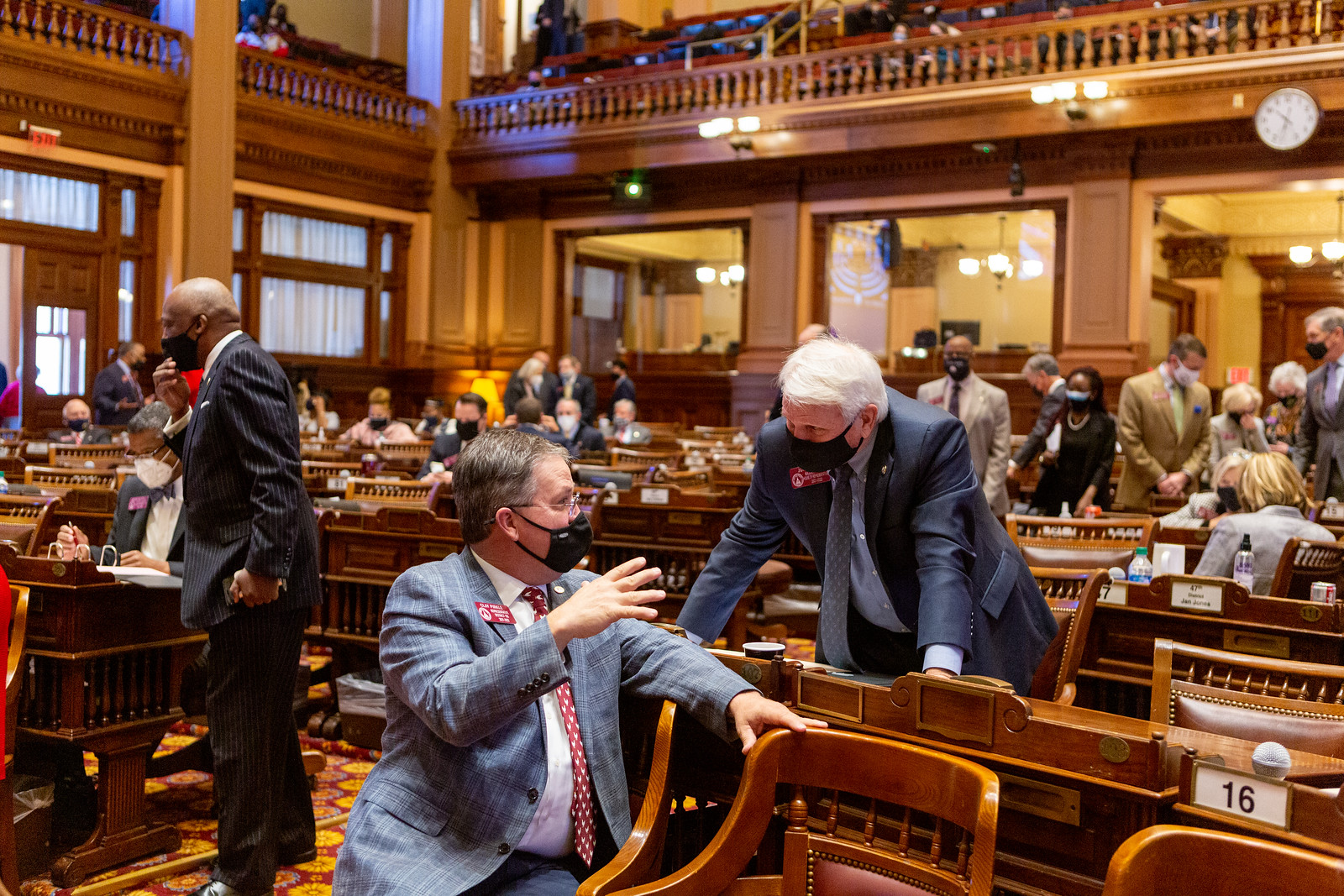 ---
"THE STATE OF THE STATE IS RESILIENT, AND WE WILL ENDURE..."
Governor Kemp delivered his State of the State address on Thursday, woven with the theme and parables of sowing seeds for the future as he recounted the past year's events and detailed his agenda for 2021. Kemp's reverence for agriculture shined throughout his speech, which began with a look back at the struggle farmers faced from Hurricane Michael in 2018 and the state's continued efforts to recover. He relayed south Georgia's resilience emerging from the hurricane to all Georgians as we combat the COVID-19 pandemic to "take the advice of our wise farmers to clear the fields and start planting."
After highlighting the progress Georgia has made responding to this health emergency and administering 5.7 million COVID-19 tests statewide, Kemp turned to the economic success that has been achieved despite the challenges of 2020. Georgia earned the coveted #1 State for Business title for the 8th consecutive year, maintained our AAA bond rating, and has a below-national-average unemployment rate of 5.7%. In the second half of 2020, Georgia experienced a 47% increase in new investment compared to the first six months, equaling $6 billion of new investment and 16,000 new jobs—more than half of which went outside of metro areas.
Georgia's robust economic health paves the way for several of the Governor's policy goals identified. "While the media and politicians in California and New York and others spent their 2020 throwing stones at glass houses, here in Georgia I'm proud to report that unlike them, the Peach State will not be facing budget cuts this year." He went on to say that under his budget proposals, crafted in coordination with Appropriations Chairmen Rep. Terry England and Sen. Blake Tillery, we will have no furloughs, no cuts to state agencies, and no new taxes to do it.
Important for rural communities, Kemp announced his proposals for:
$40 million to establish the Rural Innovation Fund for rural businesses and entrepreneurs;
$20 million now and $10 million per year moving forward for rural broadband grants to improve internet access;
Expansion of 2020's tax credit for manufacturers of Personal Protective Equipment (PPE) to include pharmaceutical and medical equipment;
$5 million to keep junior and senior students of higher education on track and able to graduate;
$1,000 one-time teacher stipend;
And $76 million to implementing Georgia Pathways and Access for affordable healthcare.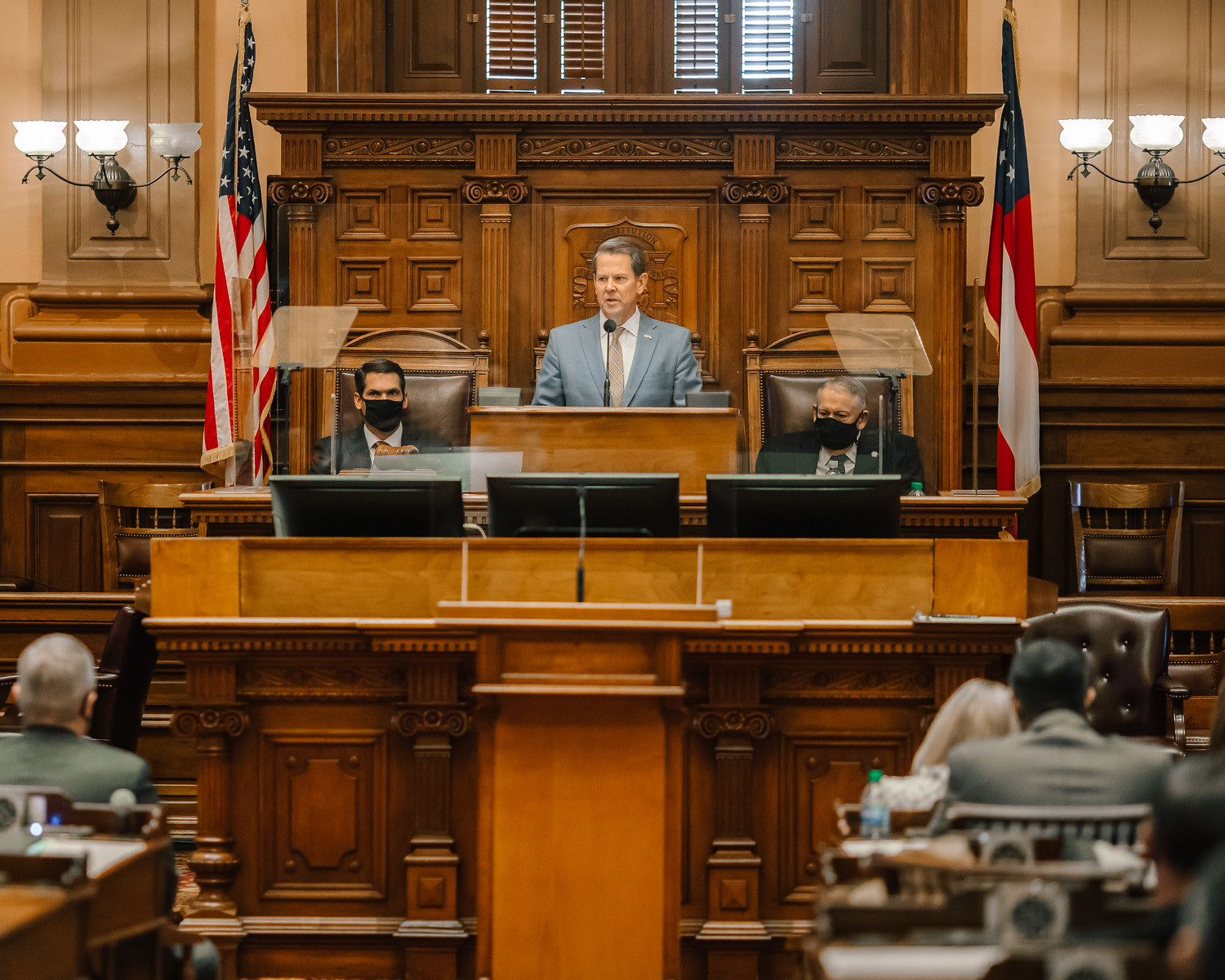 ---
LARRY WALKER TO LEAD SENATE AG COMMITTEE
This week, Lt. Governor Duncan and Leadership announced the new committee and chairmanship assignments for the Senate. We are pleased to have the native of Perry, GA and friend of Farm Bureau, Sen. Larry Walker, leading Georgia's #1 industry as Chairman of the Senate Agriculture & Consumer Affairs Committee. His dedication and experience serving rural Georgia's families will be an immense asset in his new role.
Farm Bureau is fortunate to have other strong allies serving on the committee, including several new members. The committee consists of Senators Larry Walker (R-Perry), Lee Anderson (R-Grovetown), Russ Goodman (R-Homerville), Dean Burke (R-Bainbridge), Max Burns (R-Sylvania), Tyler Harper (R-Ocilla), Bo Hatchett (R-Cornelia), Kim Jackson (D-Stone Mountain), Sheikh Rahman (D-Lawrenceville), Freddie Powell Sims (D-Dawson), and Carden Summers (R-Cordele).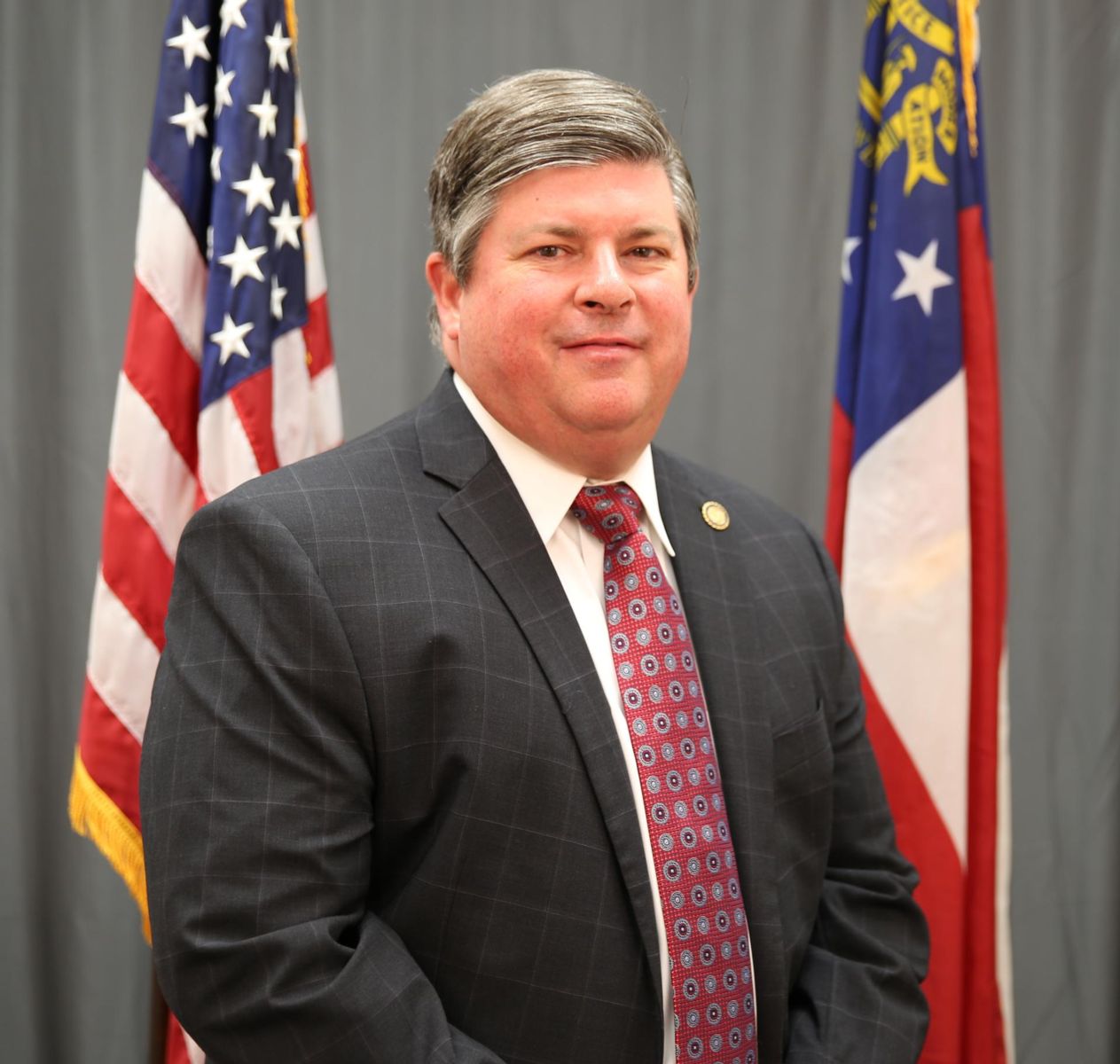 ---
2020 ELECTION RESULTS
We would like to congratulate and thank all those who were elected in the record turnout 2020 cycle to serve our state. We are especially grateful to those civil servants who have retired or moved on and would like to welcome the new legislators that have joined the ranks of the Georgia General Assembly.
The election brings a total of 11 new members of the Senate, maintaining Republican control at 34-22. In the House of Representatives, 26 new members have been elected, also maintaining Republican control 104-76. See below for a list of newly elected freshmen legislators.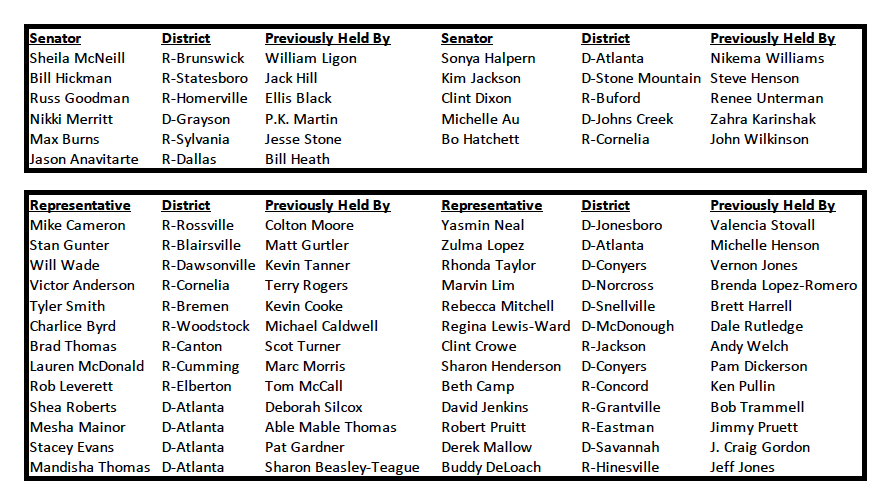 ---
2021 GFB PRIORITY ISSUES
The COVID-19 pandemic unfortunately caused GFB to cancel the annual convention held every year on Jekyll Island where members from across the state come together to debate and vote on a comprehensive slate of policies for the coming year. Despite these challenges, it is important in the coming months that members actively work with their legislators advocating our positions. From existing policies, the GFB Board of Directors has adopted the following priorities for 2021:
Natural Resources & Environment
Preserve and protect the right of privately-owned land to be used for agriculture from urban encroachment, unreasonable regulation, and frivolous legal action, especially when in a historically designated agriculture zone.
Work to ensure water policy and regulations do not adversely affect agricultural water supply so Georgia farmers remain competitive with producers from neighboring states.
Ensure adequate resources are readily available for producers severely impacted by natural disasters.
Animal Agriculture
Enhance safe, reliable consumer access to agricultural products through new market opportunities and supply chains.
Assist livestock producers who have been unfairly targeted by frivolous legal challenges.
Limit regulation of animal agriculture at the farm level.
Provide education to consumers on animal agriculture, while protecting producers from false information and misguided sensitivities.
Taxes & Budget
Advocate for funding of agricultural institutions, youth development programs, and their essential staff to meet industry needs.
Protect the integrity of the Conservation Use Value Assessment (CUVA) and Forest Land Protection Act (FLPA) programs from changes that would jeopardize the future of the program or undermine their original intent.
Provide parity and consistency for ad valorem tax exemptions on agricultural property in a way that reflects the modern tax structures of farms but maintains the provision's original intent.
Preserve sales tax exemptions of farm inputs through active maintenance of the GATE program.
Serve as an educational resource to farm businesses navigating complex tax regulations and programs.
Georgia Agriculture Issues
Advocate for balanced and equal representation of rural communities through the redistricting process.
Update commission rules to allow for a more efficient use of producers funds.
Promote secure, clear election procedures that enhance voter integrity, while ensuring only legally registered citizens are allowed to vote and close scrutiny of absentee ballots.
Ensure that new technologies remain available while promoting their responsible use.

---
KEEP UP WITH WHAT'S "GROWING ON" IN GEORGIA AGRICULTURE
Hosted by John Holcomb, Jay Stone, and Katie Duvall, "Growing On" is a new podcast produced by Georgia Farm Bureau, covering agriculture related issues and topics to help promote and advocate for Georgia agriculture as well as educate consumers about the production of food and modern farming practices.
With episodes dropping every two weeks, Public Policy staff will be reporting from the Capitol, providing a deeper look into the legislative session in a digestible, audio format. You can subscribe to the podcast and download on Apple Podcasts by clicking here or on Spotify by clicking here. Be sure to look for a new episode every other Tuesday!

---
2021 GEORGIA AG FORECAST
Georgia Farm Bureau is a sponsor for this annual seminar, which will be held virtually and is free to attend for 2021. It will take place on Friday, January 29, beginning at 9:30 a.m. Ag Forecast shares the latest research and information from UGA faculty to help farmers and agribusinesses in Georgia's No. 1 industry. Keynote topics are agritourism and the impact of COVID-19 on Georgia farmers. Breakout sessions will cover: livestock and poultry; cotton, peanuts grains and oilseeds; green industry and vegetables; fruits and tree nuts; and forestry and land taxation. Click here to register.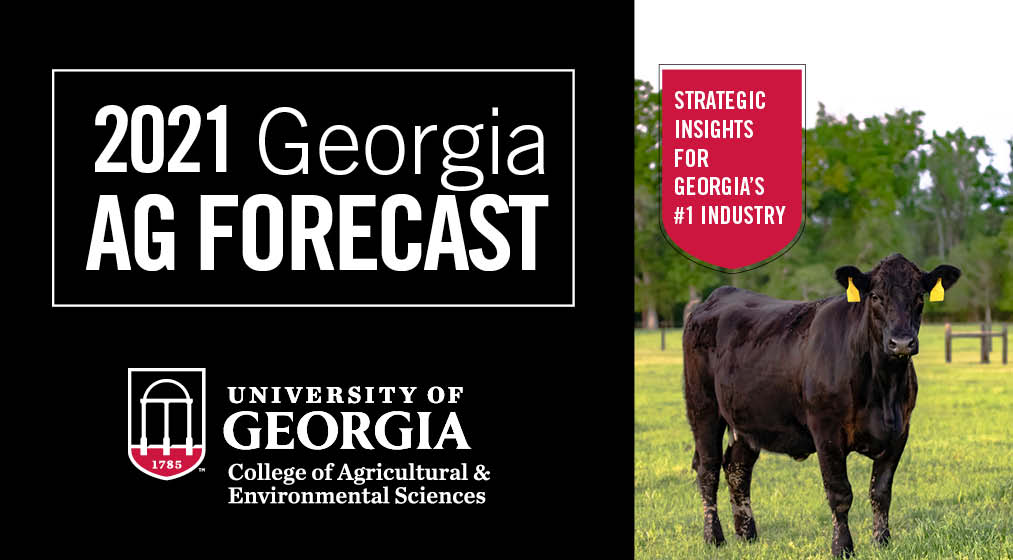 ---
Georgia Farm Bureau Public Policy Department Staff
Jeffrey Harvey, Director
Joe McManus, Assistant Director
Alex Bradford, State Affairs Coordinator
Raynor Churchwell, Agricultural Programs Specialist
Tripp Cofield, National Policy Counsel
Katie Duvall, Advocacy and Policy Development Coordinator
Renee Jones, Office Coordinator
Jake Matthews, Governmental Affairs Specialist
Jeremy Taylor, Agricultural Programs Specialist