Action Alert - 4/30/20
This alert was distributed via email to subscribers of the GFB Legislative Team's Action Alert on April 27, 2020.

Subscribe to GFB's Action Alerts
---
Federal Updates
---
PRESIDENT TRUMP ORDERS MEAT PROCESSING FACILITIES TO REMAIN OPEN
On Tuesday, April 28, President Trump signed an executive order declaring that meat processing plants are to be considered critical infrastructure and should therefore remain open during the COVID-19 pandemic, despite an uptick in cases in facilities across the country. The United States Department of Agriculture (USDA) praised President Trump for signing the order, and is working with the Centers for Disease Control and Prevention (CDC) and the Occupational Safety and Health Administration (OSHA) to ensure that plants are operating in accordance with safety and health guidelines.
House Agriculture Committee Ranking Member Mike Conaway (TX-11) released the following statement after President Trump's announcement: "With today's decision to keep meat-processing plants running, President Trump is showing once again that he understands the critical importance of American agriculture. I thank the President for seeking solutions that not only protect the health and safety of the hardworking men and women in these essential positions, but lessen the hardship for our farmers, ranchers, and consumers. During this incredibly difficult time, American agriculture has gone above and beyond to keep our nation fed and clothed, and I could not be more grateful to these American heroes."
Ranging from a few days to two weeks or even indefinitely, at least 18 plants have been closed down due to issues with COVID-19 over the previous two months. In some cases, the closures were due to outbreaks among workers at the plants. In other cases, it is a struggle to keep workers, who are afraid of getting sick, coming into the plant. For more information on the economic disruption that plant closures have made on the industry, you can view the American Farm Bureau Federation's (AFBF) Market Intel report on the subject here.
---
REP. AUSTIN SCOTT INTRODUCES BILL TO ALLOW FOR ADDITIONAL ASSISTANCE TO PRODUCERS
Last Thursday, Georgia Representative Austin Scott, along with 31 original cosponsors, introduced H.R. 6611, which would provide an additional $50 billion for the United States Department of Agriculture (USDA) to aid with COVID-19 relief for the agriculture community. In addition to providing additional relief dollars, H.R. 6611 waives any payment limit caps. The American Farm Bureau Federation (AFBF) is asking state Farm Bureaus to encourage their members of Congress to support the bill. Georgia Representatives Rick Allen, Sanford Bishop, Doug Collins, Buddy Carter, David Scott and Rob Woodall are all original cosponsors of the bill.
---
State Update
---
FARM RECOVERY BLOCK GRANT DEADLINE TODAY, APRIL 30
The deadline for the Farm Recovery Block Grant program is TODAY, Thursday, April 30. Applications must be submitted by midnight.
Georgia farmers and forest landowners in 95 eligible counties who suffered losses to beef, dairy, fruit and vegetable, pecan, poultry, timber, and uninsured infrastructure are eligible to apply for the recovery program at farmrecovery.com.
---
GEORGIA SEEKS DISTRIBUTORS FOR CORONAVIRUS FOOD ASSISTANCE PROGRAM
In order to expedite the delivery of food to needy Americans as quickly and efficiently as possible, the United States Department of Agriculture (USDA), with funding provided by lawmakers in the CARES Act, has developed the Coronavirus Food Assistance Program (CFAP). The $19 billion agriculture aid package includes $3 billion dedicated to increased commodity purchases for food aid programs (the remaining $16 billion will be used for direct payments to farmers and ranchers). This $3 billion initiative, which will bring farmers and food banks closer together, will be in addition to USDA's existing food purchasing programs.
In Georgia, there are eight Feeding America food banks serving all 159 counties through a network of more than 2,400 partner agencies/pantries. This is a great opportunity to help Georgia's communities as well as help Georgia's agricultural industries. The procurement process will follow a streamlined version of the commodity assistance programs guidelines, with an estimated $100 million per month each for dairy products, meat products, and fresh fruits and vegetables. Distributors must have a 501(c)3 nonprofit status to submit bids if they plan to distribute direct to consumer. If the distributor is NOT a nonprofit, it must identify the nonprofit network they plan to distribute through. If you or any distributor you have contact with are interested in this program, please click here for more information. The deadline for submitting bids is Monday, May 4.
---
UGA VET MED, GVMA TO HOST TOWN HALL
The way we interact and produce food is already changing due to COVID-19. Next Thursday, May 7 at 7:00 pm, the University of Georgia College of Veterinary Medicine and the Georgia Veterinary Medicine Association (GVMA) will be hosting a virtual town hall. This session is devoted to answering questions producers and veterinarians have around their key role in maintaining a stable, secure, and cost effective food supply.
Due to the impact of COVID-19 on all segments of beef cattle production, producers are faced with exploring options that likely require retaining ownership of their cattle for longer periods of time. Therefore, it is imperative to meet the changing nutrient requirements of both the herd, as well as weaned cattle. This includes knowing the nutrient requirements for different stages of production, procuring feeds, and understanding stocking capacity.
Panelists:
Dr. Brent Credille – UGA College of Veterinary Medicine, Assistant Professor of Food Animal Health and Management Program, Department of Population Health
Dr. Lawton Stewart – UGA College of Agriculture and Environmental Science, Extension Animal Scientist
Dr. Tommie Shepherd - UGA College of Agriculture and Environmental Science, Agribusiness Economist
To register for the event, please click here.
---
GEORGIA GENERAL ASSEMBLY PLANS RETURN TO CAPITOL
In a letter shared with House Members & Staff today, Speaker David Ralston announced plans for the Georgia General Assembly to return to the Capitol. While acknowledging that the COVID-19 pandemic continues to pose a health risk, he noted that he has asked Majority Leader Jon Burns and Minority leader Bob Trammell to co-chair a committee to advise on how to adjust policies and procedures in order to safely conduct business.
Committee chairmen have been notified that they may begin holding virtual committee meetings via online meeting platforms beginning next Monday, May 4. As is the norm with typical committee meetings, the public will be able to stream these proceedings online.
Additionally, House staff will be allowed to transition back into working at the Capitol beginning May 18, given they are healthy. In-person committee meetings are expected to resume on May 19 and will be subject to any applicable public health directives.
It is important to note that no votes or formal action will be taken until the session officially resumes. As of today, that date is expected to be Thursday, June 11. While presumed, it is not confirmed. As always, Georgia Farm Bureau Public Policy staff will stay in touch with officials at the Capitol and will keep our members informed regarding any changes that may arise.
---
SURVEY: COVID-19 IMPACT ON AGRICULTURE
During this pandemic, we recognize that Georgia's food and fiber industry is being impacted across all agricultural sectors. In order to accurately tell the story and represent farmers' needs, Georgia Farm Bureau (GFB) has partnered with the Georgia Department of Agriculture, the Georgia Foundation for Agriculture and the UGA Center for Agribusiness and Economic Development to develop a survey in order to gather information on how COVID-19 is affecting Georgia agriculture. The survey is being administered by the UGA Center for Agribusiness and Economic Development.
If you are a farmer in Georgia, we invite you to take 10 minutes to provide feedback. The survey is to be completed only once for each farm/ranch operation. Names will NOT be recorded for each survey record completed. All information will be kept strictly confidential. Participants may choose whether to participate in the survey, and they may withdraw at any time.
As an industry, it is critical that we work together to evaluate the needs of our farming community during this time. To visit the survey page and other related information, please click here.
The deadline to complete the survey is May 15th.
---
UGA EXTENSION, GEORGIA GROWN PARTNER TO CONNECT CONSUMERS WITH GROWERS
UGA Extension, in collaboration with Georgia Grown and other industry partners, is using its network of county Extension offices to connect agricultural producers with consumers looking for fresh, Georgia-grown products. Using their website, the program is encouraging consumers to support Georgia producers who are keeping regular hours, providing curbside pickup, home delivery or e-commerce sales during the COVID-19 pandemic. Consumers can view a list of growers sorted by county. Each listing details the products available and any special promotions being run by the grower.
To learn more about the project, click here. If you are a grower interested in being listed on the website, click here.
Additional Resources
---
GEORGIA MILK PRODUCERS INTRODUCES FARMER TO FARMER SUPPORT PROGRAM
Farmers across the Southeast are experiencing uncertain times like never before. All aspects of agriculture have been hit by market losses due to COVID-19, but dairy has reached a level of uncertainty that many have never experienced.
As we navigate through these next few months, dairy producers across the Southeast have come together to introduce the "Farmer to Farmer Support Program." If you find that you need support or would like to talk to a fellow farmer or industry friend, they have several volunteers that are willing and able to help. Georgia Milk Producers has also put together a packet on the program that you can access by clicking here.
For more information on the program, please reach out to Farrah Newberry at gamilkproducers@gmail.com.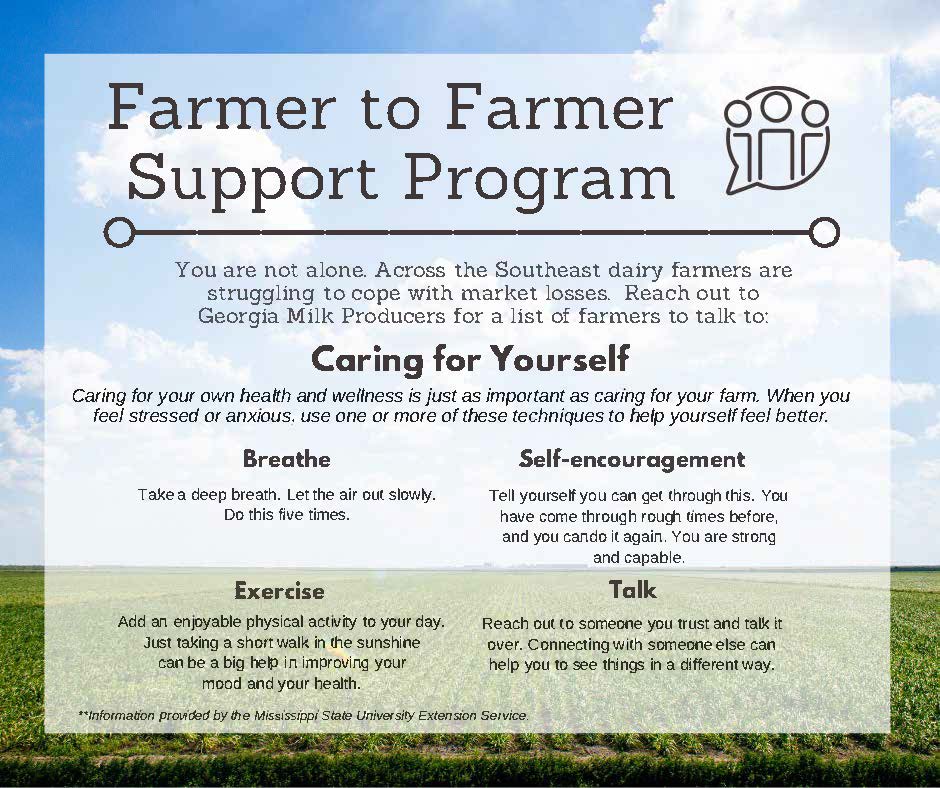 ---
TAKE THE 2020 CENSUS TODAY
If you have not already, please take a moment to take the 2020 Census. This year is the first year that you can take the census online by clicking here. To see how your community is doing in reaching a "complete count" of its citizens, click here.
The census website is safe, secure and confidential. The census provides critical data that lawmakers, business owners, teachers, and many others use to provide daily services, products, and support for you and your community. The results of the census also determine the number of seats each state will have in the U.S. House of Representatives, and they are used to draw congressional and state legislative districts.
In addition to shaping legislative districts, the census dictates how key funds are distributed. The federal government distributes over $675 billion dollars to states based on the population for healthcare, food, education, and roads. Key programs using census data to drive funding include:
Federal Medical Assistance Programs (FMAP)
The Supplemental Nutrition Assistance Program
Medicare Part B
Highway Planning and Construction
The Federal Pell Grant Program
Cooperative Extension Service
Georgia's rural assistance programs received more than $1.4 billion annually in the federal FY 2016.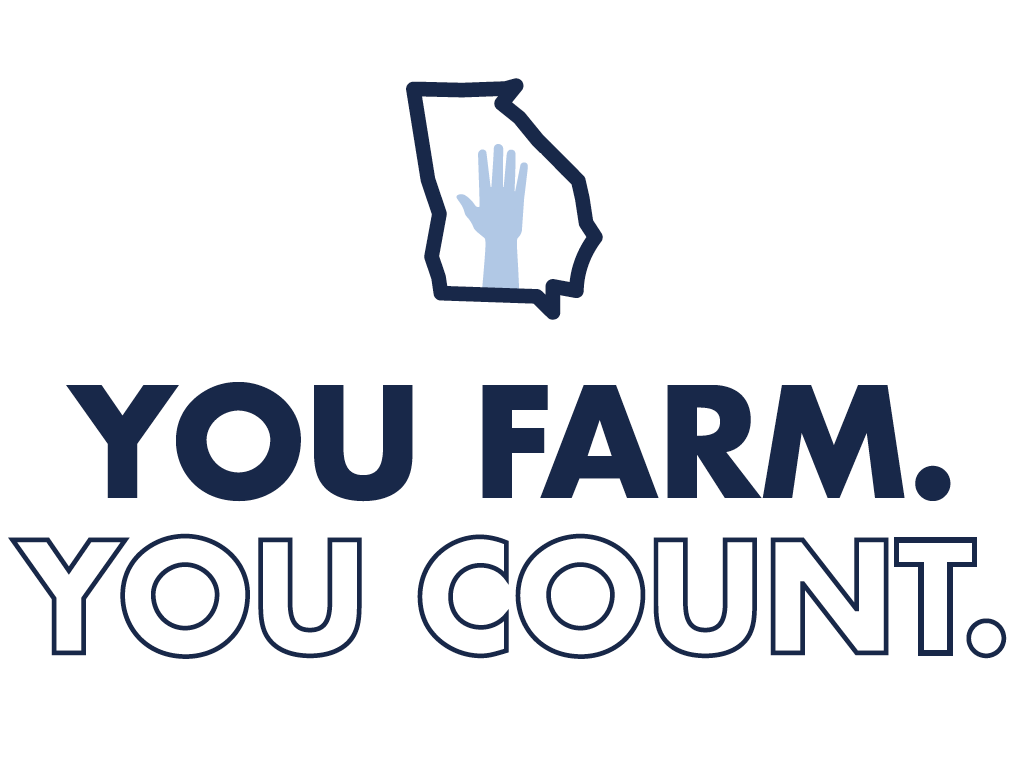 ---
ATLANTA PRESS CLUB DEBATES SET FOR THIS WEEKEND
After years of originating its Georgia candidate debate series at the Georgia Public Broadcasting studios in Atlanta, the Atlanta Press Club is taking its signature election event online for the upcoming primary election.
The virtual event is set to include candidates for U.S. Senate and the hotly contested race to replace outgoing Republican Congressman Rob Woodall in Georgia's 7th District. Candidates looking to succeed Georgia GOP Rep. Doug Collins in the 9th Congressional District are also set to face off. U.S. Rep. David Scott drew challengers from both parties for his District 13 seat who are expected at the virtual debate.
The Atlanta Press Club Loudermilk-Young Debate Series is scheduled to take place over two days, on Sunday, May 3 and Monday, May 4. All debates will take place live via video streaming in partnership with Georgia Public Broadcasting. The debates will be available for viewers to watch online live or on demand via Facebook and GPB.org.