From County to Capitol: Your Membership Dollars at Work
MORE THAN DUES
Your $35 goes beyond annual membership dues – it ensures your access to a safe, local food supply and provides a defense against radical groups who would like to dismantle common agricultural practices. Through a daily presence at the state Capitol, Georgia Farm Bureau protects the rights of farmers, allowing them to produce the commodities that keep us clothed and sheltered. Since our inception in 1937, one of the primary and ongoing goals of Georgia Farm Bureau has been to serve as a united voice in the legislative arena. This is a responsibility that is not taken lightly and one that goes beyond what other companies can provide.
FROM YOUR COUNTY TO THE CAPITOL
The development of Georgia Farm Bureau policy is truly a grassroots effort. Policy development, which begins at the county level, allows members to decide the legislative positions we take in Atlanta and Washington, D.C. Farm Bureau is one of the few organizations that uses a true democratic process to represent our members' views – our goal is to act as an intermediary between Georgia's farmers and those who make the laws, we must adhere too. We maintain a presence both in Atlanta and alongside our parent organization, the American Farm Bureau Federation, in Washington, D.C., to deliver the farmers' message and implement Farm Bureau policy from county to Capitol.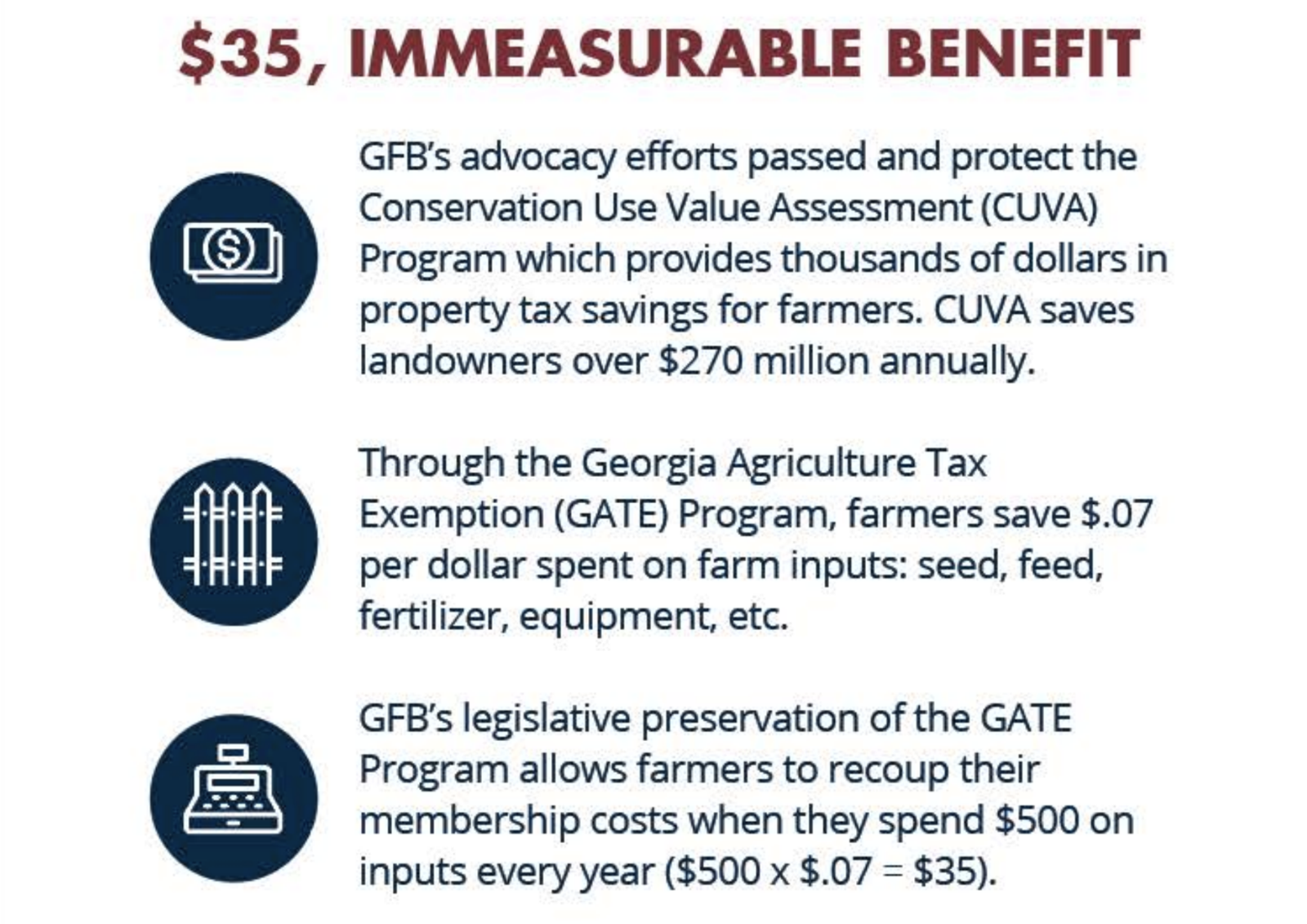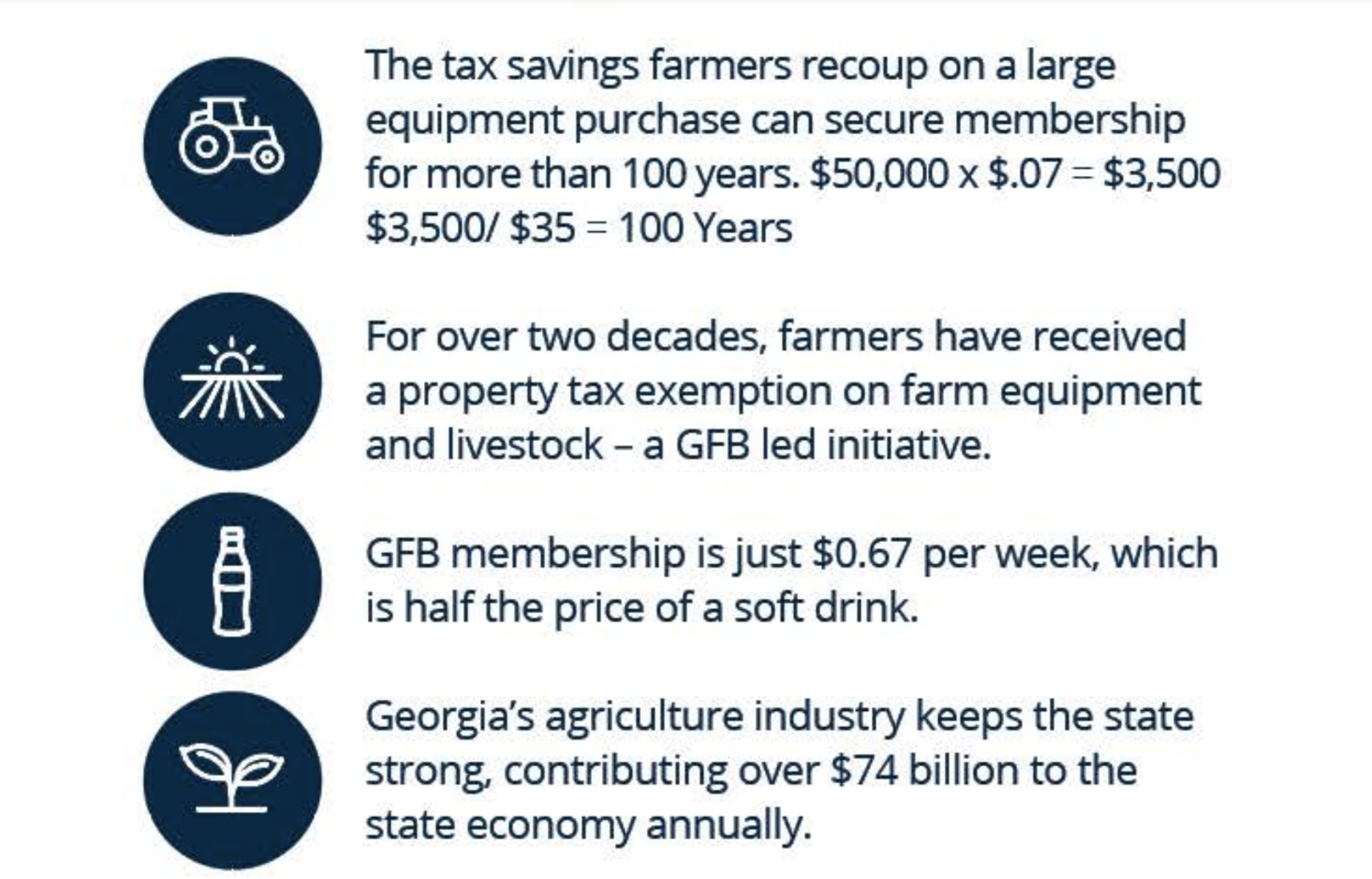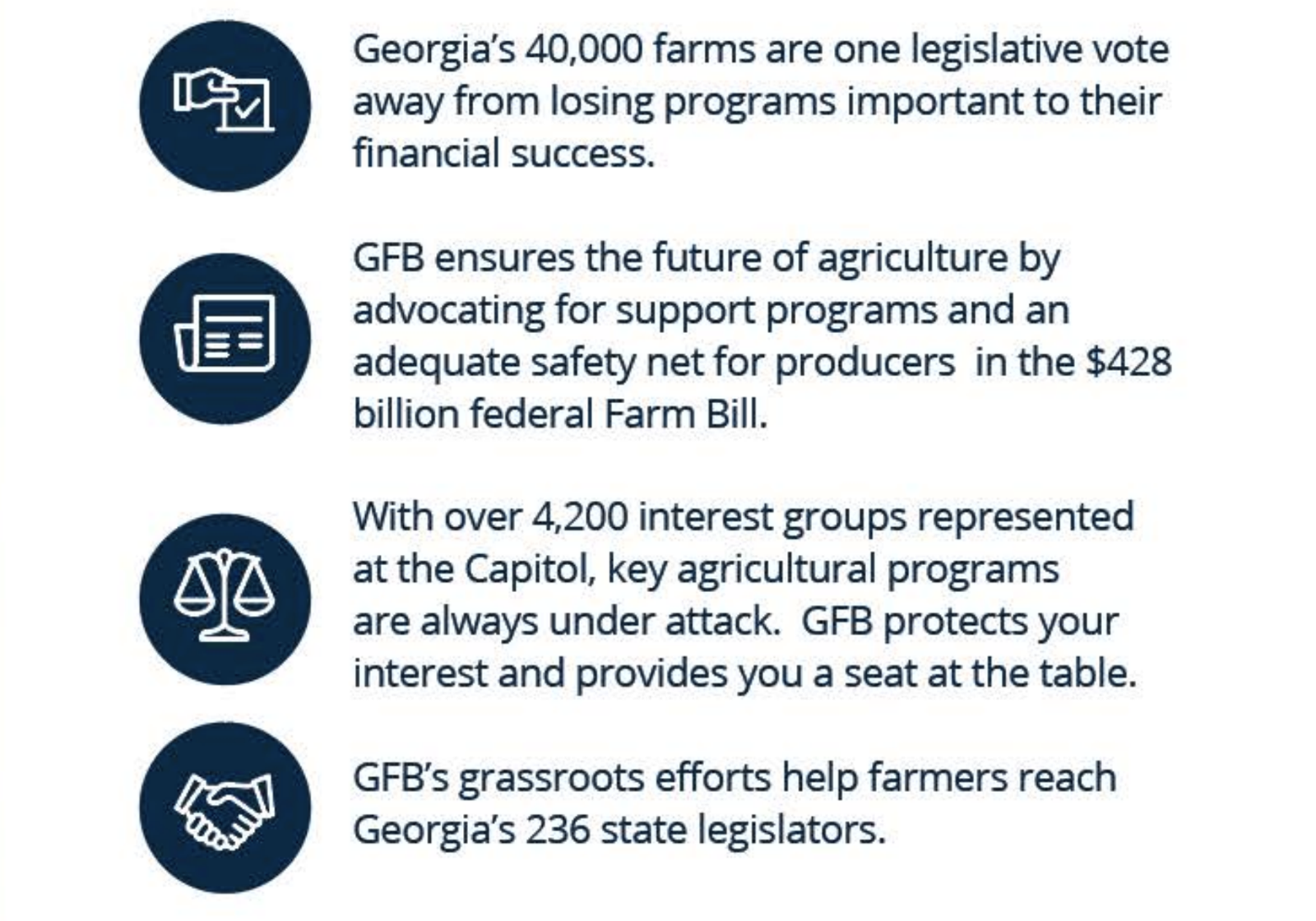 A STRONG DEFENSE
Preventing legislation that would be detrimental to Georgia agriculture is just as important as passing legislation that would benefit it – our Public Policy Department works at the state and federal levels to ensure that such detrimental legislation does not pass.
Unwarranted and excessive governmental regulation
Dependence on foreign countries for food, fiber, and shelter
Preservation of key tax programs that impact farmers' profitability
Prevent misinformation from animal rights activists and environmental groups that negatively impact agricultural policy
KEY ISSUES
Agriculture is reliant on strong commodity prices, low input costs, adequate labor, fair tax policy, and sensible regulations. Whether consumer or producer, the strength of Georgia Farm Bureau starts with you. Join us today!

---