GFB News Magazine
Georgia Farm Bureau honors Isakson with Commodity Award
---
Posted on February 24, 2021 7:00 PM
---
By Jennifer Whittaker, Georgia Farm Bureau
In December, Georgia Farm Bureau presented former U.S. Senator Johnny Isakson with its 2020 Georgia Farm Bureau (GFB)
Commodity Award in a private presentation at his Atlanta office. The award is one of the organization's highest honors given to individuals who have supported and promoted Georgia agriculture.
Isakson served in the Georgia House, Georgia Senate, U.S. House and U.S. Senate during a political career that dated from 1976 to December 2019, when he retired from the U.S. Senate. Isakson was elected to three consecutive terms in the U.S. Senate.
"Georgia's farmers received strong support from Senator Johnny Isakson throughout his time in public service," said Georgia Farm Bureau President Tom McCall. "No person is more deserving of this award. It's truly our pleasure to honor Senator Isakson with the Georgia Farm Bureau Commodity Award."
During his time in the Senate, Isakson co-chaired the Senate Chicken Caucus with Sen. Chris Coons, due to the importance of poultry to Georgia's economy. Isakson also served on the Subcommittee on International Trade, Customs and Global Competitiveness. His work in the caucus and on the trade subcommittee opened up exports for Georgia Poultry products around the world, particularly China and Africa.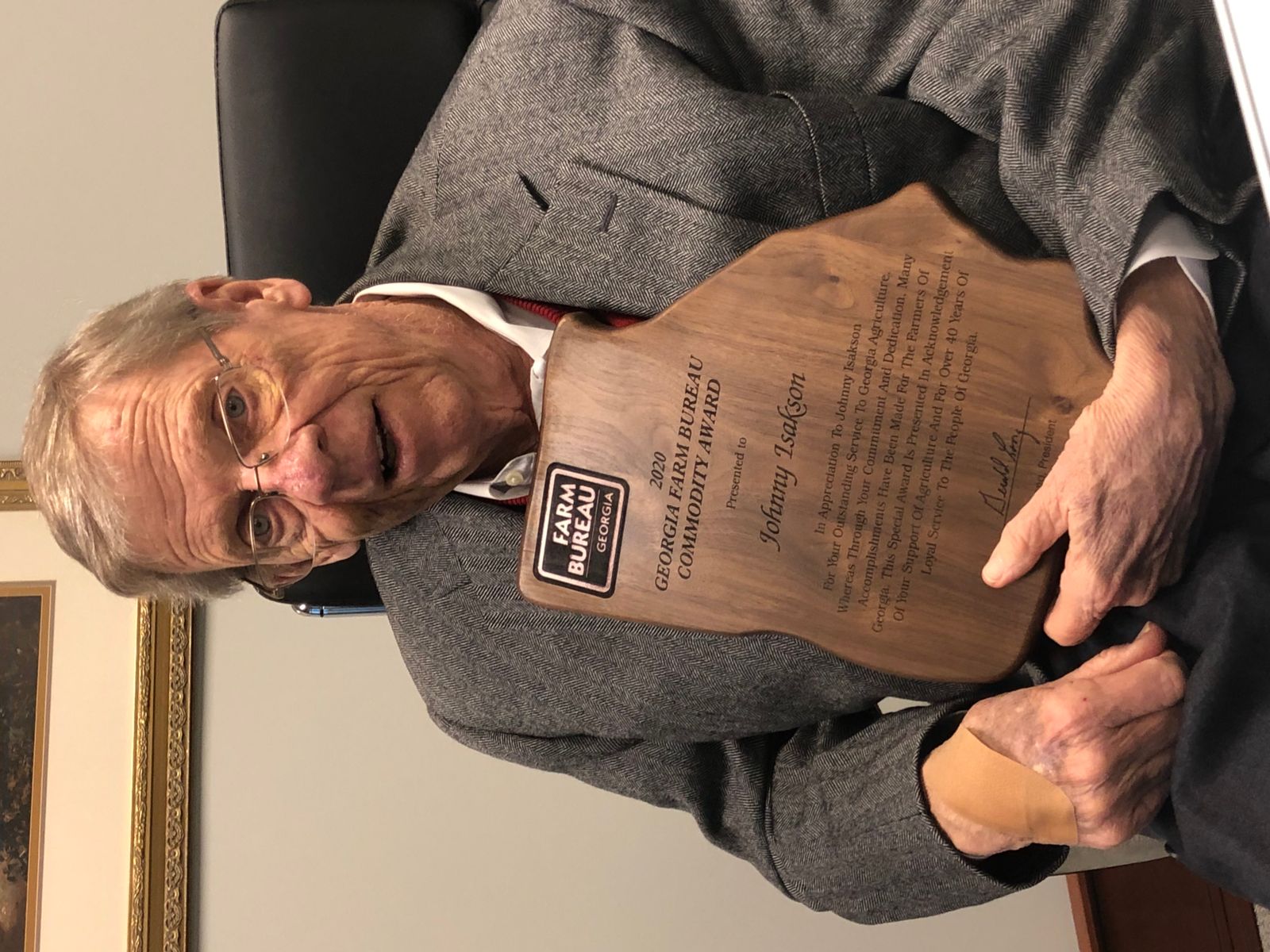 Former Sen. Johnny Isakson accepts the GFB Commodity Award | Photo by Jody Redding
Isakson chaired both the U.S. Senate Committee on Veterans Affairs and the Select Committee on Ethics.
Isakson gained knowledge and an appreciation for agriculture as a youth, when he worked summers on his grandparents' farm in Ben Hill County.
Isakson is a nine-time recipient of the Friend of Farm Bureau Award, given to members of Congress whose voting records align with American Farm Bureau Federation policy.