GFB News Magazine
Farmtastic Family Fun Day brings ag book to life
---
Posted on September 1, 2021 8:00 PM
---
By Jay Stone
Fun was in full supply at the Farmtastic Family Fun Day hosted by the Georgia Foundation for Agriculture (GFA), Georgia Farm Bureau (GFB), the Dairy Alliance and the Georgia Public Library Service at the Rock House Creamery July 24.
More than 100 visitors toured the Georgia Ag Experience mobile classroom, which highlights Georgia agriculture through hands-on activities. When guests weren't doing that, they swung on tire swings, enjoyed story time, drew cows, took tractor-drawn wagon rides to see real cows, churned butter and planted seeds. And, no visit to a creamery would be complete without a serving of ice cream.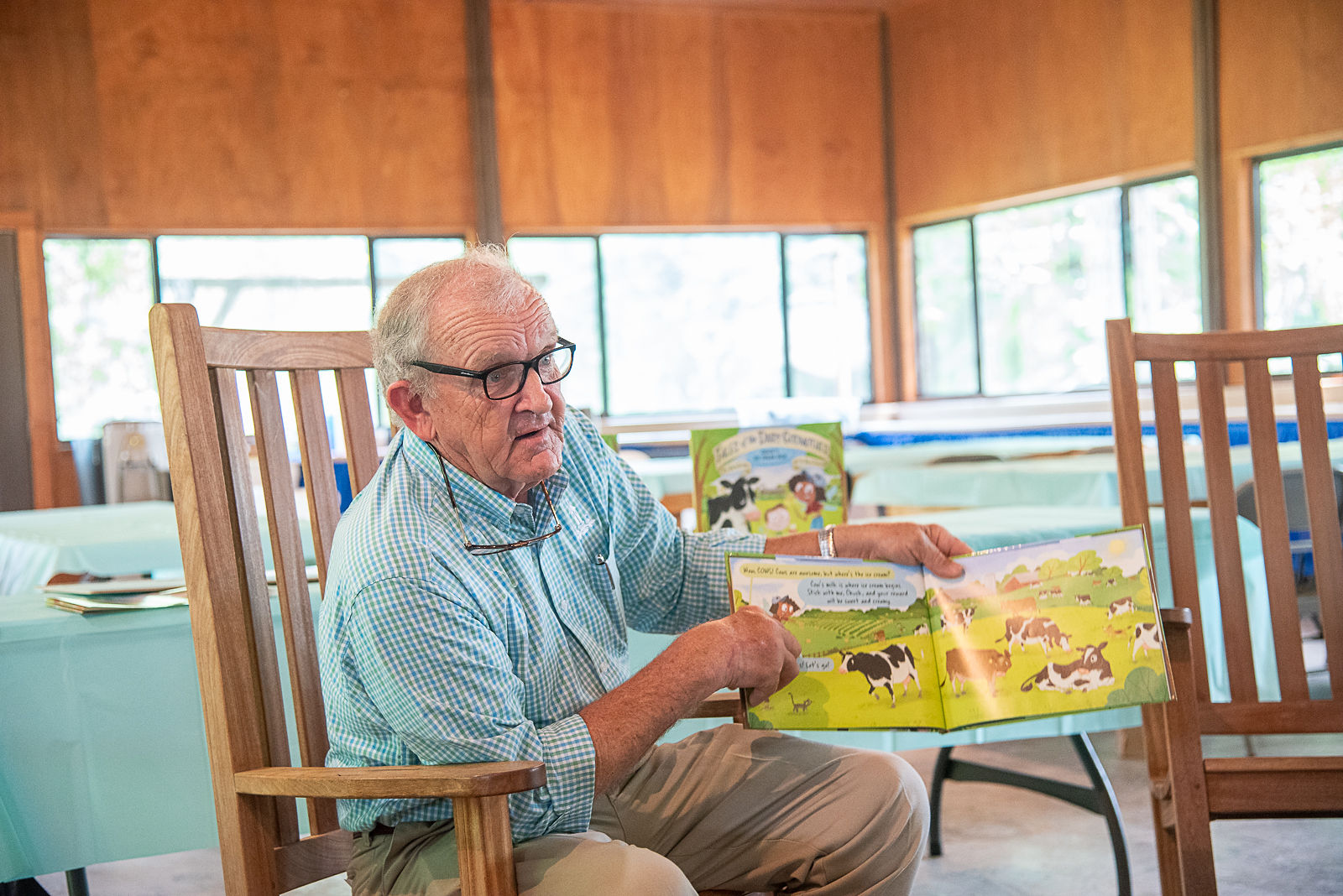 GFB President Tom McCall reads to children. | photo by Logan Thomas
GFB President Tom McCall read "Tales of the Dairy Godmother: Chuck's Ice Cream Wish" during story time, with the goal of improving agricultural literacy.
"The thing about reading to these kids, it piques their interest in where their ice cream really comes from," McCall said. "I hope they learned a little bit that ice cream starts with the grass on the ground and the cow that eats it. Then, they got to see how it's made here. They learned that it just isn't in a freezer in a grocery store somewhere."
GFA received the proceeds from the event.
"We'd like to extend our heartfelt thanks to Rock House Creamery and Keith Kelly for their generous support of the Georgia Foundation for Agriculture," said GFA Executive Director Lily Baucom. "This is the first year we have hosted an ag literacy celebration to highlight the AFBF Ag book of the year. We partnered with the Georgia Public Library System, Georgia EMC, and the Dairy Alliance to bring the book to life here at the Rock House Creamery. We aim to create an in-person experience like this every summer to allow families to enjoy time on a farm."
The Dairy Alliance had a table-top video game. Morgan County FFA students helped children plant seeds in cups filled with soil. Children churned butter in plastic containers with assistance from Newton County Farm Bureau.
Kelly, who owns Rock House Creamery in Morgan County, said he was willing to open his farm for the event to encourage children to learn and become interested in farming. The 130-acre farm, where Kelly milks a100-head dairy herd, sells its milk, cheese and ice cream at Farmview Market in Madison and other outlets across the state.
The event, sponsored by Georgia EMC, served to promote the American Farm Bureau Foundation book of the year "Tales of a Dairy Godmother: Chuck's Ice Cream Wish," which Georgia EMC and GFA have donated copies of to all of Georgia's public libraries.
-GFB-