Press Releases
Ross Tolleson Receives GFB Commodity Award
Posted on Aug 04, 2016 at 20:00 PM
---
FOR IMMEDIATE RELEASE
CONTACT:
Don McGough, (478) 474-0679, ext. 5218, dcmcgough@gfb.org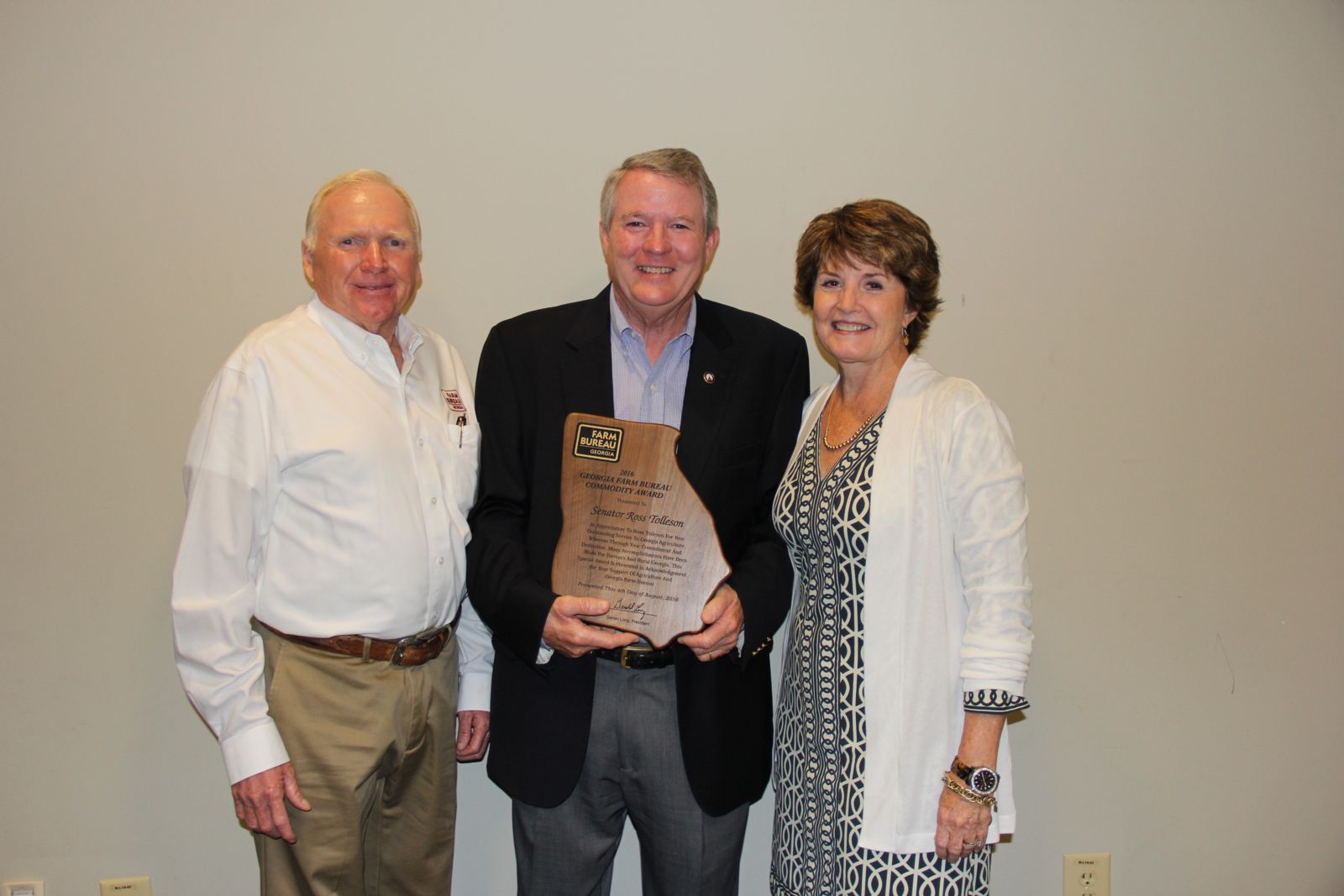 Retired State Senator Ross Tolleson (center, with his wife Sally) received the 2016 Georgia Farm Bureau Commodity Award at the GFB Commodity Conference Aug. 4. Presenting the award was GFB President Gerald Long. During his 13 years in the Georgia Senate, Tolleson was instrumental in the establishment of Georgia's regional water councils and a key figure in the state's efforts to account for and conserve water. (photo courtesy of Georgia Farm Bureau)
MACON, Ga. - Former state senator Ross Tolleson received the 2016 Georgia Farm Bureau (GFB) Commodity Award during the GFB Commodity Conference, held Aug. 4 at the University of Georgia Tifton Campus. One of the organization's highest honors, the GFB Commodity Award is given each year to honor individuals who have supported and promoted Georgia agriculture.
Tolleson, who served in the Georgia Senate from 2002 to 2015, has been a staunch advocate for maintaining agricultural access to water while protecting it as one of the state's most precious natural resources.
"Senator Tolleson's work has helped ensure that stakeholders from across our state representing all areas of our economy - particularly agriculture - will have a seat at the table to discuss water policy issues," GFB President Gerald Long said. "We're deeply appreciative of his efforts to sustain both the state's water supply and its farmers. His efforts have ensured that Georgia farmers and the state's economy will continue to be viable."
Tolleson was first elected in 2002 to represent Bleckley, Houston, Laurens and Pulaski Counties in Georgia's 20th Senate District, succeeding Sonny Perdue, who stepped down to campaign for governor. Tolleson continued to serve until retiring in November 2015.
Tolleson served as chairman of the Georgia Senate Natural Resources Committee for 11 years. He was also vice-chairman of the Senate Rules Committee, and served on the Senate Appropriations Committee. He was a member of the legislative committee that provided oversight to the Georgia Agricultural Exposition Authority, which manages the Perry National Fairgrounds and Agricenter. He also served on the Jekyll Island State Park Authority Oversight Committee.
"I love Farm Bureau, I love ag and I love the state of Georgia," Tolleson said. "It is so important that we have strong agriculture in our country. It is a part of our national defense, really, in a lot of ways. If you can't feed your population, you've got real problems."
During his tenure in the Georgia Senate, Georgia's water policy underwent significant change. Drought conditions and the "Tri-State Water Wars" lawsuit with Alabama and Florida were at the forefront of all water policy issues. Tolleson was instrumental in passing legislation that created Regional Water Councils across the state. These 10 councils are comprised of stakeholders who make regional recommendations on water quality and quantity policy issues.
Tolleson sponsored the Flint River Drought Protection Act (FRDPA) in 2014. The FRDPA allows water management during periods of drought in the lower Flint River and also provides the tools needed for Federal Endangered Species Act compliance. The FRDPA assisted farmers with stream flow augmentation and irrigation efficiency, and provided a revision of the drought declaration and bidding process.
Tolleson was born in 1956 in Perry, the youngest of four children. Growing up, he learned about agriculture firsthand working on his grandfather's farm and at his father's lumber yard. Tolleson attended Westfield School in Perry, graduating in 1975, and then the University of Georgia, where he studied general business.
He returned to Perry to manage and start numerous businesses over the next two decades, working as vice president of Tolleson Supply Company. Tolleson also founded Shepley-Tolleson Financial Group with fellow Perry resident Lowell Shepley. Tolleson was a founder and board member of the Crossroads Bank of Perry, which was chartered in 1986 and currently serves on the Board of Directors of Security Bank of Houston County.
Tolleson has been married to the former Sally Funk for 36 years. They have three children - son Trip and twin daughters Ansley and Kelly. Ross is a member of Perry United Methodist Church where he is active in the John Wesley Sunday School class.
GFB is a membership-driven, nonprofit organization dedicated to serving as the voice of Georgia farmers and rural Georgia since 1937. GFB, Georgia's largest farm organization, promotes Georgia commodities and offers legislative representation to ensure Georgia's farming future. Its volunteer members actively participate in local, state and national activities that promote agriculture awareness to their non-farming neighbors. GFB membership is open to the public and offers a wide variety of benefits to its members including insurance and discounts for health services, travel and family entertainment. Becoming a GFB member helps support local farmers and ensures Georgians continue to have access to locally grown, high-quality food. For more information about GFB membership or to join, visit www.gfb.org.
---
---