Press Releases
Georgia Farm Bureau members elect new president Tom McCall
Posted on Dec 07, 2020 at 19:00 PM
---
FOR IMMEDIATE RELEASE CONTACT: Kenny Burgamy
December 8, 2020 kdburgamy@gfb.org
478-474-0679, ext. 5285
Georgia Farm Bureau members elect new president Tom McCall
GFB announces 2021 Board of Directors
MACON, Ga. - Georgia Farm Bureau (GFB) members elected Tom McCall for a two-year term as president of Georgia's largest general farm organization on Dec. 8. McCall of Elbert County grows wheat, oats, triticale, grain corn, sweet corn and hay. The McCall family also raises beef cattle, hogs and sheep.
McCall replaces Gerald Long, who retired from the position after serving as GFB president since 2016. Long, of Bainbridge, served on the GFB Board of Directors in various roles since 1999 including GFB 9th District director, GFB South Georgia vice president and GFB 1st vice president.
McCall has been a Farm Bureau member since 1978. McCall's first leadership role with Farm Bureau was serving as the chairman of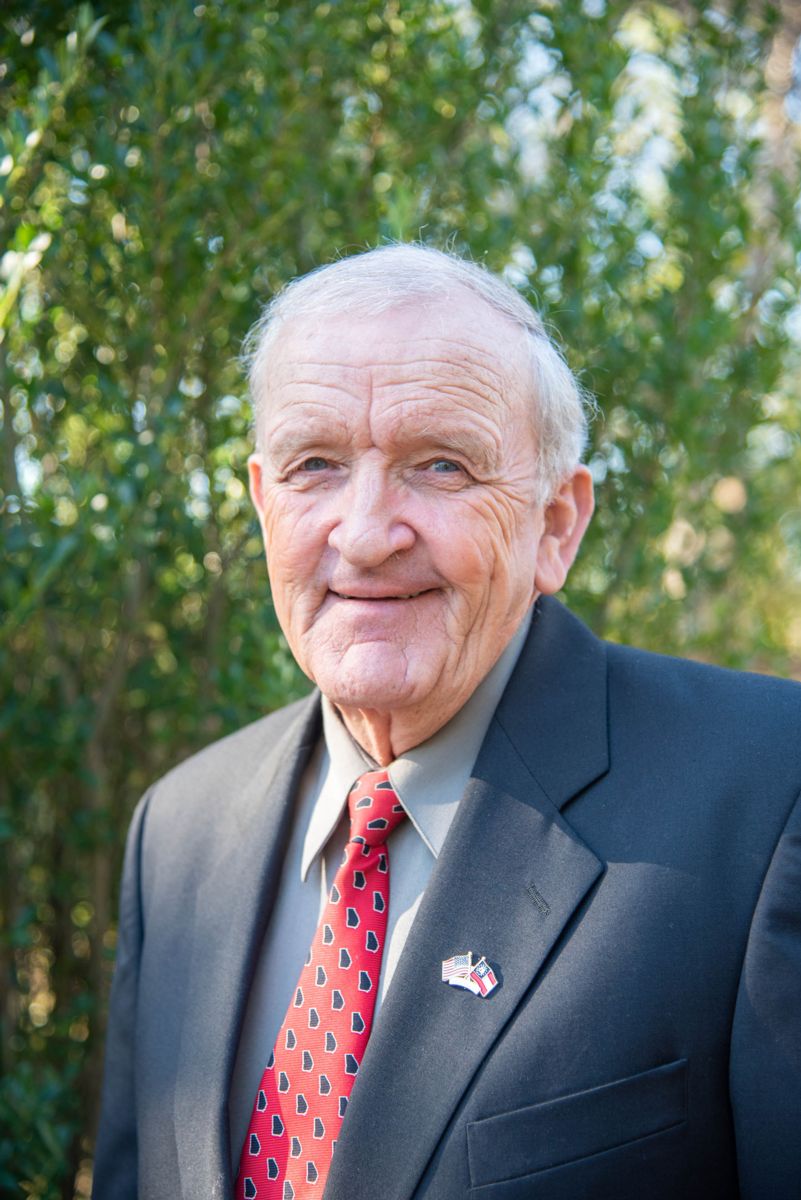 the Elbert County Farm Bureau (ECFB)Young Farmers & Ranchers (YF&R) Committee. He represented GFB's 2nd District on the GFB YF&R Committee in 1981-82 and chaired the state committee in 1982. McCall represented GFB's 2nd District on the GFB Board of Directors from 1984-1996. He also served as ECFB president for a number of years.
McCall served in the Georgia House of Representatives for 26 years from Jan. 9, 1995, when he was sworn into office, until he retired from the legislature at the end of his 2020 term. As a state representative, McCall represented Georgia's House Dist. 33, which includes Elbert and Lincoln counties and portions of Madison, Wilkes and Columbia counties. McCall chaired the Georgia House Agriculture & Consumer Affairs Committee from January 2005-2020. He also served on the House Game, Fish & Parks Committee, Natural Resources & Environment Committee and the Transportation Committee.
McCall and his wife, Jane, have two living adult children: Al (spouse Rachel) and Katie M. Archer (spouse Bristol). Their oldest son, Bud, died in 2000. The couple have two grandchildren, Winn and Wilkes, who love farm life. The McCalls attend Eliam United Methodist Church.
GFB members in the organization's North Georgia Region re-elected Bernard Sims of Catoosa County to represent their region on the Georgia Farm Bureau Board of Directors for his fifth, three-year term. GFB's North Georgia Region is comprised of 49 counties in the upper third of the state ranging from the state's northern border down to Carroll, Fulton, DeKalb, Rockdale, Walton, Morgan, Greene, Taliaferro, Wilkes and Lincoln counties.
Sims is the Catoosa County Farm Bureau president, a position he has held since 1979. Sims was a dairy farmer for 40 years until he sold his milking herd in 2004. The Sims family currently grows turf grass, small grains and hay. The family also raises beef cattle and strawberries sold to the public through a you-pick patch.
In addition to his Farm Bureau activities, Sims previously served on his local USDA Agricultural Stabilization Conservation Service Committee and served on the boards of three dairy cooperatives during his years as a dairy farmer. Bernard and his wife, Janet, have two adult children, Kevin and Cindy, and eight grandchildren. Their son Jeff died in 2010. The Sims are members of Burning Bush Baptist Church.
Daniel Johnson of Pierce County was re-designated the organization's 1st vice president by all GFB voting delegates. Johnson also represents GFB's South Georgia Region, which includes 53 counties in the lower third of the state running from the Georgia coast to the Alabama line. Johnson, who grows tobacco, cotton and peanuts, previously represented the organization's10th District on the GFB Board of Directors from 2006-2016. He is vice president of Pierce County Farm Bureau and previously served as PCFB president for 25 years. Johnson chairs the Georgia Agricultural Commodity Commission for Tobacco. He and his wife, Patricia, have four children and two grandchildren.
Robert Fountain Jr. of Emanuel County continues to represent the organization's Middle Georgia region on the GFB Board of Directors in the third year of his seventh term. The GFB Middle Georgia Region includes 56 county Farm Bureaus in the middle third of Georgia. While serving on the GFB Board, Fountain has chaired the GFB Legislative, Finance and Insurance committees numerous times. He is the third generation to own his family's farm located in Emanuel and Johnson counties. He raises cattle, hay, timber, small grains and pecans.
Russ Moon was elected to a two-year term on the GFB Board of Directors, representing the organization's 2nd District in Northeast Georgia. Moon and his family raise chickens and beef cattle, grow small grains and soybeans, and operate a you-pick strawberry farm. He is president of the Madison County Farm Bureau.
The following individuals were re-elected without opposition to serve two-year terms on the Georgia Farm Bureau Board of Directors: Wesley Hall of Forsyth County, 1st District; Nora Goodman of Paulding County, 3rd District; Skeetter McCorkle of McDuffie County, 4th District; Matt Bottoms of Pike County, 5th District; James Emory Tate of Jeff Davis County, 6th District; Ben Boyd of Screven County, 7th District; Don Wood of Wilcox County, 8th District; Lucius Adkins of Baker County, 9th District; and Lamar Vickers of Berrien County, 10th District.
GFB directors beginning the second year of the two-year terms they were elected to in 2019 are: Bill Bryan of Chattooga County, 1st District; Bobby Gunter of Lumpkin County, 2nd District; George Chambers of Carroll County, 3rd District; Marvin Ruark of Morgan County, 4th District; Leighton Cooley of Crawford County, 5th District; James Malone of Laurens County,
6th District; Gary Bell of Evans County, 7th District; Scotty Raines of Turner County, 8th District; Paul Shirah of Mitchell County, 9th District and David Lee of Bacon County, 10th District.
Will Godowns of Pike County was re-appointed chairman of the GFB Young Farmers & Ranchers Committee. Heather Cabe of Franklin County was re-appointed chairman of the GFB Women's Leadership Committee. Godowns and Cabe were asked to chair their respective committees for a second year because the COVID-19 pandemic limited their opportunities to serve. Each will serve an additional one-year term on the GFB Board of Directors to represent their committees.
Appointed officers of the GFB Board of Directors include General Counsel Duke Groover, Chief Administrative Officer & Corporate Secretary Jon Huffmaster, Chief Financial Officer & Corporate Treasurer David Jolley, Assistant Corporate Secretary & Senior Counsel Jeanna Fennell, and Assistant Corporate Treasurer & Senior Director of Accounting Rachel Mosely.
Founded in 1937, the Georgia Farm Bureau Federation is the state's largest general farm organization with 158 county chapters. As a membership-driven, nongovernmental organization, GFB serves as the voice of Georgia farmers and rural Georgiaby advocating for them on legislative issues and promoting Georgia commodities. Its volunteer members actively participate in activities that promote agriculture awareness.
GFB membership is open to the public and offers a wide variety of benefits, including insurance and discounts for health services, travel and family entertainment. Enrollment in any of the member benefits is optional and not a requirement for membership. If you would like more information about agriculture, please visit www.gfb.org, like Georgia Farm Bureau on Facebook @GeorgiaFarmBureau or follow on Twitter @GaFarmBureau.
---
---