Press Releases
GEORGIA FARM BUREAU HONORS SEN. ISAKSON WITH COMMODITY AWARD  
Posted on Dec 20, 2020 at 19:00 PM
---
FOR IMMEDIATE RELEASE Contact: Kenny Burgamy
Dec. 21, 2020 kdburgamy@gfb.org
Office:478-474-0679, ext. 5285
GEORGIA FARM BUREAU HONORS SEN. ISAKSON WITH COMMODITY AWARD
MACON, Ga. – On Dec. 17, former U.S. Senator Johnny Isakson received the 2020 Georgia Farm Bureau (GFB) Commodity Award in a private presentation at his Atlanta office. The GFB Commodity Award, one of the organization's highest honors, is given to individuals who have supported and promoted Georgia agriculture.
"Georgia's farmers received strong support from Senator Johnny Isakson throughout his time in public service," said Georgia Farm Bureau President Tom McCall. "No person is more deserving of this award. It's truly our pleasure to honor Senator Isakson with the Georgia Farm Bureau Commodity Award."
Isakson served in the Georgia House, Georgia Senate, U.S. House and U.S. Senate during a political career that dated from 1976 to December 2019, when he retired from the U.S. Senate due to his health. Isakson was elected to three consecutive terms in the U.S. Senate.
During his time in the Senate, due to the importance of poultry to Georgia's economy, Isakson co-chaired the Senate Chicken Caucus with Sen. Chris Coons. Isakson also served on the Subcommittee on International Trade, Customs and Global Competitiveness. His work in the caucus and on the trade subcommittee opened up exports for Georgia poultry products around the world, particularly China and Africa. Isakson chaired both the Senate Committee on Veterans Affairs and the Select Committee on Ethics.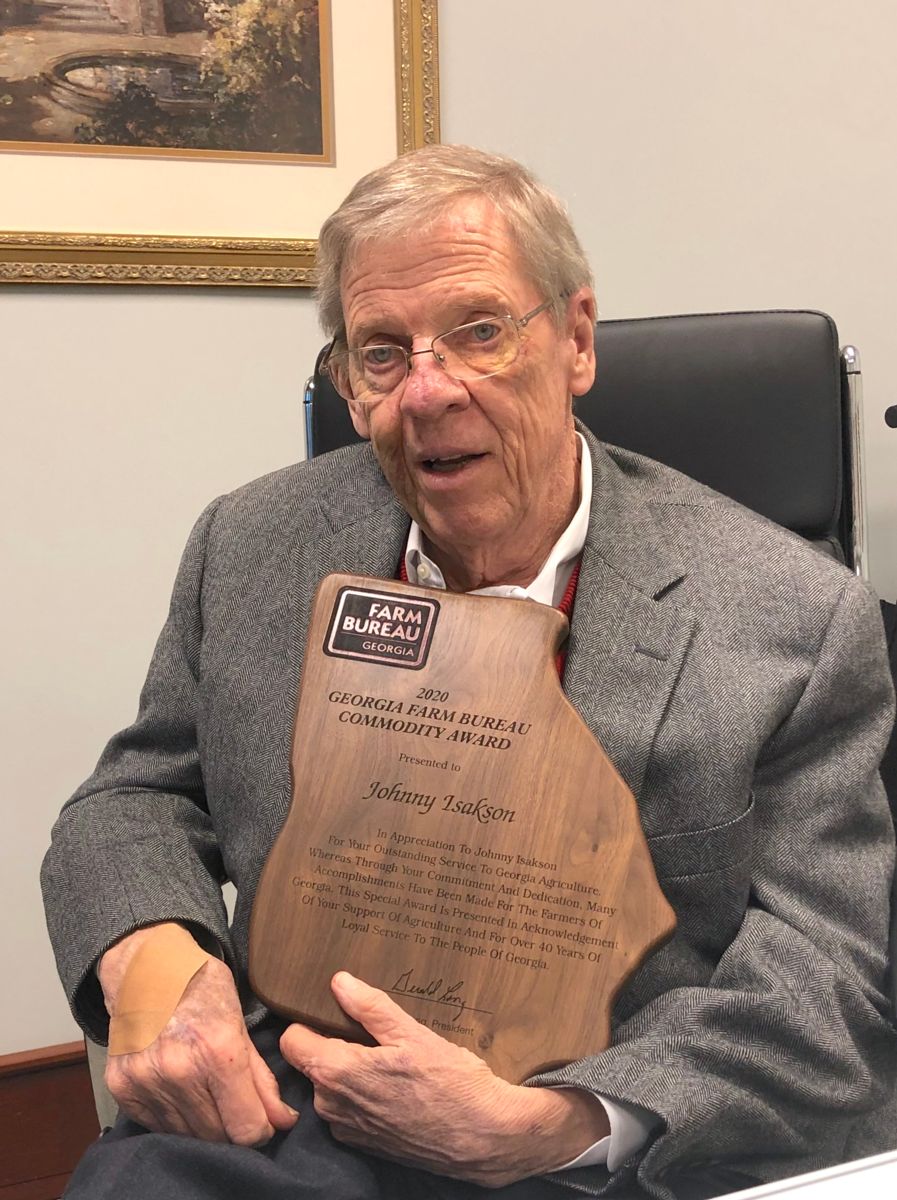 On April 1, 2019, Sen. Isakson stood at the front table on the Senate floor for almost the entire roll call vote – more than two hours – asking his fellow senators to support taking action on House Resolution 268, a resolution to provide disaster assistance for farmers affected by Hurricane Michael. Isakson's act, despite health issues, showed his commitment to Georgia farmers. Although the motion failed to pass that day 44-49, because opponents felt the legislation did not contain enough funding for food nutrition programs for Puerto Rico, Congress did eventually pass legislation later in 2019 to fund disaster assistance for Georgia farmers which was distributed earlier this year.
Isakson learned about farming and gained an appreciation for agriculture as a youth, when he worked summers on his grandparents' farm in Ben Hill County. He is a nine-time recipient of the Friend of Farm Bureau Award, given to members of Congress whose voting records align with American Farm Bureau Federation policy.
Isakson graduated from the University of Georgia in 1966 and served in the Georgia Air National Guard 1966-1972. He opened the first Cobb County office of Northside Realty and later worked as company president. Isakson and his wife, Dianne, live in Marietta and attend Mount Zion United Methodist Church. They have three children and nine grandchildren.
---
---