GFB News Magazine
Young Farmers & Ranchers members meet 'For the Love of Ag'
---
Posted on August 23, 2023 8:00 PM
---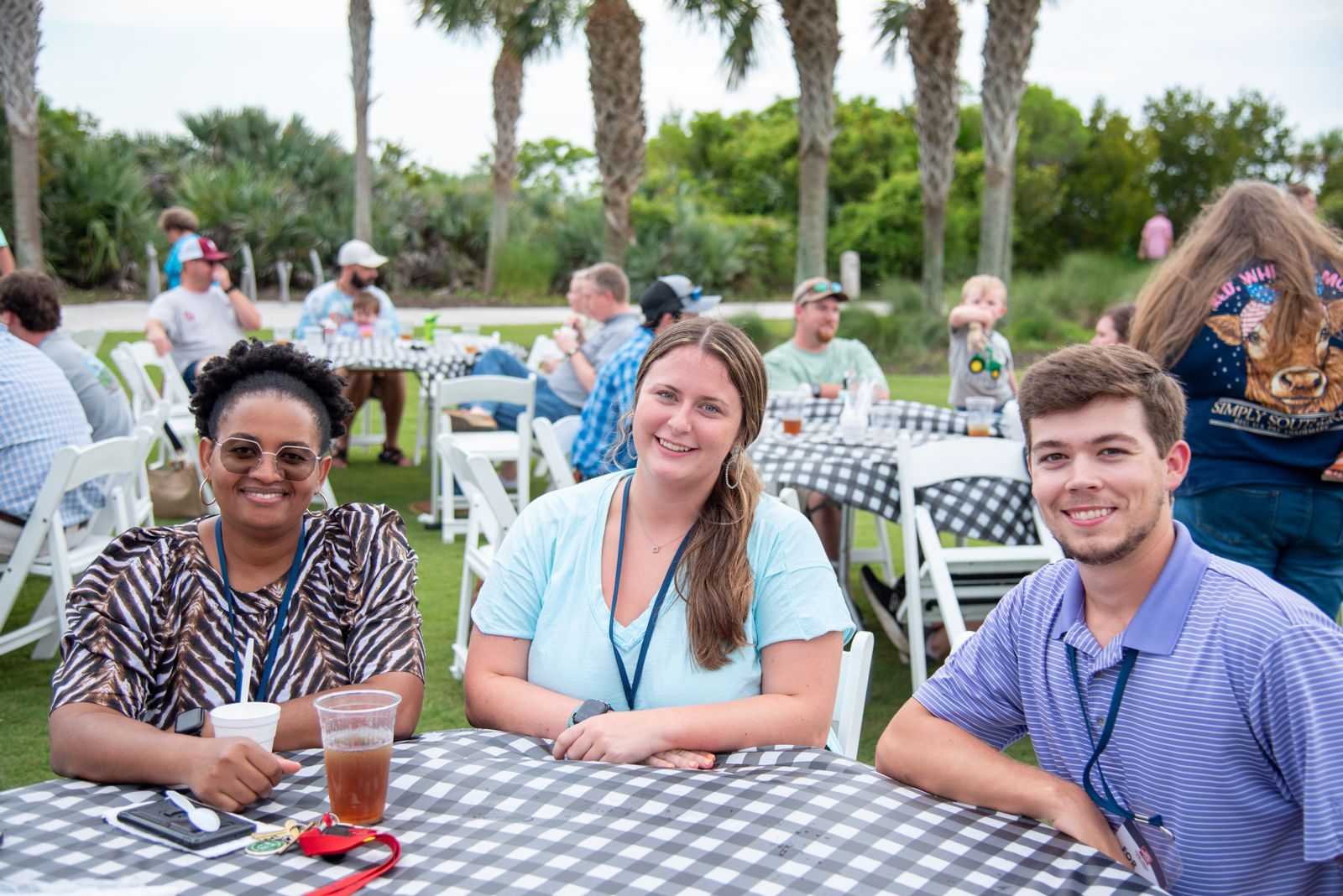 GFB Young Farmers & Ranchers enjoyed a picnic on the first night of the conference. / Photo by Logan Thomas
By Jay Stone, Georgia Farm Bureau
Attendees at Georgia Farm Bureau's 2023 Young Farmers & Ranchers Summer Leadership Conference learned what to look for in weather patterns, credit scores, and how to share farm happenings on social media.
The annual event, held July 12-15 on Jekyll Island, drew about 300 agriculturalists ages 18 to 35 with the theme, 'For the Love of Ag.'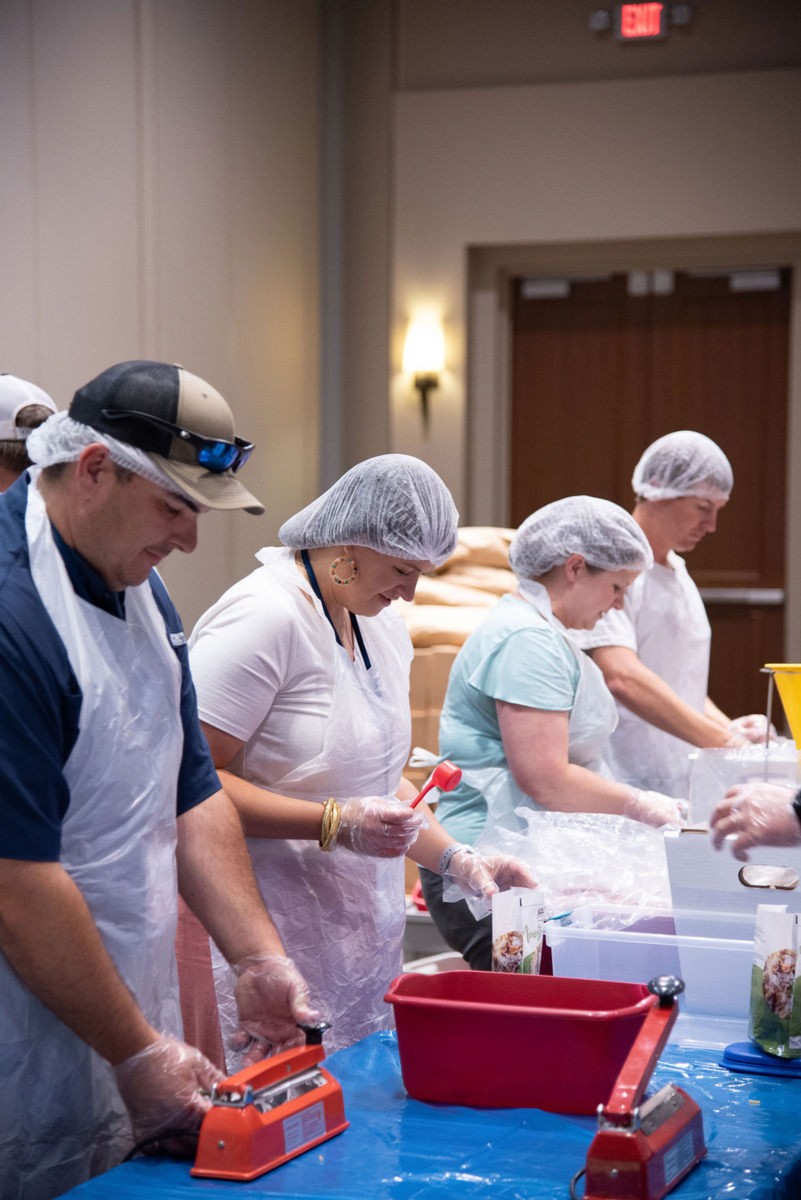 YF&R members assembled 13,000 prepackaged meals to be distributed in the Brunswick community for a Harvest for All service project. / Photo by Logan Thomas
GFB Young Farmers & Ranchers Committee Chairman Colt Hart said that in addition to offering fellowship, the conference shows attendees how to network and GFB's strength as an advocacy organization.
"Farmers see maybe what you can do for me or what I can do for you, and see what we [Farm Bureau] are, so when they go to the legislative arena, they can see how strong we might be," Hart said.
Breakout educational sessions included presentations on understanding debunking meat myths and tips on how to run YF&R programs at the county level. Attendees also met Lucky, GFB's spokesdog, and learned how she is helping the organization reach new members.
Seth Scruggs of Bibb County won the adult category of the Georgia Foundation for Agriculture's rain-shortened mini golf fundraiser. The Carithers Family of Walton County claimed victory in the kids' category.
As an on-site service project, attendees formed an assembly line and put together 13,000 prepackaged meals to be distributed in the Brunswick community for a Harvest for All service project.
The spin on weather
Eric Snodgrass, Nutrien Ag Solutions' principal atmospheric scientist, gave an entertaining and informative presentation on factors that affect weather.
Snodgrass, a former professor at the University of Illinois, started by discussing rotating weather elements. Viewed from above the North Pole, the Northern Hemisphere spins counterclockwise. Snodgrass said that when wind patterns also spin counterclockwise, the result is rain and cooler temperatures. If the wind patterns are clockwise, the result is warmer, dryer weather. These factors work in conjunction with water temperatures in the world's oceans to generate major weather events. Warmer water generates energy that fuels tropical cyclones.
Snodgrass noted that this year coastal water temperatures could generate tropical storms or hurricanes that are "homegrown," that is, they don't travel across the Atlantic Ocean from Africa. At the time of the conference, the Atlantic along the Southeast coast was in the 90s (degrees Fahrenheit), while water temperatures were near 100 degrees between Florida and Cuba.
Snodgrass emphasized the importance of the Bermuda High, a high-pressure area that provides heat for weather systems. It is often located over Bermuda but moves around the Atlantic.
"If [the] Bermuda High is not nearby to pump in heat, you're going to get cold," Snodgrass said.
He noted that forecasts more than two or three days out cannot be taken as givens. The weather in the later days of a 10-day forecast are typically accurate about half the time and beyond 10 days are usually a simple reflection of historical averages.
Snodgrass also offered four lessons on drought: first, farmers should stay current on their knowledge of the moisture in their soils; second, the U.S. Drought Monitor is designed to measure cumulative long-term effects and shouldn't be viewed as a predictor; third, farmers should pay attention to forecasters who discuss momentum of weather elements. Generally, the desire is for weather systems to keep moving; and fourth, pay attention to the prevailing subtropical high pressure systems – the Bermuda High and its counterpart, the Pacific High.
Snodgrass recommended two alternative weather apps, WhatTheForecast and the Weather Underground. To subscribe to Snodgrass' Weather Intelligence Report, visit https://info.nutrien.com/snodgrass_weather. For a comprehensive collection of weather data resources, visit www.ag-wx.com.
Telling agriculture's story
TikTok sensations Cody and Erika Archie from Bar 7 Ranch in Gainesville, Texas, shared some of the experiences and approaches that have made their videos popular. The Archies have attracted more than 932,000 followers to their TikTok channel. Their videos document their life in agriculture and the working dynamics of their family-run ranch.
Recently they covered their trip to the Southeast, which included the YF&R Conference, hunting pythons in Florida and why Cody's headrest in his pickup is backward.
"We got started about two years ago. Cody quoted Denzel Washington and that video got 15,000 views," Erika said. "That's kind of what got us out there. Since then, we've gotten into YouTube. What changed for us is we posted funny content. Before that it was educational, but that was the first time we kind of put our personalities on there."
The couple also posts content on Facebook and Instagram.
"What we've picked up from a lot of those is you just have to start posting," Cody said, noting that it's important to recognize that each platform has its own unique audience. "So that's kind of really all it boiled down to is we just started putting stuff out there. And then the other thing is to put it on multiple avenues."