GFB News Magazine
Young Farmer & Rancher Achievement Award profile: Elton Baldy
---
Posted on July 26, 2018 8:00 PM
---
By Jennifer Whittaker
Elton Baldy started farming in 2000 at 16 with an FFA garden and 100 head of goats. The next year he bought a tractor and planted 30 acres each of cotton and peanuts on leased land. He continued to farm while earning an ag education degree from the UGA Tifton Campus, taught a year in Brooks County, then worked for Bayer CropScience for six years.
Along the way, Baldy learned the importance of diversity. His 700-acre crop mix includes traditional crops like cotton, peanuts and soybeans, but he has branched out into fresh peas, butter beans, winter greens, okra and tomatoes. Baldy also grows dried peas and field corn for wildlife food and oats, has planted 10 acres of pecans and has small herds of goats, pastured pork and some chickens.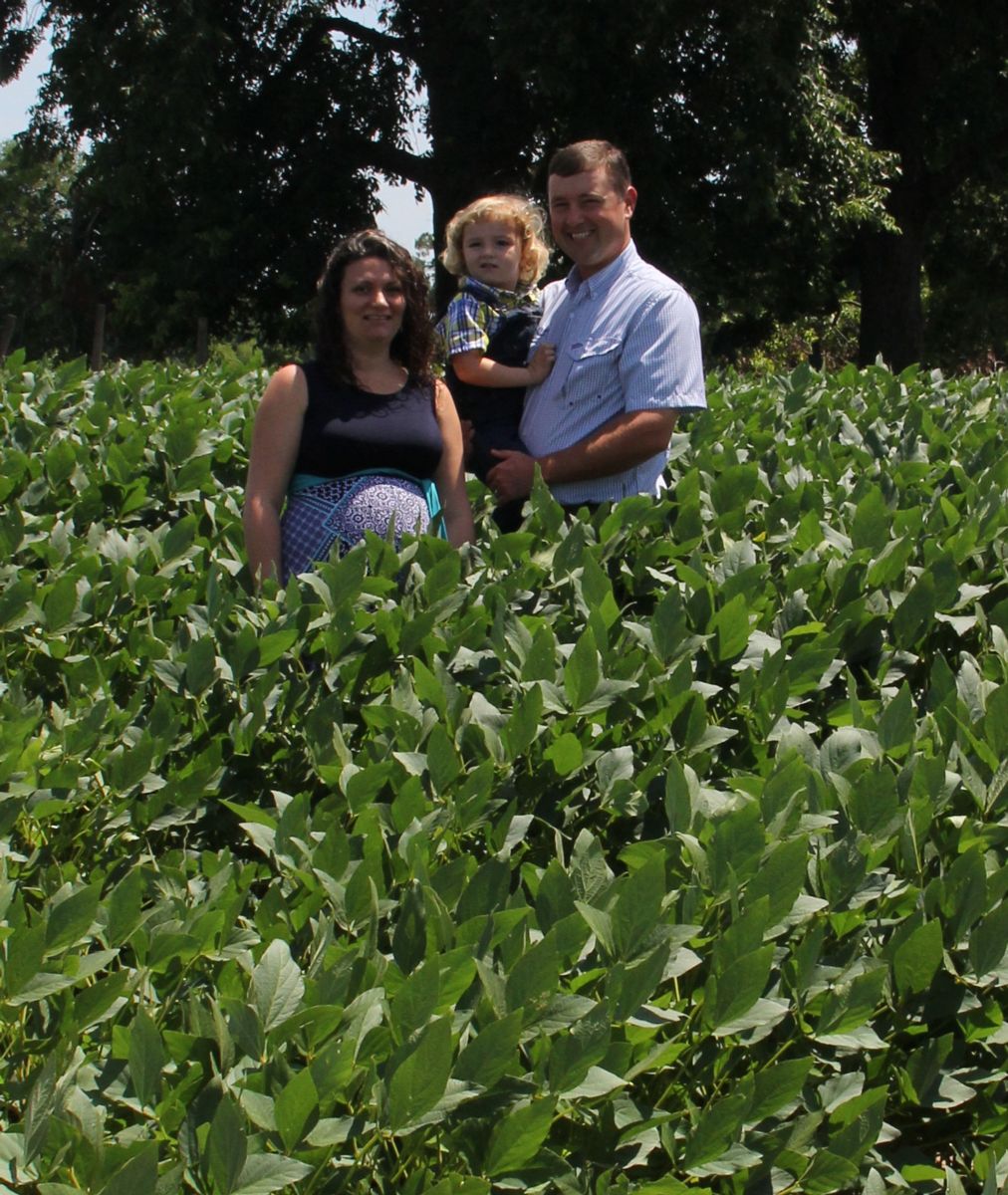 Tabitha, Henry & Elton Baldy check out a field of their soybeans. They are expecting their second son in October. Visit www.gfb.ag/baldyphotos to see more photos.
"The condition of row crop prices, that's why we're looking at diversity," Baldy said. "We'd rather grow a higher value crop on fewer acres. The diversity of crops is a key part of my business. I feel like the pea business is a mainstay of our operation."
Baldy began growing just a few acres of peas on the edges of his row crop fields, but high demand for fresh peas led him to increase his pea acres.
"We were overrun with people who wanted peas. Looking at the demand, I recognized an opportunity," Baldy recalled.
Peas do well on dryland, so they fit well in his crop mix since 70 percent of his fields are dryland. The crop also provides cash flow at a time when row crops don't.
Baldy says more people don't grow peas because there are challenges to growing the crop, such as insect pressure and finding labor to hand harvest the fresh peas.
Baldy began selling his fresh peas at the Moultrie Farmers Market and then opened a retail store there to sell his produce and that of other farmers. In the past year, he sold the store and took his produce on the road. He now sells his produce wholesale to several farmers markets and at about 47 markets for senior citizens and Women, Infant & Children participants in Southwest Georgia.
"This program has opened my eyes because we go into some of the most rural agricultural counties, but they don't have access to fresh produce," Baldy said.
Baldy credits the role his wife, Tabitha, has played in the farm.
"Without Tabitha none of this would be possible," Baldy said. "Family support is the key to all of it."
Tabitha, who is a district administrator with the local school system, was more involved with the daily work of the farm before the birth of the couple's son, Henry. Now she manages the farm books and helps move equipment.
Growing up the daughter of small business owners in Albany prepared her for farm life.
"I get that it takes a whole family to make a business run," Tabitha said. "I knew what I was getting into because he was farming when we were dating."
As he has built his farm from scratch, Elton has invested in installing overhead and traveling irrigation systems on 30 percent of his operation. To make the irrigation systems efficient, Elton has converted three diesel units to high efficiency electric systems. He's also using high efficiency drop irrigation and installed a low volume micro-jet irrigation system on his pecan orchard. He's using a couple of surface ponds as additional water sources for his irrigation systems.
"A challenge in our operation is the majority of acreage is dry land, so crops are selected by soil type, rotation and wild life pressure," Elton said. "I've transitioned to crops with higher value that can be direct marketed to consumers like fresh peas and dried peas and corn for deer plots sold direct to consumer or retailer."
Land rental is very competitive in the area so Elton utilizes each acre to its fullest potential. This means double cropping – following one crop behind the other- on the same acreage – and triple cropping his produce. A typical rotation might look like winter oats planted in the fall, followed by spring peas, followed by winter greens. Full season crops like cotton and peanuts are planted on a multi-year rotation.
While Elton grew up on his family's farm, the family rented it out as his dad had a trucking business. Elton credits his mentor, David Brock, with mentoring him as he has built his farm.
"When I first started farming, David helped me out by custom harvesting my crops. He has transitioned out of doing that and now works with me in my custom harvesting of small grains, soybeans and corn," Elton said. "He's a key part of the farm."
In addition to farming, Elton is a professional auctioneer specializing in heavy equipment, farm machinery and livestock. He auctions sales in his area and surrounding states. He does numerous auctions for charity, such as the Georgia FFA Foundation's annual gala and Sunbelt Expo tire sale.
Elton has participated in the Farm Bureau Young Farmer since college. He began competing in the discussion meet, which he won the state award for in 2006 and went on to place in the top 16 at the AFBF convention in 2007. While working for Bayer in North Carolina, Elton won the N.C. Excellence in Agriculture Award in 2013 and placed in the top 10 at the AFBF convention in 2014. He is a Colquitt County Farm Bureau director and has served on the county's young farmer committee.
The couple have enjoyed the fellowship and insight they've gained while attending the GFB YF&R Conference in recent years.
"I think the YFR program helps because farming is a unique occupation, so it's nice to have a group of people who understand what you're doing," Tabitha said.