GFB News Magazine
YF&R competitors represent Georgia at AFBF
---
Posted on February 15, 2023 7:00 PM
---
By Jennifer Whittaker, Georgia Farm Bureau
Colt Hart, Brian Fleming and Willie Sizemore represented Georgia in the three Young Farmers & Ranchers events held during the American Farm Bureau Federation convention in January.
Lee County Farm Bureau member Willie Sizemore talked his way into the Sweet 16 round of the national YF&R Discussion Meet. This event is designed to simulate a committee meeting where participants talk about an ag-related issue and explore possible solutions. Contestants are evaluated on their ability to exchange ideas and information on a predetermined topic.
During his first round of competition Sizemore prevailed against competitors from Iowa, Minnesota, Nevada and South Carolina to advance. In the second round, he faced contestants from Maryland, Montana and Ohio to get to the third round, which pitted him against competitors from Idaho, Utah and Colorado. Sizemore faced eventual winner Mike Hannewald of Ohio in the second round.
Sizemore graduated from the University of Georgia in 2021 with a degree in agricultural communications and is currently a student at the Mercer University Law School.
Hart County Farm Bureau member Brian Fleming competed in the Excellence in Agriculture competition on Jan. 7, delivering a PowerPoint presentation outlining the advocacy work he does on behalf of agriculture.
This competition recognizes young farmers and ranchers for their agricultural advocacy efforts and leadership. Brian has chaired the Hart County Farm Bureau YF&R Committee since 2014 and grew the county's YF&R program from just himself to its current membership of about 35. He served on the GFB YF&R Committee from 2019 to 2021 and regularly visits local schools to teach students about agriculture.
Fleming is operations manager for PTL Agriculture, the Fleming family farm owned by his dad, Bobby, that produces soybeans, wheat, oats, milo, hay and corn on approximately 1,000 acres and includes a small herd of brood cows. Brian also runs a small seed-cleaning operation that serves area farmers.
Franklin County Farm Bureau member Colt Hart represented Georgia in the AFBF Young Farmers & Ranchers Achievement Award competition. Colt is a fourth-generation farmer who raises cattle, broilers and goats with his wife, Leanna. The Harts also grow millet, ryegrass, Bermudagrass & wheat. The couple represents GFB's 2nd District on the GFB YF&R Committee. Colt is chairing the committee this year.
The Achievement Award recognizes young farmers and ranchers who have excelled in their farming or ranching operations and exhibited superior leadership abilities. Participants are evaluated on a combination of their agricultural operation's growth and financial progress, Farm Bureau leadership and leadership outside of Farm Bureau.
Stacie Anderson of Ohio won the AFBF Excellence in Agriculture Award. Daniel and Carla Trantham of Alabama won the Achievement Award.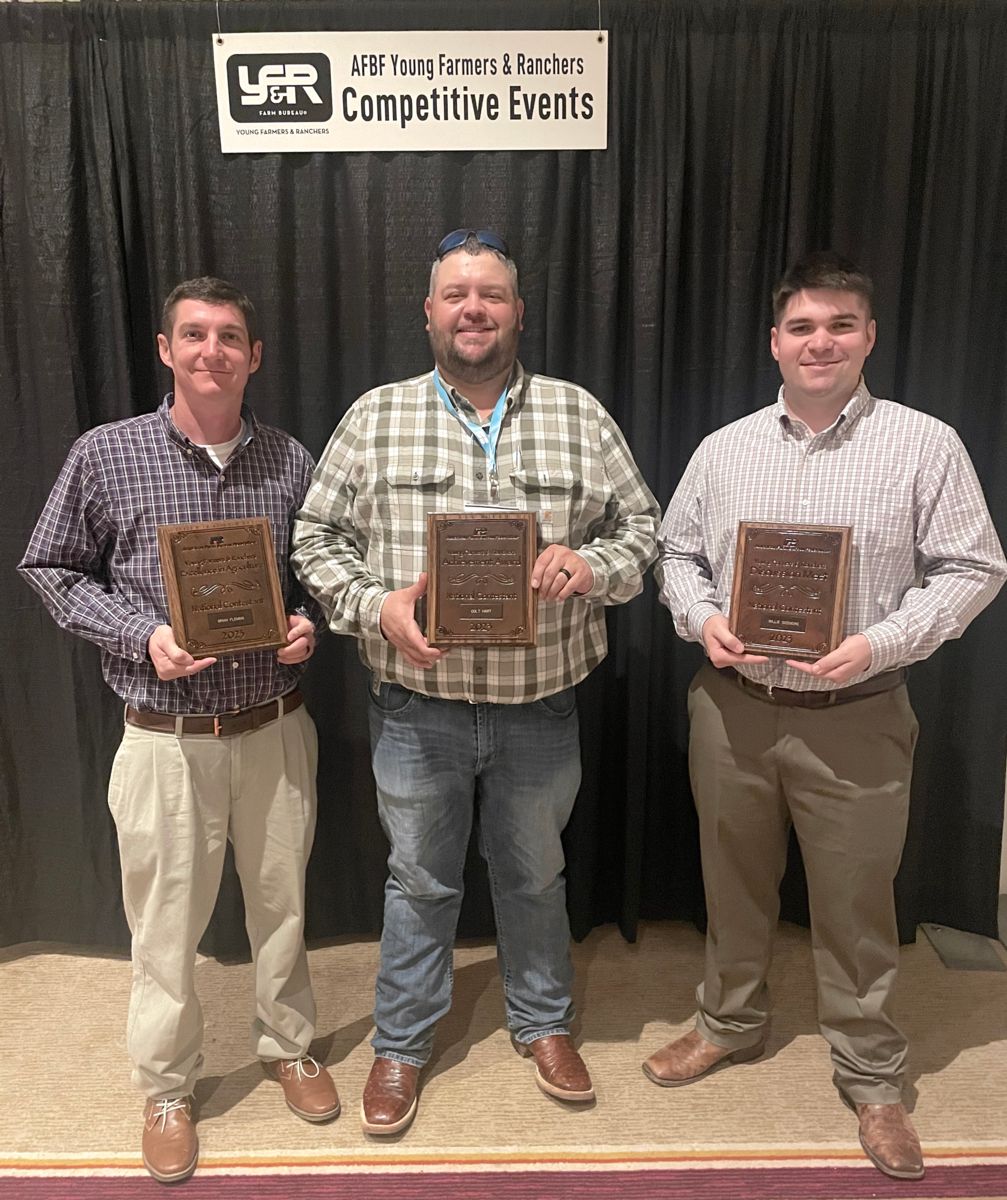 From left, Brian Fleming, Colt Hart & Willie Sizemore competed in the American Farm Bureau Young Farmers & Ranchers competitive events at the AFBF convention in January. Photo by Breanna Berry.