GFB News Magazine
West Georgia partnership seen as possible model for rural broadband
---
Posted on September 8, 2020 8:00 PM
---
By Jay Stone
When Heard County Farm Bureau President Ralph Caldwell considers what he can do with the limited internet access he has, the disparity between his area near the Alabama line and Georgia's urban areas is hard to ignore.
"I feel poor," Caldwell said.
Caldwell has 17 poultry houses, raises cattle and grows row crops; the spotty internet access he does have is a barrier to efficiently running his farm."I would like to connect all of my chicken houses to here," he said, noting that high-speed internet would allow him to monitor conditions in the chicken houses from his home.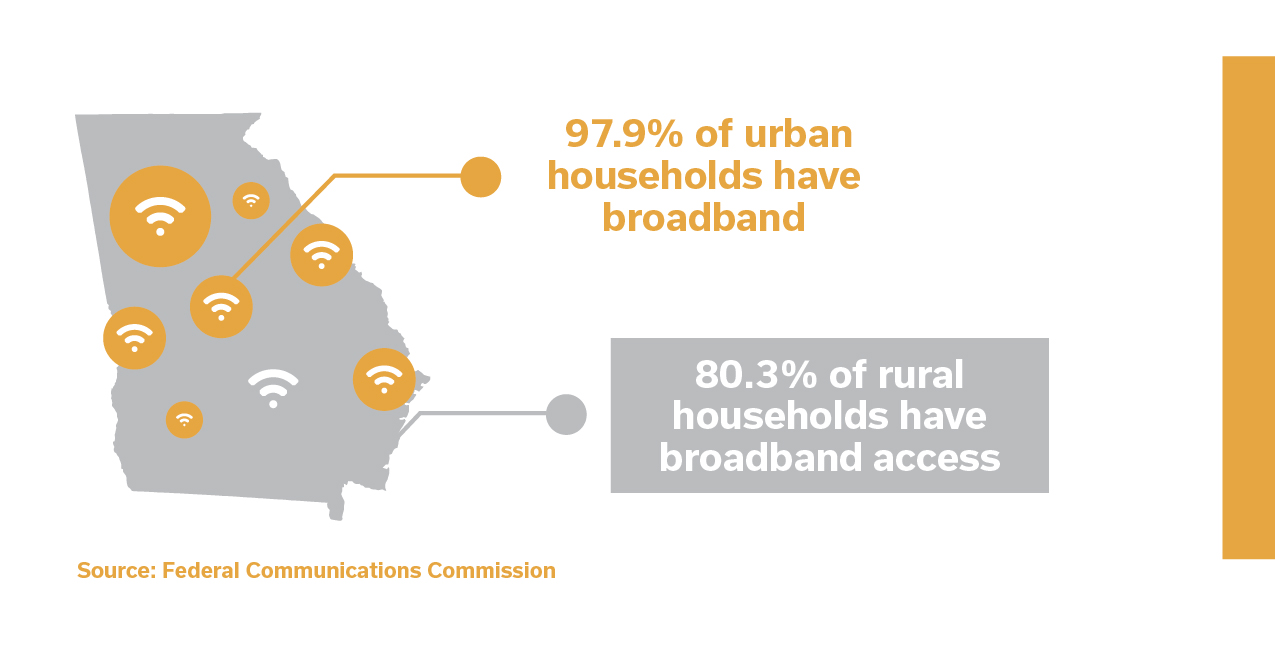 "With the access we have, that just isn't feasible."
He buys and sells cattle via online video auctions, but again, if his internet shuts down, it poses a challenge, whether he's bidding on cattle or confirming sales.
Caldwell recently purchased land bordering his farm with a house on the property. He tried to get his son Colton to move his family from his home in nearby Franklin to the new property. Colton declined, Caldwell said, because of the poor internet.
Cut off in the country
In 2018, a Federal Communications Commission (FCC) survey measured internet connectivity across the country using the Ookla Speed Test (www.speedtest.net). The survey showed 80.3% of rural Georgians have access to fixed terrestrial broadband internet service (home or office), defined by the FCC as at least 25 megabits per second (mbps) download speed and 3 mbps upload (expressed as 25/3 mbps).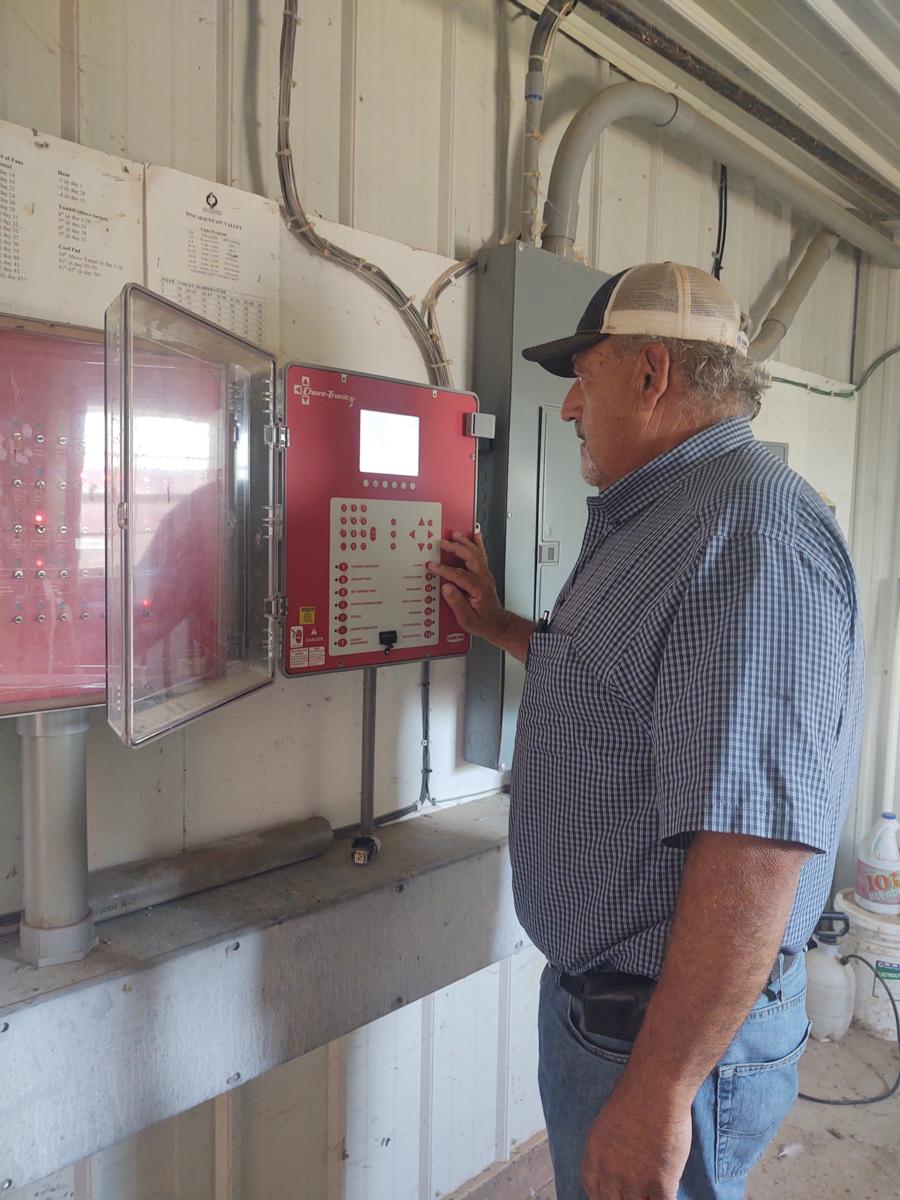 Heard County Farm Bureau President Ralph Caldwell has run into multiple issues stemming from poor internet service.
Photo by Ann Caldwell
By comparison, 97.9% of Georgians in urban areas have access to 25/3 internet. The survey results showed 100% of the state has 5/1 mobile LTE access. In rural areas, 82.3% of Georgians have access to 10/3 internet while 98.1% of the state's urban residents have 10/3 access.
The levels of 25/3 and 5/1 access vary widely.
The survey showed 18 Georgia counties, all of them rural, where fewer than 50% of residents had 25/3 fixed and 5/1 mobile access. In five counties, less than 10% of the population had 25/3 and 5/1 access.
In Heard County, where the Caldwells live, 58.8% of the residents have 25/3 fixed and 5/1 mobile access. In terms of access percentage, Heard ranked 135th of Georgia's 159 counties in the FCC survey.
Fiber to the premises
On June 25, the USDA awarded a $12.5 million grant to Carroll EMC (CEMC), which provides power to much of Heard County, and SyncGlobal Telecom under the department's Rural ReConnect program. Through the partnership, areas of southern Carroll County and northern and western Heard County will gain high-speed internet access.
Georgia Agriculture Commissioner Gary Black called the event a celebration of a breakthrough to improve rural internet service. It was made possible when Georgia Gov. Brian Kemp signed legislation in 2019 authorizing EMCs to provide rural broadband service.
"The need we're hearing about is real," CEMC CEO Tim Martin said. "Two-thirds of our members do not have access to broadband. We really believe that this project is going to be a springboard for future projects for West Georgia, and it can be a model, I think, for this state and around the country."
SyncGlobal executives said the construction phase of the expansion could begin early in 2021. The company is in the early stages of the Rural Utilities Service pre-construction process.
The project will include fiber optic cable strung on EMC poles, extending the ability to take "fiber to the premises." SyncGlobal will be the internet service provider, offering internet speeds up to 1 gigabit per second (Gbps), as well as managed Wi-Fi, network security, parental controls and home phone service.
According to USDA, the expanded network will allow high-speed broadband internet access to 7,348 people, 121 farms, 15 businesses, four fire stations and one elementary school.
Caldwell, who responded to a broadband access survey by CEMC in 2019, is optimistic that his will be one of the farms.
As vital as rural electrification
For Agriculture Secretary Sonny Perdue, the pursuit of rural internet access dates back at least to his first campaign for governor of Georgia in 2002.
"It is a transformative infrastructure," Perdue said. "It has the ability to bring people together. That's what we're trying to do."
The funding is part of $100 million in grant funding made available for the ReConnect Pilot Program through the CARES Act passed by Congress in March. That money was in addition to $1 billion designated for rural internet projects previously authorized by Congress.
The proliferation of rural high-speed internet access is being compared to the 1930s expansion of the rural electrical grid. It will open opportunities to use data-driven technology in precision row crops, livestock management and many other applications.
"We think of broadband not only as what runs our equipment out on the farm," American Farm Bureau Federation President Zippy Duvall said, noting that one in four rural Americans lack broadband access. "It also returns data back to our farms from that machine so we can make decisions of how to plant, what to plant and where to plant."
Gov. Kemp said recent events have underscored the necessity of remote connections, as U.S. residents have grappled with the spread of COVID-19 and sought ways to access healthcare, continue education and carry out jobs in ways that slow the spread of the virus that causes the disease.
Caldwell's wife, Kim, was diagnosed with COVID-19 in late July; initially she utilized telehealth services to seek care. Telehealth depends on videoconferencing, though, and is hampered by low internet speeds.
"I think it's pretty clear that we all have a commitment to help increase rural broadband access for economic growth, educational opportunities and, more importantly now than ever, health care access," Kemp said.
Some government functions prove difficult with the connectivity issues facing rural Georgians.
Agriculture Commissioner Gary Black said that earlier this year, when implementing the block grant program for farmers devastated by Hurricane Michael, tasks like uploading documents were barriers to completing the grant application process.
USDA Rural Development is accepting applications for Rural ReConnect grants and loans. For more information about the ReConnect program, visit https://www.usda.gov/reconnect.