GFB News Magazine
Using Peanut RX can increase farmers' profitability 
---
Posted on March 1, 2023 7:00 PM
---
By Jennifer Whittaker, Georgia Farm Bureau
Use the Peanut RX analysis tool. That's the advice the doctors on the UGA Peanut Team recommend as Georgia peanut producers prepare to plant their 2023 crop.
This stems from about 7% of Georgia's 2022 peanut yield being lost to tomato spotted wilt virus (TSWV). This loss equals what the virus cost growers in 2019 and 2005, the largest since TSWV caused a 12% yield loss in 1997.
"I've been dealing with tomato spotted wilt virus for 33 years. Some things last year took me back to 1997 when we saw some of the worst spotted wilt virus," UGA Plant Pathologist Dr. Albert Culbreath said.
According to the USDA National Agricultural Statistics Service, Georgia's 2022 peanut crop had an average yield of 4,250 lbs/acre compared to 2021's 4,450 lbs/acre.
The quality of Georgia's 2022 peanut crop was good, Dr. Scott Monfort says, with 99.8% of the crop being graded Seg 1- the top score the USDA gives. Total sound mature kernels (TSMK), however, were lower for the 2022 crop at 73.8% versus the 2021 crop's 75.8%.
"Production and grades don't show losses by our top growers," Monfort said. "For our early planted crop, irrigated peanuts were down 1,000 or more pounds an acre and grades were off for TSMK."
Georgia's dryland peanut acres had above average yields in most parts of the state, Monfort said, which helped make up for TSWV yield loss some growers had.
article continues below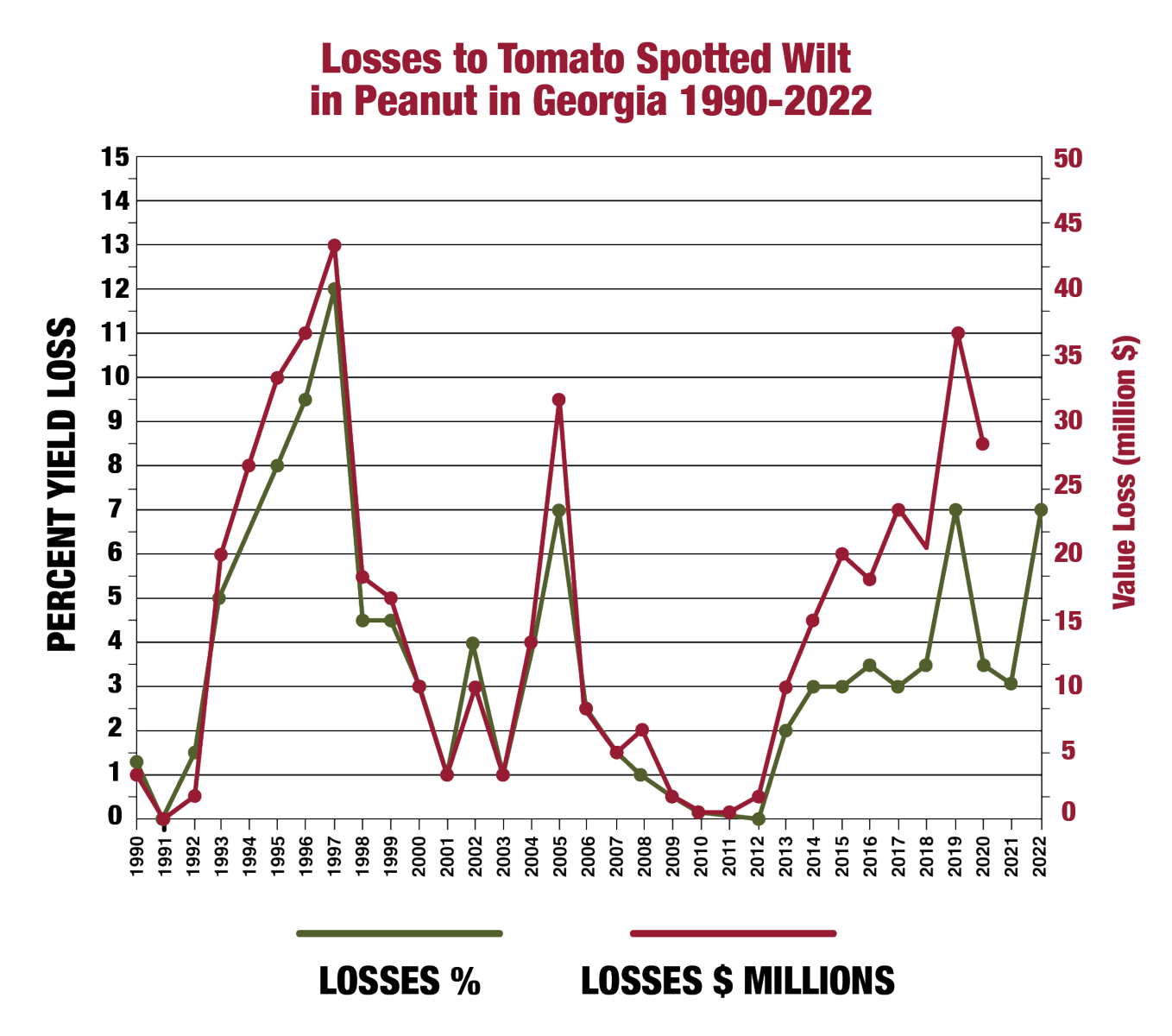 Source: UGA Peanut Team, Dr. Albert Culbreath
What is Peanut RX?
Researchers at the Universities of Georgia and Florida, Auburn University, Mississippi State and Clemson collaborated to create an online tool farmers can use to assess their risk for major peanut diseases based on production practices.
Growers enter their variety planted, planting date, plant population, insecticide/herbicide use, row pattern, tillage method, crop rotation, field disease history and irrigation. The tool includes chemical management plans for eight major companies so growers can see how using products at the recommended times and amounts affects disease incidence.
Points are assigned to each production choice. The risk index gives producers a low, moderate or high-risk assessment for TSWV, leaf spot and white mold based on the number of points they accumulate. The tool is updated as needed each year to reflect new research findings.
TSWV & Thrips
TSWV can cause a disease that severely weakens or kills a plant. The virus is transmitted by tiny insects called thrips that pierce and suck plants, but thrips only transmit TSWV if they acquire the virus as larva.
Thrips can cause mild to significant plant damage on their own, but their transmission of TSWV is what makes controlling them a priority for peanut growers.
TSWV became a significant disease for Georgia farmers in the 1990s and can also affect pepper, tomato and tobacco crops.
Tobacco thrips and western flower thrips are the two species that transmit TSWV in peanuts, UGA Peanut Entomologist Mark Abney says. Many plants serve as hosts for tobacco thrips and the insects overwinter on cold weather plants.
"Right now, they're in your winter weeds and in your winter wheat," Abney said.
Thrips can move to your farm from the field next door or travel long distances, Abney says.
article continues below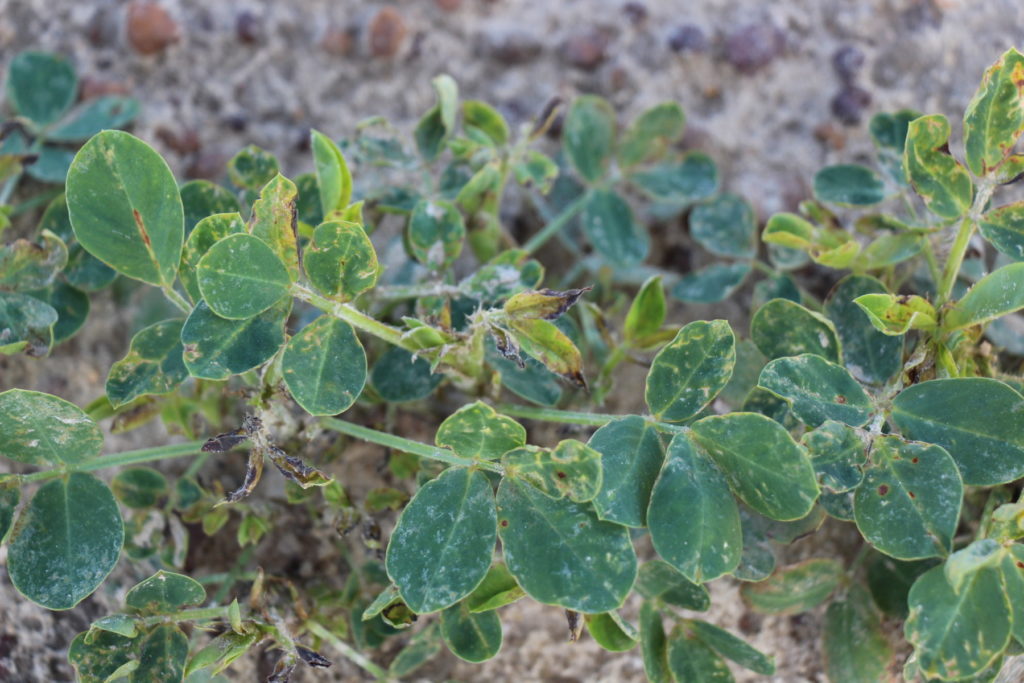 Thrips damage to peanut plants / Photo courtesy of the University of Georgia
Weather affects thrips
Weather determines the number of thrips there are in spring, Abney says. He notes warm winter weather generally means more thrips. Winter rain usually means fewer.
"Immature thrips are killed by rain – especially in February and March. If we have a warm winter and it's dry, we'll have higher thrips populations," Abney said. "The best scenario is a cold and wet winter."
Dr. Bob Kemerait points out that sustained cold temperatures are needed to lower thrips numbers.
"We had cold weather at Christmas and the second weekend of January, but I'm most interested in what type of weather we have from mid-January to April," Kemerait said.
Thrips complete their life cycles in two to three weeks.
"The warmer it is, the faster their life cycle goes," Abney said.
UGA research shows that every 1% of TSWV infection in the GA-06 Green variety causes a 20 lb/acre yield loss.
Why use Peanut RX?
UGA Peanut Team researchers acknowledge some growers who don't follow the Peanut Rx recommendations have little TSWV.
"Sometimes you get lucky," Kemerait said.
For growers who have followed the Peanut RX system yet still had TSWV in their fields, Kemerait reminds them, "Following Peanut RX is no promise that you won't have some TSWV in your crop, but it will help you remain profitable."
Peanut RX recommendations
"Peanut RX is not just doing one thing. It's following all the recommendations," UGA Plant Pathologist Dr. Bob Kemerait said.
Kemerait says the production decisions growers make about planting their crop determine how the crop will fare against TSWV.
"Once the furrow is closed, you've done everything you can do to manage tomato spotted wilt," Kemerait said. "When you drive away from the field the die is cast."
Recommendations peanut specialists encourage to decrease TSWV incidence include, in order of impact:
1) Plant peanuts after May 10 if possible
2) Apply phorate in-furrow when planting
3) Plant using no-till or strip-till
4) Plant a variety that has shown some resistance
Growers can visit www.peanutrx.org to use Peanut RX on their computers or download the app via the Apple App Store or at Google Play.