GFB News Magazine
Nolans take second-place honors in AFBF YF&R contest
---
Posted on March 3, 2021 7:00 PM
---
By Jennifer Whittaker, Georgia Farm Bureau
Jacob and Emily Nolan were recognized for the sweat equity and ingenuity they've poured into their farm when they were named the second place winners of the 2021 American Farm Bureau Federation (AFBF) Young Farmers & Ranchers (YF&R) Achievement Award. The honor was announced Jan. 13 during a live presentation as part of the AFBF virtual convention.
As second-place winners, the Nolans receive a Case IH Farmall 50A tractor, courtesy of Case IH. Caleb and Leanne Ragland of Kentucky won the contest and a new Ford vehicle.
"We were so humbled to even be considered a Top Ten finalist. When they announced us as the runner-up, we were in disbelief. I think we still are," Jacob said. "We appreciate AFBF for making our experience a great one even though we were unable to be in San Diego."
The achievement award recognizes outstanding young farmers and ranchers who excel in their farm operations and exhibit superior leadership abilities. The Nolans own and operate Spring Fever Farms in Wayne County.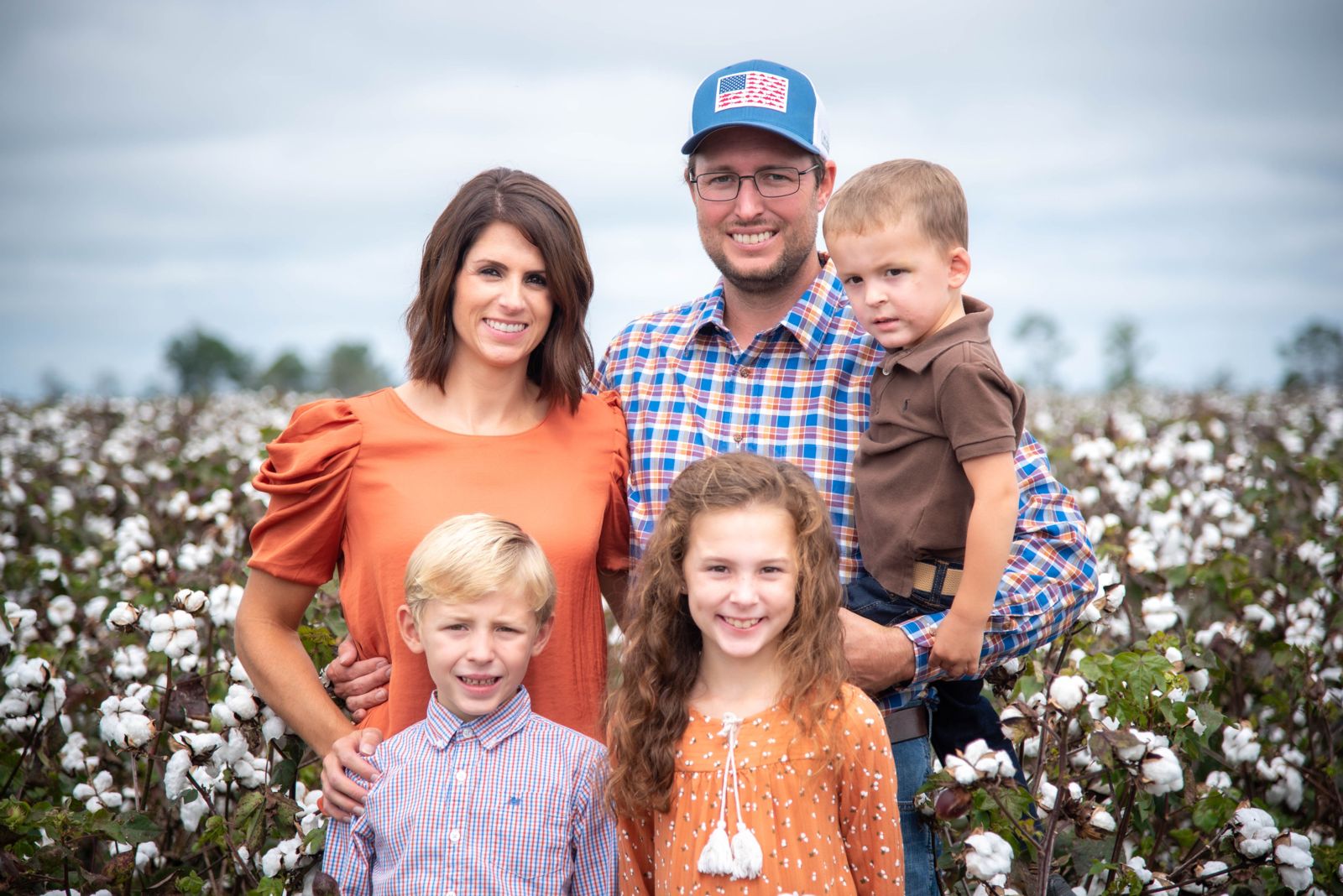 Jacob & Emily Nolan with children Tanner, Kenley & Reed | Photo by Logan Thomas
They grow corn, cotton, peanuts, pecans, satsuma oranges, strawberries and wheat, while raising Brahman and Hereford cattle.
The couple served on the GFB YF&R Committee in 2012-2013. Jacob is a WCFB director. Emily is chairwoman of the WCFB Promotion & Education Committee.
The Nolans live in Screven with their children, Reed, Kenley and Tanner. To learn more about their farm, visit https:// gfb.ag/YFRAANolans.
Jacob and Emily join an elite group of GFB members who were either named a runner-up for the award or won the national competition. Previous GFB Achievement Award contestants who finished in the top four in the AFBF competition include David & Shirley Jarriel (2002) and Chad & Julie Carlton (2012). GFB members who won the AFBF Achievement Award include: William H. & Annett Smith (1972); Larry & Phyllis Tucker (1973); Wesley & Angie Kaylor (1974); David & Patricia Graham (1976); Ken & Mona Howard (1979); Anthony & Linda Everett (1980); Zippy & Bonnie Duvall (1982) and Jim & Patti Reid (1985).
Mathis, Yopp fare well in AFBF YF&R contests
By Jay Stone, Georgia Farm Bureau
Monroe County Farm Bureau Vice President Melissa Mathis was named to the Top 10 in the AFBF Excellence in Agriculture Award competition. Tift County Farm Bureau member Ashley Yopp advanced to the Sweet 16 round of the AFBF Discussion Meet. The excellence in agriculture and discussion meet competitions were held virtually as part of the AFBF convention in January. Mathis was one of 26 state winners to give presentations during the convention, while Yopp was one of 28 competitors in the discussion meet.
Mathis, who won the 2020 Georgia Farm Bureau (GFB) Young Farmers & Ranchers (YF&R) Excellence in Agriculture Award, runs farm and pet supply stores in Bolingbroke, Barnesville and Monticello. She and her husband, Bobby, also have a small cattle farm. They live in Forsyth with their children, Jane and Copelan.
The excellence in agriculture award is given to recognize outstanding young farmers and ranchers who earn the majority of their income from vocations other than production agriculture, but who actively contribute and grow through their involvement in agriculture, leadership ability and participation in Farm Bureau and other organizations.
To learn more about Mathis, visit https://gfb.ag/YFREAMathis
In her presentation, Mathis focused on how urban sprawl is affecting the growth of existing farms and the creation of new ones, increasing farm safety awareness and agricultural education.
Yopp is an assistant professor of agricultural leadership, education and communications at UGA's Tifton Campus. She won the GFB 2020 YF&R Discussion Meet held virtually last fall. To learn more about Yopp, visit https://gfb.ag/YFRDMYopp.
The discussion meet is designed to simulate a committee meeting, where groups of individuals talk about a selected agricultural topic and seek ideas to resolve issues within that topic. In three rounds of competition, Yopp and her competitors discussed international trade, natural disasters and big data.
If you're interested in learning more about GFB's Young Farmers & Ranchers Program or entering the program's 2021 contests, visit www.gfb.ag/yfr . June 1 is the deadline for entering the '21 GFB YF&R Achievement Award, Excellence in Ag Award, & Discussion Meet competitions.