GFB News Magazine
Massei receives National AITC Award
---
Posted on August 10, 2023 8:00 PM
---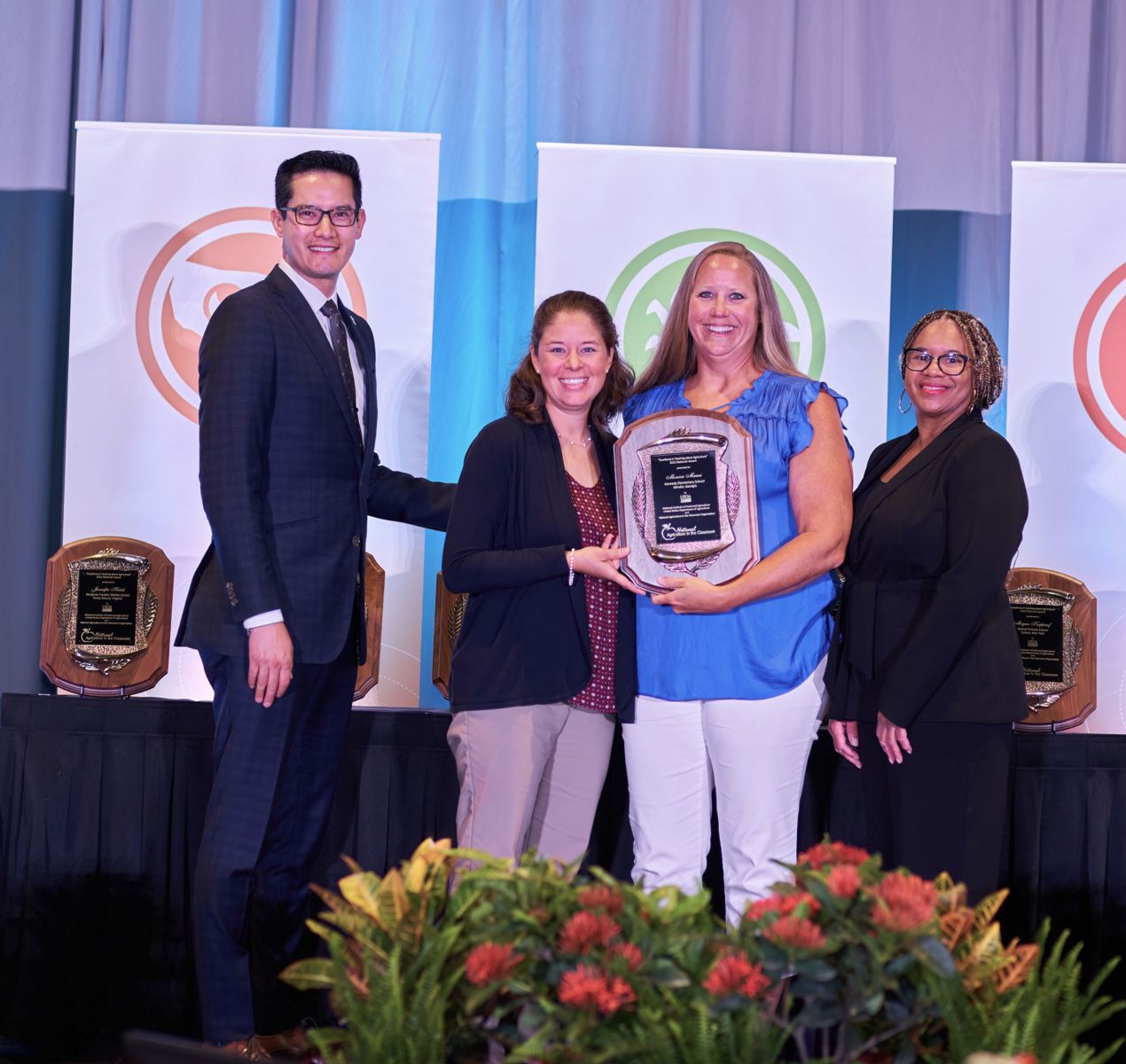 Dr. Carlos Ortiz, left, and Dr. Dionne Toombs, far right, both with the USDA National Institute of Food & Agriculture, present Monica Massei, second from right, with a National Excellence in Teaching about Agriculture Award as GFB Educational Programs Coordinator Lauren Goble offers congratulations. / Photo courtesy of NATIC
Monica Massei received national honors at the 2023 National Agriculture in the Classroom Conference held June 27-29 in Orlando, Florida. Massei was one of nine teachers from across the country honored with the 2023 National Excellence in Teaching about Agriculture Award.
The National Agriculture in the Classroom Organization, USDA's National Institute of Food and Agriculture, and Farm Credit partner each year to honor teachers in pre-kindergarten through 12th grade for the innovative ways they use agricultural concepts to teach reading, writing, math, science, social studies, technology, engineering and the arts.
Massei teaches gifted students in first through second grades at Kennedy Elementary in Monroe, Ga., using school gardens and animals. Massei plans engaging lessons that highlight agriculture, conservation, environmental stewardship and healthy living.
Activities Massei does with her students include: adopting a cow through the Dairy Alliance's Adopt a Cow program; planting vegetables in the school garden that the students harvest for the school cafeteria to prepare and serve; learning about good nutrition and how to read food labels; and raising goats.
She received Georgia Farm Bureau's 2022 Georgia Agriculture in the Classroom Teacher of the Year Award. Massei has worked with the Barrow County Farm Bureau on Ag in the Classroom projects.
The Georgia Agriculture in the Classroom program works to increase agricultural literacy among children and the public through the activities of county Farm Bureau volunteers in their local communities and through teacher training courses held statewide. The program provides tools for effective teaching about agriculture and to assist Georgia educators in implementing the instruction of ag-related concepts in the classroom.
For more information about Georgia Ag in the Classroom and to access educational resources visit www.gfb.ag/AITC .