GFB News Magazine
Lance finishes fourth in AFBF Excellence in Ag competition
---
Posted on February 17, 2022 7:00 PM
---
By Jay Stone
Georgia Farm Bureau's (GFB) representatives in the American Farm Bureau Federation (AFBF) Young Farmers & Ranchers (YF&R)
competitive events represented the state well, and one brought home a prize.
State winners Steven and & Tara Green (YF&R Achievement Award), Jessica Lance (YF&R Excellence in Agriculture Award) and Cleve Jackson (YF&R Discussion Meet) all competed for national honors.
Lance, from Morgan County, finished fourth in the Excellence in Agriculture Award competition, which recognizes young farmers and ranchers who do not derive the majority of their income from farming, but who actively contribute to agriculture and grow through their involvement in agriculture, leadership activities and participation in Farm Bureau.
Lance and the other Excellence in Agriculture Award contestants gave individual presentations to teams of three judges. The presentations detailed their biographical backgrounds, agricultural involvement and issues facing agriculture.
Lance claimed the fourth-place prize of a Case IH 40" Combination Roll Cabinet and Top Chest and a $500 Case IH parts card, courtesy of Case IH.
Brady Revels from Nebraska won the Excellence in Agriculture Award, which had 27 state contestants.
Jackson, from Floyd County, advanced to the Sweet 16 round of the YF&R Discussion Meet, which features committee-style conversations focusing on current ag topics.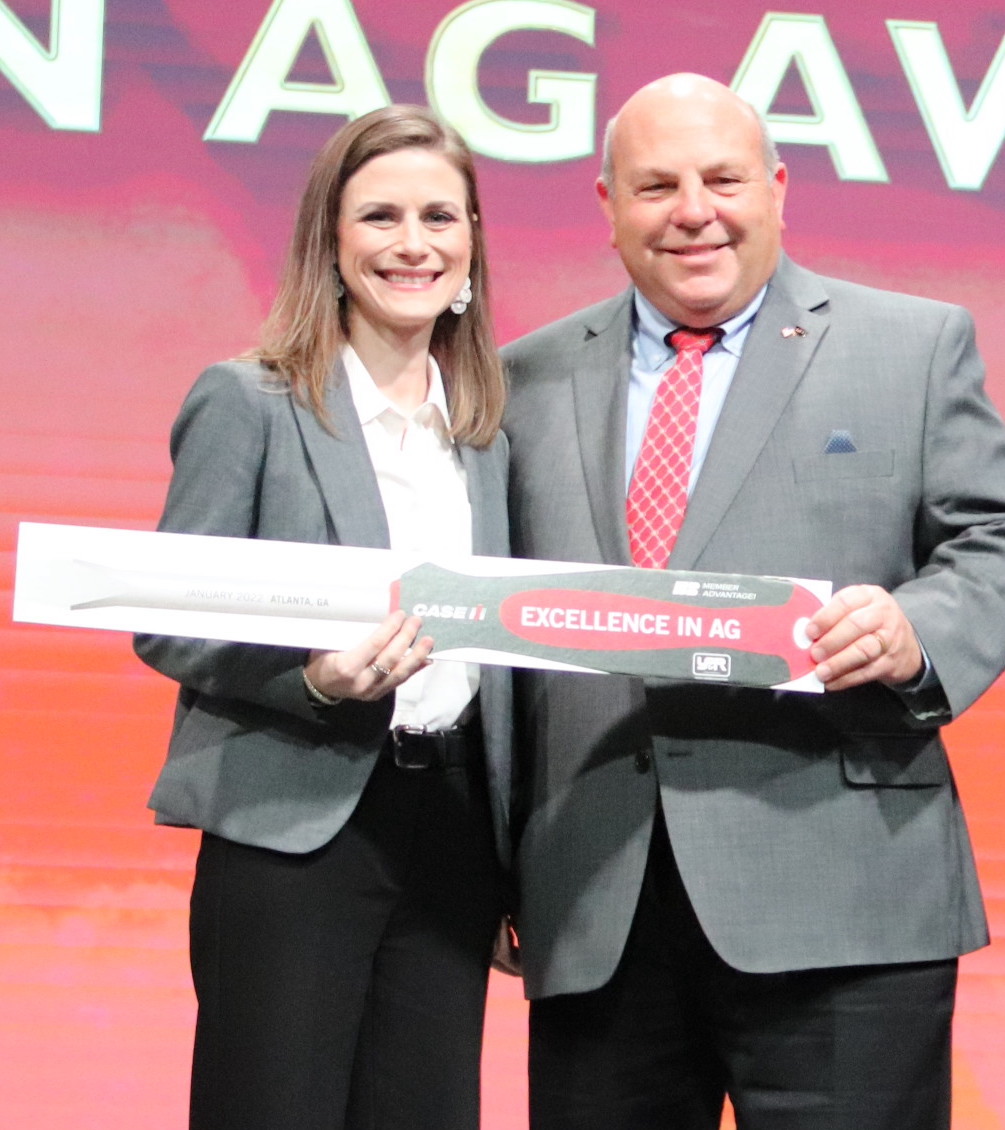 Morgan County's Jessica Lance is congratulated by American Farm Bureau President Zippy Duvall for finishing fourth in the Excellence for Agriculture Award competition.
Photo by Jay Stone
In the first round, the discussions focused on how farmers and ranchers can increase efficiency and transition to green energy sources. In the second round, contestants discussed how to ensure economic viability for small animal processing facilities while maintaining a healthy work environment. In the Sweet 16 round, the contestants explored what can be done to create a preventative approach to farm safety.
Malarie Thompson from North Carolina won the Discussion Meet, which drew entries from 31 states.
The Greens, from Spalding County, represented Georgia in the Achievement Award event, which recognizes young farmers and ranchers who earn the majority of their income from production agriculture.
Jacob and Jill Smoker from Indiana won the Achievement Award.
Georgia's participants in the 2022 AFBF Young Farmers & Ranchers competitive events, were, from left, Jessica Lance (Excellence in Agriculture), Cleve Jackson (Discussion Meet) and Steven & Tara Green (Achievement Award).
Photo by Jay Stone