GFB News Magazine
Lamb wins GFB Quality Hay Contest
---
Posted on February 12, 2020 7:00 PM
---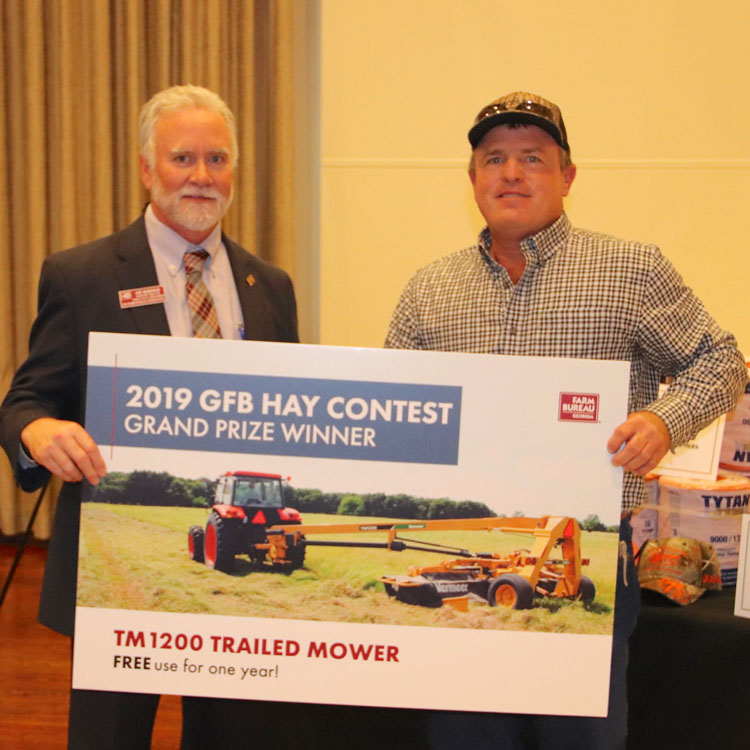 Pictured from left, GFB Public Policy Department Assistant Director Joe McManus congratulates Jeff Lamb of Turner County for winning the 2019 GFB Quality Hay Contest.
Lamb won the free use of a Vermeer TM1200 Trailed Mower for a year courtesy of the Vermeer Manufacturing Company with the option to buy it at a reduced price at the end of the year.
The contest analyzed the quality of the hay grown by entrants using the University of Georgia's Relative Forage Quality (RFQ) testing method, which measures nutrient content of the hay. Lamb's winning Russell Bermuda hay had an RFQ rating of 155.57. The average RFQ score for all 40 entries was 120.77.
Ronnie Hadden, Glascock County, captured second place with his Coastal Bermuda (RFQ 148.6). Neal Pannell, Walton County, took third place with his Tift 85 Bermuda (RFQ 147.23). Carlton Hale, of Oconee County, won fourth place for his Alicia Bermuda (RFQ 139.16). Jimbo Crumley, Morgan County came in fifth for his Tift 85 Bermdua (RFQ 132.32).