GFB News Magazine
Gov. Kemp backs rural Ga. by signing ag & forestry bills
---
Posted on May 24, 2021 8:00 PM
---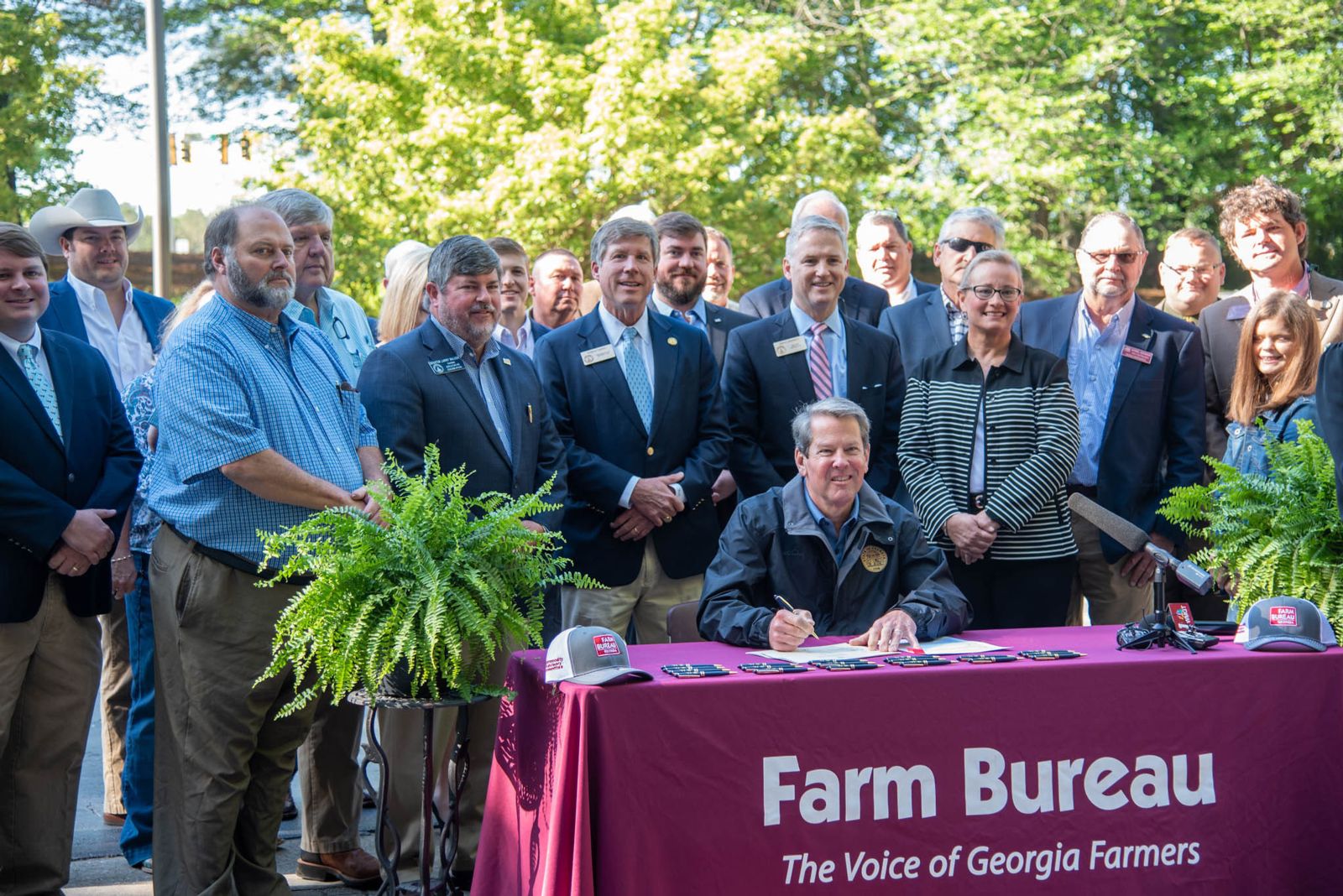 Gov. Brian Kemp signs Senate Bill 247, which updates how Georgia Agricultural Commodity Commissions publicize their notices. Photo by Logan Thomas
By Jennifer Whittaker
Gov. Brian Kemp displayed his support of Georgia farmers by holding two bill signing ceremonies this spring for agriculture and forestry legislation. On May 7, Georgia Farm Bureau (GFB) hosted the second ceremony at its state office in Macon.
"Georgia Farm Bureau thanks all of the legislators who introduced these bills and got the Georgia Legislature to pass them," GFB President Tom McCall said. "We appreciate the support Gov. Kemp has shown Georgia agriculture in the past and continues to show by signing these bills that will help Georgia farmers and timber growers."
Senate Bill (SB) 247, which updates how state commodity commissions can communicate with producers, was one of the bills Kemp signed. Sen. Lee Anderson authored this bill supported by GFB. Kemp also signed House Bill (HB) 336, which aligns Georgia's hemp laws to match federal standards.
Kemp signed HB 498, which will let Georgia voters decide in the 2022 election if family farms that have merged may have the same ad valorem tax exemption on farm equipment that they had before merging. Rep. Sam Watson introduced this bill supported by GFB and other ag organizations.
"There's no more generational business than a family farm. Marty and I know how important small business is to Georgia's economy," Kemp said. "That's what Georgia Farm Bureau and the Georgia Agribusiness Council are fighting for in the capitol every day."
Forestry legislation Gov. Kemp signed included HB 355, which updates Georgia's carbon sequestration registry; HB 90, which regards liability for purchases of cut timber; HB 282, which updates the Qualified Timber Property program; and SB 119, which relieves homeowners of having to notify the Georgia Forestry Commission when burning small piles of backyard debris but does not override local county or city ordinances pertaining to such fires.
During a ceremony held April 9, at Ellis Brothers Pecans in Dooly County, Kemp signed SB 222 making the pecan Georgia's official state nut. Sen. Carden Summers authored the bill. Georgia's peanut crop was not slighted by establishing the pecan as the state nut since peanuts are a legume and are Georgia's official state crop, Georgia Commissioner of Agriculture Gary Black assured ceremony attendees.
Kemp also signed HB 693 on April 9 giving farm equipment the right-of-way on Georgia roads, specifically when bridges, guardrails or other physical impediments would not safely allow a tractor or other farm equipment to travel on the far right-hand side of the road. HB 693 also prevents farm tractors from traveling on U.S. interstates unless the Department of Public Safety has permitted such travel in certain areas of Georgia as deemed necessary.