GFB News Magazine
GFB Young Farmers & Ranchers back in D.C.
---
Posted on May 3, 2023 8:00 PM
---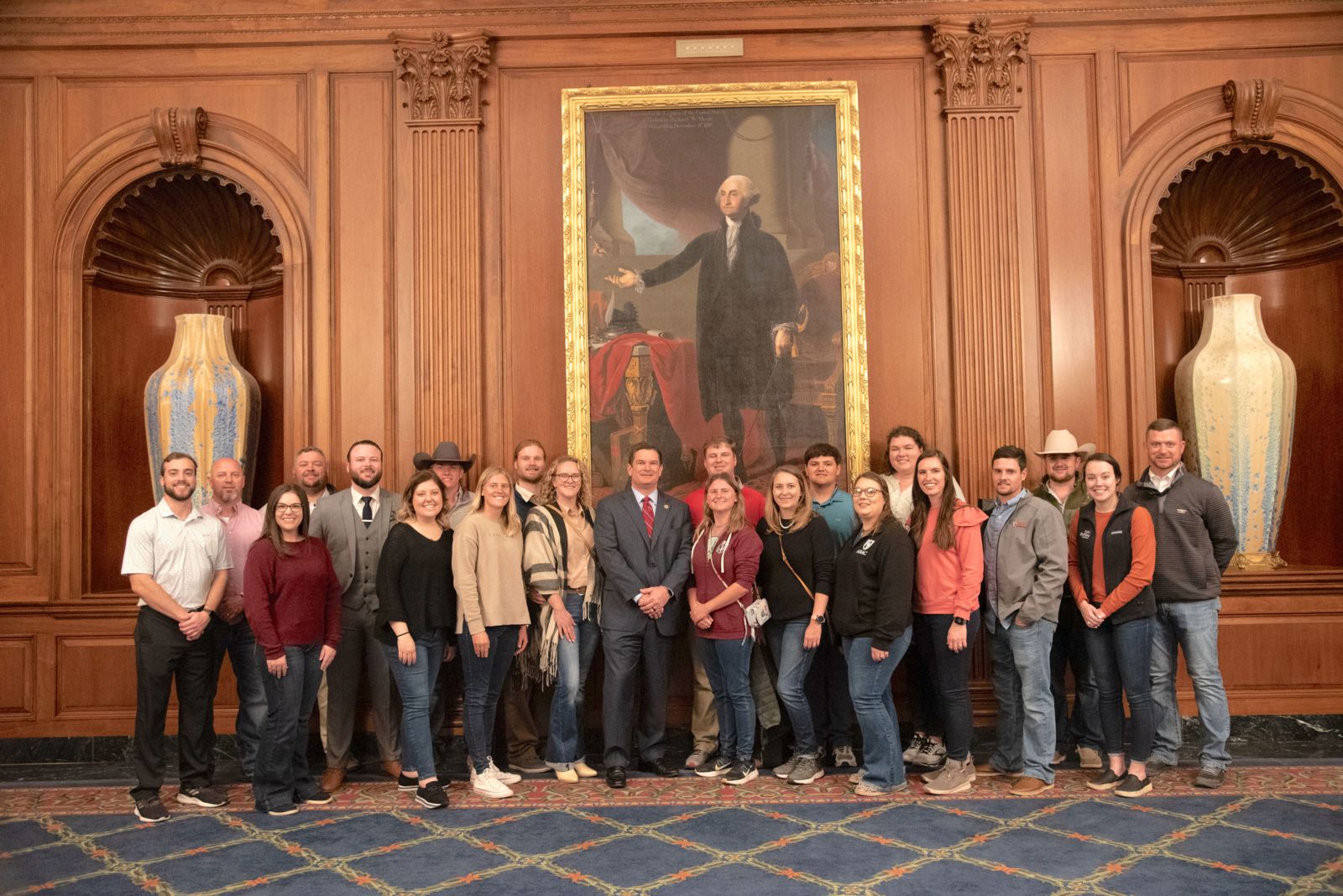 Georgia Farm Bureau Young Farmers & Ranchers met with Rep. Austin Scott while on Capitol Hill during their March trip. Visit https://gfb.ag/23YFRDC to see more photos. /Photo by Logan Thomas
By Breanna Berry, Georgia Farm Bureau
After a three-year hiatus, GFB Young Farmers and Ranchers (YF&R) made their way back to Washington, D.C., March 28-31, for the program's annual trip that lets participants experience the legislative process and advocate for agriculture firsthand.
This year, 17 YF&R members participated in the four-day program that included meetings with American Farm Bureau Federation (AFBF) staff, the Irish Embassy and a trip to Mt. Vernon. Participants also met with congressional members and staff from the offices of Reps. Rick Allen, Mike Collins and Andrew Clyde and Sens. Raphael Warnock and Jon Ossoff.
YF&R members started their D.C. experience with a tour of AFBF headquarters and an advocacy training session. Members visited AFBF President Zippy Duvall's office and took in the D.C. skyline from AFBF's roof. The group enjoyed getting to know each other at supper that evening over good, old-fashioned BBQ.
The next morning AFBF lobbyists briefed the group on ag topics in preparation for visiting Capitol Hill. AFBF staff provided extensive insight into the 2023 farm bill, trade and Waters of the U.S. (WOTUS). After the briefings, YF&R members made their way to the Hill for congressional visits.
The day was packed with meetings, picture ops in front of the U.S. Capitol, lunch and a visit to the Irish Embassy. After a day of congressional visits with representatives, the group took a two-hour night tour of the Capitol hosted by Rep. Austin Scott.
"This was my first trip to D.C. While I wouldn't want to live there, I have a new appreciation for our lawmakers and how they work for us as farmers," said GFB YF&R Committee Chairman Colt Hart.
On the third day of the trip, the group traveled to Mt. Vernon to visit George and Martha Washington's estate. This gave the group a historical view of the importance of agriculture in our nation's history.
"The YF&R trip to D.C. was a great experience! It was an eye opener being able to meet face to face with our representatives and see what they do every day. They truly wanted to hear the challenges we face in Georgia Agriculture," said YF&R member and Taliaferro County President Tucker West.
In the afternoon, some attendees went to opening day for the Braves as they played the Washington Nationals in D.C.
"Being able to meet other Young Farmers from across the state helped me build life-long connections," West said.
Georgia Farm Bureau Leadership Programs Coordinator Breanna Berry may be reached at bcberry@gfb.org or 478-474-0679, ext. 5232 for more information. Contact your county Farm Bureau if you'd like to get involved with your local YF&R program.