GFB News Magazine
GFB Women's Leadership Committee promotes ag literacy
---
Posted on February 17, 2019 7:00 PM
---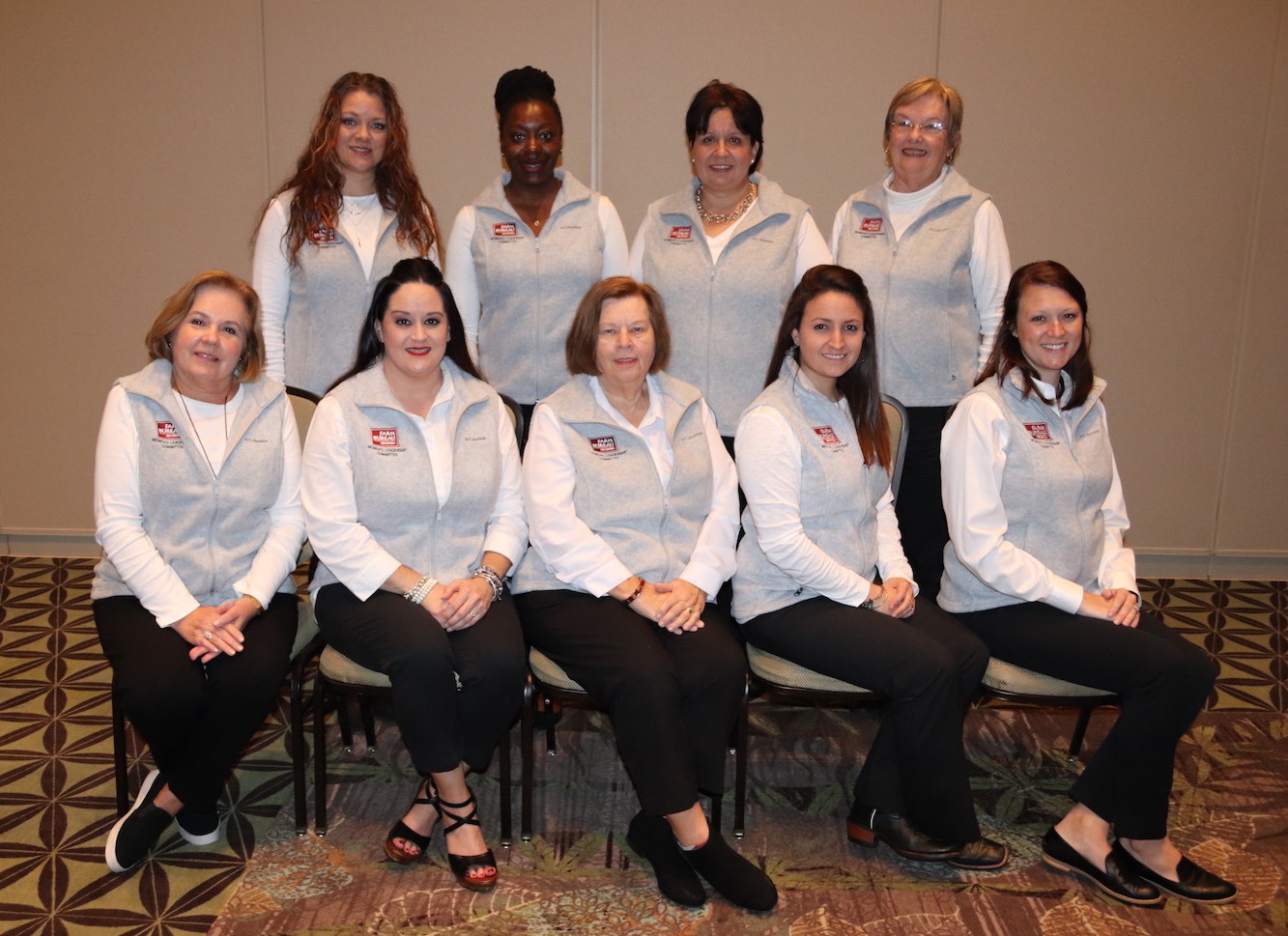 The 2019 GFB Women's Leadership Committee members are: front row, from left: Peggy Lee, Bacon County, GFB 10th Dist.; Carol Baker-Dunn, Houston County, GFB 8th Dist.; Committee Chairman Nancy Kennedy, Hancock County, GFB 4th Dist.; Heather Cabe, Franklin County, GFB 2nd Dist.; Melissa Mathis, Monroe County, GFB 5th Dist.; back row, from left: Angela Todd, Evans County, GFB 7th Dist.; Chy Kellogg, Cobb County, GFB 3rd Dist.; Greta Collins, Colquitt County, GFB 9th Dist.; and Linda Leslie, Chattooga County, GFB 1st Dist.
By Lauren Goble, GFB AITC Coordinator
Members of Georgia Farm Bureau's 2019 Women's Leadership Committee are working within their districts and statewide to increase the awareness and understanding consumers have of agriculture. The committee hosts the annual GFB Educational Leadership Conference and activities tailored for each GFB district designed to prepare county volunteers and staff to conduct ag literacy activities in their communities.
Nancy Kennedy of Hancock County is chairing the committee this year as she serves the final year of her three-year term on the committee. New members joining the committee this year are Chy Kellogg of Cobb County as the GFB 3rd District Chairman and Melissa Mathis of Monroe County as the GFB 5th District Chairman.
Head to Callaway Gardens to plant seeds for ag literacy
County Farm Bureau volunteers and staff looking to learn new ways to increase ag literacy in their counties will want to reserve April 12-13 to attend the annual Georgia Farm Bureau Educational Leadership Conference at Callaway Gardens in Pine Mountain.
Children's book author and cranberry producer Lisl Detlefsen will deliver the keynote address. Detlefsen will discuss her life as a cranberry producer with her husband and two sons. She will also talk about being an author and why accurate ag books matter. Her first book, "Time for Cranberries," has won multiple honors such as the 2017 Wisconsin Ag in the Classroom Book of the Year. Detlefsen has six new titles in the works, including "Right This Very Minute," the launch title for Feeding Minds Press, the American Farm Bureau Foundation for Agriculture's new publishing venture for children's books.
The conference will include numerous workshops designed to help Farm Bureau volunteers and staff implement ag activities at the county level. Contact your county Farm Bureau for more information.
Visit www.gfb.ag/WomensLeadership for more information about Georgia's Ag in the Classroom program or contact Lauren Goble at ldgoble@gfb.org or 478- 474-0679, ext. 5135.
National AITC Conference heads to Arkansas
The National Agriculture in the Classroom Conference has become a popular event with Georgia county Farm Bureau volunteers and teachers.
"Agventure in the Natural State," is the theme for this year's event, which runs June 19-21 in Little Rock, Arkansas. Keynote speakers will be Temple Grandin and Dr. Marty Matlock. Grandin, an advocate for autistic communities and the humane treatment of animals, will share her experience of growing up autistic and the research she did for ag colleges and feedlots to improve the handling of cattle. Matlock will discuss his research at the University of Arkansas to increase the resilience of ecosystem services in human-dominated ecosystems.
Please visit www.agclassroom.org/conferences/index.cfm for more information or to register. The registration cost is $435 before April 15. The cost is $485 for those who register from April 16- June 10 and $535 for onsite registration.