GFB News Magazine
GFB members back in the saddle, advocating in D.C.
---
Posted on May 17, 2023 8:00 PM
---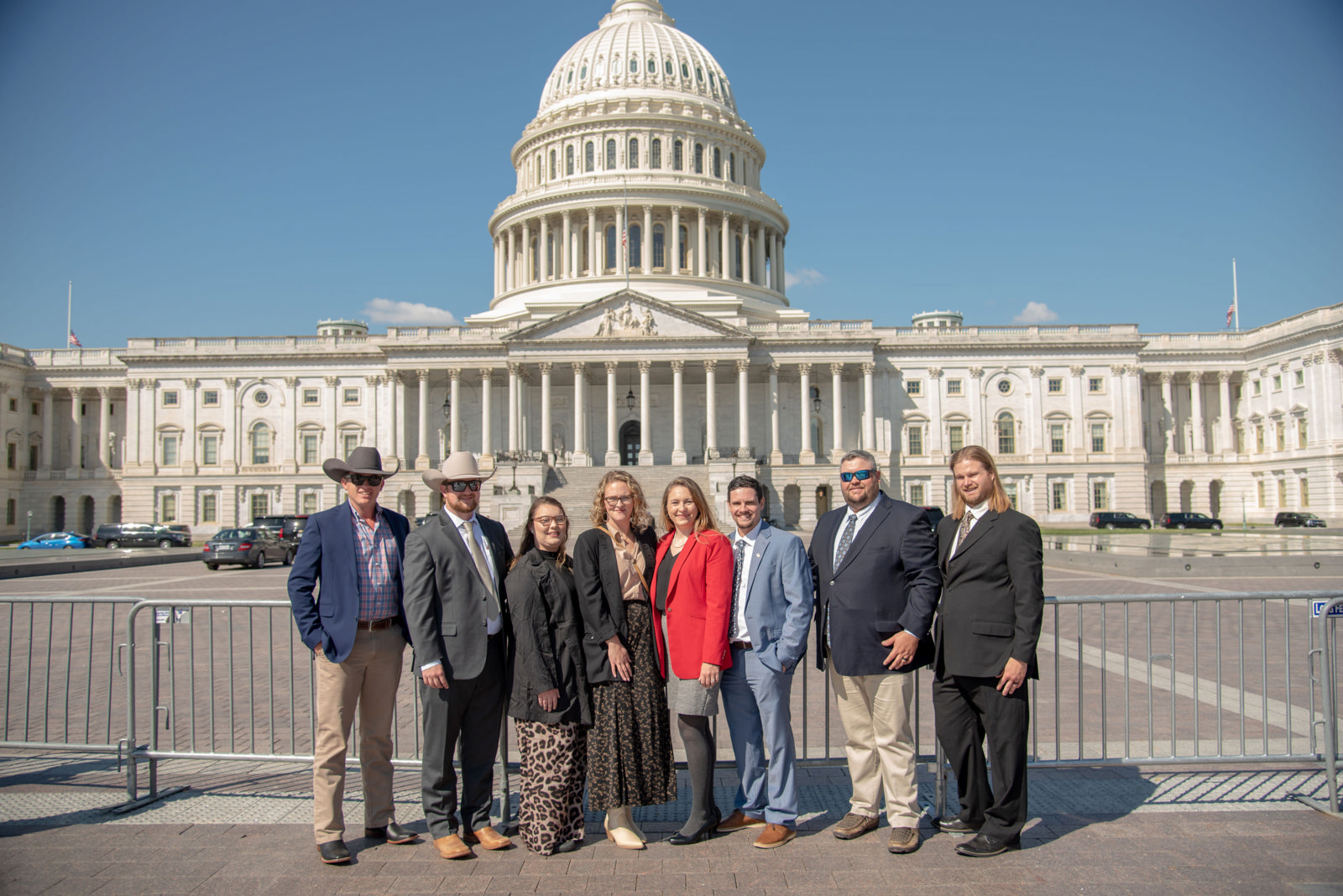 From left, Georgia Farm Bureau Young Farmers & Ranchers J.D. Higdon, Tucker West, Megan Thackston, Maggie Jackson, Kaitlyn & Kaleb Marchant, Colt Hart and Garrett Jackson were among the 17 GFB YF&R members who traveled to D.C. in March. Read about their trip at https://gfb.ag/yfrdc23 /Photo by Logan Thomas
By Jay Stone, Georgia Farm Bureau
After the U.S. Capitol and Congressional office buildings fully reopened Jan. 3 following almost three years of pandemic restrictions, Georgia Farm Bureau resumed its County Presidents' Trip to D.C. in February followed by its Young Farmers & Ranchers Trip to D.C. in March.
While GFB leaders and staff remained in contact with Georgia's congressional delegation throughout the lockdown, they were eager to return to D.C. once COVID-19 restrictions were relaxed.
The Presidents' Trip to D.C., historically an annual trip, took place Feb. 28 – March 2. The group of 25 county leaders had plenty to talk about since the trip came as new federal rules on wage rates for migrant workers and the definition of Waters of the United States (WOTUS) neared completion.
GFB members met with eight Georgia members of the U.S. House of Representatives and Sen. Jon Ossoff to highlight the organization's priorities for the 118th Congress.
GFB members also presented the Friend of Farm Bureau Award for the 117th Congress during the trip. Recipients were: Reps. Rick Allen, Sanford Bishop, Buddy Carter, Austin Scott, David Scott and Sen. Ossoff in appreciation for voting in alignment with Farm Bureau positions on bills important to agriculture.
Other members of the 117th Congress from Georgia who received the award but were unavailable to accept their awards were former Rep. Carolyn Bourdeaux and Reps. Drew Ferguson, Hank Johnson, Lucy McBath and Nikema Williams.
article continues below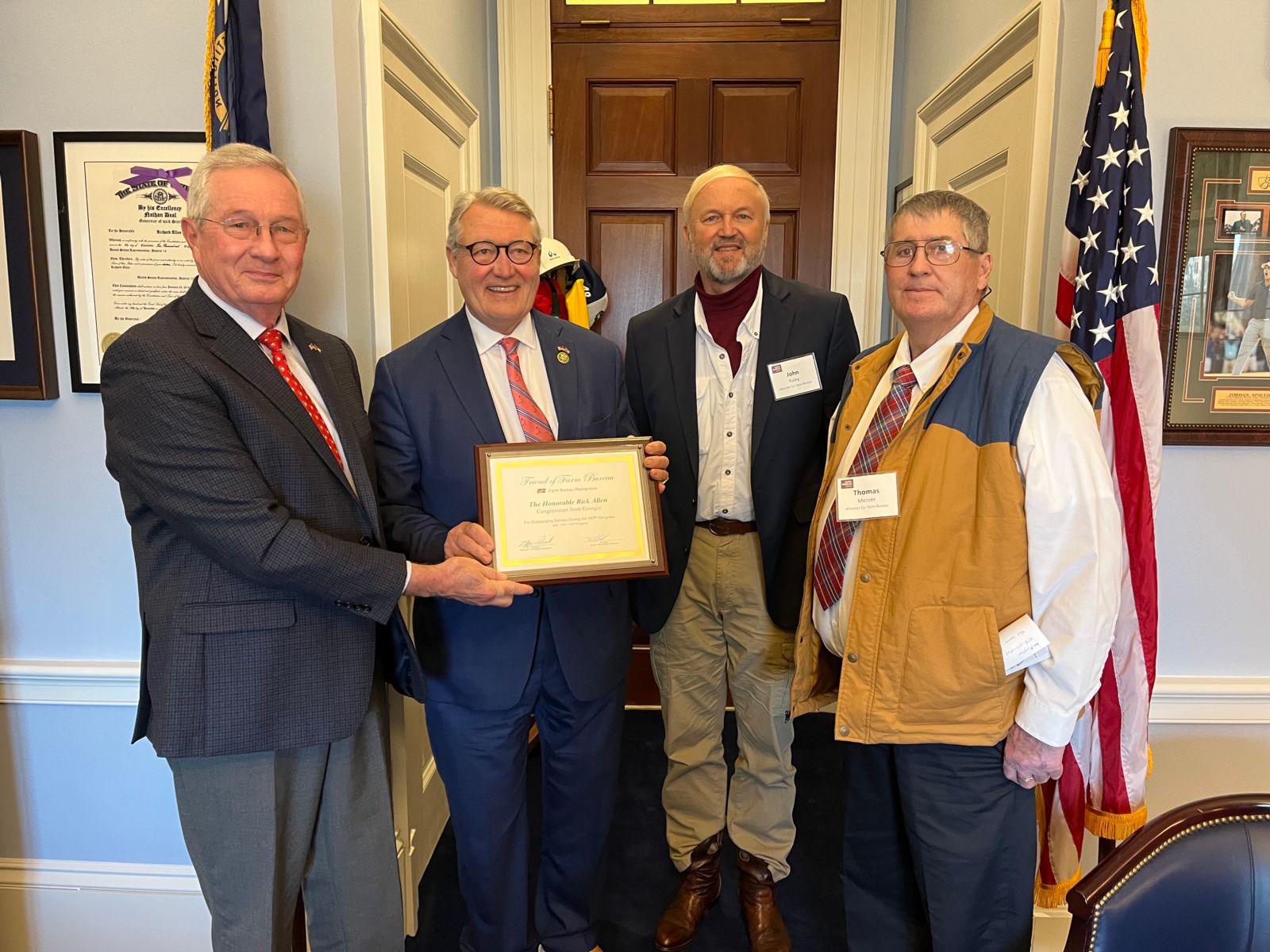 Rep. Rick Allen, second from left, received the AFBF Friend of Farm Bureau Award based on the percentage of his votes that align with Farm Bureau policy. Presenting the award are Emanuel Co. Farm Bureau President Robert Fountain Jr., Glascock Co. Farm Bureau President John Raley & Wheeler Co. Farm Bureau President Thomas Mercer. / Photo by Ken Murphree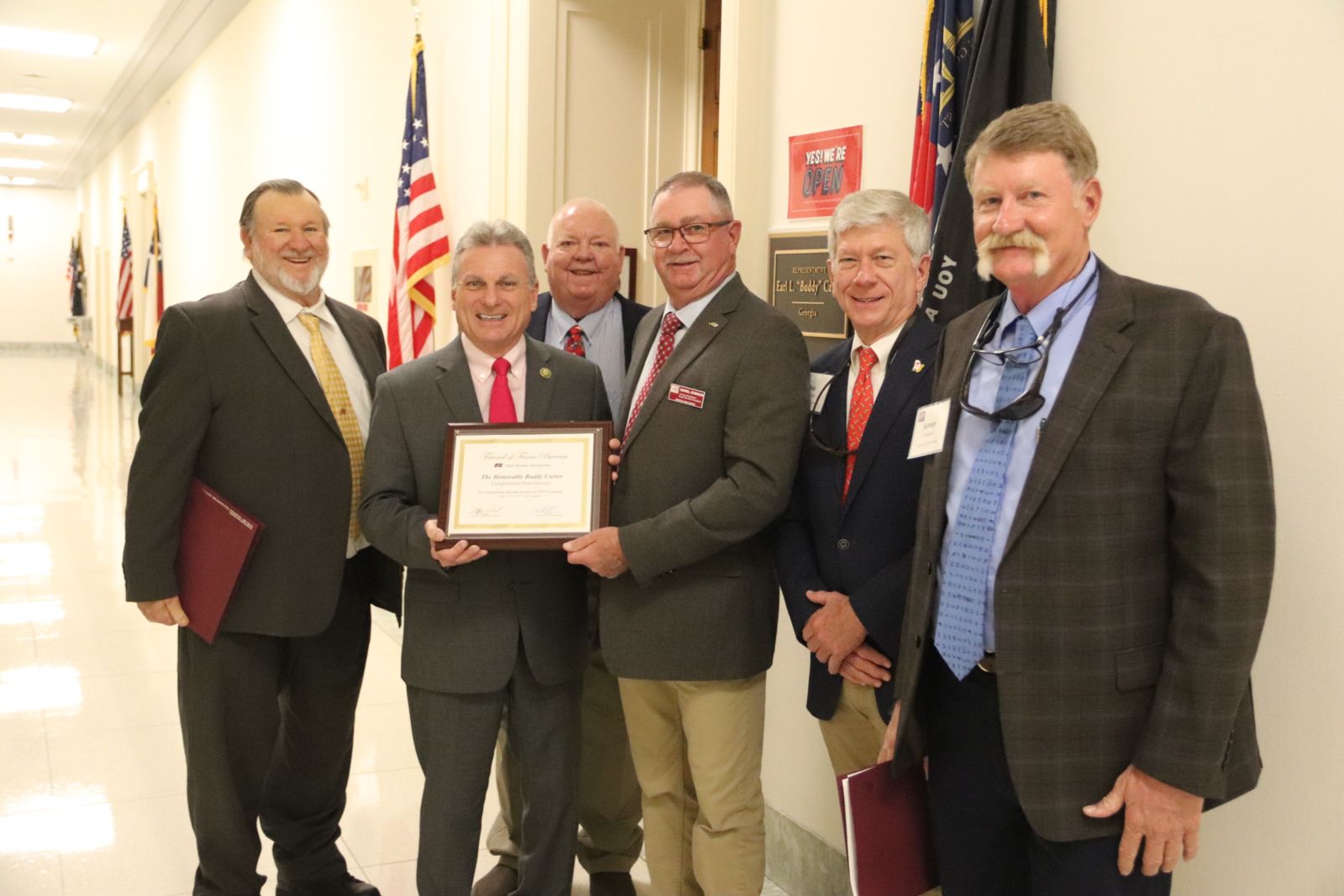 Rep. Buddy Carter, second from left, received the AFBF Friend of Farm Bureau Award based on the alignment of his voting record with Farm Bureau policy. Presenting the award, from left, are GFB 10th Dist. Director David Lee, Linwood Rowan of Berrien County, GFB 1st Vice President Daniel Johnson, Wilcox Co. Farm Bureau President Bob McLeod & Grady Co. Farm Bureau President Sammy Perkins. / Photo by Jay Stone
GFB DISCUSSES AEWR CHANGES
The U.S. Department of Labor (DOL) published its new methodology for determining the Adverse Effect Wage Rate (AEWR) on Feb. 28, and it went into effect March 30. GFB members on the presidents' trip raised concerns with Georgia's congressional delegation, noting the new rule requirements will impose a sharp increase in wages for farms employing migrant laborers under the H-2A program.
Many Georgia fruit, vegetable and dairy producers hire H-2A workers. In 2021, Georgia was second nationally, behind Florida, in number of H-2A workers employed.
According to American Farm Bureau, the new wage rates will significantly impact the wage outlays for all sizes of farms, but particularly small farms. AFBF studies show the new methodology will increase wage costs on small farms across the nation by an average of 12.6% in 2023.
In Georgia, farms that use H-2A workers face a 14% increase in wages, which previously started at almost $14 an hour.
Another concern with the new methodology is how worker responsibilities are reflected in their pay. For example, a worker who spends most of the day in the field, but also drives fellow workers to the farm will be required to be paid as a chauffeur. In some states that represents a 30% increased wage rate.
The new rule will make the H-2A program more difficult to administer by introducing two dates for wage increases throughout the year instead of one date.
Because farms must arrange for workers months in advance to ensure their presence when they are needed, farmers said there was no way for them to budget for workforce expenditures for the 2023 growing season under the new rule.
Sen. Jon Ossoff (D-Georgia) and Sen. Thom Tillis (R-North Carolina) introduced the Farm Operations Support Act which would reverse the 2023 AEWR increase and reinstate the 2022 rate through the end of 2023. The bill has been assigned to the Senate Judiciary Committee.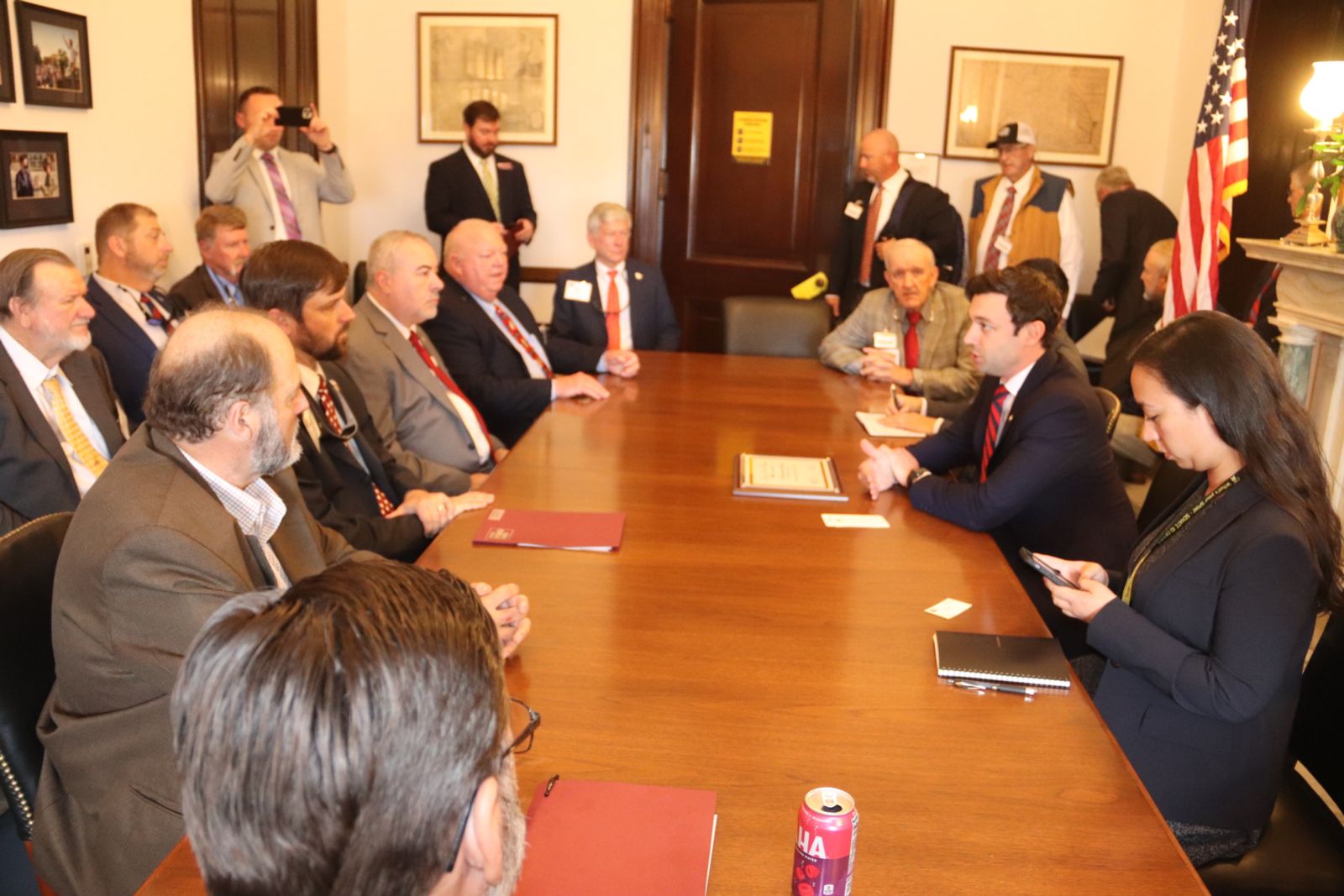 Sen. Jon Ossoff, center right, talks ag policy with GFB county leaders. / Photo by Jay Stone
WOTUS STILL AN ISSUE
During the visit, the group received an overview of the EPA's Waters of the United States (WOTUS) rule from AFBF Senior Director for Government Affairs Courtney Briggs. Briggs emphasized the lack of clarity in the final rule, published in February, is central to farmers' problems with the rule, which took effect March 20.
"We've been ping-ponging back and forth on a (WOTUS) definition depending on the [presidential] administration," Briggs said.
The GFB group sought congressional help, as well. In March, the U.S. House and Senate passed a resolution under the Congressional Review Act stating their disapproval of the new rule, but President Joe Biden vetoed it.
Two U.S. district courts halted the rule from being implemented in parts of the country. A Texas court limited the agencies' implementation of the WOTUS rule in Texas and Idaho. A court in North Dakota stopped the rule in 24 states, including Georgia.
A major part of the problem farmers have with the new WOTUS rule is its reliance on the "significant nexus" test – determining a water body's status as a WOTUS based on its impact downstream. The test was central to a case before the U.S. Supreme Court, Sackett v. EPA.
On May 25 the high court issued a unanimous ruling against the EPA . The court dismissed the EPA's assertion that its jurisdiction could include wetlands near covered waters of the United States even if they are separated from those waters by dry land.
FARM BILL
AFBF Senior Director for Government Affairs Andrew Walmsley discussed farm bill programs and the political landscape, noting there are 260 members of Congress who were not in office when the 2018 farm bill was developed and passed.
Walmsley said the farm bill is expected to surpass $1 trillion for the first time, and there is strong sentiment it needs to be completed in 2023.