GFB News Magazine
GFB Commodity Award presented to Chambliss
---
Posted on November 21, 2018 7:00 PM
---
Former U.S. Senator Saxby Chambliss received the 2018 Georgia Farm Bureau Commodity Award during the organization's annual commodity conference held Aug. 9 at the University of Georgia Tifton Campus. Chambliss was recognized for being a strong advocate for Georgia agriculture and Georgia's military bases during the 20 years he served in the U.S. Congress.
"Senator Chambliss' work on four farm bills was critical for Georgia's farmers and every American citizen. He played a major role in forming agriculture policy that's still crucial to farmers today," GFB President Gerald Long said.
Chambliss was instrumental in reforming the federal crop insurance program while serving in the House to make it more affordable and an effective risk management tool for farmers. He chaired the Senate Agriculture Committee from 2005-2007.
"Farm Bureau is the premier agriculture organization in the country and certainly in our state," Chambliss said. "Agriculture has been such a huge part of my life. This means an awful lot to me for any number of reasons."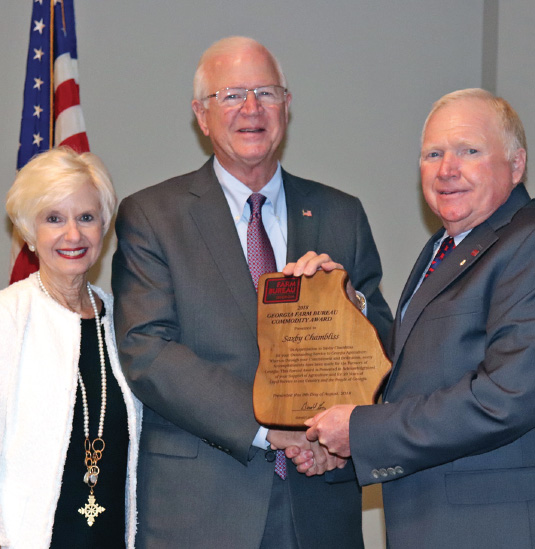 Pictured from right, Georgia Farm Bureau President Gerald Long presents the 2018 GFB Commodity Award to Saxby Chambliss, who was accompanied by his wife, Julianne.