GFB News Magazine
GFB awards prizes to GA Jr. National Livestock Grand Champions
---
Posted on August 24, 2021 8:00 PM
---
Article & Photos by Jennifer Whittaker
The 31st Annual Georgia Junior National Livestock Show (GJNLS) grand champions didn't win their titles by accident. The six winners have a combined 41 years of showing experience between them.
For the tenth year, Georgia Farm Bureau sponsored the cash prizes and coveted belt buckles for the species grand champions of the GJNLS held in February at the Georgia National Fairgrounds in Perry.
GFB President Tom McCall and GFB Field Services Associate Director Clay Talton traveled across Georgia May 24 through June 3 to personally present this year's grand champion winners with their belt buckles and prize checks. McCall and Talton visited with the champions, their family members, and 4-H agents or FFA advisors who were able to attend receptions hosted by each champion's county Farm Bureau office.
"Georgia Farm Bureau is proud to support the Georgia Junior Livestock Program," said McCall. "We're proud of the work these kids put into their animals with the day-to- day care of them. These livestock projects help prepare 4-Hers and FFA members for the responsibilities they'll have as adults. We hope the positive experience they have showing livestock will make them want to pursue jobs in agriculture or to be farmers."
About 1,560 Georgia 4-H and FFA members exhibited 2,534 animals at the 2021 GJNLS. Meet the six grand champions on the following pages. Visit www.gfb. ag/21gajrshowpics to see photos of the grand champions being recognized at their county receptions this spring.
MARKET GILT: Makinley Duke
Calhoun County 4-Her Makinley Duke captured the $1,500 grand champion market gilt (young female) prize with a pig named Karma. The daughter of Kelli and Jackie Duke of Leary, Makinley has shown hogs for six years.
"I watched Charlotte's Web, and I told my dad I wanted a pig," Makinley said when asked how she started showing. "I've been working with Karma since around November. We have a long driveway, and I took her down and back up three times a day. I worked showmanship with her, too. She is very sassy. She loves to eat boots and brushes."
Makinley was a sixth grader at Lee County Middle School when she won the award.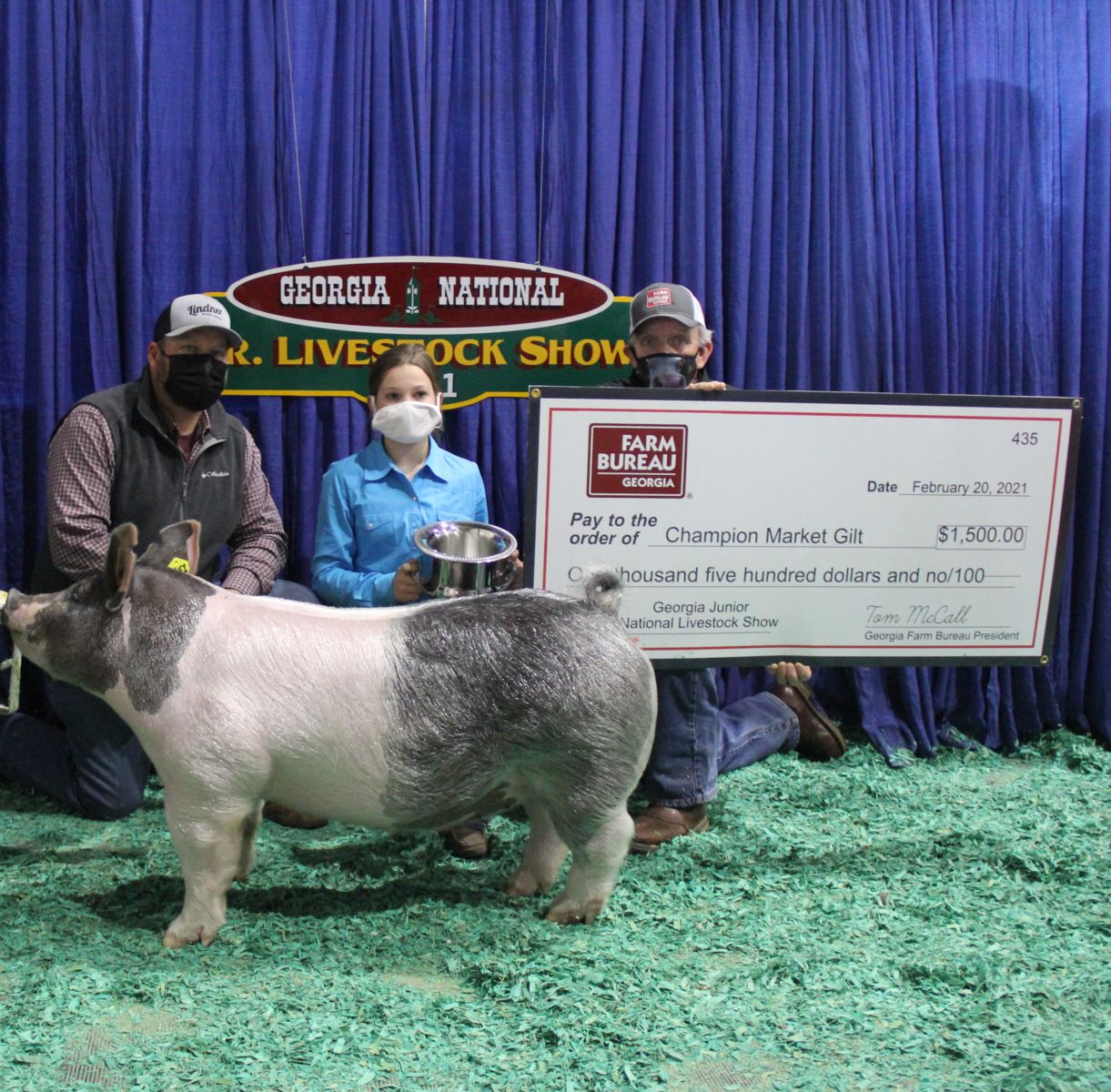 COMMERCIAL DAIRY HEIFER: Angelica Smith
Angelica Smith was a sophomore at Houston County High School (HCHS) when she won the grand champion commercial dairy heifer prize of $1,500 with a red Holstein she called "Applejacks." This was the second year Smith showed dairy cattle as a member of the HCHS FFA.
The daughter of Christopher and Janet Smith of Kathleen, Angelica was introduced to showing dairy cattle by her older sister, Aaliyah, who also showed dairy cows as an FFA member. Angelica said she began her FFA showing career in 8th grade showing pigs with her best friend, Karli Stallworth.
"We went into high school and they didn't have pigs; they had dairy heifers we could show. So, that's what we did," Angelica said. "I averaged working with Applejacks an hour after school each day and two hours on Saturday and Sunday."
BREEDING EWE: Gabrielle Ralston
Winning the grand champion breeding ewe prize of $1,000, allowed Gordon County 4-Her Gabrielle Ralston to end her eight-year showing career on a high note. Ralston was a senior at Sonoraville High School when she won with her ewe named "Unicorn."
Showing has been a family affair for Gabrielle as she showed alongside her fraternal twin sister, Jasmine.
"It's a team victory for our household. Winning this award means a whole lot. It's been a goal since day one," Gabrielle said. "When we picked her out, she was an ugly duckling, but she blossomed into a very nice swan for us."
The Ralston sisters began their showing career with goats and then got into sheep. Gabrielle has also shown cattle and pigs.
BREEDING DOE: Carlie Christian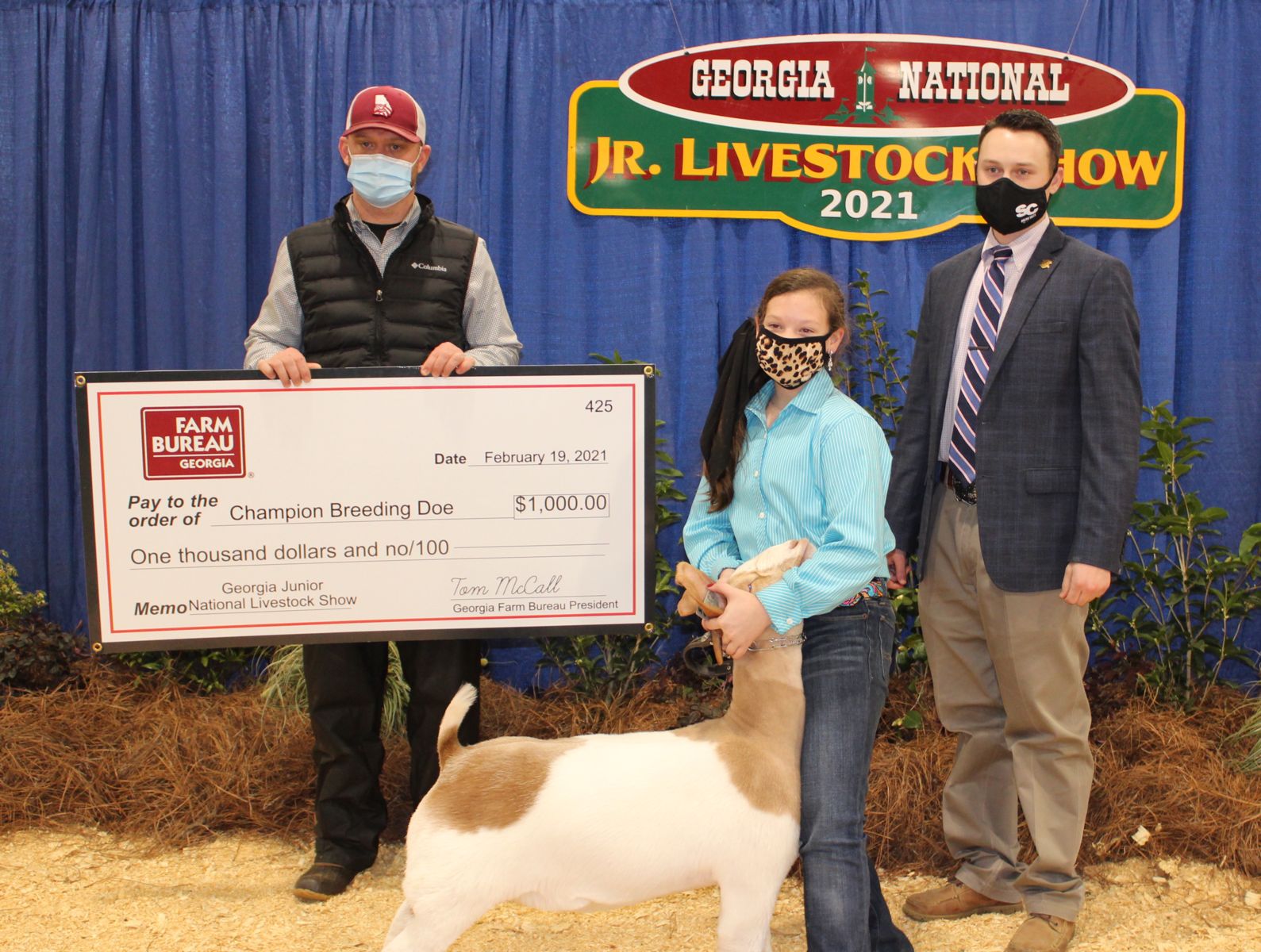 Franklin County 4-Her Carlie Christian earned a $1,000 prize for her grand champion breeding doe (female goat) "Miss P". Christian, a sixth grader at Franklin Middle School when she won the award, has been showing for five years. She also shows hogs and lambs. The daughter of Bryan and Leslie Christian of Royston, Carlie says she prefers showing goats.
BEEF HEIFER: Jesse Cronic
Jesse Cronic, who won the grand champion beef heifer prize of $2,500 with a Simmental named "Lola," is the third generation of his family to show cattle. Cronic, who was a sophomore FFA member at Jackson County High School when he won the award, has been showing livestock for six years. He started showing goats in second grade and switched to cattle in fifth grade. He is the son of Michael and Shane Cronic of Braselton.
"My family has always been in the cattle business. My grandfather [Barry Cronic] showed and my Daddy [Michael] showed as well, so I guess it's in my blood," Jesse said.
Jesse said he was, "looking for an Angus heifer to show, but I stumbled on this one and I knew she was the one I wanted to bring home. She's the soundest female [cow] I've ever owned. She's got the ability to get out in the pasture and produce calves. We can show and sell her profitably."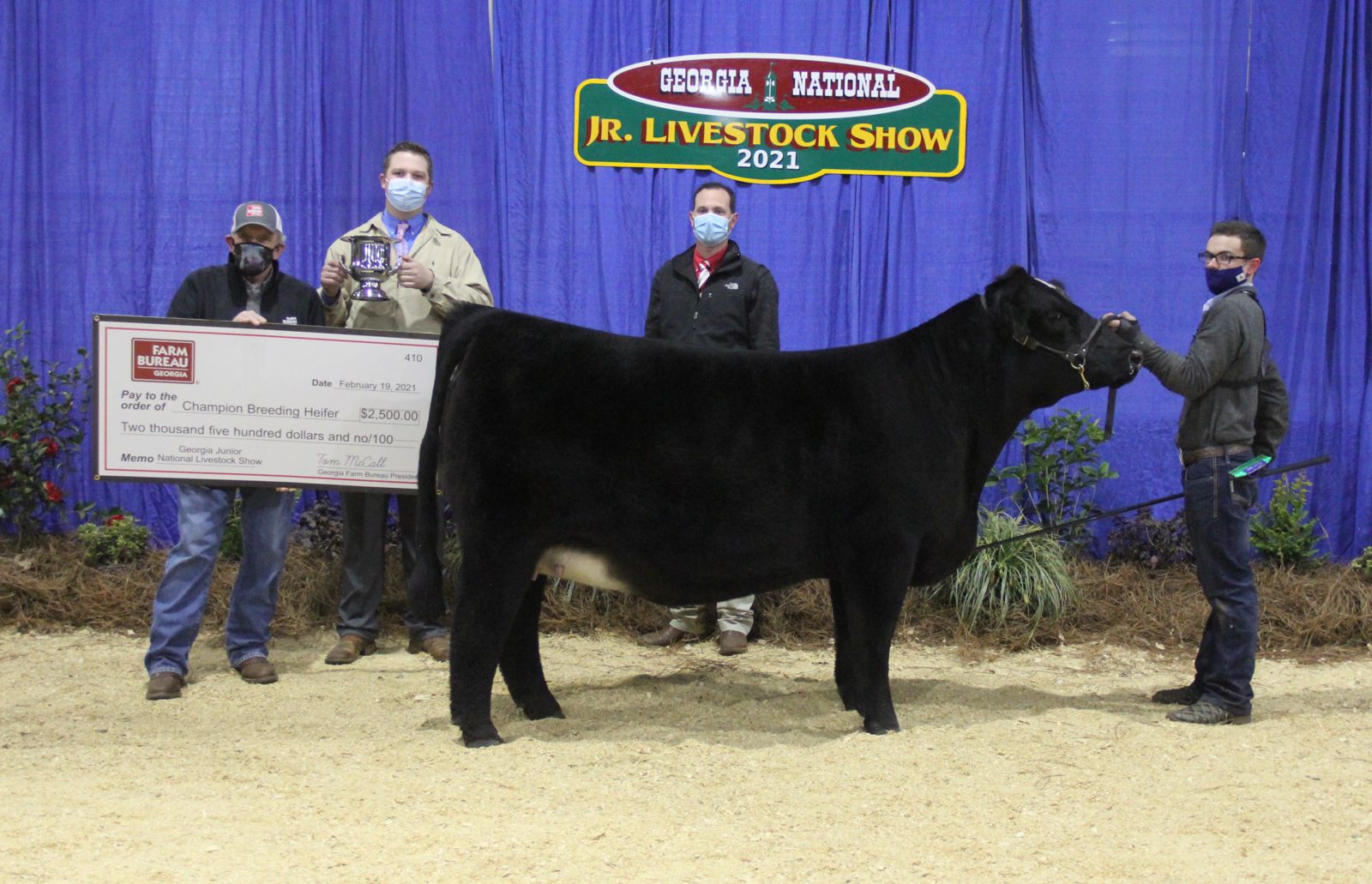 MARKET BEEF CATTLE: Bella Chandler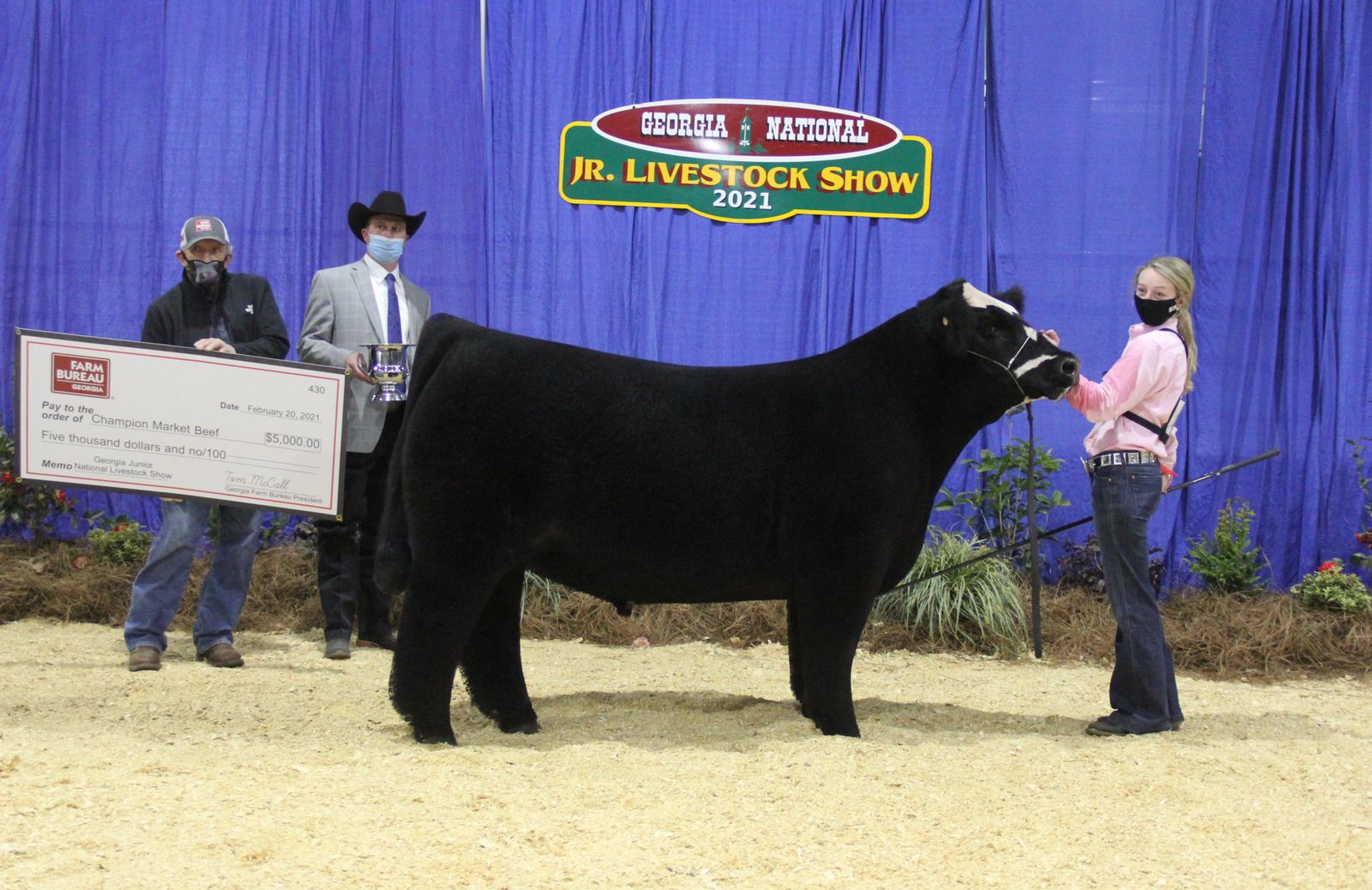 After showing livestock for 14 years, winning the grand champion market beef cattle prize of $5,000 was a dream come true for East Jackson High School FFA member Bella Chandler. The daughter of Rodney and Gay Chandler of Royston, Bella was a junior when she won the award.
Chandler says she was about three years old when she started showing goats. She also showed sheep and then started showing cows at nine, as soon as she was eligible.
"I got into showing because of my family's influence. My grandfather influenced me to show. Both of my parents and my uncles showed too," Bella said.
She said she relied on advice of family friends to help her pick out her prize-winning Maine & Angus crossbred steer "Lupe" (pronounced Loo-pay). She also credits her uncle David Farmer for his help throughout her showing career.
With 14 years of showing under her belt, Chandler said the hardest part about showing is "When the calves don't act right." Lupe proved to be a handful.
"He was actually pretty crazy. Just scared of everything," Chandler said. "We used horse ear plugs, but we took them out for this show, and he did ok."
-GFB-