GFB News Magazine
Georgia Christmas trees adorn Vice President's house
---
Posted on November 14, 2021 7:00 PM
---
By Jennifer Whittaker
For Chuck Berry, Christmas came on Aug. 6 when he won reserve champion in the 2021 National Christmas Tree Association's Christmas Tree Contest. This earned his family the honor of providing a Christmas tree for Vice President Kamala Harris' official residence.
Berry won with a seven-foot Leyland Cypress planted at his tree farm in 2015. Berry's Christmas Tree Farm is a long-time member of Georgia Farm Bureau's Certified Farm Market program.
"It was truly an honor and somewhat of a surprise," Berry said. "I was surprised I won with a Leyland Cypress because this type of tree is more popular in the South than other parts of the country."
Although Berry won the contest with a Leyland Cypress, he is providing an 11-foot Murray Cypress to accommodate the size tree the VP's staff requested. At press time, Berry and his wife, Lori, were scheduled to deliver this tree and six others, of varying sizes that the VP's staff ordered, on Nov. 24."We are scheduled to meet with Vice President Harris and the Second Gentleman when we deliver the trees," Berry said.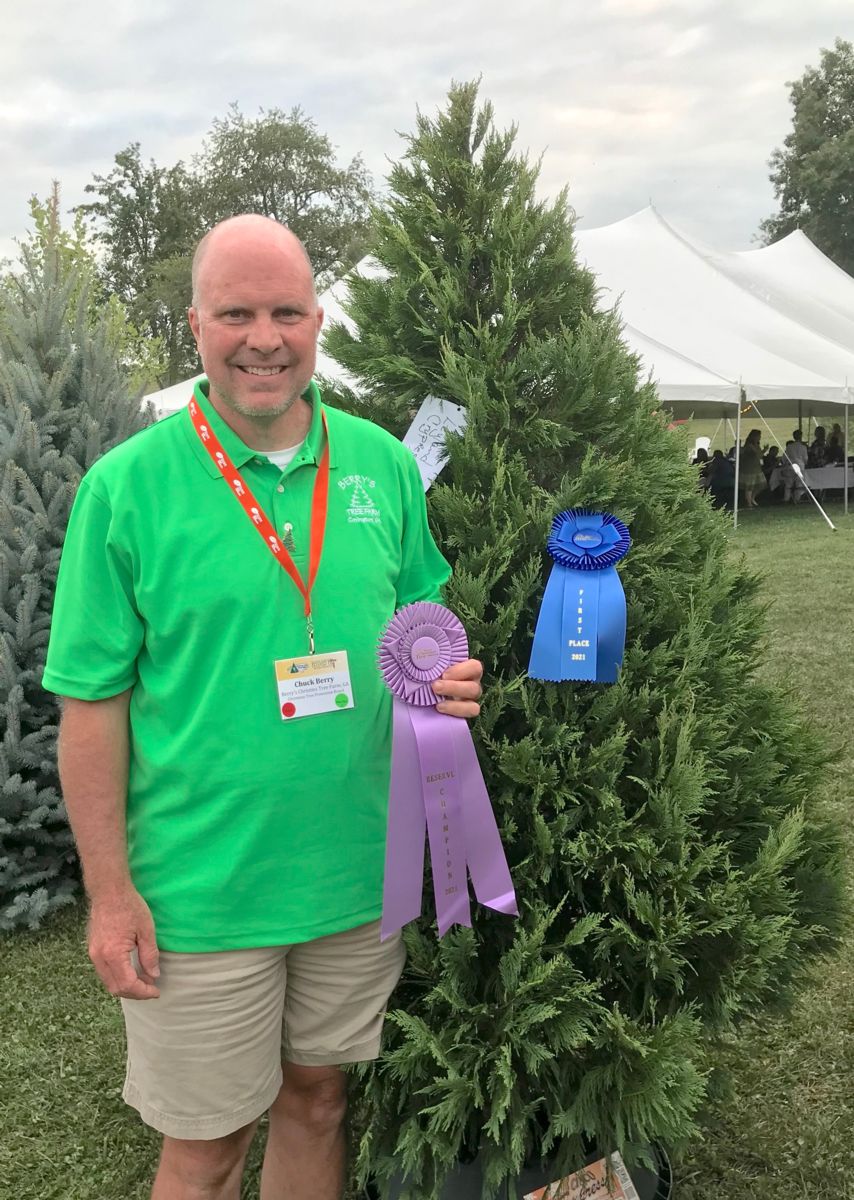 Newton County Farm Bureau Sec./Treasurer Chuck Berry won reserve champion in the 2021 National Christmas Tree Contest with this Leyland Cypress.
Photo courtesy of Chuck Berry
"We've been asked to actually take the trees inside the residence."
In past years, trees from the Berry farm have decorated the Georgia Capitol, Governor's mansion and Stone Mountain Park.
Berry's dad, Charles, planted the farm's first Christmas trees in 1977. The first trees were sold in 1983.
"We have been selling Christmas trees for almost 40 years and it's a very fun job," Chuck said. "We all really love to see everyone at Christmas as they come with their families to pick out their perfect tree."