GFB News Magazine
Farm Bureau cares Around Georgia during COVID-19
---
Posted on May 28, 2020 8:00 PM
---
Georgia Farm Bureau and many county chapters have helped others during COVID-19. We're using this space to highlight acts of kindness we've heard about.
If your county Farm Bureau made a donation or did a COVID-19 related good deed, please post it on the Friends of Georgia Farm Bureau Facebook group page at www.gfb.ag/group.
GFB donates $50,000 to Georgia Food Bank Association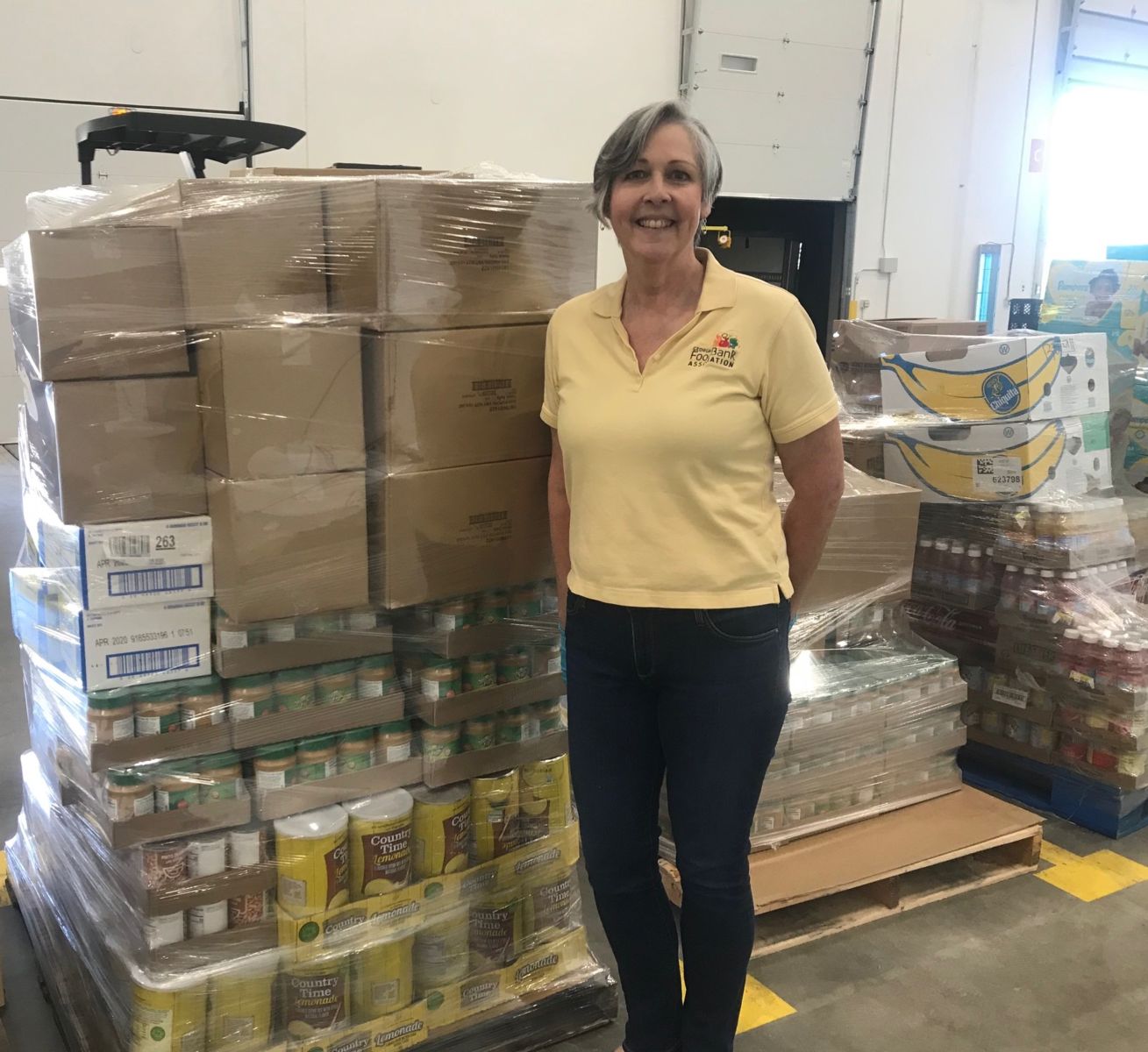 GFBA Executive Director Danah Craft welcomes the $50,000 donation Georgia Farm Bureau made to help the GFBA's seven food banks.
Photo by Damon Jones
On April 21, GFB announced a $50,000 gift to the Georgia Food Bank Association (GFBA), which has seven regional food banks across the state.
"Georgia Farm Bureau has a long-standing partnership with the Georgia Food Bank Association. We believe it is appropriate to help all Georgia communities during these difficult economic times," GFB President Gerald Long said. "It is our hope this gift provides much needed relief to the people in need."
GFB's donation will be distributed equally among GFBA's seven food banks.
"We have seen a sustained 30% to 40% increase in need, and we know that the food we distribute every day would not be possible without hard-working farming families," said GFBA Executive Director Danah Craft. "We are grateful for Georgia Farm Bureau's compassion and our long-standing partnership to end hunger in Georgia."
Long asked the GFBA to use the donation, when possible, to purchase food products grown or produced in Georgia or the U.S. to help Georgia and American farmers as they face economic hardships stemming from the disruption of ag markets the COVID-19 pandemic has caused.
Hall County Farm Bureau supports local health care workers
Hall County Farm Bureau (HCFB) President Jerry Truelove, right, presents $5,000 to NGHS Foundation President/Chief Development Officer Chris Bray.
The HCFB Board of Directors made its April 6 donation to the Northeast Georgia Health System (NGHS) Foundation to aid in the foundation's COVID-19 efforts and to support the community's health care workers.
"Jim Henderson, who is a former Hall County Farm Bureau president and a current board member, gets the credit for this idea," HCFB President Jerry Truelove said. "Jim called me one night and said 'This is serious. We need to do something for our local hospital to help them out,' "
After talking to hospital officials, Truelove said HCFB determined a monetary donation was best due to the logistics of delivering meals.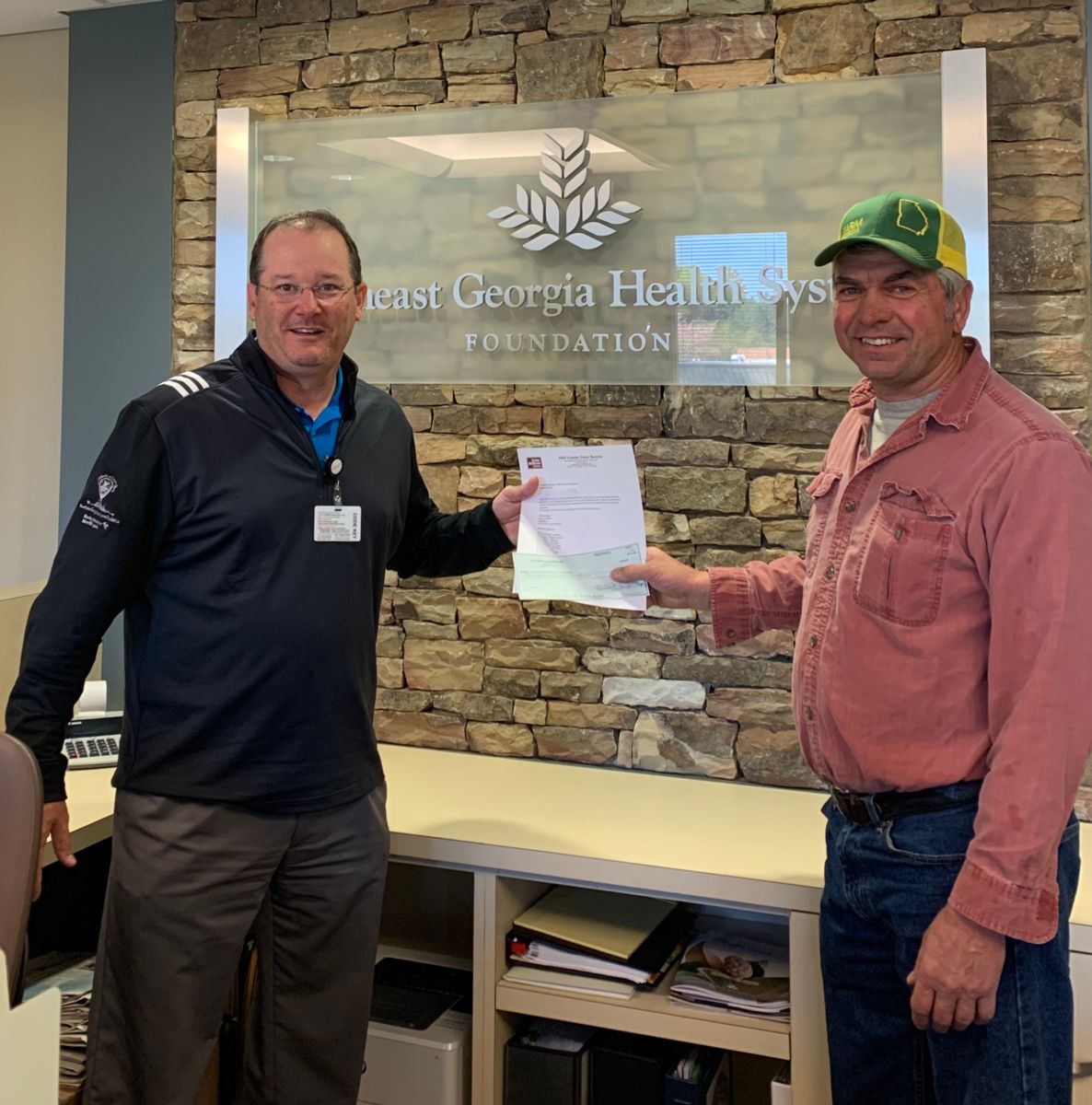 Hall County Farm Bureau (HCFB) President Jerry Truelove, right, presents $5,000 to NGHS Foundation President/Chief Development Officer Chris Bray.
Photo by Elisabeth Grizzel
Morgan County feeds the hungry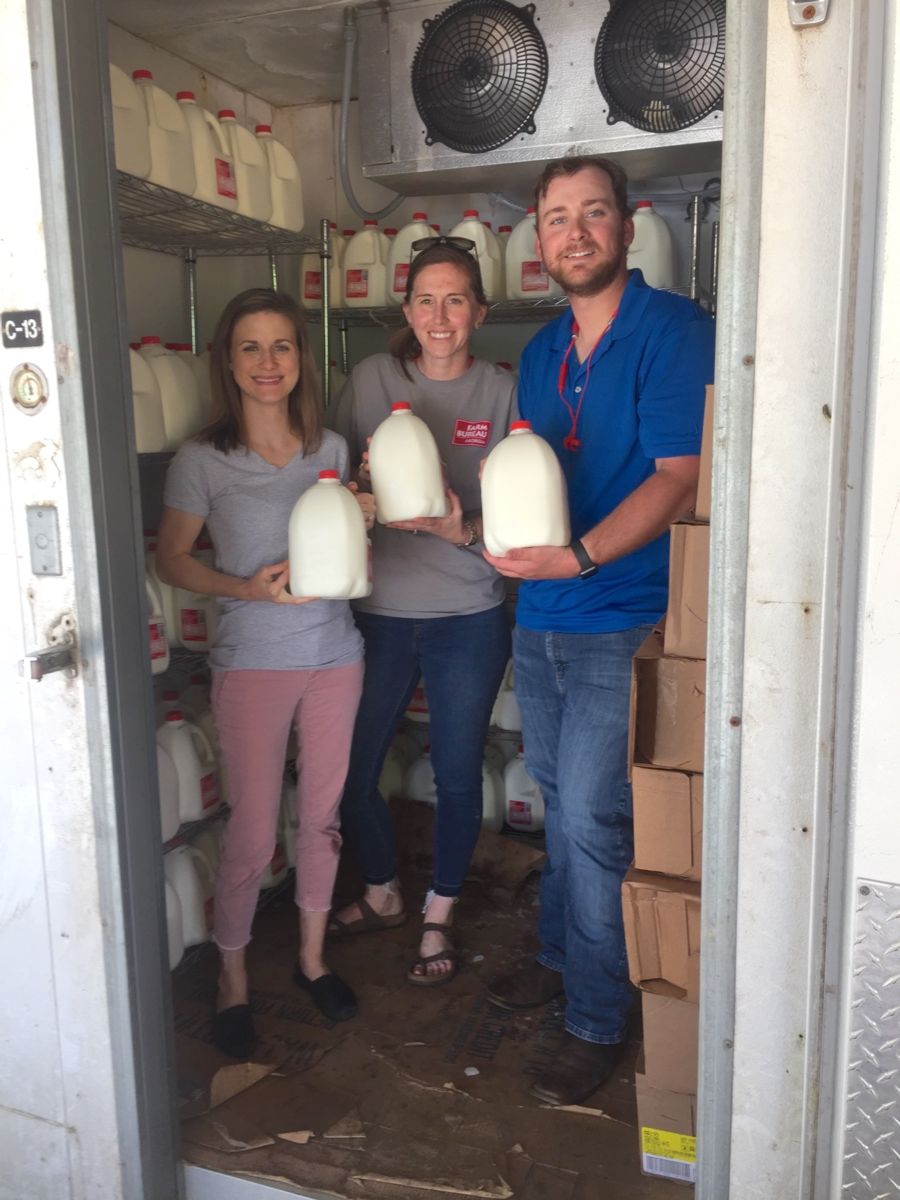 From left, Morgan County Young Farmers & Ranchers Committee members Jessica Lance, Rachel Kinsaul & Jay Moon stock a local food pantry with milk.
Photo courtesy of Jessica Lance
Since mid-March, when the COVID-19 lockdown began in Georgia, Morgan County Farm Bureau (MCFB) has worked to feed its community.
Members of the MCFB Women's and Young Farmers & Ranchers Committees teamed up March 14 to pack 180 lunches for students who were out of school the next week due to COVID-19.
After the pandemic caused some Georgia farmers to dump their milk due to reduced demand, YF&R member Jay Moon encouraged the committee to partner with The Dairy Alliance and Kroger to provide 216 gallons of whole milk for a local food bank. Kroger donated the milk - processed at its Centennial Farms plant in Atlanta - through its Zero Hunger Zero Waste program.
"As a Morgan County dairy farmer, it's exciting to see some of the milk produced on farms in our county help nourish families in our community," Moon said.
The MCFB YF&R Committee bought shelves for The Madison-Morgan Caring Place (MMCP) food bank's cooler to store the milk, said YF&R Committee Treasurer Jessica Lance.
"Milk is the most requested item at food banks," said MMCP Volunteer Director Nancy Pluckhahn. "We are beyond thankful for the Farm Bureau Young Farmers & Ranchers helping to secure milk for our community."
On May 1, the YF&R Committee bought a hog from Danina Farms and paid to have it processed for MMCP clients, Lance said. With these three projects, MCFB has donated about $950 to help feed those in need in Morgan County.
McDuffie County helps its neighbors
McDuffie County Farm Bureau Office Manager Kim-Cora Kay & Thomson YMCA Employee Taylor Gallup pack meals for needy families.
In the parable of the Good Samaritan, Jesus teaches us to help anyone in need as if we're neighbors. McDuffie County Farm Bureau has practiced this lesson during COVID-19 by partnering with the Thomson YMCA and Warren County (WC) Sheriff's department to feed hungry families in the adjoining county.
The McDuffie County School System has been able to continue feeding its food insecure students during the pandemic. Due to safety concerns, the WC school system had to cease initial efforts to distribute food to its students.
MCFB Office Manager Kim-Cora Kay, who lives in Warren County, heard how hard the lack of school meals was hitting some families.
"About 77 percent of Warren County students rely on school food programs," Kay said.
Kay asked MCFB President Jay Spear if the county could help. He gave his blessing.
"McDuffie County Farm Bureau is blessed to be able to help those in need during the COVID-19 crisis. We're fortunate our school system has continued serving our community, so we were glad to help when we realized the need next door," said Spear. "Kim-Cora found a great way to get us involved not only providing food but also providing materials about how farmers grow the food."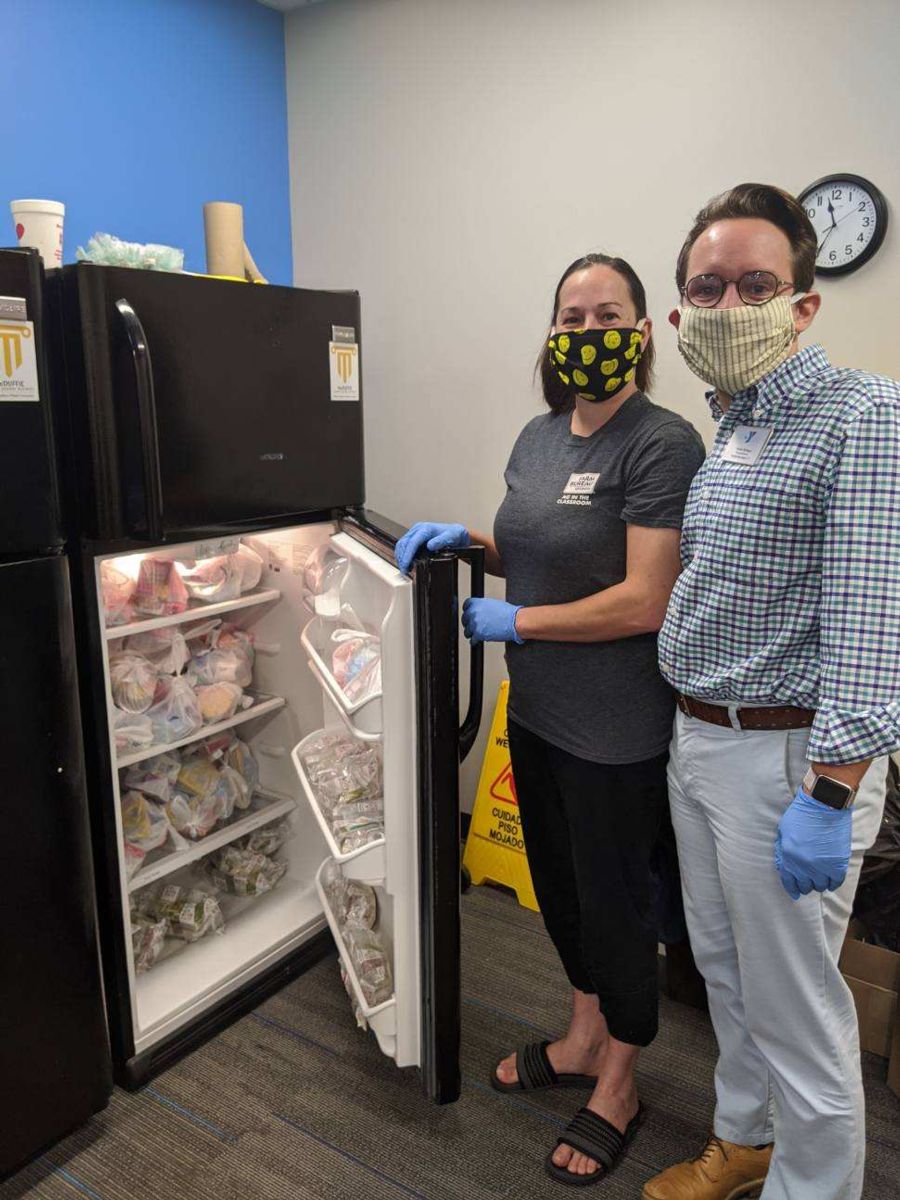 McDuffie County Farm Bureau Office Manager Kim-Cora Kay & Thomson YMCA Employee Taylor Gallup pack meals for needy families.
Photo courtesy of Kim-Cora Kay
MCFB has a good relationship with the Thomson YMCA (Y) that stems from partnering with the Y last summer to do Ag in the Classroom programs for summer campers. The Thomson Y, which was already distributing food to needy McDuffie County residents, agreed to help MCFB get food to WC students if MCFB could find a safe way to deliver the food. The WC sheriff's department agreed to deliver the meals and provided a list of 50 needy families.
As of May 7, the three-prong partnership had distributed 1,560 breakfast and lunch meals. Breakfast usually consists of milk, cereal and fresh fruit. Lunch is usually a sandwich, a vegetable, fruit, milk and juice.
Kay helps assemble the meals at the Y, or solicits meal donations from restaurants, such as McDonalds. She delivers the meals to the sheriff's department for delivery. MCFB sends the kids materials with each meal to teach how farmers grow their food and its nutritional value.
"For some of these kids these are the only meals they're getting," Kay said. "The police officers say they wish we could see the kids' faces when they come running out of their houses to get food because it's obviously the highlight of the kids' day."
As the need continues, MCFB welcomes any help other county Farm Bureaus would like to offer.