GFB News Magazine
Dickey family moving farm forward together
---
Posted on February 17, 2019 7:00 PM
---
By Jennifer Whittaker
Mother–son duo Lee and Cynde Dickey of Dickey Farms recently shared how the two generations of their family are working together to take their farm into the future. Dickey Farms, which has grown peaches since 1897, is a member of the Georgia Farm Bureau Certified Farm Market program.
After coming back to the farm three years ago, Lee, the farm's fifth generation, and his wife, Stacy, talked Lee's parents – Cynde and Robert - into adding strawberries and agritourism activities to the farm's mix. Growing strawberries allows the Dickeys to begin offering their customers fresh fruit about two months earlier than when they just grew peaches.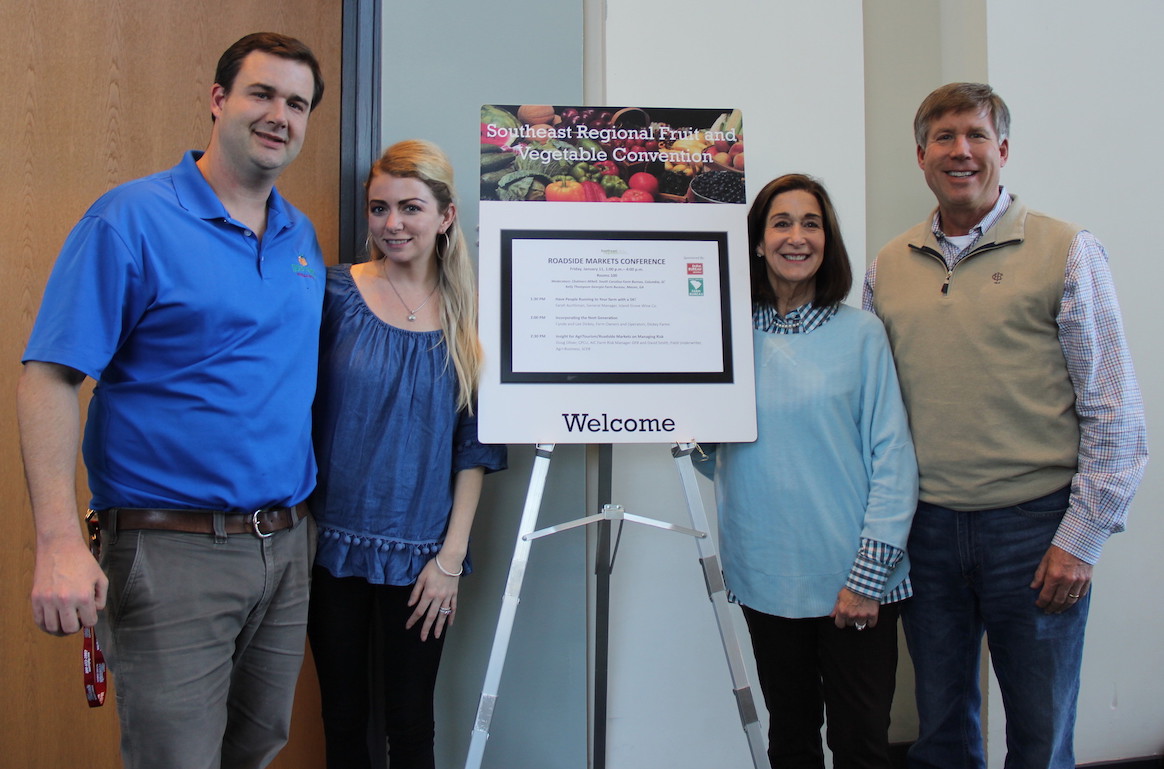 The 4th & 5th generations of Dickey Farms: pictured from right, Robert & Cynde Dickey with Stacy & Lee Dickey. Visit www.gfb.photos/19SEFVConf to see more photos from the Southeast Fruit & Vegetable Growers Conference.
"My parents have been very welcoming to the opportunities we're using to grow the farm," Lee said. "We're being intentional about adding activities to get people to visit the farm since we're not close to the interstate and people have to leave their house with the intention of coming to see us."
Cynde praised Lee and Stacy for drawing more visitors to the farm's Musella retail store by growing the farm's social media presence.
"It's important to keep your website and Facebook page up-to-date, so it's been great to have Lee and Stacy back for that," Cynde said. "I'd go to meetings and get fired up about posting, but it didn't happen because of other responsibilities. They do it effortlessly."
Lee credited Cynde, the fourth generation, for pioneering the mail order and retail business for Middle Georgia peach growers in the 1980s.