GFB News Magazine
Credit where credit is due
---
Posted on August 22, 2023 8:00 PM
---
By Jay Stone, Georgia Farm Bureau
Farm Bureau Mortgage National Manager Christy Braford says that about 70% of Americans have a credit card by age 25, making it young adults' most common first credit experience. Only about one in 10 Americans are "credit invisible," meaning they have no established credit history, she said.
"We'll have older folks that [are] sometimes in their sixties and they've never established credit," Braford said. "Not having debt is a positive thing until you need to borrow money."
Braford led a discussion on understanding credit scores during the 2023 GFB Young Farmers & Ranchers Summer Leadership Conference.
It takes at least six months to establish credit, Braford said.
A person's credit score is a three-digit number – ranging from 300 to 850 – that is calculated based on one's credit history. Lenders use it to gauge how likely a person is to repay a debt.
Braford discussed factors that affect one's credit score.
First, an individual's credit score will not drop if they marry someone who has a lower score, though it may limit the couple's ability to obtain a loan on a joint basis.
Credit scores can impact a person's ability to get a loan. A poor credit rating often means the loan will cost more to repay. Braford said the costs associated with loans and insurance for mortgages and auto loans can be 25% higher for a person with poor credit than for one with excellent credit.
Braford pointed out that credit scores are dynamic and individuals can control their score. She shared ways a person can improve their credit score: Pay bills on time, pay down revolving debt like credit cards, close accounts wisely and be careful when opening new accounts.
"So, your credit payment history is the most important factor affecting your credit score," Braford said. "A late payment could stay on your credit report, credit history for quite a while. So, we want to make sure that we've got the history going."
One factor in calculating a person's credit score is percentage of that person's use of available credit. When closing an account, particularly revolving credit accounts, the percentage of use goes up and their credit score can decrease as a result.
Braford also shared information about the Farm Bureau Bank Financial Solutions Program, which is a credit analysis and solution program, offered for free to Farm Bureau members looking to improve their credit.
For more information, contact a Farm Bureau Bank mortgage broker by calling 877-388-5354. A collection of financial resources, including various calculators, loan and credit card rates, and disaster relief information can be found at www.farmbureau.mortgage.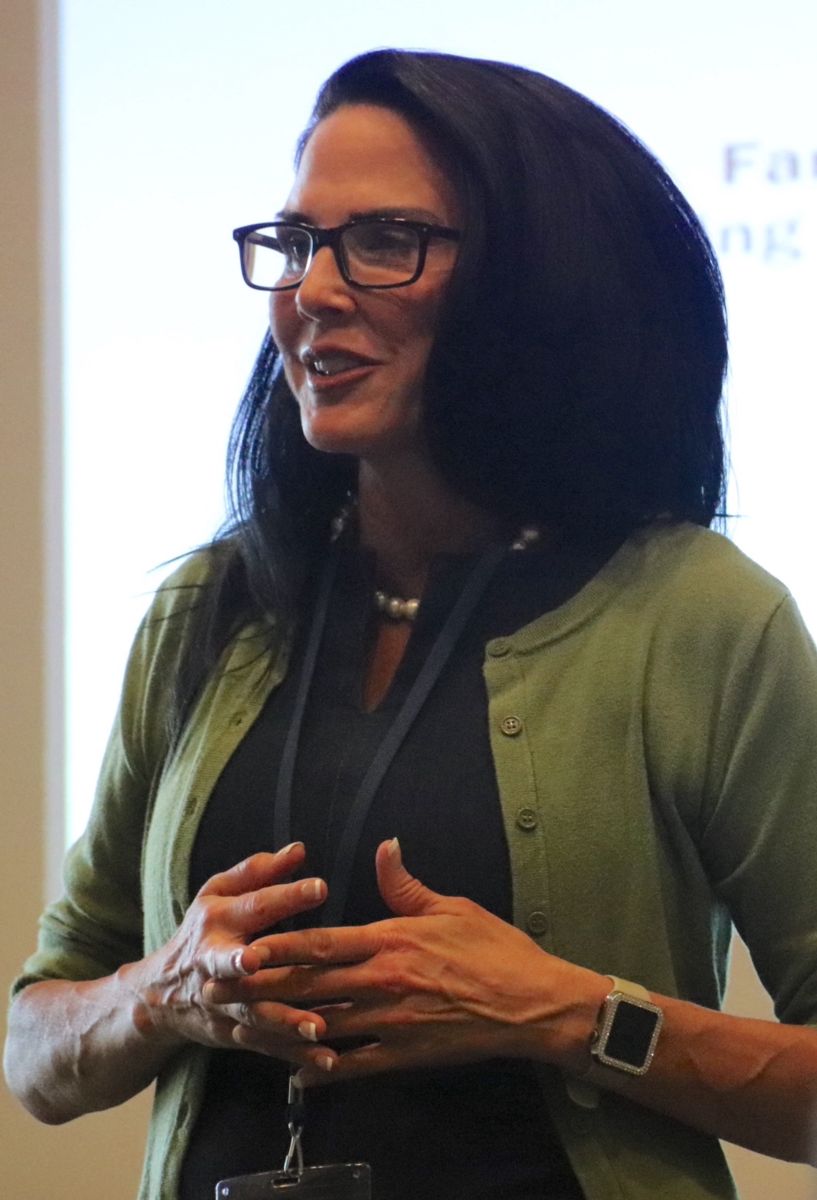 Farm Bureau Mortgage National Manager Christy Braford stresses the importance of establishing a credit history. / Photo by Jay Stone
Ways to Improve Your Credit Score
• Pay bills on time
• Pay down revolving debt (credit cards)
• Close accounts wisely
• Be careful when opening new accounts