GFB News Magazine
Country goes to town
---
Posted on August 6, 2018 8:00 PM
---
By Jay Stone
In mid-June, Newnan resident Carrie Knight and her daughters Abbey and Bree found themselves on the town square, where they encountered hand-painted fiberglass farm animals on the sidewalks around the courthouse and the sidewalks on the other sides of the four streets that make up the city's Court Square.
Abbey stopped and whipped out her phone to take pictures of a pig adorned with flowers, planets and other colorful designs.
"It just makes me happy," said Abbey, 13.
"It reminds me of a farm," said Bree, 9.
The collection, titled "Newnan: A Storybook Town," a fundraiser for the Children Connect Museum, debuted the first week in June.
"It brings some life to downtown," mom Carrie said. "It brings art. It's unique, and everybody seems to like them, because when you drive through you see a lot of people walking around looking at them."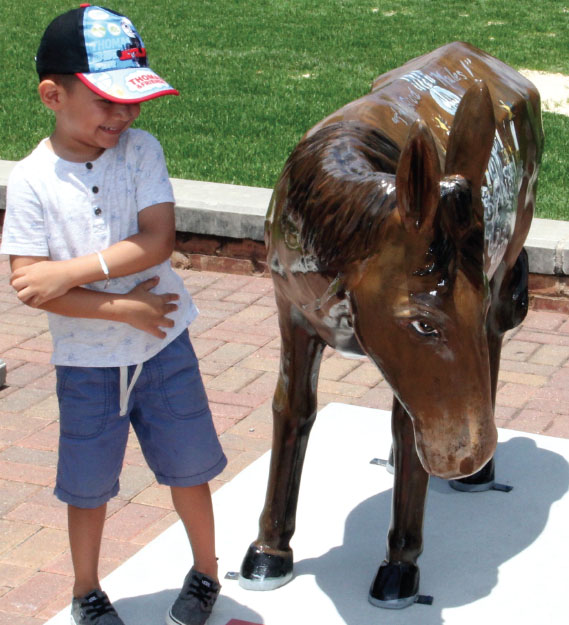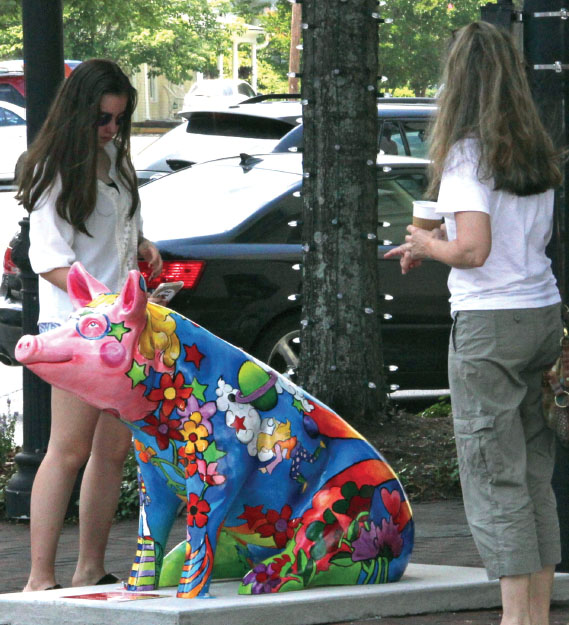 Four-year-old Jacob Bustillo didn't have a phone, but his reaction was similar.
After accompanying his parents, Jose and Yesenia Bustillo, to the courthouse to pick up a document, Jacob beamed at the "Two Good Mules" piece, which was inspired by a local story about the wife of an area farmer who wanted to get a chandelier for the family home. The farmer remarked that he could get two good mules for the cost of the chandelier. All these years later, the mules on Court Square have chandeliers painted on them.
There are 28 fiberglass statues featuring pigs, chickens, cattle and mules displayed in downtown Newnan.
The farm animal theme is a celebration of Coweta County's agricultural heritage, with inspiration from the children's book, "Lilly and Billy Visit the Farm," by author Susan Mayer Davis and illustrator Janet Burns. In the book, the characters Lilly and Billy tour the farm of their grandfather meeting his animals named after key figures in the county's history, which dates back to the 1820s.
Coweta is the name of one group of native Americans in the Creek Indian Nation, which occupied the area before the area was settled by pioneers.
"I wanted to do a children's museum in Newnan," said Pamela Prange, who coordinated the sculpture project and serves on the museum board. "In an effort to come up with fundraisers, my youngest son went to Brevard in North Carolina where they were doing bears and all kinds of stuff. I thought, 'What a great project.' So, I worked on it for four years trying to get it to Newnan, and people just couldn't see the vision. Finally, we got it here."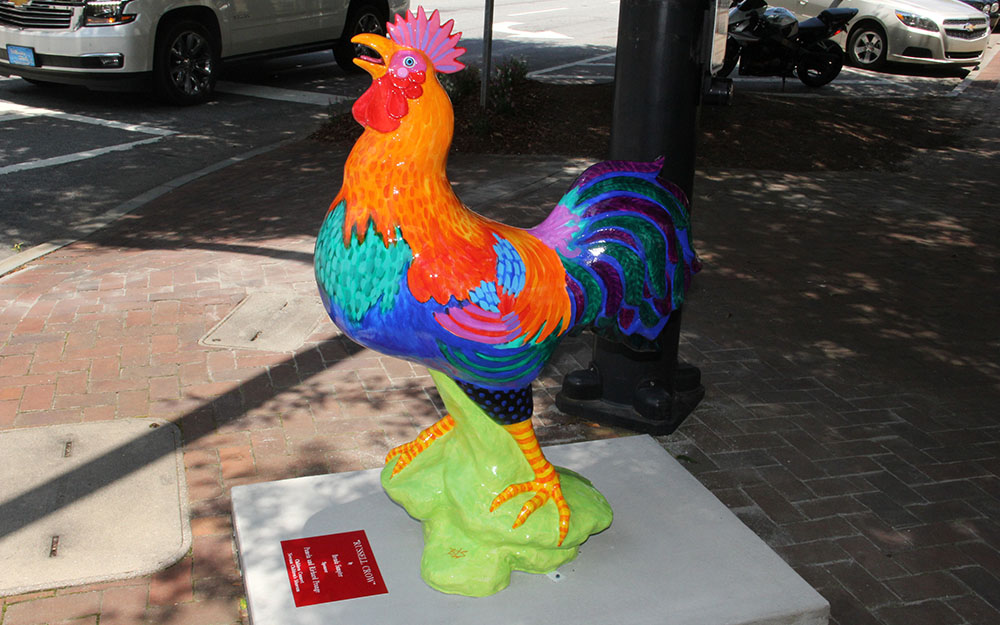 About two years ago, in a nod to her mother, who was a librarian, Prange came up with the concept of basing a collection of sculptures to be displayed in Newnan on a children's book. Newnan's Carnegie Library oversaw selection of the book, and Davis' and Burns' book was selected from submissions. According to Senior Carnegie Assistant Elizabeth Rupple, the book contest drew entries from 10 authors and eight illustrators.
"It was just children coming to meet their grandpa, who named the animals after well-known figures," Davis said. "I didn't know how else I could present it. I studied the [county] history first, looking for names I was interested in, and then tried to figure out a way to connect that to a farmyard animal. I was kind of interested in learning more about Newnan. We've only been here for three years, and I wanted to write something children would enjoy, not too elevated in its language."
Once the book was selected, the animal sculptures were chosen. Organizers solicited sponsors and worked with the Newnan-Coweta Art Association to recruit artists to paint the animals. After sponsorships were secured, the animals were ordered and began arriving in March. Local car dealership Southtowne Motors applied clearcoat to the finished animals to help the sculptures withstand the weather.
"The guys over there treated them like their own children," Prange said. "They were really excited every time we took the animals in, and they did a fantastic job."
Prange said the fiberglass animals were purchased from Cow Painters in Chicago. Between 75 and 100 volunteers – along with hundreds of local students – worked on the latest project.
Each statue was sponsored by a local business, organization or individual. The animals will be exhibited on the Newnan square for 12 months. Then, the sponsors will have the opportunity to move them to a location of their choosing.
Prange said there are other local artists who would like to paint, so there is a possibility of more statues going up around town.
"We could have had a lot more pieces, so we're looking at the possibility of extending this project if we have a sponsor and an artist, because it all goes to the children's museum," Prange said.