GFB News Magazine
April tornadoes damage Georgia farms statewide
---
Posted on May 27, 2020 8:00 PM
---
By Jennifer Whittaker
By April 12, Georgia farmers were struggling from the toll the worldwide COVID-19 lockdown was having on market prices and the food distribution system.
The cloudy, rainy weather of Easter matched the mood of the times. It foreshadowed something worse - a menacing storm system that would brutalize the state.
According to National Weather System (NWS) reports, almost 30 tornadoes touched down in Georgia from 8:15 p.m., April 12 through 8:11 a.m. April 13, striking terror in rural Georgians statewide. Eight Georgians lost their lives.
Those fortunate to live outside the path of the tornadoes still felt the fury of severe thunderstorms and in some areas, flatline winds.
As of April 22, the National Weather Service had confirmed tornadoes touched down in the following counties: (listed in chronological order according to the time the tornadoes struck) Chattooga/Walker; Murray, Dade, Catoosa, Floyd (2), Bartow, Cherokee, Harris, Talbot, Upson/Lamar, Fulton, Monroe, Hall/Habersham/Banks/Stephens, Bibb, Putnam, Greene, Washington (3), Washington/Jefferson, Worth/Tift, Screven, Irwin, Coffee, Wayne, Long and Liberty/Bryan counties.
As Georgia farmers took stock of their losses and cleaned up debris, multiple farmers graciously spoke with Georgia Farm Bureau reporters John Holcomb, Jay Stone and Jennifer Whittaker following the storm.
Then, on April 23, another system of at least three tornadoes, confirmed by the NWS, destroyed homes, damaged farms and businesses in South Georgia's Decatur, Mitchell, Cook and Clinch counties.
To read the stories of farmers from Murray, Stephens, Upson, Berrien, Irwin, Wayne, Mitchell, Colquitt and Clinch counties, please visit www.gfb.ag/Easterstormsagdamage & www.gfb.ag/April23tornadoes .
Then keep these farmers and others like them in your prayers as they work to rebuild their farms.
To see more photos of damage from the Easter tornadoes visit www.gfb.ag/Easter20tornadodamage .
To see photos of damage from the April 23 tornadoes visit www.gfb.ag/April23tornadopics .
Murray County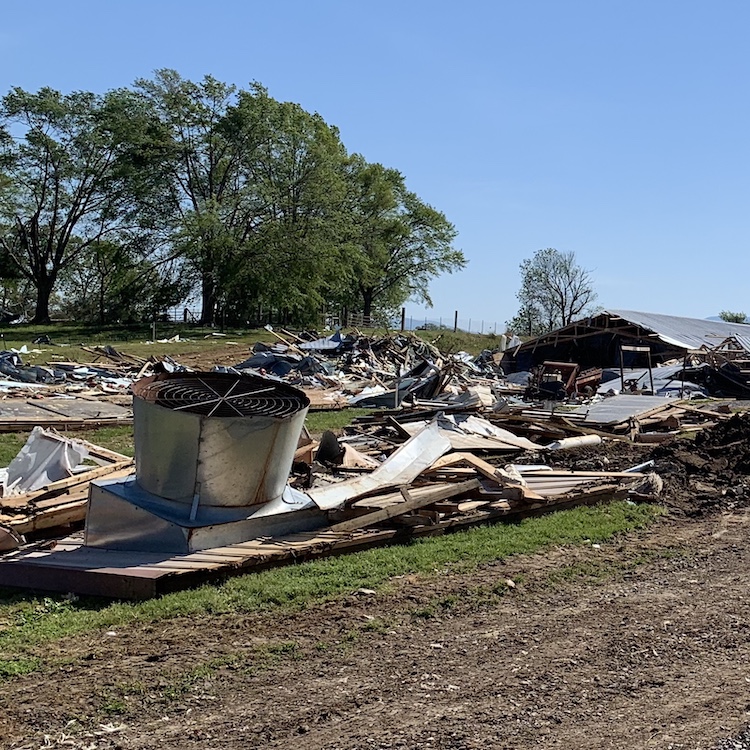 An EF-2 tornado touched down in Murray County the evening of April 12 destroying chicken houses at Wyle Pritchett's farm.
Photo by Nathan Dupree
Upson County
The EF-3 tornado that hit Upson County in the early hours of April 13 destroyed hay bales at the farm of Danny & Will Bentley. The storm left only three of 30 bales of ryegrass the Bentleys harvested the week before.
Photo courtesy of Will Bentley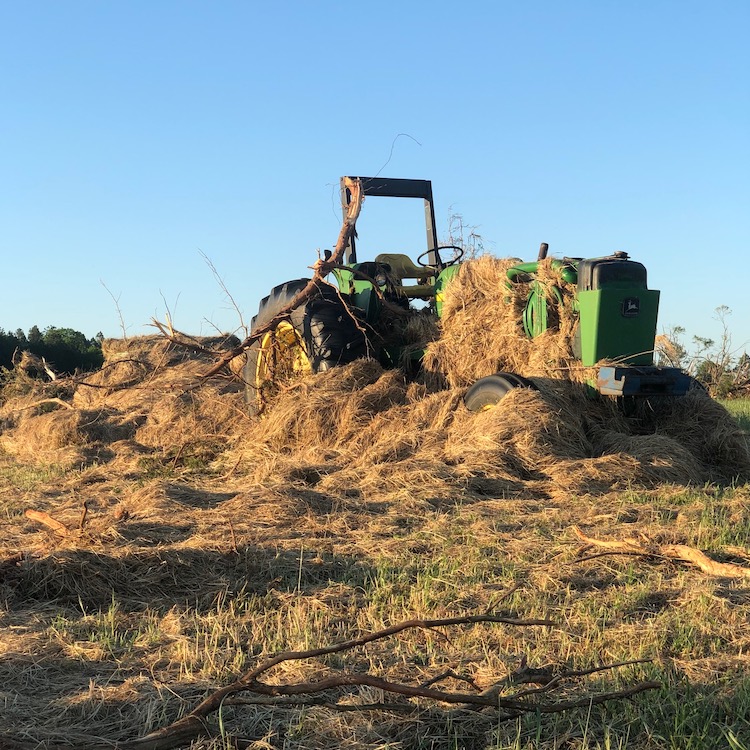 Wayne County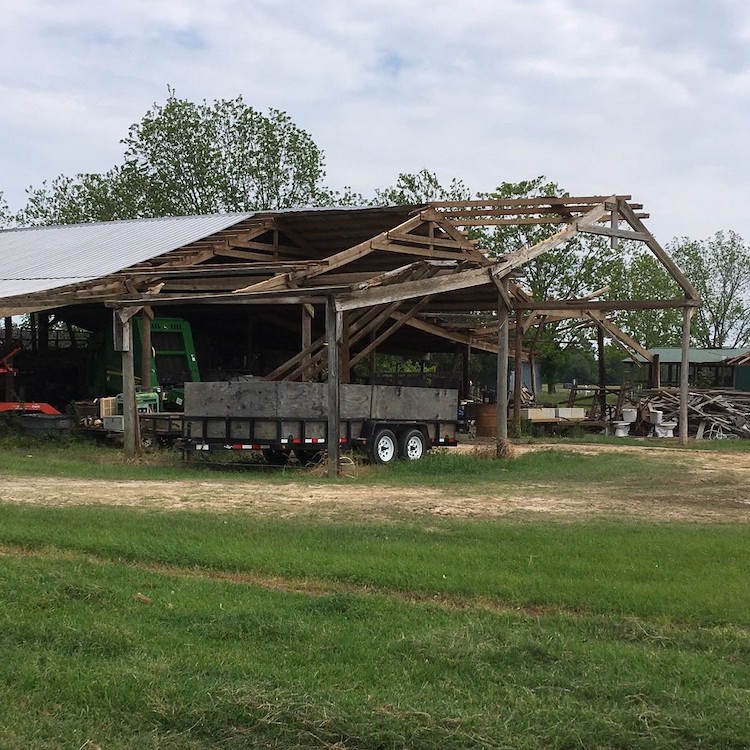 An EF-1 tornado did extensive damage in Wayne County after 7 a.m., April 13. It stripped portions of roofs off multiple barns at Robert & Kristy Arnold's cattle farm. The Poppell Farm near Odum suffered similar damage.
Photo courtesy of Kristy Arnold
Colquitt County
Farmers Gin & Peanut Company in Moultrie was one of the hardest-hit locations damaged by an EF-1 tornado that swept through Moultrie April 23. Manager Jon Ladson said the building would have to be torn down and rebuilt.
Photo courtesy of Jon Ladson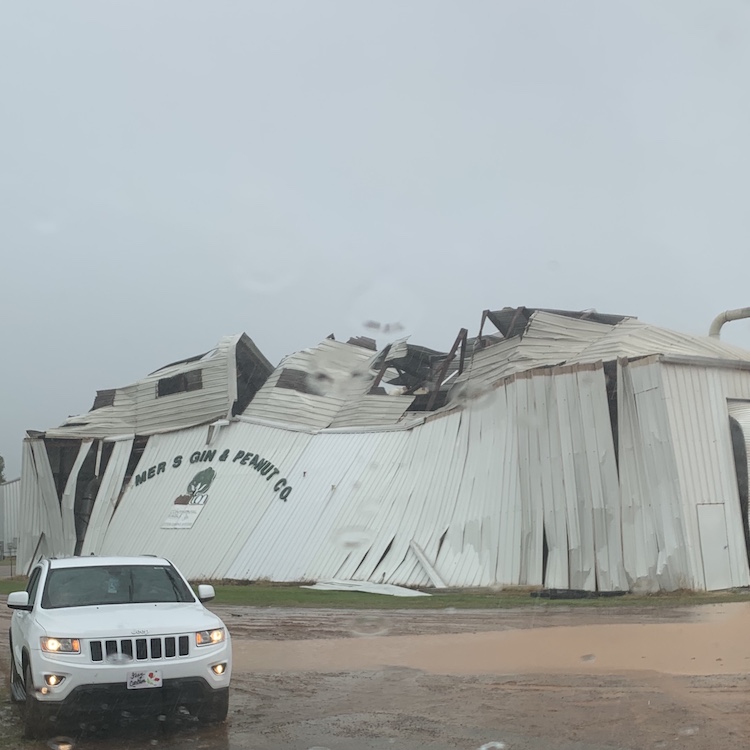 Clinch County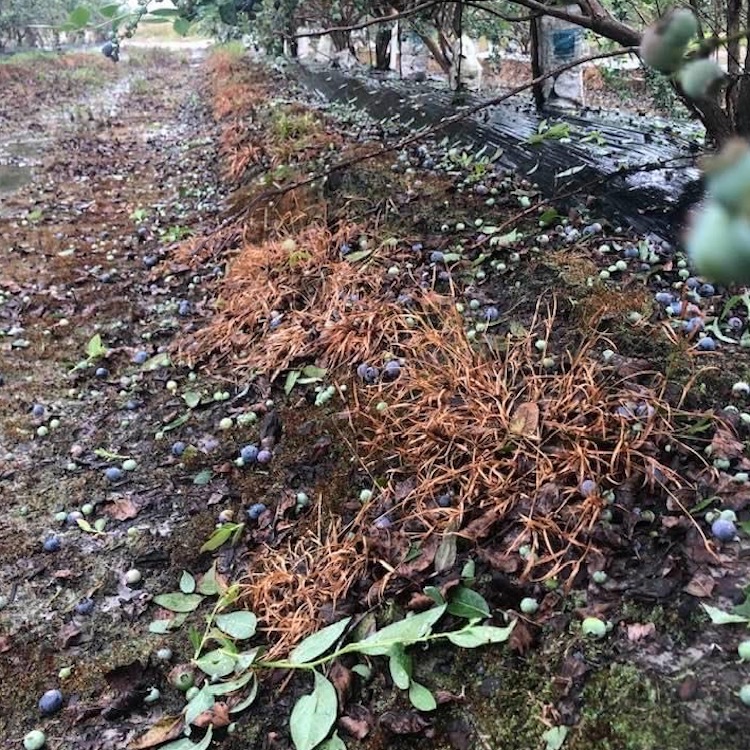 In Clinch County, an EF-0 tornado accompanied by hail, damaged blueberries grown by Russ Goodman at two different locations. In a Facebook post, Goodman indicated he lost about 70% of his crop to the storm, or about $1.5 million worth of blueberries. Goodman said the hail did more damage than the wind.
Photo courtesy of Russ Goodman