Ag News
Yellow-Legged Hornet Confirmed in Georgia
Posted on Aug 14, 2023 at 20:00 PM
---
The yellow-legged hornet, which attacks and destroys honeybees, was detected in Savannah earlier this month the Georgia Department of Agriculture (GDA) announced Aug. 15 in coordination with USDA and UGA officials. This is the first detection of a live yellow-legged hornet on U.S. soil.
In early August, a Savannah beekeeper found an unusual hornet on his property and reported it to the GDA. On August 9, the USDA's Animal and Plant Health Inspection Service (APHIS) confirmed the University of Georgia's (UGA) identification of this insect as a yellow-legged hornet (YLH; Vespa velutina).
GDA is asking the public to report any sightings of the yellow-legged hornet, a non-native hornet species, that, if allowed to establish in Georgia, could potentially threaten honey production, native pollinators, and Georgia's top economic sector – agriculture. Many of Georgia's crops depend on pollination, such as blueberries, fruits and vegetables.
Side view of Yellow-Legged Hornet / Photo courtesy of Ga. Dept. of Agriculture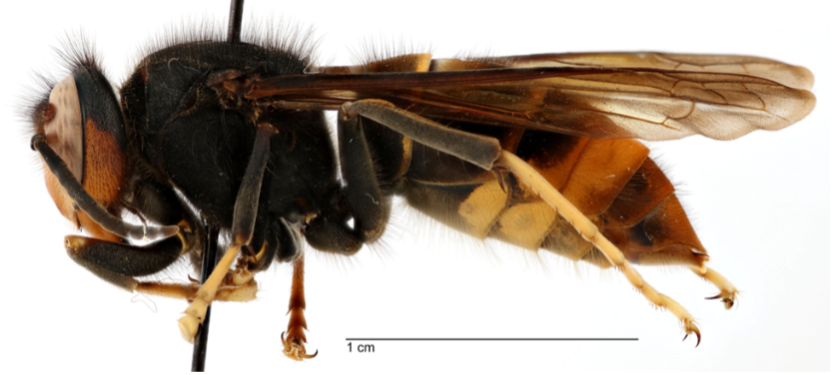 "Georgians play an important role helping the Georgia Department of Agriculture identify unwanted, non-native pests. I want to thank the beekeeper who reported his sighting to us, as well as our partners at the University of Georgia and USDA's Animal & Plant Health Inspection Service for working swiftly to confirm its identity," said Agriculture Commissioner Tyler Harper. "Our experienced team of professionals will continue to assess the situation and are working directly with USDA APHIS and UGA to trap, track, and eradicate the yellow-legged hornet in Georgia."
The yellow-legged hornet is a social wasp species that constructs egg-shaped paper nests above ground, often in trees. These nests can become large, housing an average of 6,000 workers. The yellow-legged hornet is native to tropical and subtropical areas of Southeast Asia. It is also established in most of Europe, parts of the Middle East, and parts of Asia where it isn't native.
Top view of Yellow-Legged Hornet / Photo courtesy of Ga. Dept. of Agriculture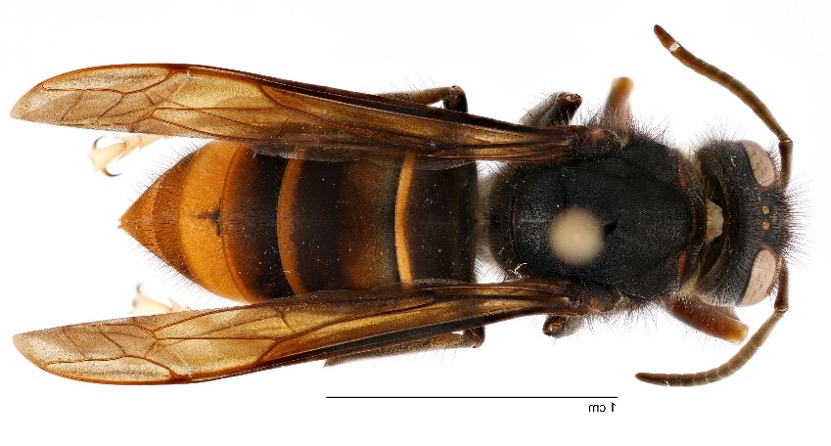 GDA's website has been updated with additional information regarding the yellow-legged hornet and an easily accessible form to report potential sightings. This information is prominently displayed on the homepage of the GDA website. Georgians with additional questions or concerns are encouraged to email us at yellow.legged.hornet@agr.georgia.gov.
Here is what to include with your report, if possible:
Your name and contact information.
The location of the sighting.
Date of sighting.
If you can, safely take photograph(s) of the hornet (we generally can only confirm a report with a photo or specimen).
Location and approximate height of the nest if found (Is it in a tree? Approximately how high is the nest?).
If you have no photo, please include a description of the size of the insect, the color of the head and body, and what it was doing.
Description of the hive loss/damage (if no photo is available).
The direction the hornet(s) flew when flying away.
The GDA has a team of experienced scientists in its Pest Program that is actively collaborating with USDA and academic experts. Together, they are developing an operational plan to trap, track, and eradicate the yellow-legged hornet in Georgia.
The plan will begin with trapping. APHIS and GDA will set out traps and survey for this pest to determine if additional yellow-legged hornets are in the area. If a colony is discovered through reporting, trapping, or tracking, the colony will be eradicated. APHIS is providing technical expertise, technology, and outreach support as well as analyzing the hornet's DNA to determine if it is related to European populations of this species.
"The foundation of this response is the strong relationship USDA has developed with the Georgia Department of Agriculture and the University of Georgia over many years," said Dr. Mark Davidson, Deputy Administrator of APHIS' Plant Protection and Quarantine Program. "Our partnership is already paying off as our teams come together to apply the science and technology in our response planning. The public can also play a critical role by reporting potential sightings of the hornet to help eradicate this pest."
The GDA and APHIS will continue to provide public outreach and education about the hornets and encourage the public to document and report hornet sightings. Yellow-legged hornets can be dangerous, and everyone is encouraged to use caution in the event of a sighting.
Front view of Yellow-Legged Hornet /Photo courtesy of Ga. Dept. of Agriculture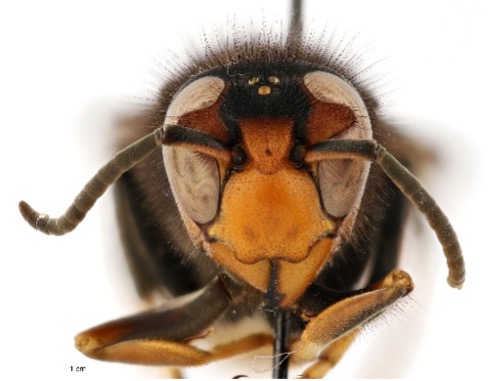 Please note: There are many domestic lookalikes that are native to the United States and do not pose a threat to honeybees. Many of them are valuable pollinators. To see photos of other pollinator species that may be mistaken for yellow-legged hornets and for more info visit www.gfb.ag/yellowleggedhornetinfo .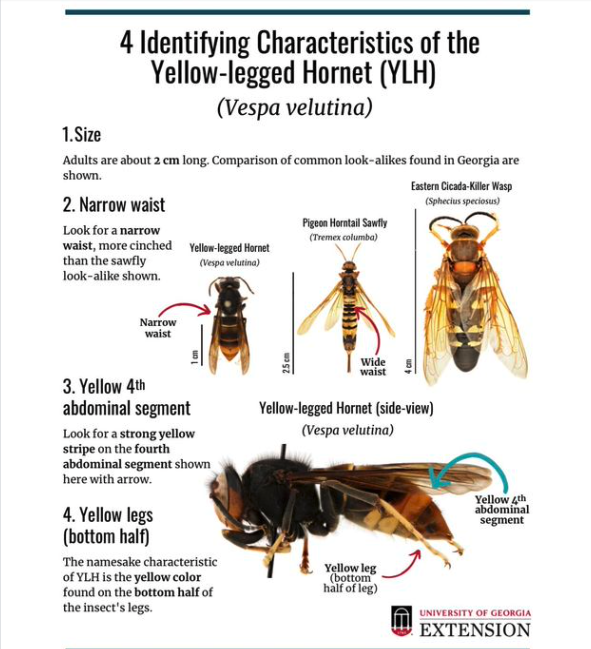 The YLH is a relative of the Northern giant hornet, sometimes referred to as the "murder hornet" for its ability to quickly kill honeybees. The last report of the Northern giant hornet in the U.S. was in Washington State in 2020.
Preventing Hornet Attacks on Honey Bee Hives
The following information is posted on The Land-Grant Press provided by Clemson University. www.gfb.ag/yellowleggedhornetinfo
While trapping may indicate if hornets are present, it is unlikely that trapping alone will provide satisfactory control of hornets in bee yards. Use of trapping in the spring and early summer to target and control queen hornets may reduce the development of hornet colonies later in the year. By mid-summer and fall, traps will mostly catch worker hornets and have little effect on the overall hornet population. In late season, traps will be more useful for monitoring hornet activity than controlling hornet populations.
The most effective method for controlling attacks by AGH and Yellow-Legged Hornets is to prevent their access into the bee hive by altering the entrance. Anti-robbing screens mounted over the hive entrance can prevent hornet entry (figure 11), as long as the entrance holes are too small for the hornets to use but large enough to allow bees to enter and exit without knocking pollen off of their legs. Beekeepers also need to screen the vents in the inner cover if the vents are large enough to allow hornets access through the top.
Figure 11/ anti-robbing screen/Photo courtesy of The Land-Grant/Clemson Extension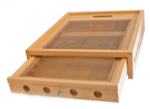 The ApiShield hive mounted trap uses both trapping and exclusion to manage hornets in Langstroth hives. The ApiShield trap is installed below the first brood box and serves as a bottom board, allowing honey bees to access the normal front entrance while also providing access through larger holes along the sides (figure 12).
Hornets attracted to the hive are not able to enter the front entrance used by the bees but can enter the larger holes in the sides and back. Once the hornet enters, it becomes trapped in a screened chamber below the beehive. This trap uses the natural odors of the hive as the attractant and does not require any additional lures or baits. The device also doubles as a screened bottom board for monitoring varroa mites. The ApiShield trap may restrict bee movements and cause entrance congestion, so it would be best used only when AGH or YLH are most active in late summer and fall.
Figure 12: An anti-robbing screen attached to beehive//Photo courtesy of The Land-Grant/Clemson Extension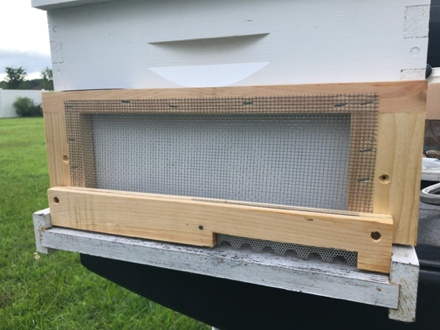 ---
---