Ag News
Georgia Cattlemen's Convention: Boots, books and boats
---
Posted on Feb 22, 2022 at 19:00 PM
---
By Jay Stone, Georgia Farm Bureau
For all the familiar things built into the 2022 Georgia Cattlemen's Association Convention, a pair of new things provided a highlight for those who attended.
During the convention, held Feb. 16-18, the GCA celebrated 60 years of history by unveiling "Herds and Heritage: The History of Georgia's Cattle Industry," and by trying out a new location. After many years of meeting in Perry, the 2022 convention met in Savannah.
At the Cattlemen's Industry Luncheon on Feb. 17, Georgia Beef Commission Chairman John Callaway unveiled the cover art and introduced author Jackie Kennedy, who grew up on a dairy farm in Troup County.
Kennedy recalled how the book developed.
"I started out early in this project asking people what their favorite part of the cattle industry was. I was expecting them to say the cattle, or the land, or being outside, or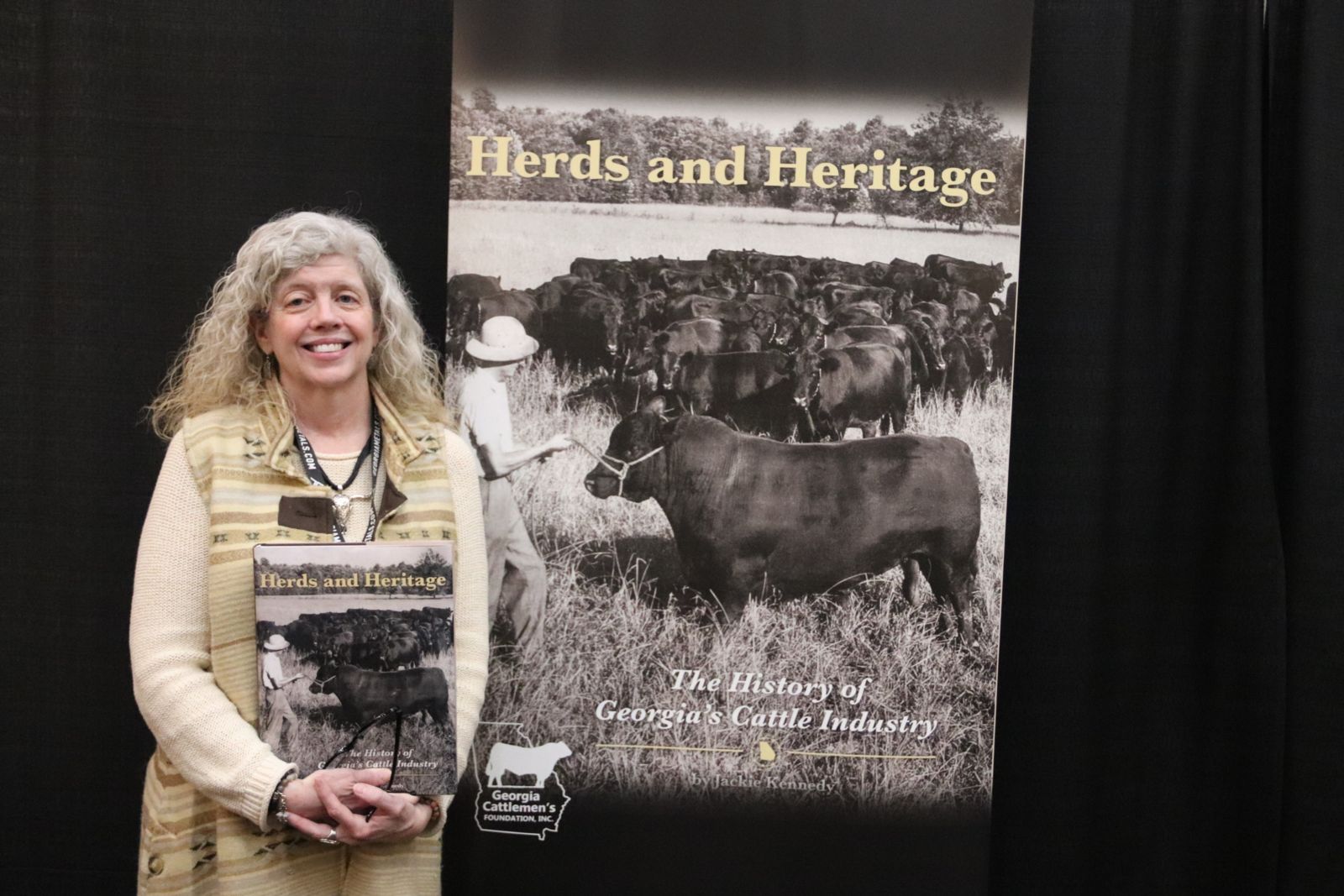 Author Jackie Kennedy
being my own boss," said Kennedy, editor of Coweta Magazine published by the Newnan Times-Herald. "Nobody said that. Every single person I interviewed said it's the people, just being with other people in the beef industry. That was always the answer. This is an industry with people who have common interests, common goals, and it's a grand heritage that we all share."
The book was four years in the making. Callaway pushed for it after seeing similar cattle histories published in other states, pulled together a collection of cattle industry leaders from around the state to decide whether to do the book, then planned it and raised money to publish it.
"John Callaway's heart for the cattle industry and his passion for this project is why you have this book," Kennedy said.
"I knew the longer we waited, the fewer people would be around to share their knowledge of our history," Callaway said.
In 2019, the Georgia Beef Foundation contracted Kennedy to write it.
Herds and Heritage takes readers back to the 16th Century, when explorer Juan Ponce de Leon brought cows with his expedition to the New World, and traces the industry's development through the centuries that followed.
"I've seen the books from other states, and every one I've seen, I'd put ours up against it. Jackie did a tremendous job," Callaway said. "
Herds and Heritage: The History of Georgia's Cattle Industry is available to GCA members through the organization's online store at www.gafeef.org under the "shop" tab using their login. The general public can place orders via mail by sending their payment for $65 to the Georgia Cattlemen's Foundation, P.O. Box 27990, Macon, GA 31221.
The convention was held at the Savannah Marriott Riverfront. With a backdrop of cargo ships floating by, the GCA conducted its business, including installing 2022 President Rodney Hilley, who hopes to address big challenges facing cattle producers, among them high prices of inputs like fertilizer. One key topic for Hilley is membership growth, particularly with younger cattlemen and their families.
"We're in good shape, especially in spite of the pandemic. We went through some tough times, and membership was down, but now it's bounced back," Hilley said. "I don't have a personal agenda. I just want to make Georgia Cattlemen's better than it's been."
Hilley, a Berry College alumnus, said he'd like to see more interaction between GCA and the smaller schools with animal science programs.
The GCA welcomed leaders from the Georgia Junior Cattlemen's Association (GJCA), who saw how the organization operates and heard keynote speaker Amanda Radke speak about the importance of embracing the social aspects of promoting beef and other cattle products. GJCA Board Members Maddie Deen and Cora Crews, who are both interested in pursuing careers in agriculture, welcomed the chance.
"I enjoyed being able to listen to Miss Amanda and kind of share more about marketing and how to get our stories out there, and not just stay at home, produce cattle, raise cattle sell cattle and stay behind the scenes," said Deen, a home-schooled student from Crisp County.
"In our school, there's a bunch of people that aren't as interested in ag," said Crews, of Charlton County. "Hopefully I can take away the communication [skills] and get out and get other young people interested in agriculture."
Convention workshops addressed biosecurity, expanding into beef processing, grazing and pest management.
In the biosecurity workshop, Iowa State University Professor of Food Safety and Public Health Danelle Bickett-Weddle covered various ways diseases can be introduced to cattle herds and steps to keep pathogens out.
"Biosecurity helps with animal health and public health," Bickett-Weddle said, noting that protecting herds from diseases comes with financial benefits. "Better animal health means you're not treating animals, you're not having to cull for reproductive issues. They're not coming up lame and not breeding. These are all things that better biosecurity, because we have less infectious disease challenges, can do for you."
Among her recommendations were having designated footwear for on-farm use and other footwear for off the farm, preventing vehicles from off the farm from going into areas frequented by cattle, implementing quarantine for cattle brought to the farm from elsewhere.
"Think about ways that, if we do some things daily on our operations that help against common diseases. Could those also protect our cows against that big, weird, unknown thing that came in?" she said. "It spreads the same way. If my herd today is at risk for BVD, and FMD hits the United States, you're at risk."
For more information about cattle biosecurity, visit www.securebeef.org.
The 2023 GCA Convention will be held in Columbus.
---
---