Agriculture + Lifestyle
Preserving Georgia Greatness, Year-Round!
---
Posted on August 7, 2019 8:00 PM
---
Agriculture is Georgia's oldest and largest industry, contributes approximately $73.3 billion annually to Georgia's economy. Georgia is blessed with a climate that allows tremendous opportunities for farmers. Virtually any crop or animal can be grown successfully somewhere within the state. In order to enjoy this harvest year-round, many take advantage of the Georgia Agricultural Education Food Processing Centers. These are canning plants run by agriculture teachers and volunteers.
Aside from the delicious jams, canned beans or Brunswick stew that individuals can make for themselves or others — there are many benefits to using a canning plant:
Ability to buy produce in bigger quantities which lends to paying less
Use the facilities equipment without having to buy and store one's own
No need to heat up one's house or create a mess in their own kitchen
The facility has experts on hand to answer questions and offer advice
The Georgia Future Farmers of America website explains that our great state is home to 28 Food Processing facilities that are hosted through the local Agricultural Education departments. These food processing centers are an opportunity for local members of the community to take advantage of canning their own products. Each of the facilities offer their services at a minimum cost to the community members. Facilities also offer different services which may include shelling, washing and blanching of peas and butter beans, peeling potatoes; some even are able to process meat.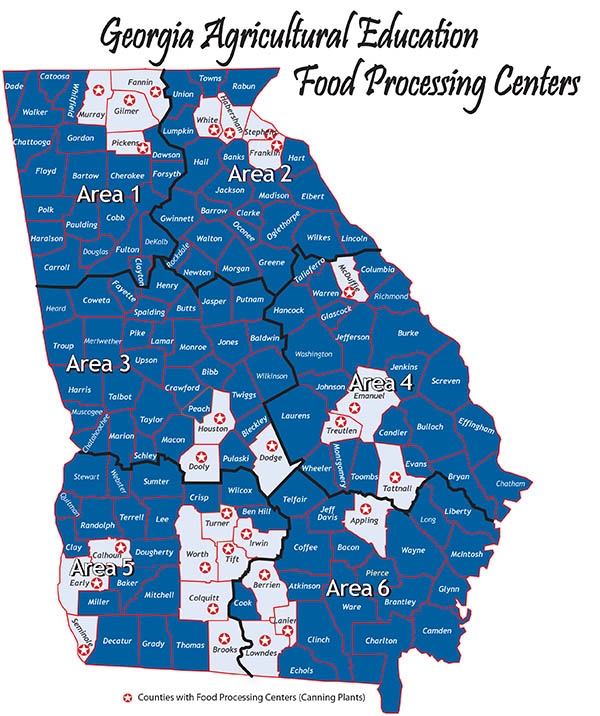 Information provided by Georgia Agricultural Education.