Agriculture + Lifestyle
It's Carnival Time-King Cake Recipe
---
Posted on February 8, 2021 7:00 PM
---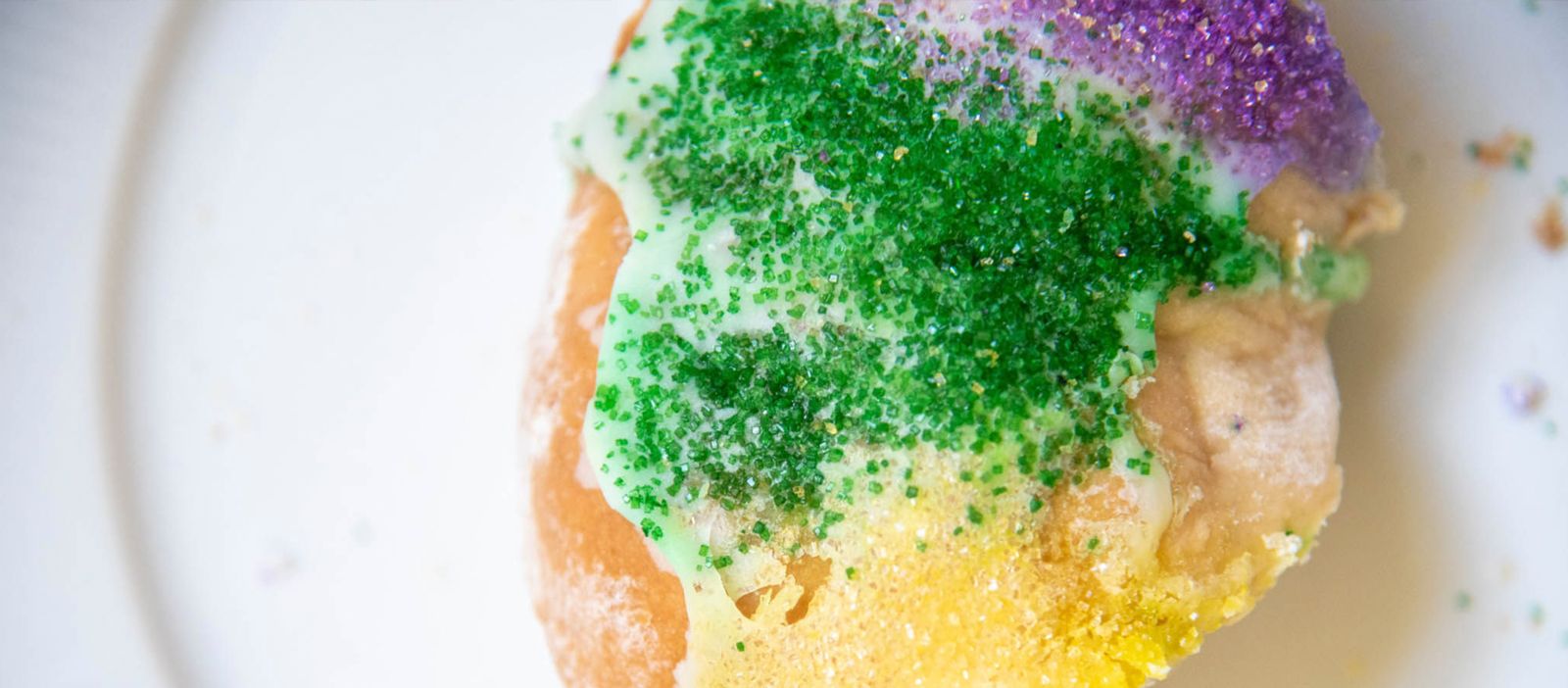 Traditionally the Mardi Gras season begins on January 6th each year and ends the day before lent or Mardi Gras Day. To celebrate, many people make a King Cake. So where does this noble cake come from? According to the Christian calendar the 12th day after Christmas or (January 6th) is celebrated as the day the three kings visited baby Jesus bearing gifts.
New Orleanians celebrate this historical event by baking a special cake that is a cross between a cinnamon roll and a coffee cake. The cakes are usually shaped in an oval, which symbolizes the unity of faiths. Also, the purple, green and gold sprinkles on top of the cake symbolize justice, faith and power. There is usually a small plastic baby hidden inside of the cake, this is representative of baby Jesus. It is considered good luck to find the hidden baby in your slice of cake. If you do find the baby, you must bring the next king cake to the next Mardi Gras party.
This sweet treat with hints of cinnamon goes perfectly with a cup of coffee. You can make it with just cinnamon inside or mix it up with pecans, or your favorite preserves from your local Certified Farm Market.
Here's how to make your very own King Cake:
Content provided by: neworleansshowcase.com
Traditional New Orleans King Cake Recipe
Ingredients
5 ½ Cups of all-purpose flour
2 packages of yeast (.25oz)
1 ½ teaspoons of salt
½ Cup of sugar
2 eggs
2/3 cup warm water
1 cup of milk
¼ cup butter
Filling
1 tablespoon of cinnamon
1 cup brown sugar
2/3 cup chopped pecans
½ cup of all-purpose flour
½ cup melted butter
Glaze
1 cup powdered sugar
1 teaspoon vanilla extract
1-2 tablespoons of water (add a tablespoon at a time to get the consistently to drizzle the glaze on top of the cake)
Purple, green and gold sprinkles
Instructions
Add the flour, yeast, salt, and sugar together, mix well.
Add warm water, eggs, milk and ¼ cup of butter.
Mix with electric mixer with dough attachment until dough forms.
Take dough out and knead by hand for several minutes.
Once dough has been kneaded place in bowl in a warm place to rise for 30-40 minutes. The dough should double in size.
Once dough rises, roll dough out with rolling pin on a floured surface into a rectangle.
Mix the filling ingredients together and sprinkle onto rolled out dough.
Start at the widest side of the rolled-out dough and roll like a jelly roll or cinnamon roll placing the seam side down.
Curve the rolled dough into an oval shape and place on baking sheet.
Let dough rise again for 30-40 minutes in a warm place.
Pre-heat oven to 375 degrees.
Once dough has risen a second time place in preheated oven for 20-25 minutes until the king cake is lightly brown.
Let cool completely before glazing and sprinkling