Agriculture + Lifestyle
Farm Passport: Your Summer Route Through South Georgia
---
Posted on May 13, 2020 8:00 PM
---


Summer is here and it is time to discover new places, create lasting memories, and taste Georgia's bounty of fresh foods. Kelly Thompson, GFB's Certified Farm Market Coordinator has prepared a guide to exploring all that Georgia's farms have to offer.
First up, South Georgia! Be sure to check out our routes for Middle Georgia and North Georgia too.
GFB Farm Passport: South Georgia Route
Note the following route can be as an overnight trip, as two individual days, and followed in reverse order.
Tips before you hit the road:
Call or check the farm(s) Facebook to make sure they are open
Pack a cooler & your Farm Passport! (or plan to pick one up at the first farm)
Note: a lot of farms are only equipped to accept cash
DAY 1:
Stop #1: William Brown Farm Market (Montezuma, GA) Get ready for a relaxing, beautiful drive in the country. This farm is ready to welcome you into their open-air farm market. They are known for their peaches but also have a wide variety of vegetables offered and if you believe it's never too early for ice cream, then get ready to grab a cone. More Info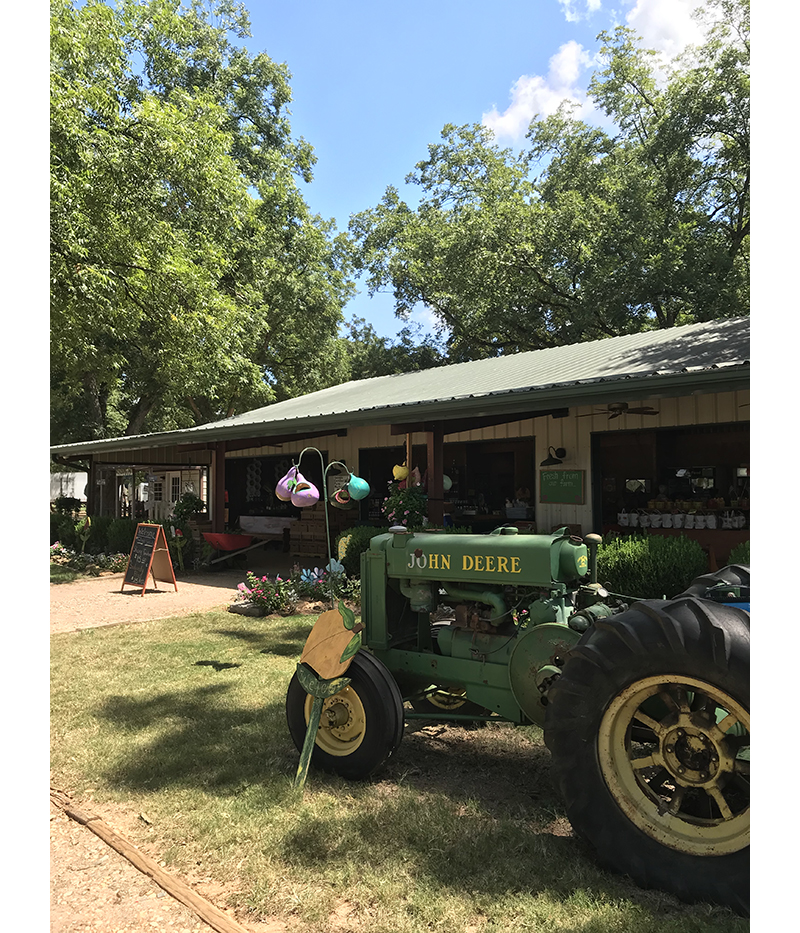 Stop #2: Chase Farm Market (Oglethorpe, GA) Just 7 mins down the road waits "the best sweet corn in the south." In this open-air market, you can bag up as many ears as you would like directly from the wagon where the corn was picked earlier that morning. They also sell cream corn and a variety of other goodies! More Info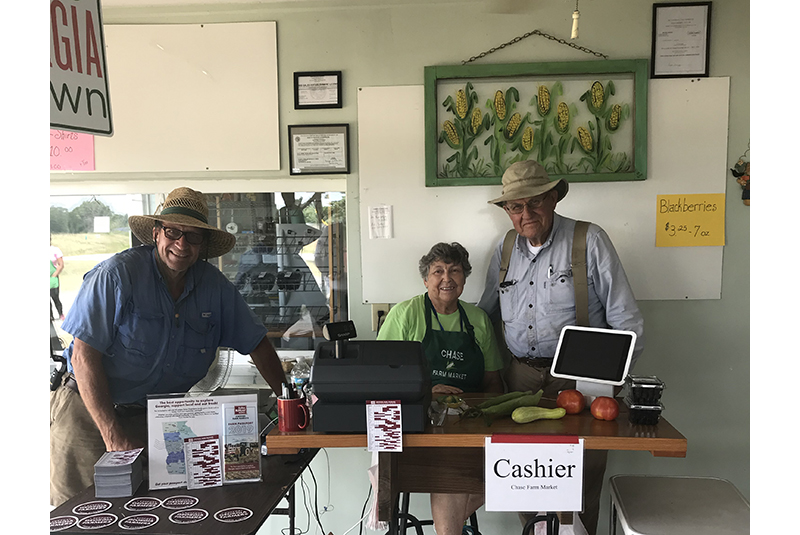 Stop #3: Jibb's Vineyard (Byromville, GA) The opportunity to walk between muscadines vines waits just 17 mins away. Be sure to call this farm before you go as they are not open all the time. Muscadines are generally ready to pick in September, but Farmer Howard also grows fruits such as watermelons that will be ready for harvest in the summer. More Info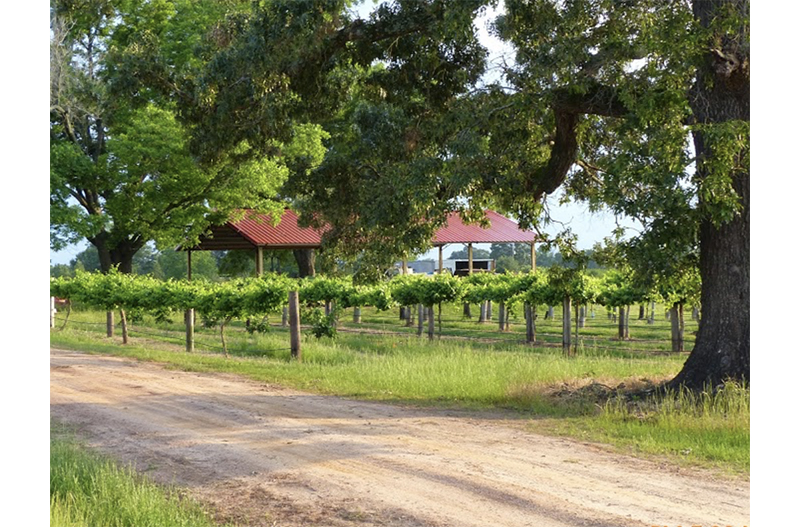 Next up is a historical opportunity.
Take a drive through Plains, GA to see the Jimmy Carter National Historic sites. While it's a 50 min drive, you get the opportunity see the 39th president's boyhood farm, school, town railroad depot that served as his campaign headquarters, and the church where he teaches Sunday school. Be sure to take a picture with the peanut statue. You can also check out the Antique Mall and Peanut Store and grab lunch at the Buffalo Café. *Note: As several of the locations mentioned are part of the National Park Service, check their website to see if the park is open before going.
Stop #4: Merritt Pecan Co. (Weston, GA) A 22 min drive leads you to the "not your typical" farm market. This market grows and buys pecans and has their pecan packing facility attached to a gas station. Here is a great opportunity to fill up the car with gas, take a bathroom break, and browse their selection of pecans. Walk over to the shed across the parking lot to view farm equipment they have used over the years. More Info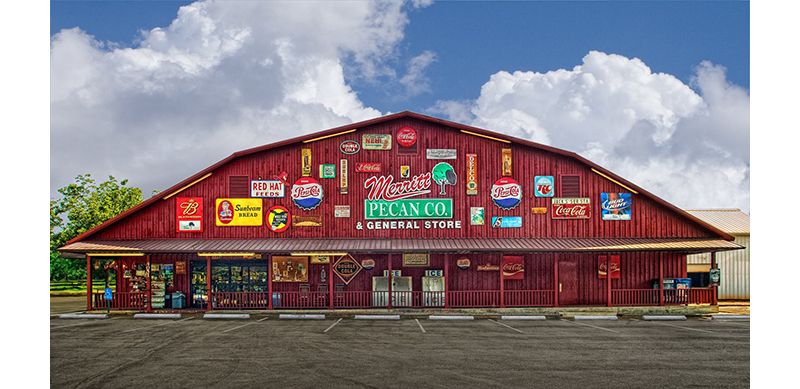 Stop #5: Mark's Melon Patch (Dawsonville, GA) This farm is worth the 27 min drive from Merritt's. This is a great farm to stretch your legs at. They have animals for you to see, and I personally recommend getting their boiled peanuts in addition to any of their wide selection of produce. More Info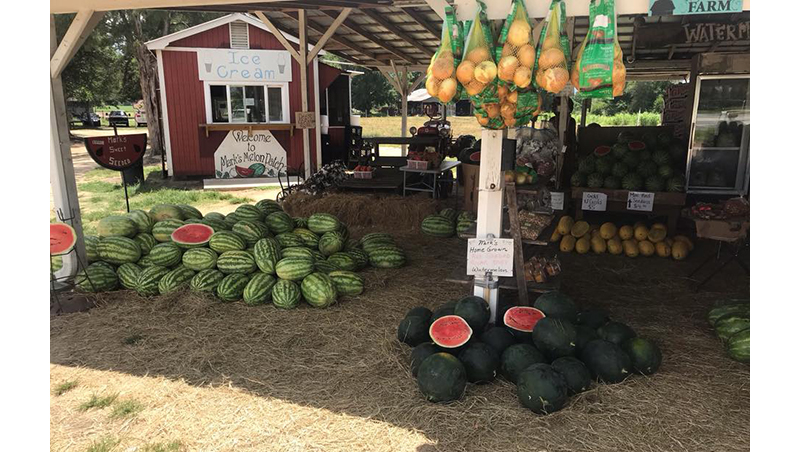 Stop #6: White Oak Pastures (Bluffton, GA) This farm is the final leg of your journey for today. Once you arrive, you can check into a cabin to unwind from the day (be sure to reserve in advance.) The farm invites you to eat with them at the Farmers Table located directly behind the general store. Whether you get a chance to look around their general store that night or in the morning, check out their unique offerings such as leather belts & jewelry, tallow, pet treats, and more. More Info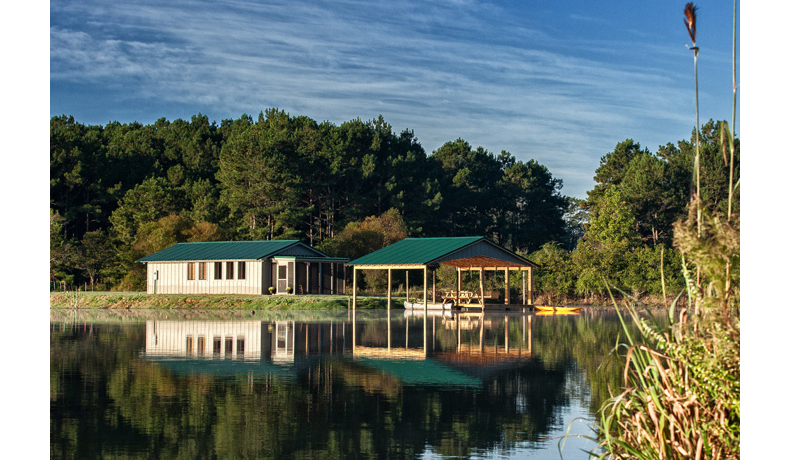 This trip could lead you on your way to the beach… If it does, pick up Day 2 farms on your return trip.
DAY 2:
Bonus start: Ochlocknee Ridge Farm (Moultrie, GA) [warning: strawberry season is all but over for the year] If you haven't picked your strawberries yet, this farm invites you to join in on the southern tradition. You may even get to see cattle grazing out in the field. Your other strawberry farm option presents itself after lunch at Copeland Strawberry Farm. This farm only adds 20 mins to your commute. More Info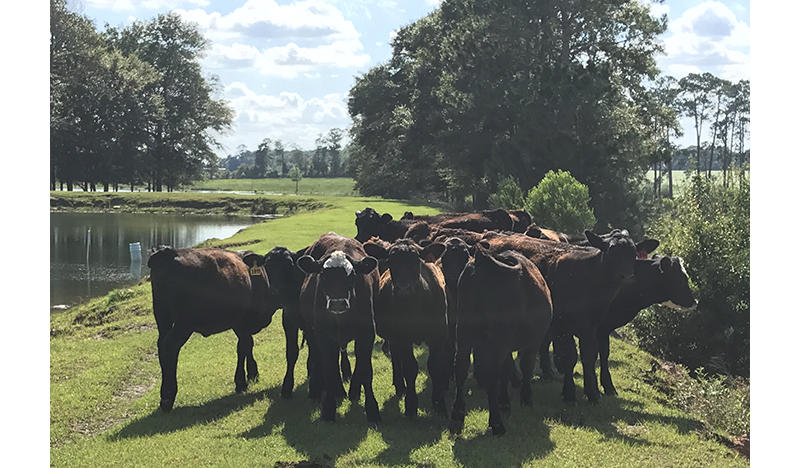 Stop #1: Berry Good Farms (Tifton, GA) This is a cute farm stop. You are invited to pick blueberries, blackberries and strawberries. Ask Mr. Bob to show you his farm animals. He loves to introduce you to the goats, chickens, and his sweet chocolate lab. More Info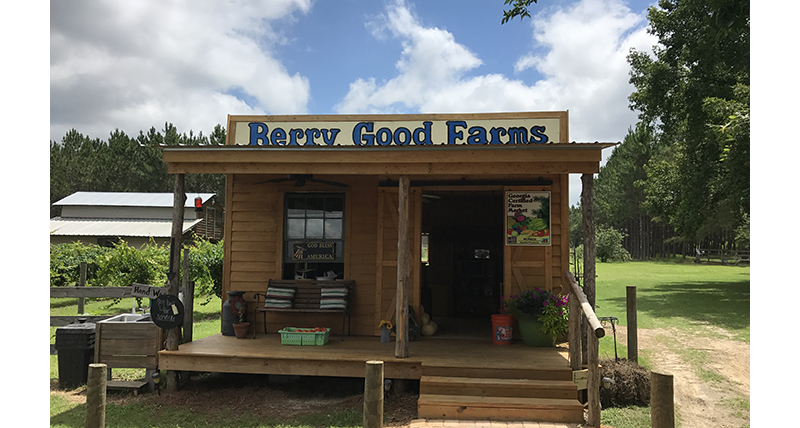 Stop #2: Excelsior Farms & Fresh Market (Ty Ty, GA) is a whopping 1 min away. This is a great stop to stock your cooler up on peas, squash, potatoes, peppers, watermelon, cantaloupe & tomatoes. More Info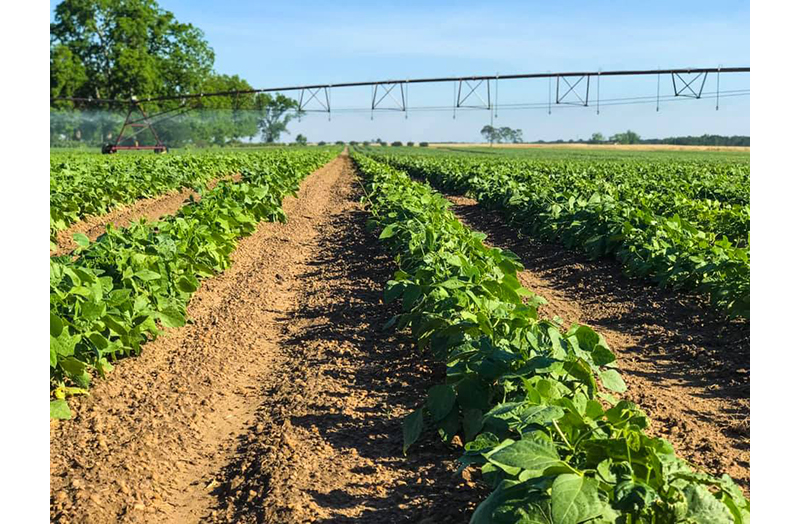 Stop #3: As you head for home, go by Calhoun Produce (Ashburn, GA) for lunch. This farm is 36 mins away from Excelsior Farms and has a different variety of produce with butterbeans & onions. They are well known for their strawberry lemonade slushies that are made with strawberries from their farm, and they have a wide selection of Georgia Grown goodies and gifts to choose from. More Info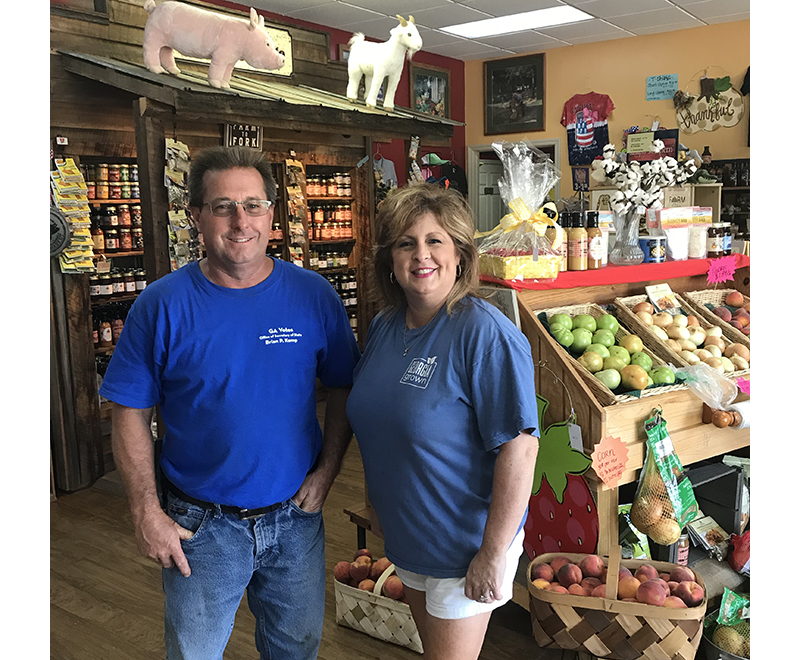 Stop #4: [Strawberry season coming to a close!] If you haven't picked any strawberries yet, you potentially still have a chance waiting 23 mins away. Copeland Strawberry Farms (Rochelle, GA) invites you to come pick. They even offer fresh cut flower arrangements and strawberry ice cream. Just be sure to check their Facebook for daily updates. More Info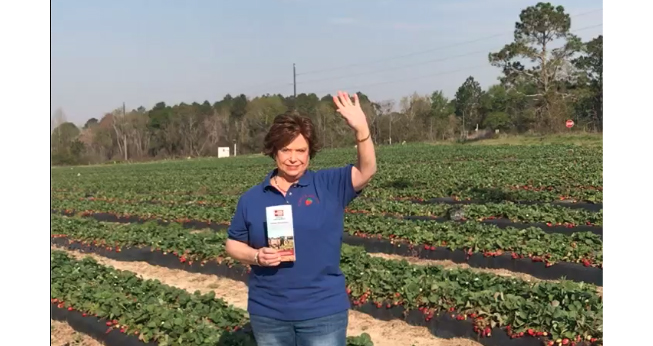 Stop #5: Right off the interstate headed north sits Ellis Bros Pecans (Vienna, GA). This is a great bathroom break and offers EVERY flavor of pecan you could ask for. This is an easy farm stamp you don't want to miss out on. More Info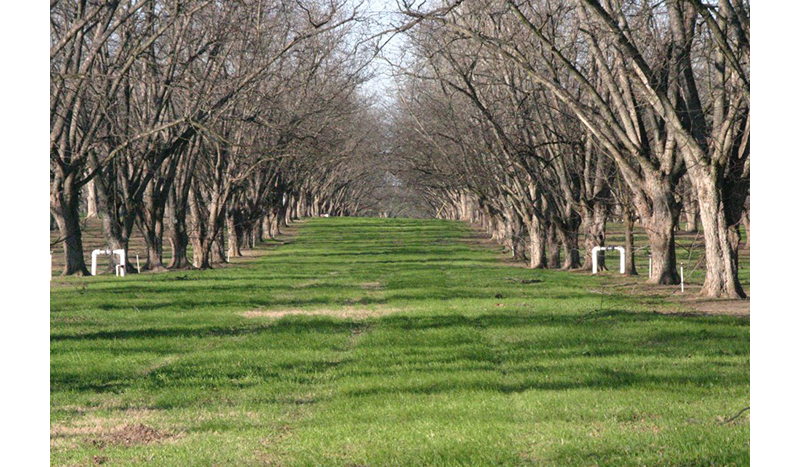 Have fun, remember to get your Farm Passport stamped, and share your experiences with us using #farmpassport
---
Special Contributor: Kelly Thompson, GFB's Certified Farm Market Coordinator.