Agriculture + Lifestyle
Books We Love
---
Posted on April 11, 2022 8:00 PM
---
By Lauren Goble, Ag in the Classroom Coordinator
Agriculture is all around in fact its Georgia's largest industry and is an important component of the state's economy by providing one in seven jobs in agriculturally related fields. However, less than 2% of the population actually lives on the farm and few people have any knowledge of how the food and fiber system works to provide us with food, clothing and shelter.
Books are an essential tool for children's success, reading helps the developing mind grow by learning new things. Help expand your children and student's imagination while discovering how significant agriculture is in our everyday lives. Here are a few books we love that highlight Georgia's top 10 commodities. Click on each of the books below for more activities on each commodity.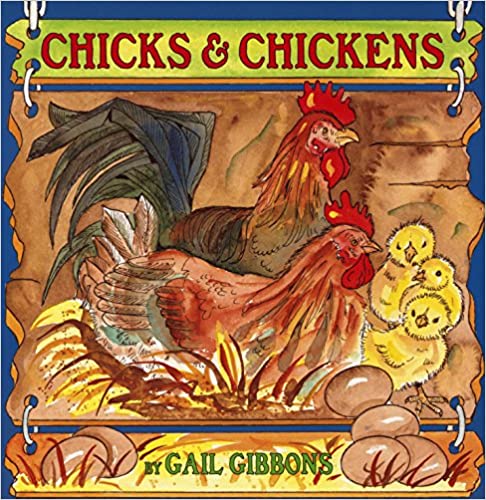 See what different breeds of chickens look like, discover how eggs are laid and hatched, and learn how big and little farms take care of their birds. Chicks and Chickens is a fun introduction to farm fowl featuring colorful diagrams, tons of facts, and a page of chicken trivia. Perfect for curious kids wondering about baby birds, or for learning and talking about where our food comes from.
Did you know that the cotton for your jeans was picked from a bush? Where did your soccer uniform, your rain boots, and your fleece jacket come from? And what does recycling plastic bottles have to do with anything? Visit farms, forests, and factories all over the world to find out how everything you wear has a story behind it.
Meet Jake, and his loyal farm dog, Max! They live on a Georgia peanut farm and are excited to show you around! Grab a peanut butter and jelly sandwich and let's explore the farm through the changing seasons. Along the way, we will discover how farmers take care of their farm machinery, plant the seeds, tend to the crop, harvest the peanuts and enjoy the fruits of their labor! Plus, we'll see how Jake applies lessons learned on the farm into other areas of his life — studying for tests at school, overcoming obstacles and practicing his baseball swing for the big game!
Two Can-Do Cowkids who love learning new skills and working hard to achieve their goals! Join them on the farm as they take care of their cattle after a big Georgia rain storm. Young readers will explore beef industry careers and learn how they, too, can dream big and become Can-Do Cowkids. With colorful illustrations and a recipe for delicious beef pizza, this book is engaging and educational!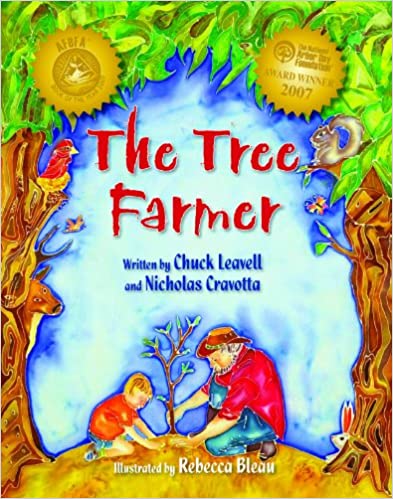 A Grandson confronts his Grandfather, a tree farmer, about how he can grow trees with so much love and care, only to cut them down. But as they walk together through the trees, they discover the majesty of the forest and enjoy the life journey of each tree. The Tree Farmer takes young readers on a magical journey through the forest, in a tale of the gifts of trees and our responsibility to care for trees, generation to generation.
Will Allen is no ordinary farmer. A former basketball star, he's as tall as his truck, and he can hold a cabbage--or a basketball--in one hand. But what is most special about Farmer Will is that he can see what others can't see. When he looked at an abandoned city lot in Milwaukee he saw a huge table, big enough to feed the whole world.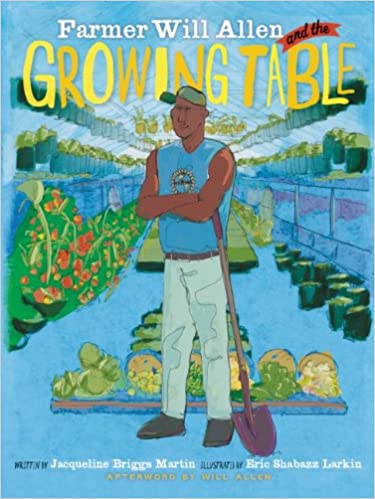 Told through exuberant rhyme, a group of children shows the step-by-step process of how America's favorite snack comes about. Beginning with the planting of seeds, the cycle moves through the caretaking of the plant (watering and weeding), all the way to its harvest. Finally, it's time to shuck, then pop the kernels, and enjoy the finished product! Complete with back matter that includes scientific facts and activities, Let's Pop, Pop, Popcorn! offers a fun introduction to the process of creating popcorn.
Billy Blueberry is an illustrated children's book that tells the story of Billy Blueberry. The story covers his entire life cycle from first planting of a blueberry bush, to being picked and eventually being shipped all around the world.
With the help of his Dairy Godmother, Chuck is taken—poof!—on a memorable and delicious adventure to a dairy farm. He finds out exactly where ice cream comes from and gains an even deeper love and appreciation for his favorite food.
Last year, Gabe's mom grew way too many zucchinis. This year, Gabe and his sister have a secret plan to take control of the garden. They have to stop the zucchini madness! Tying into the popular Makers Movement, Makers Make It Work is a series of fun easy-to-read stories that focus on problem-solving and hands-on action. This charming story explores the Makers theme of Gardening and includes explanatory sidebars and a gardening-related activity for young makers to try themselves!