Agriculture + Lifestyle
Barnsley Resort's Cream of Butternut Squash Soup
---
Posted on September 7, 2021 8:00 PM
---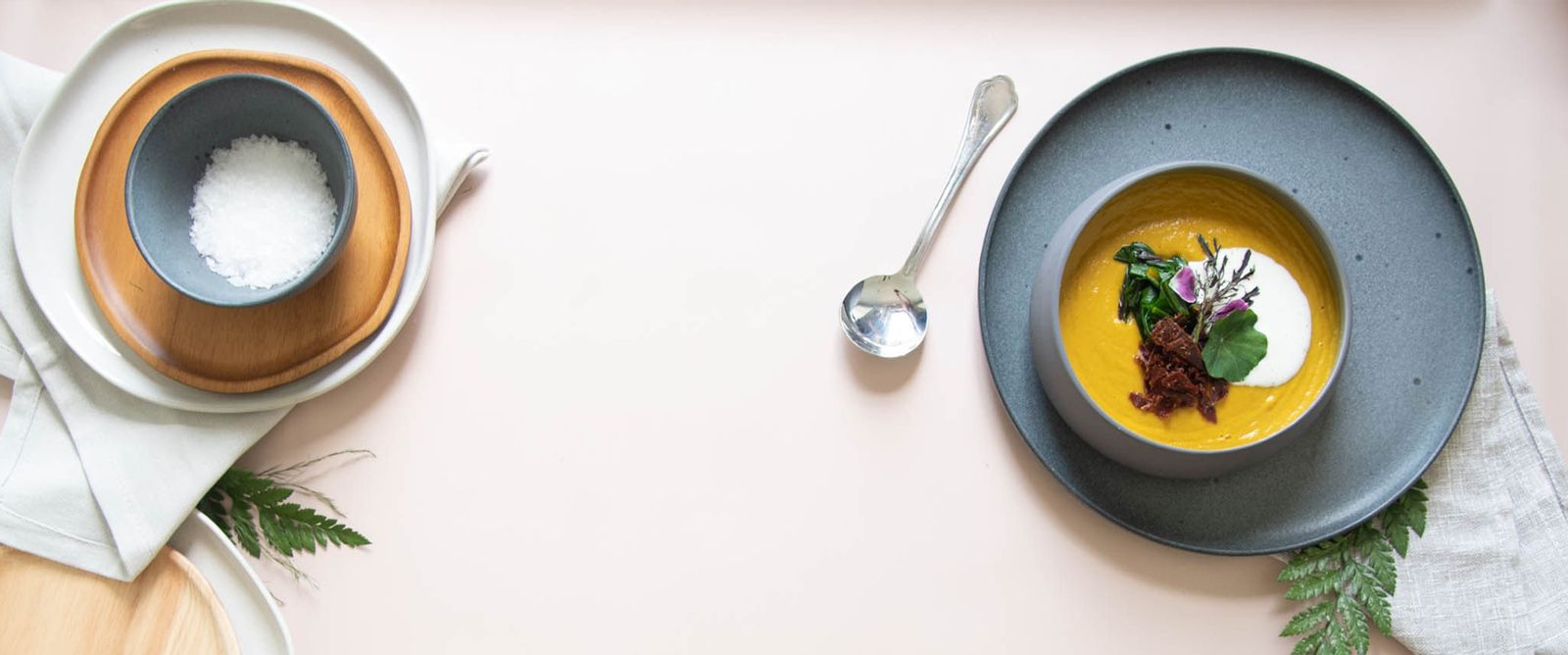 The main soup portion of this recipe may be prepared a day in advance, making it perfect for easy entertaining in the busy fall season. Chef Lebas recommends visiting local farmers markets for the produce that might be available in your local area.
Ingredients for Soup
2 and 1/4 cup dices, peeled butternut squash
3 and 1/3 cup of vegetable stock
2 Tbsp of grapeseed oil
1 large onion, finely chopped
1 potato, cubed
1 cinnamon stick
1/4 cup brown sugar
Instructions
Heat the oil in a large pan and add the onion. Cook on low heat until softened but not colored. Add the potato and butternut squash. Stir, cover, and cook until softened. Add the vegetable stock. Season and simmer for 45 minutes.
Place the soup in a blender and puree, then return the soup to the saucepan (you can strain the soup through a sieve if you like, to get rid of any tough-to-blend stalky bits. If you have a powerful blender like a Vitamix, it should be able to puree everything into a silky-smooth soup.)
---
Ingredients for Goat Cheese Espuma
3/4 cup of heavy cream
2/3 cup goat cheese
4 egg yolks
1 tsp. xanthan gum
Instructions
Place the heavy cream in a small saucepan, then bring to a boil. Remove from the stove and slowly pour in the blender. Blend on high, carefully adding the goat cheese, egg yolks, and xanthan gum.
Place in a siphon and charge 2 times with whip chargers cartouches (available from Williams Sonoma or Amazon)
---
Ingredients for Collard Greens
1 cup collard greens
Lemon juice, to taste
Extra virgin olive oil
Freshly ground black pepper to taste
Instructions
Julienne the collard greens into fine strips and bring a large pan of well-salted water to the boil. Blanch the collard greens until vibrant and tender, then drain and season with a few drops of lemon juice, freshly ground black pepper and a drizzle of extra virgin olive oil.
---
Ingredients for the Goodnight Brothers Crispy Ham
Instructions
Preheat oven to 375 degrees Fahrenheit. Lay thin slices of ham over parchment paper on a sheet pan and bake in heated oven for 10 minutes or until crispy. Drain the excess fat and chop to the desired size.
This Cream of Butternut Squash Soup with Goat Cheese Espuma, Collard Greens, and Goodnight Brother's Crispy Country Ham recipe is brought to you by Barnsley Resort Executive Chef, Nicolas Lebas.