Press Releases
Terry England Receives 2023 Georgia Farm Bureau Commodity Award
Posted on Aug 10, 2023 at 20:00 PM
---
MACON, Ga. – Georgia Farm Bureau (GFB) presented Terry England with its 2023 GFB Commodity Award during the annual GFB Commodity Conference held Aug. 10 at the Classic Center in Athens. England is a former Georgia representative who chaired the House Appropriations Committee for 12 years.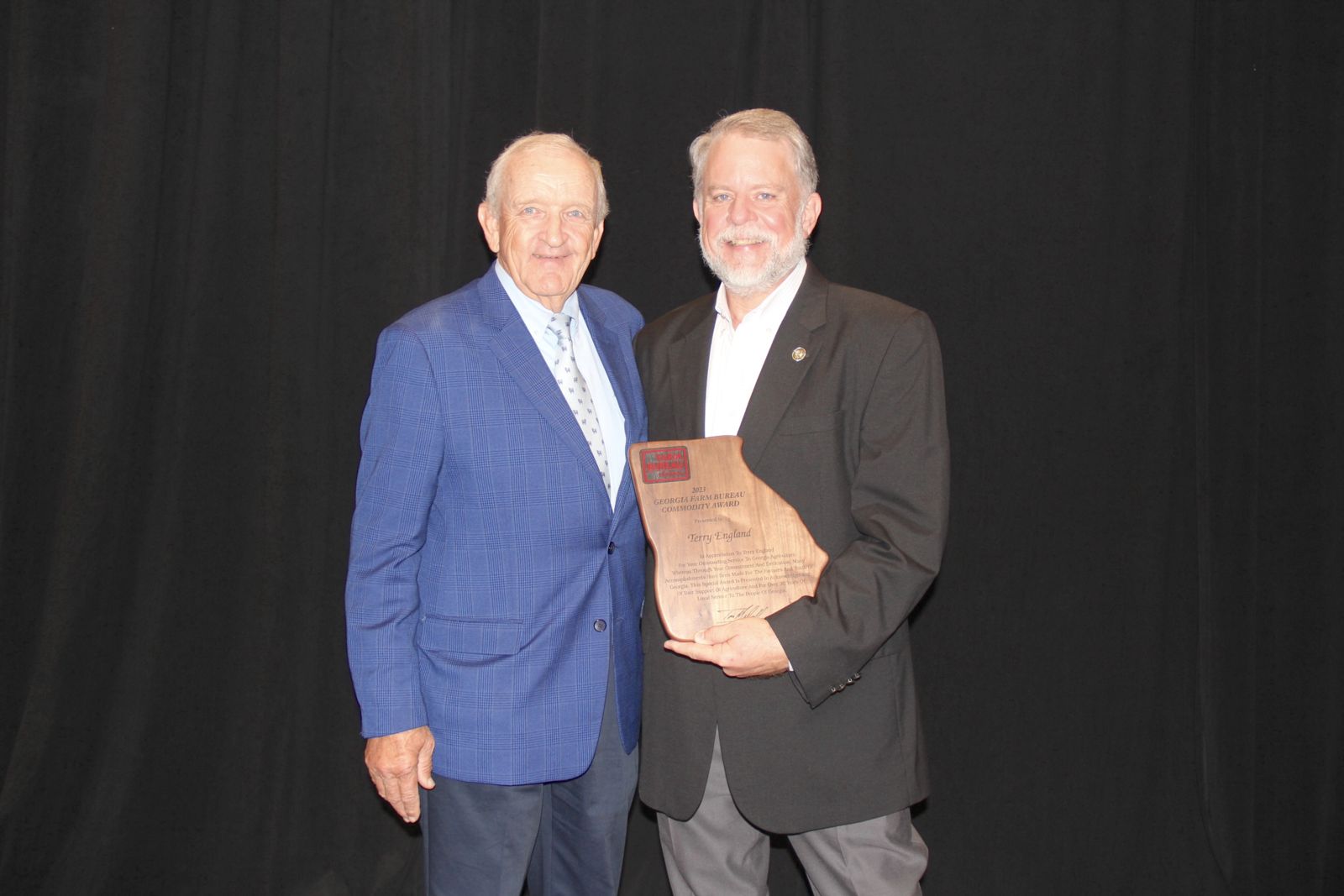 Georgia Farm Bureau President Tom McCall, left, presents Terry England with the 2023 Georgia Farm Bureau Commodity Award during the organization's annual commodity conference held Aug. 10 in Athens.
The GFB Commodity Award, one of the organization's highest honors, is given to individuals who have supported and promoted Georgia agriculture. The GFB Board of Directors selects the award recipient from nominees submitted by the organization's commodity advisory committees.
During his 18 years in the Georgia General Assembly, England secured funds for UGA Extension and research positions, assisted with the agricultural water metering program, enhanced Georgia's agricultural education programs, secured funding for cabins and other buildings at Georgia 4-H and FFA camps, and secured relief for farmers and rural communities devastated by Hurricane Michael in 2018.
"Terry was instrumental in bringing our state's bank account from basically nothing to having billions in reserve. He worked for the benefit and protection of Georgia agriculture and our farmers throughout his time as a state legislator," GFB President Tom McCall said. "I consider myself lucky to have had the opportunity to work with Terry while I was previously serving in the General Assembly. Farm Bureau is thankful for all he has done for Georgia."
England, from Barrow County, was first elected to represent the 108th District in 2004 and took office in January 2005. He represented the 108th district until 2012 when redistricting put him in the 116th District, which he represented through 2022, when he opted to not seek reelection.
In addition to chairing the House Appropriations Committee from 2010-2022, England served on the following House committees during his time in office: Agriculture & Consumer Affairs, Education, Natural Resources & Environment, Industry & Labor, and as an ex officio member of the Ways & Means Committee. He was co-chair of the Agricultural Education Advisory Commission as well as co-chair of the House Rural Development Council.
On Aug. 1, England began working as chief of staff for Georgia House Speaker Jon Burns.
Growing up, England was an active FFA member. In 1989 he joined the GFB Young Farmers & Ranchers (YF&R) program in Barrow County. He won the GFB YF&R Discussion Meet in 1991. Terry and his wife, Cindy, served on the GFB YF&R Committee in 1992 and 1993, when he chaired the committee. The couple served on the American Farm Bureau YF&R Committee in 1994 and 1995. Terry served as a director and county president of the Barrow County Farm Bureau. He is a past member of the GFB Vegetable Commodity Committee.
The Englands have been married for 35 years and are active members of Auburn First Baptist Church, where Terry is a deacon and Cindy works in the nursery.
---
---