Press Releases
Patsie T. Cannon Receives GFB Commodity Award
Posted on Aug 08, 2019 at 20:00 PM
---
FOR IMMEDIATE RELEASE
Aug. 9, 2019
Contact: Jeffrey Harvey
478-474-0679, ext. 5282
jaharvey@gfb.org
MACON, Ga. – Patsie T. Cannon received the 2019 Georgia Farm Bureau (GFB) Commodity Award during the GFB Commodity Conference held Aug. 8 at the University of Georgia Tifton Campus. The GFB Commodity Award, one of the organization's highest honors, is given to individuals who have supported and promoted Georgia agriculture.
"Patsie has served Georgia's beef sector for more than 35 years in a variety of roles," GFB President Gerald Long said. "Patsie has been a blessing to cattle producers across Georgia through her work with numerous University of Georgia beef production programs, announcing cattle shows at the Georgia National Fairgrounds and Agricenter, and her volunteer work with the Georgia Cattlemen's & Women's Associations. Her dedication is evident by the long-lasting relationships and the many lives she has touched across the state."
Cannon taught business classes at Abraham Baldwin Agricultural College for seven years before pursuing fulltime work with Cannon Marketing, the family business dedicated to marketing purebred cattle throughout the Eastern United States and Canada. She later served 16 years at the UGA College of Agricultural & Environmental Sciences Tifton Campus. During her time with UGA, Cannon worked with the college's Georgia Beef Challenge, Bull Evaluation Program, and the Heifer Evaluation and Reproductive Development (HERD) Program.
"I am humbled and honored to be recognized by Georgia Farm Bureau," Cannon said. "This organization does a tremendous job working for everyone in Georgia's ag community. It has been a privilege and a blessing to work for and with so many wonderful producers who have been a part of the Cannon Ag Family for nearly four decades."
With the Georgia Beef Challenge, which allows Georgia cattle producers to gain information on the health, weight gain and carcass merit of their cattle as they move through the feedlot, Cannon coordinated the enrollment and shipping of about 39,000 Georgia calves to the Tri-County Steer Carcass Futurity in Lewis, Iowa. Cannon developed a chuteside data collection process on calves that continued through the feedlot phase and ended with graded carcasses ensuring each consignor received timely updates as data was collected.
While working on the UGA Tifton and Calhoun Bull Evaluation and HERD Programs, Cannon encouraged producers to consign heifers and bulls in the programs. These programs demonstrate the animals' individual performance differences, provide breeders with a scientific basis for selecting cattle and serve as an educational demonstration of the value of performance records.
"Patsie has always been the consummate professional in everything she does. Whether it was the Tifton Bull Test, the HERD program or the Georgia Beef Challenge, you knew it was going to get done and it was going to be done right," said John Callaway, chairman of the Georgia Beef Commission.
- MORE –
Cannon page 2 of 3
Cannon is an active member of the Georgia Cattlemen's Association (GCA) and Georgia Cattlewomen's Association (GCWA). She serves on the GCA Nominating Committee and the Junior Advisory Board and supports all GCWA activities. She promotes the Cattle Drive for Hunger ensuring GCA grants are
distributed to organizations that feed the hungry. Cannon was inducted into the Georgia Cattlemen's Hall of Fame in 2015 and the Georgia Cattlewomen's Hall of Fame in 2018.
"Mrs. Patsie has always worked to make our industry and the Georgia Cattlemen's Association be the most it could possibly be," said GCA President Brent Galloway. "Patsie has always treated everyone with the utmost respect and always makes you feel like you are family." Since the 1990s, Cannon's melodious voice has announced the names of 4-H and FFA exhibitors competing in cattle shows at the Georgia National Fairgrounds and their placings. She's praised for her ability to speak clearly enough for all to hear and understand above the noise of the fairgrounds.
After retiring from UGA in 2015, Cannon continues to support Georgia's beef industry through the family business.
Cannon and her husband, Carroll T. Cannon, live near Ty Ty. They have one son, Patrick, who is a patrol officer with the Atlanta Police Department. She serves as Sunday School director for five classes at the First Baptist Church of Tifton and is a member of the church's Policies & Procedures Committee.
Founded in 1937, Georgia Farm Bureau is the state's largest general farm organization and has 158 county offices. Its volunteer members participate in local, state and national activities that promote agriculture awareness to their non-farming neighbors. GFB offers its members a wide variety of benefits, including insurance, but enrollment in any of the member benefits is optional and not a requirement for membership.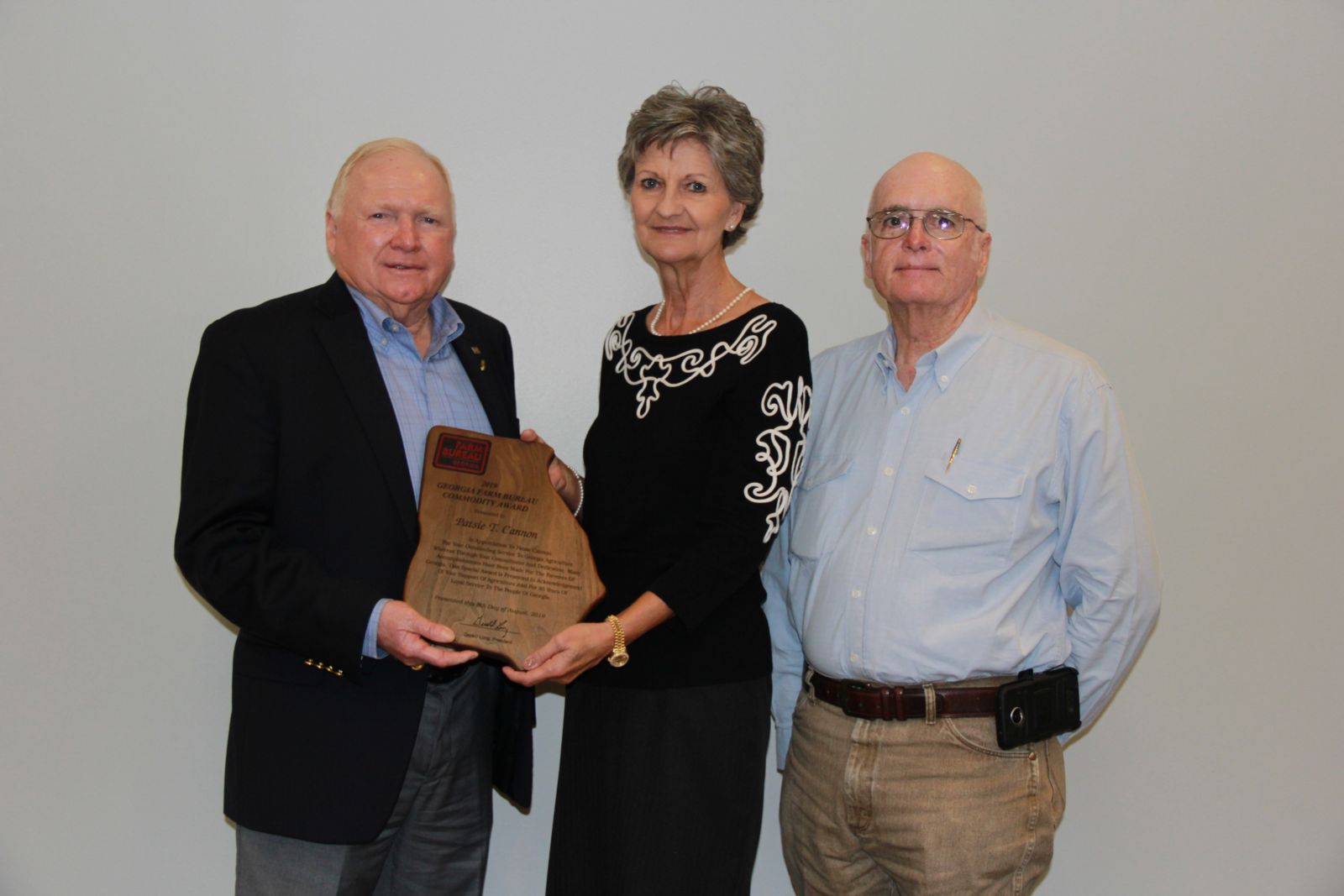 Pictured from left, Georgia Farm Bureau President Gerald Long presents the 2019 Georgia Farm Bureau Commodity Award to Patsie T. Cannon, who is accompanied by her husband, Carroll. Cannon was recognized for the many contributions she has made to Georgia's beef sector through the years. The award was presented at the GFB Commodity Conference Aug. 8.
(Photo courtesy of Georgia Farm Bureau)
---
---