Press Releases
Dr. Larry Guthrie receives Georgia Farm Bureau Commodity Award
Posted on Aug 11, 2022 at 20:00 PM
---
FOR IMMEDIATE RELEASE
Contact: Alex Bradford
478-474-0679, ext. 5287
atbradford@gfb.org
Aug. 12, 2022
DR. LARRY GUTHRIE RECEIVES 2022 GFB COMMODITY AWARD
MACON, Ga. – Long-time dairy and youth advocate Dr. Larry Guthrie was presented as the 2022 Georgia Farm Bureau (GFB) Commodity Award during the GFB Commodity Conference held Aug. 11 at the Stone Mountain Evergreen Conference Center. The GFB Commodity Award, one of the organization's highest honors, is given to individuals who have supported and promoted Georgia agriculture.
The GFB Board of Directors selects the award recipient from nominees submitted by the organizations' commodity advisory committees. Guthrie was nominated by the GFB Dairy Committee.
Guthrie, who retired as a professor in the UGA Animal and Dairy Science Program in 1999, has worked to advance dairy science and practices in Georgia for more than 50 years.
"Dr. Guthrie has been a dedicated and unwavering supporter of Georgia's youth and dairy programs through 4-H and FFA. He has spent decades providing leadership and education to the dairy industry," said GFB President Tom McCall. "His knowledge and passion for dairy has inspired and helped develop countless producers and youth nationwide. Georgia Farm Bureau is proud to present him with the 2022 Commodity Award."
Guthrie grew up in Bullock County, Alabama, on his family's livestock farm. He attended Jones Community College in Mississippi and McNeese State University in Louisiana. Guthrie earned his bachelor's degree from McNeese State in 1961.
Guthrie began his Extension career while attending Auburn University, where he earned a master's degree in ruminant nutrition with a minor in biochemistry. He earned his Ph.D. from Louisiana State University (LSU) in ruminant nutrition. He then joined the faculty at LSU and was eventually recruited to the University of Georgia in 1977 as a professor in the Department of Animal and Dairy Science.
"Dairy has always been special to me," Guthrie said. "I'd like to thank the Farm Bureau commodity committees. This is a highlight of my career, being recognized."
As faculty with the University of Georgia, Dr. Guthrie was responsible for educational programs and outreach with the Cooperative Extension Service related to dairy cattle nutrition, management, replacement rearing, heat stress management, and 4-H dairy youth education. In addition, he conducted applied research and taught classes in the Department of Animal and Dairy Science. Guthrie is a major force behind the dairy youth programs in Georgia, including the development and oversight of the very successful 4-H and FFA Dairy Judging programs and the Georgia Commercial Dairy Heifer Program.
"Dr. Guthrie worked diligently to help Georgia dairy farmers develop protocol to advance into the 21st century," GFB Dairy Committee Chairman Joel Keith said. "Through his guidance and interest, our industry has made great strides. Plus, he has mentored countless youth in education and leadership through his involvement with 4-H and FFA."
In 1997, Dr. Guthrie began the Georgia Commercial Dairy Heifer Show, introducing more than 6,000 Georgia youth to the dairy industry. Students borrow heifers from local dairies, which are generously loaned to keep the cost of raising and showing a heifer at a minimum. These are raised and trained by the students to participate in showmanship and conformation classes. Students can exhibit at local shows and the Georgia Commercial Dairy Heifer Show in February.
Thanks to Dr. Guthrie's vision, this program introduces the dairy industry to many students from non-farm families, inspiring many to be future leaders in the industry. Dr. Guthrie's extensive involvement in all facets of the dairy youth programs includes serving three years as President of the Georgia Dairy Youth Foundation. He is a current member of the foundation's board of directors and raises to support 4-H, FFA, and collegiate dairy educational programs.
In addition, Dr. Guthrie volunteered as dairy superintendent for the Purebred Dairy Cattle Shows at the Georgia National Fair for 25 years and continues as assistant superintendent.
After he retired, Dr. Guthrie and his wife, Rachel, started a dairy youth leadership scholarship for Georgia 4-H and FFA students.
The Guthries live in Watkinsville and have two children, Dr. Larry Guthrie Jr. and Rochelle Guthrie Edmonds.
-30-
CUTLINE: Georgia Farm Bureau President Tom McCall, left, presents Dr. Larry Guthrie the Georgia Farm Bureau Commodity Award. (photo courtesy of Georgia Farm Bureau)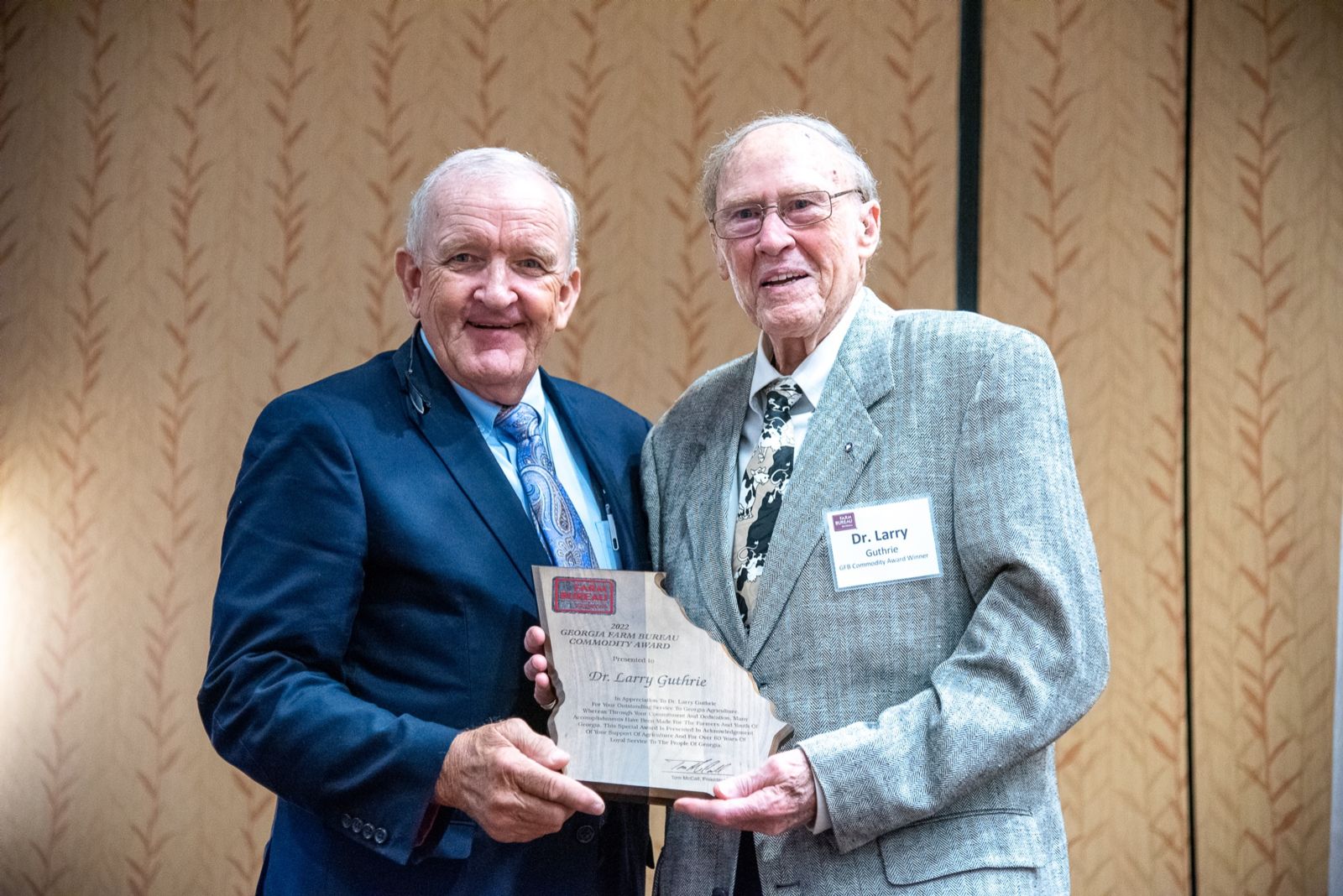 ---
---