GFB News Magazine
Young Farmers & Ranchers visit Louisville
---
Posted on May 17, 2022 8:00 PM
---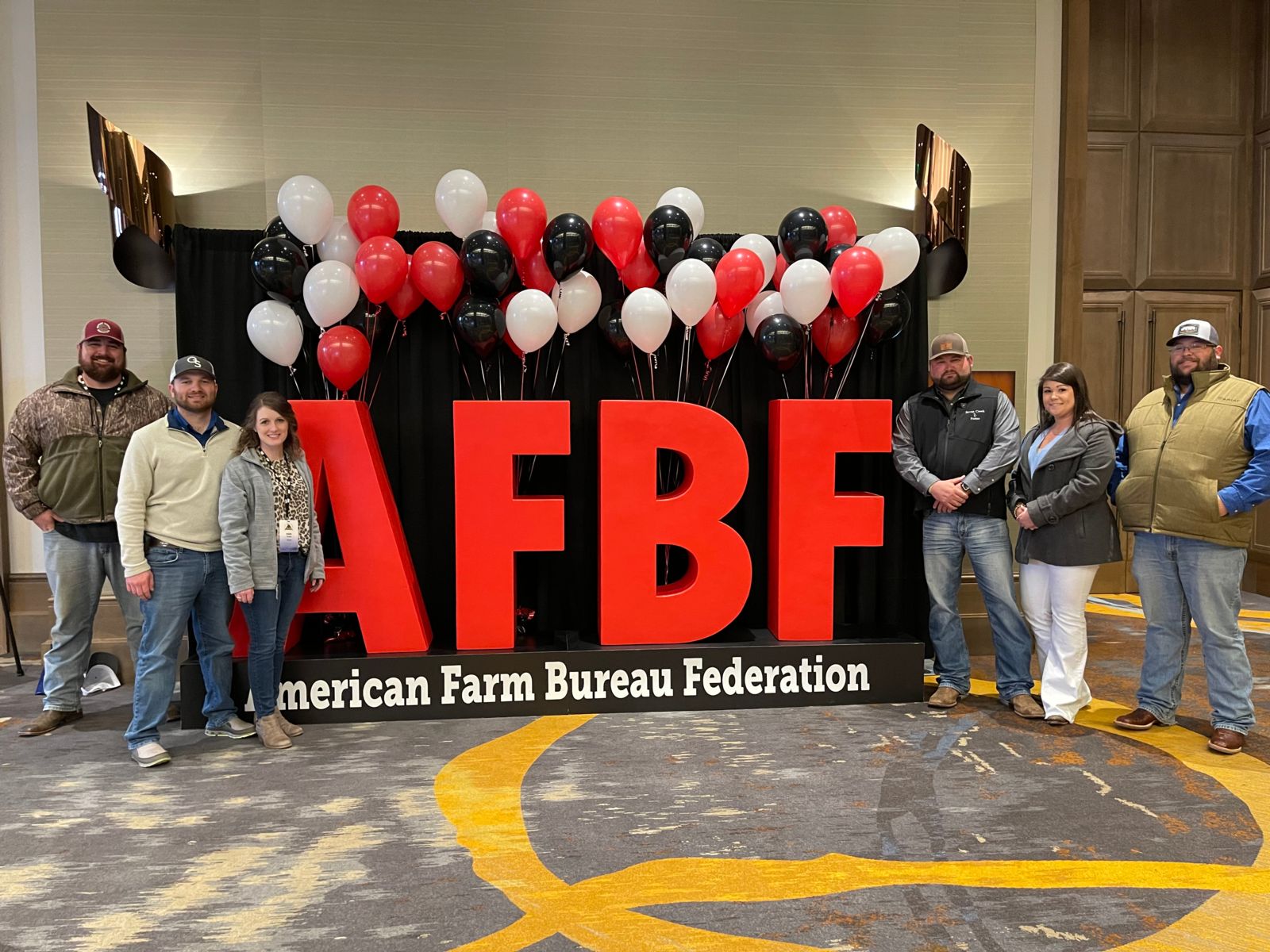 Georgia's delegation included, from left, Cody Powell, 9th Dist., Decatur Co.; Bryan & Addie Tucker, 8th Dist., Wilcox Co.; Committee Chairman Walt Pridgen, 10th Dist., Coffee Co. & fiancé Mary Elizabeth Branch; and Colt Hart, 2nd Dist., Franklin Co. Others attending but not pictured were: LeAnna Hart, 2nd Dist., Franklin Co.; Anna Leigh Peek, 3rd Dist., Newton Co.; Stephen & Tara Green, 5th Dist., Spalding Co.; & GFB 6th Dist. Federation Manager Heather King & her husband, Trey.
Photo courtesy of Addie Tucker
By Breanna Berry
Georgia Farm Bureau Young Farmers & Ranchers Committee members traveled to Louisville, Kentucky, Feb. 25 - March 1 to attend the American Farm Bureau Federation's YF&R Leadership Conference. In a nod to the host city's most famous event, the conference theme was "The Triple Crown of Agriculture – Food, Fiber, Fuel."
The conference included sessions designed to sharpen the leadership and advocacy skills of the YF&R members attending from across the country, along with tours of farms and ag businesses.
"Our Georgia delegation enjoyed networking with YF&R members from around the country and getting insight on what other states are doing. We are excited to bring ideas back to Georgia for our own conference," GFB YF&R Chairman Walt Pridgen said. "The trip also gave us a chance to bond as a state committee."
During the conference, Emily Leonard of Echols County Farm Bureau competed in the AFBF Collegiate Discussion Meet. She advanced to the Sweet 16 Round and earned a $500 scholarship for her participation. Emily was selected as GFB's competitor by being the highest-ranked collegiate contestant in the 2021 GFB Discussion Meet. She is an agricultural communications major at the University of Georgia.
Ben Cagle, of Cherokee County, was recognized during closing ceremonies for completing a two-year term on the AFBF YF&R Committee that began in March 2020. Cagle and his wife, Vicki, chaired the Georgia Farm Bureau YF&R Committee in 2019. The AFBF YF&R Committee is comprised of 16 positions representing all regions of the U.S. An individual or couple may hold a committee appointment. Members help coordinate YF&R events at AFBF's annual convention, the AFBF YFR Conference and the Harvest for All program.
Georgia Farm Bureau Leadership Programs Coordinator Breanna Berry may be reached at bcberry@gfb.org or 478-474-0679, ext. 5232. Contact your county Farm Bureau if you'd like to volunteer with your local YF&R Committee.