GFB News Magazine
Young Farmers & Ranchers Gaining Ground
---
Posted on February 17, 2019 7:00 PM
---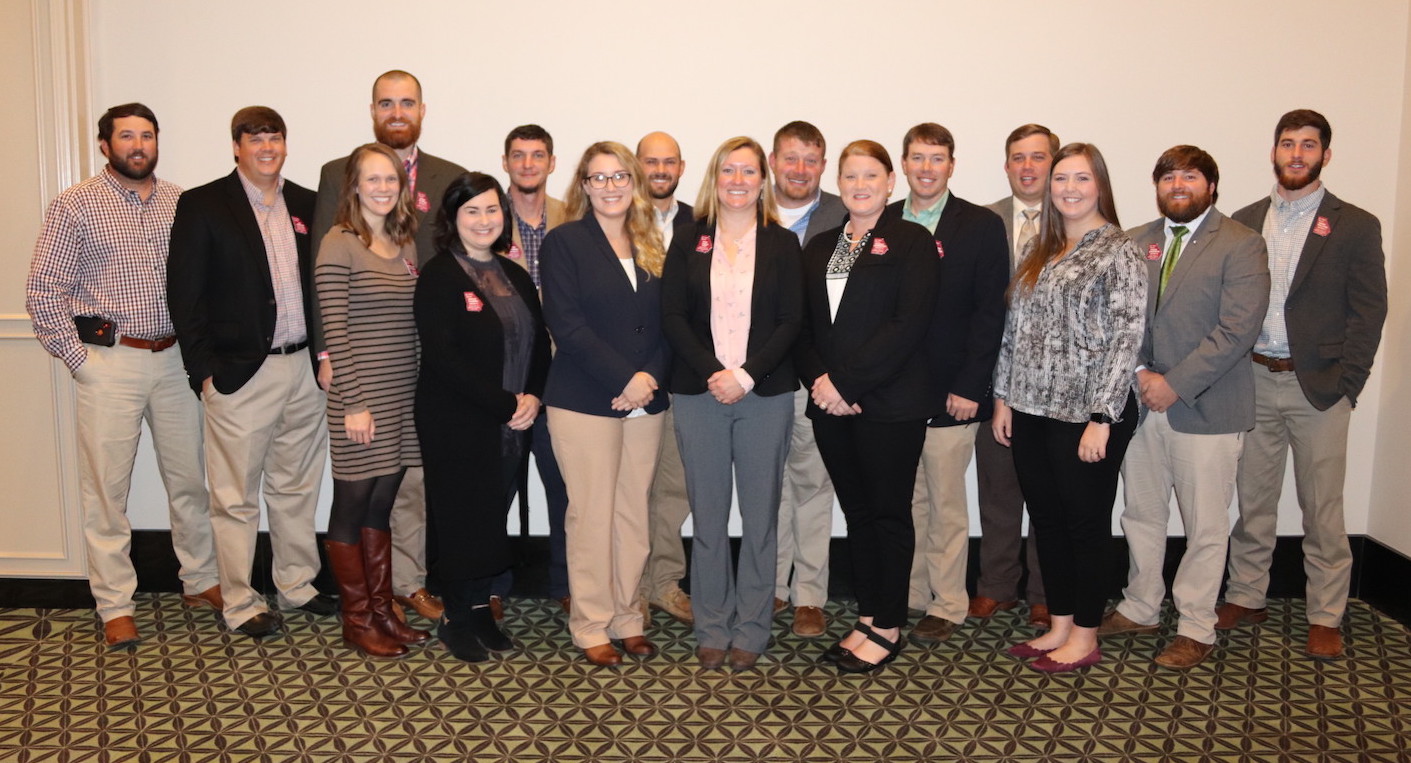 The 2019 Georgia Farm Bureau Young Farmers & Ranchers Committee, from left: Josh Howell (Christina not pictured), Wilkinson County, 6th Dist.; Committee Vice Chairman John Douglas Newton, Jenkins County, 7th Dist.; Brighton & Jesse Patrick, Putnam County, 4th Dist.; Nicole & Brian Fleming, Hart County, 2nd Dist.; Jamie & Brandon Wade, Bacon County, 10th Dist.; Committee Chairmen Vicki & Ben Cagle, Cherokee County, 1st Dist.; Kendall & Preston Jimmerson, Colquitt County, 9th Dist.; Will & Charlsy Godowns, Pike County, 5th Dist.; Cason Anderson, Houston County, 8th Dist.; & Daniel Welliver, Henry County, 3rd Dist.
By Erin Nessmith, YF&R Coordinator
Last year, members of the Georgia Farm Bureau Young Farmers and Ranchers Committee set out to gain ground in the agriculture industry, their communities and in GFB. The hashtag, #GainingGround, was used in YF&R materials, promotions, and as the theme of the 2018 YF&R Summer Leadership Conference. As the YF&R program enters 2019, it is evident the committee met its 2018 goal of Gaining Ground.
GFB's YF&R program was well-represented at the 100th American Farm Bureau Convention in January. You can read more about how Georgia's YF&R contestants did at AFBF on page 15.
The GFB YF&R program looks for- ward to continuing this momentum. All YF&R program award applications and registration forms will be released on March 1. This includes the Achievement in Agriculture Award, Excellence in Agriculture Award, Discussion Meet, and YF&R Member of the Year. Additionally, registration for the 2019 YF&R Summer Leadership Conference also be- gins March 1. Contact your county Farm Bureau office for details.
March will be a busy time for GFB's Young Farmers and Ranchers. From March 5-8, 30 members will travel to Washington, D.C., to meet with elected officials, experience the history of our nation's capital, and learn more about policy development. The next week, the GFB YF&R Committee will travel to Milwaukee, Wisconsin, for the AFBF Fusion Conference.
Visit www.gfb.ag/yfr for more information about the GFB YF&R program or please contact Erin Nessmith at 478-474-0679, ext. 5232 or ennessmith@gfb.org.
Farm Bureau raises $25,600 for Ga. food banks
Georgia Farm Bureau presented the Georgia Food Bank Association a check for $25,600 during the 81st Annual Georgia Farm Bureau Convention. Funds for the donation were raised through Farm Bureau's Harvest for All campaign, which collected donations from county Farm Bureaus, the organization's state office, and the 2018 GFB Young Farmers & Ranchers Committee's "Calf's Weight in Change" drive held last summer.
In addition to helping with purchases of high-protein foods like chicken and peanut butter, donated money helps the GFBA offset costs associated with collecting and distributing food donations. GFB's donation will be distributed among food banks in Savannah, Atlanta, Northwest Georgia, Columbus, Athens, Augusta, Macon and Valdosta.
Since 2004, GFB has coordinated 13 Harvest for All campaigns through which GFB members across the state donated about 49,000 pounds of staple food items in addition to the cash donations distributed to Georgia food banks affiliated with Feeding America.