GFB News Magazine
Wrangler's Georgia jean is green
---
Posted on August 19, 2019 8:00 PM
---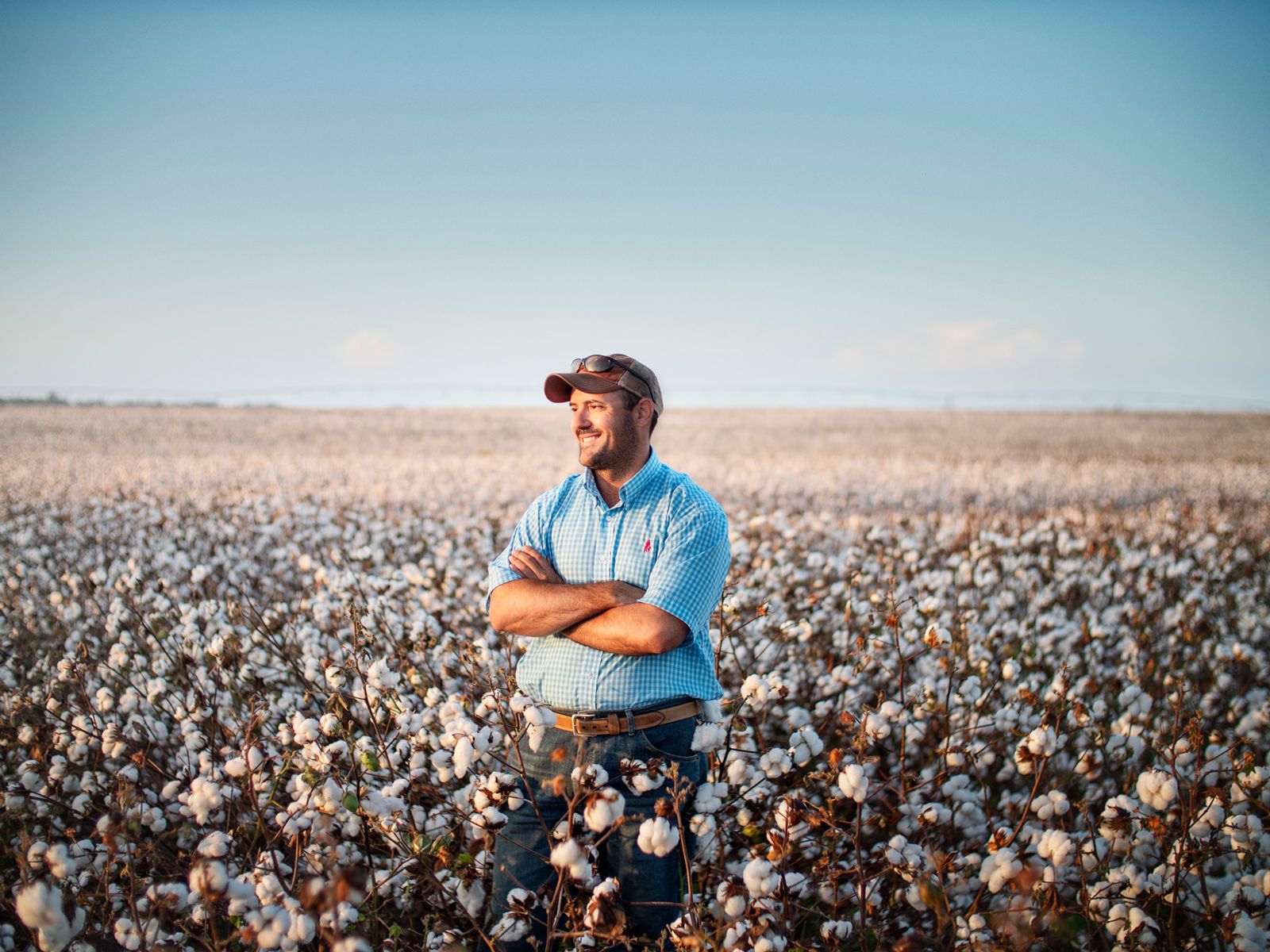 By Jennifer Whittaker, Georgia Farm Bureau News
Calhoun County cotton farmer Adam McLendon has always worn Wranglers. So, it's fitting the iconic American jean company picked the McLendon Family's farm to grow cotton for the Georgia jean that's part of its limited Wrangler Rooted Collection™.
The Georgia jean is one of five state-themed jeans made from cotton grown in each state. Alabama, North Carolina, Tennessee and Texas are the collection's other featured states.
Wrangler selected McLendon Acres, which Adam farms with his dad, Marty, because the family has made sustainable production practices a priority. Wrangler aims to source all of its cotton from farms using best soil health practices by 2025.
Keeping the soil healthy
The McLendons strive to maintain their farm's soil health by rotating the fields in which they grow their cotton, peanut and corn crops to prevent nutrient depletion and pest infestation. Conservation tillage is a big part of the family's effort to maintain healthy soil.
"The benefit of no-till is it gives us good organic matter that builds the soil up. No-till and planting a cover crop after we harvest our crops prevents soil and water run-off during the winter," Adam said. "We may sometimes have to conventionally till due to weed pressure, but we try to no-till as much as we can."
Planting crops with no-till also saves fuel and cuts down on greenhouse gas emissions as it requires fewer tractor trips around a field. The McLendons run soil tests on their fields multiple times throughout the year and apply nutrients based on the test results.
"Understanding how much water the fields can hold and knowing which nutrients are in the fields or need to be added, depending on the crop we're growing, is important," Adam said.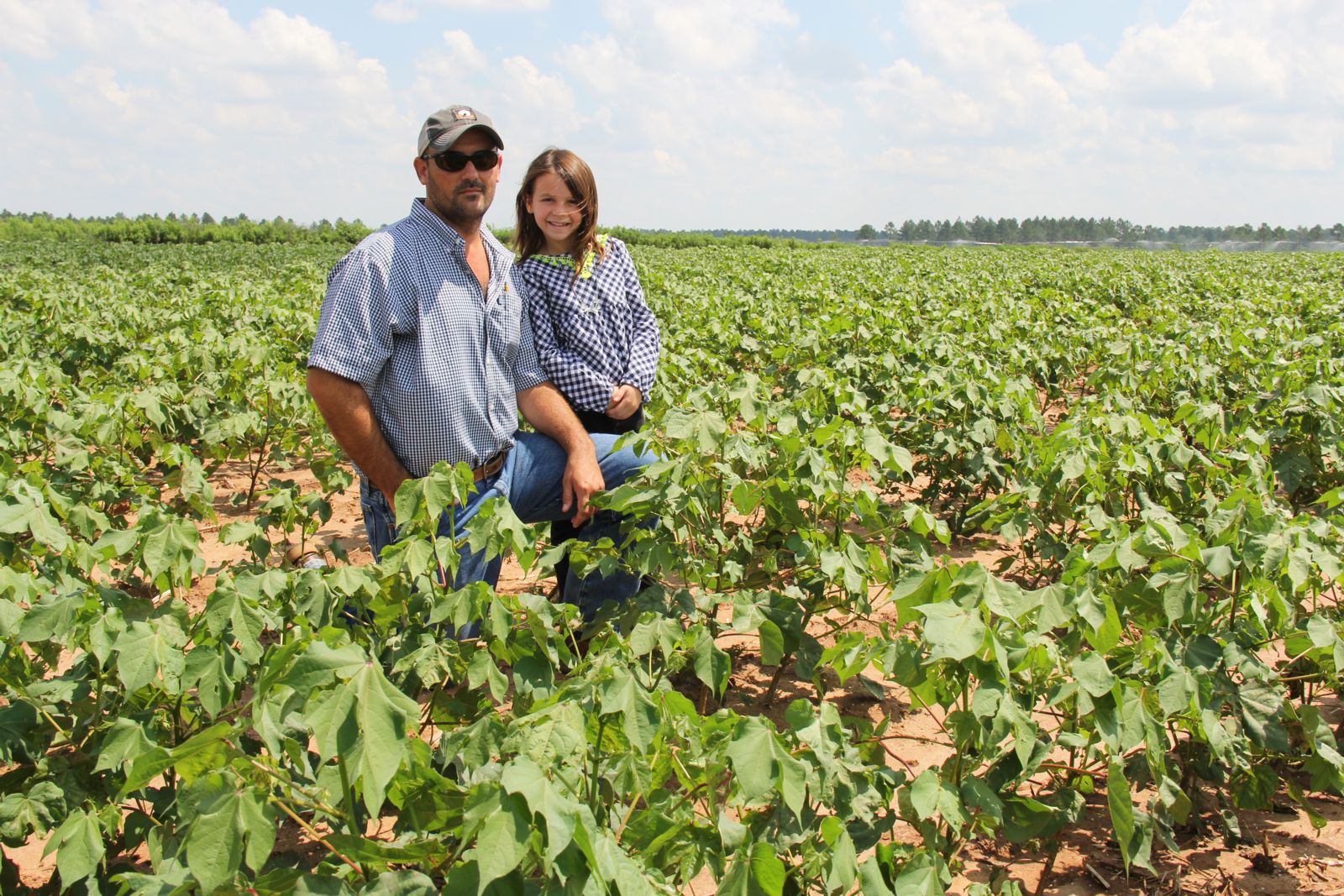 Adam McLendon teaches his daughter, Ella, about using smart irrigation strategies to conserve water. The family uses variable rate irrigation to apply varying amounts of water to different sections of the field based on soil type, soil temperature and soil moisture.
Conserving water
To conserve water, the McLendons rely on the latest irrigation technology. They've installed soil moisture probes in their fields that relay data, indicating how much moisture is in different parts of a field, to a computer system. This technology allows the McLendons to tailor the amount of water they apply to the crop according to its growth stage and other factors such as the soil and air temperature and the type of soil and terrain found in different zones of the field.
"This allows us to put out the right amount of water for the crop as it needs it," Adam explains. "Variable rate irrigation and remote monitoring of our irrigation systems has allowed us to be better stewards of our land."
The family has also equipped their irrigation pivots with end gun shutoffs to prevent water from being wasted.
"We were extremely proud that we've been recognized for growing a sustainable cotton crop,"
Adam said. "We work really hard to be as proactive as we can about conserving water, soil and other resources on the farm. Farmers in general have sustainability at their core. Farmers know the land is how we make our living, and we have the desire to care for the land to continue our way of life. "
Getting picked
The McLendons were recommended to Wrangler by their Stoneville cotton seed representative. The family completed a verification process with Wrangler to vet their sustainability practices through a series of meetings and conference calls, Adam said.
"I was super excited when I found out we were picked. I think it's great what Wrangler is doing. I think most farmers welcome the chance to connect with the consumer. We want people to realize how hard we work and what we're doing to take care of the land. Farmers understand this is the way markets are moving. Field to table and field to store," Adam said.
The McLendons supplied 88 bales to Wrangler from their 2017 crop. Adam said they set aside a 180-acre field for the Wrangler project and then hand-picked the bales they sold Wrangler based on fiber quality, fiber color and mic content (the air permeability of cotton that determines how easily cotton can be processed). Hurricane Michael wiped out most of the farm's 2018 crop, so they weren't able to sell cotton to Wrangler last year.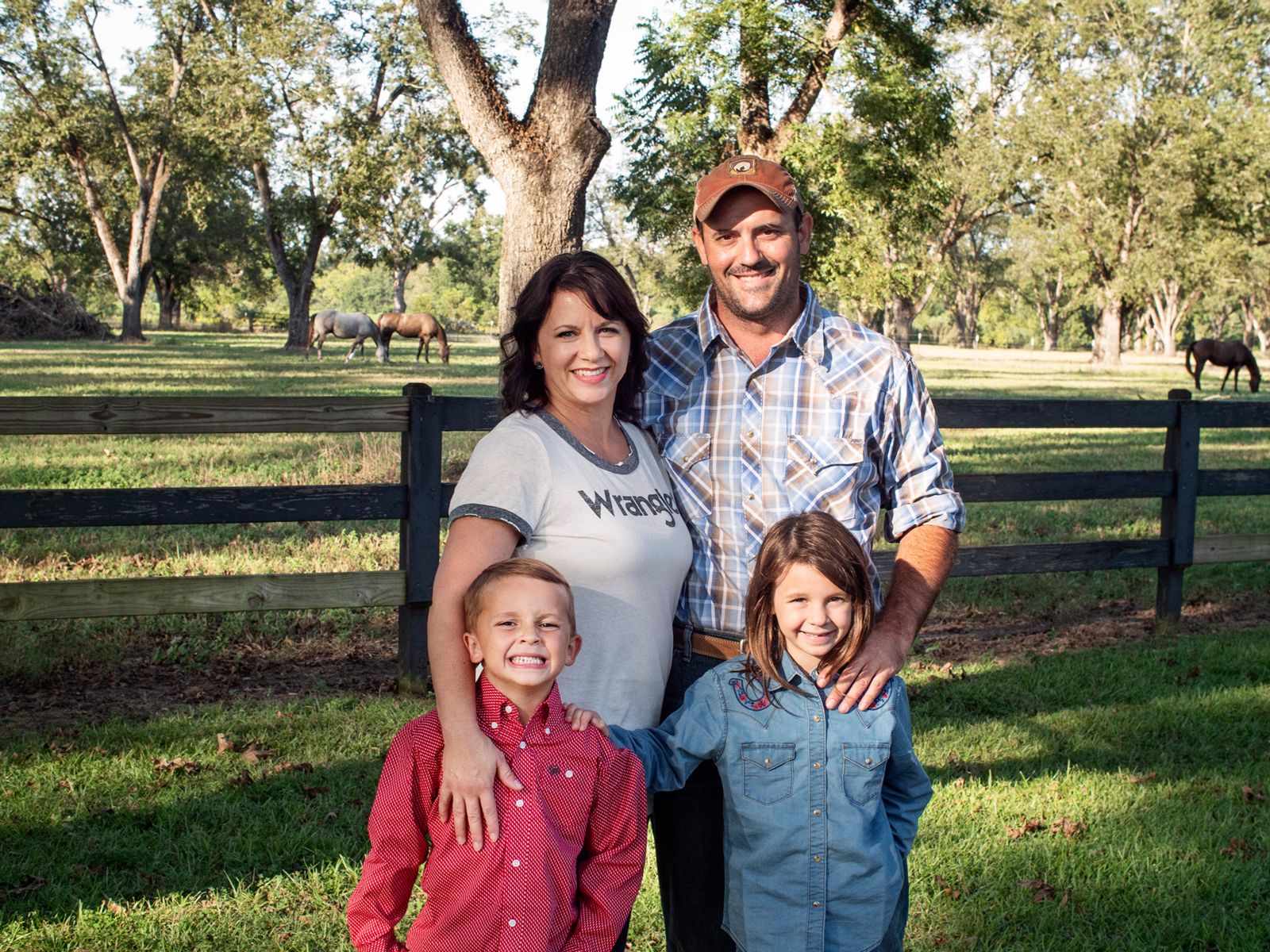 Adam & Haley McLendon with their children Ella & Kirkland.
All American
Not only are Wrangler's Rooted jeans considered green because they are made with 100% sustainable, locally-sourced cotton, but each jean is milled, cut and sewn in the U.S. The denim fabric for the jeans was made in Trion, Ga., by Mount Vernon Mills. The jeans are cut and sewn by Excel Manufacturing in El Paso, Texas.
The Wrangler Rooted Collection is available at www.wrangler.com. The collection also includes two Georgia t-shirts made with cotton grown in Tennessee.