GFB News Magazine
Women's Leadership Update
---
Posted on August 19, 2022 8:00 PM
---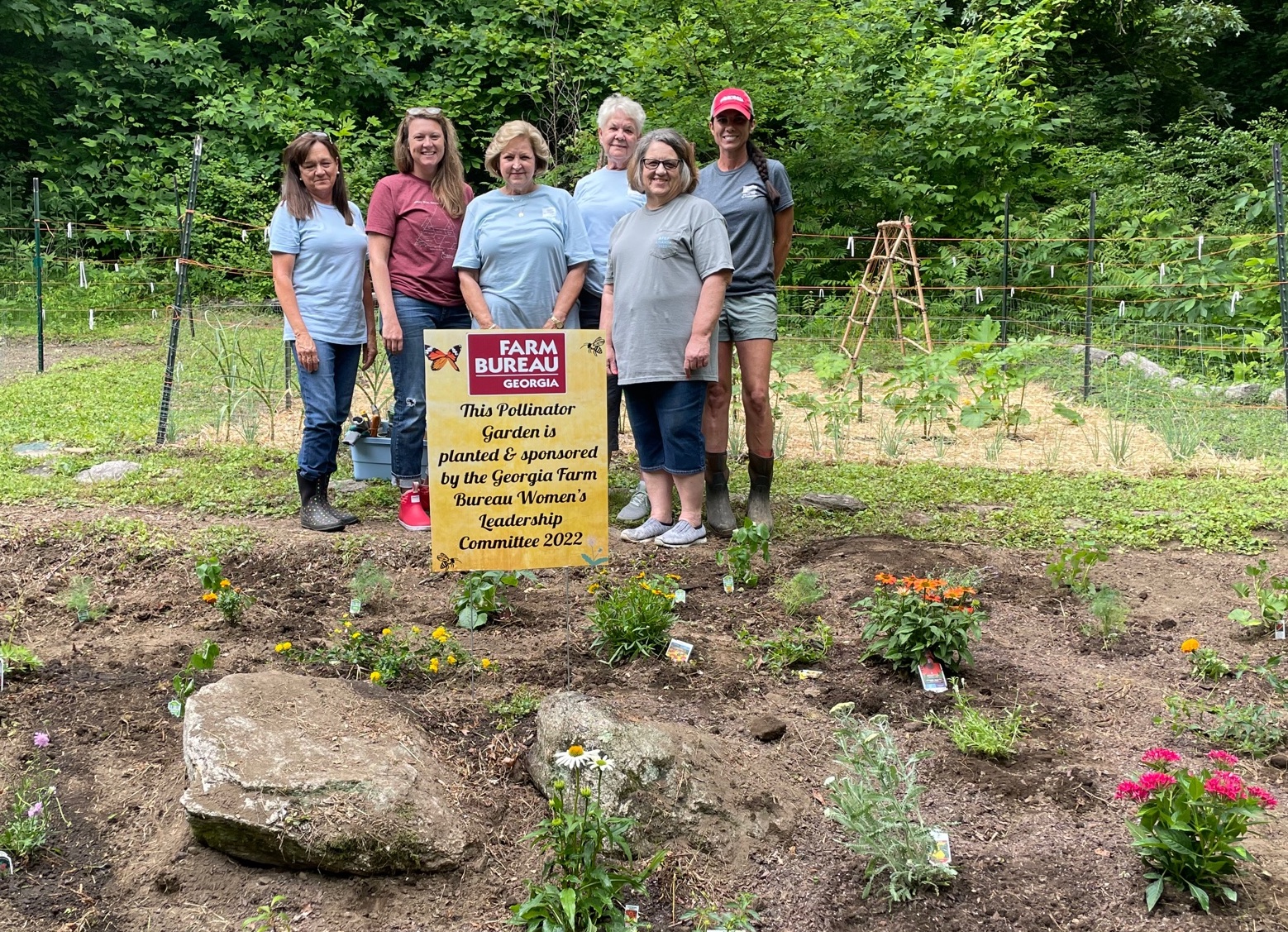 WLC MEMBERS PLANT POLLINATOR GARDEN
GFB Women's Leadership Committee members planted a pollinator garden at the Foxfire Museum this summer. From left, Kathy Sanders, Chairwoman Melissa Mathis, Andrea Sims, Patsy Spear, Vickie Brown and Stephanie Branch. / Photo by Breanna Berry
By Breanna Berry
The Georgia Farm Bureau Women's Leadership Committee (WLC) had a busy summer! Committee members spent a weekend in June planting a pollinator garden at the Foxfire Museum in Rabun County and planning for the upcoming GFB Women in Ag Leadership Summit set for Nov. 4-5 in Peachtree City.
The Women in Ag Leadership Summit is a new conference GFB is offering its female members and non-members interested in agriculture. The conference will have an emphasis on personal and professional development through sessions on education/outreach, advocacy and leadership.
Conference information is available at county Farm Bureau offices and registration opened online Sept. 1. Registration cost is $75 for GFB members and $135 for non-members with a GFB membership included. All Georgia ladies are welcome and encouraged to attend this time of growth, networking, and development for women in agriculture!
Throughout this summer, GFB District WLC Chairwomen continued to host meetings for the ladies in their districts to fellowship, learn about GFB programs and Ag in the Classroom activities. These meetings were held at a farm or agritourism destination in each district to highlight a unique aspect of agriculture in the area.
At press time, meetings had been held in GFB's 1st through 7th Districts. Attendees have enjoyed touring these venues: Dist. 1 – Rosemary and Thyme Creamery at TAG Line Farms in Walker County where attendees toured the sheep dairy and learned about making cheese; Dist. 2 – The Foxfire Museum in Rabun County where Appalachian history is displayed and a Georgia Ag Experience STEM Challenge winner discussed their project; Dist. 3 – Southern Belle Farm in Henry County where participants enjoyed a tour of the strawberry fields and farm; Dist. 4 – White Hills Farm in McDuffie County where attendees learned about growing lavender and other herbs; Dist. 5 - Cooley Farms in Crawford County where guests learned about poultry production; Dist. 6 – Sonrise Farms and Windham Greenhouses in Laurens County where participants learned about growing blackberries, pecans and plants grown for garden centers; and Dist. 7 – WilMor Farm in Candler County where guests toured seedling greenhouses/flower beds and made wildflower bouquets.
GFB Leadership Programs Coordinator Breanna Berry may be reached at bcberry@gfb.org or 478-474-0679, ext. 5232. Contact your county Farm Bureau to become involved with its Women's Leadership Committee.