GFB News Magazine
What's in the farm bill?
---
Posted on May 16, 2023 8:00 PM
---
By Jay Stone, Georgia Farm Bureau
Congress is working to finalize a new farm bill, the legislation that determines U.S. farm policy.
The farm bill has historically garnered bipartisan support in Congress.
According to a Morning Consult survey commissioned by American Farm Bureau, 73% of Americans believe failure to pass it would significantly impact our country. Considering recent global disruptions to the supply chain, most Americans believe ensuring the U.S. has a safe and abundant food supply is a national security priority, the survey showed. Farm bill programs benefit consumers by providing food to economically challenged citizens and protecting soil and water resources and wildlife habitats.
The farm bill is rewritten every five years. The 2018 bill, "The Agricultural Improvement Act of 2018," expires Sept. 30. If new legislation is not passed, the law reverts to its 1949 version, though Congress can extend it while the new bill is being finalized.
The farm bill has 12 titles: Commodities & Disaster; Conservation; Trade; Nutrition; Credit; Rural Development; Research; Forestry; Energy; Horticulture; Crop Insurance; and Miscellaneous.
The bill's budget is dominated by the nutrition, crop insurance, commodities and conservation titles, which account for 99.5% of all expenditures, according to the Congressional Research Service (CRS). The 2018 bill budgeted $663.8 billion for nutrition, $77.9 billion for crop insurance, $61.4 billion for commodities and $59.75 billion for conservation over 10 years.
The CRS' preliminary baseline projections, issued in February, for these programs over the next 10 years are $1.2 trillion for nutrition, $96.97 billion for crop insurance, $57.48 billion for conservation and $56.99 billion for commodities.
Here's a look at the "big four" titles:
Title I, Commodities
The commodity title provides stability to eligible producers of major commodity crops, including wheat, corn, soybeans, peanuts, rice, dairy, and sugar by setting a minimum price farmers can receive if market prices fall below production costs. The commodity title authorizes the Price Loss Coverage (PLC), Agricultural Risk Coverage (ARC) and Marketing Assistance Loan programs.
Producers must meet requirements to qualify for payments under PLC, ARC and the marketing loan program, including being actively engaged in farming and having adjusted gross income below established limits. There is a cap on how much money individual farmers can receive under the commodity programs. Participating producers must choose between PLC and ARC for a given commodity.
PLC payments are triggered for farmers when the effective price for a specific commodity falls below the commodity's reference price, the minimum amount farmers need to get for their crop to break even. PLC has been the more popular of the two programs among Georgia farmers.
ARC establishes a revenue guarantee in each commodity. ARC comes in two forms – ARC-CO (County) and ARC-IR (Individual). ARC-CO payments are triggered for participants when revenue from a commodity in their county falls below the guarantee. ARC-IR payments are tied to historical revenue from a specific commodity on an individual farm.
For a detailed description of programs under the commodities title, visit https://gfb.ag/commodities.
Title II, Conservation
The conservation title provides incentives for farmers to set aside land or use practices that protect natural resources. The conservation title authorizes the Conservation Reserve Program (CRP), the Environmental Quality Incentives Program (EQIP) and the Conservation Stewardship Program (CSP), among others.
CRP is referred to as a "land retirement program." Farmers who enter CRP contracts agree to take specified land out of production for 10 or 15 years. In return, the federal government compensates the farmer at a cash rental rate based on National Agricultural Statistics Service (NASS) averages for the farm location. In 2022, Georgia farmers enrolled a total of 184,000 acres in CRP, the USDA Farm Service Agency reported.
EQIP and CSP are classified as "working lands programs," which incentivize farmers to adopt production practices that will conserve natural resources on their farm.
Under EQIP, farmers who agree to follow conservation practices on their farms receive financial assistance. Practices EQIP supports include nutrient management, no-till, strip-till, cover crops, field-edge filter strips and fences to keep livestock out of streams.
To participate in CSP, farmers must demonstrate their conservation efforts and agree to continued environmental improvement tactics in contracts up to five years.
For a detailed description of programs under the conservation title, visit https://gfb.ag/conservationtitle.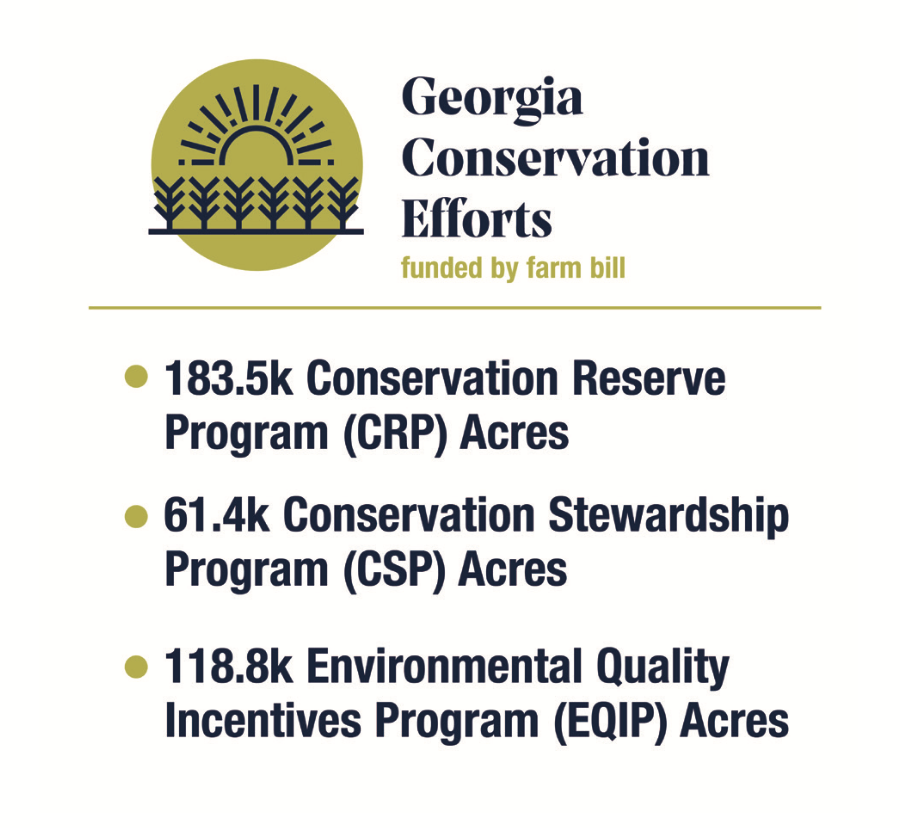 Title XI, Crop Insurance
The Federal Crop Insurance Program (FCIP), established in 1938, is a key component of federal support for U.S. farmers.
FCIP facilitates farmers' access to private insurance covering financial losses because of poor growing or market conditions. Congress has expanded FCIP to cover more commodities and address more types of risks in the past three farm bills. According to the Congressional Research Service, USDA crop insurance subsidies covered about 62% of total premiums sold in 2021, covering 444 million acres and $150 billion in livestock and crop value.
To learn more about FCIP, visit https://gfb.ag/cropinsurancetitle.\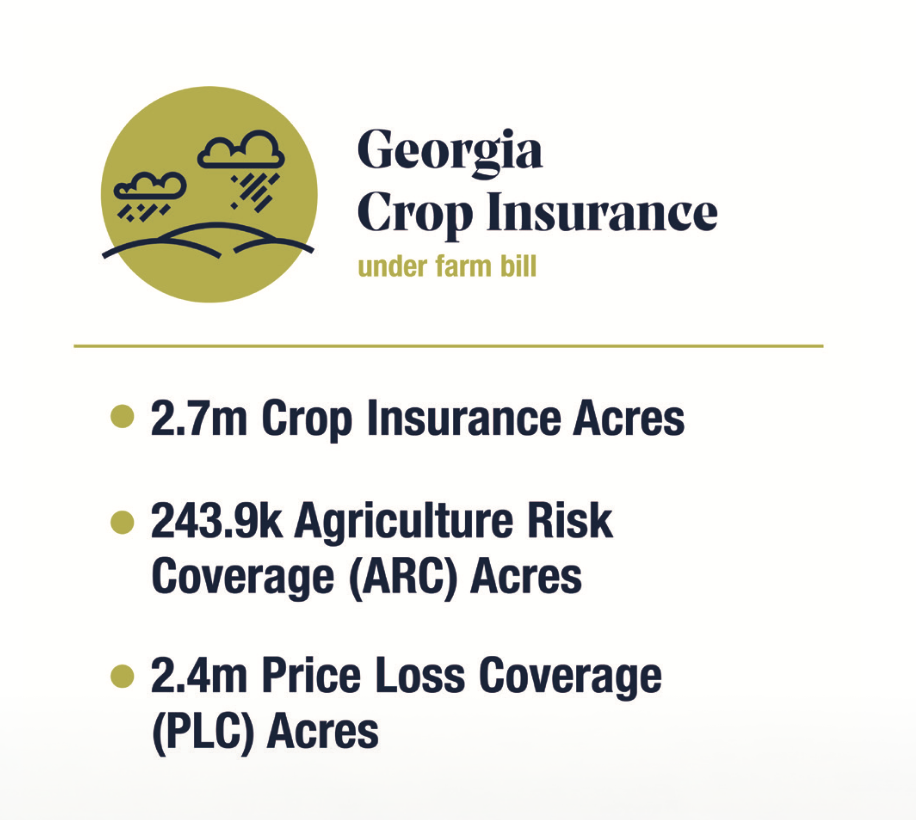 Title IV, Nutrition
The nutrition title is especially important because it ensures financially insecure Americans have access to nutritious food. In the 2018 farm bill, the nutrition title accounted for 76% of farm bill expenditures and was the largest component of the farm bill.
The nutrition title dates to 1964. It has grown to include multiple nutrition programs, the largest by far being the Supplemental Nutrition Assistance Program (SNAP), which enables economically challenged people to buy food. Other programs include the National School Lunch Program and Senior Farmers' Market Nutrition Program.
For more information, visit https://gfb.ag/nutritiontitle.