GFB News Magazine
Survey says farmers stressed. Now what?
---
Posted on May 26, 2020 8:00 PM
---
By Jay Stone
A survey conducted last December at the 2019 Georgia Farm Bureau Convention by the University of Georgia School of Social Work
and UGA Cooperative Extension Service showed Georgia farmers are highly stressed. And that was before the COVID-19 pandemic.
In December, School of Social Work Dean Anna Scheyett had been researching rural stress for more than a year. She started in 2018 after Dr. Sam Pardue, then dean of the UGA College of Agricultural & Environmental Sciences, mentioned the alarming rates of farmer suicides nationwide. Scheyett pored over statistics from the Centers for Disease Control and Prevention but wanted more tangible information. So, she surveyed GFB members.
The results weren't pretty.
"What we found, was on a scale of one to five, people were rating farmer stress as over a four," Scheyett said. "It was really high, and they indicated that it was higher than the prior year."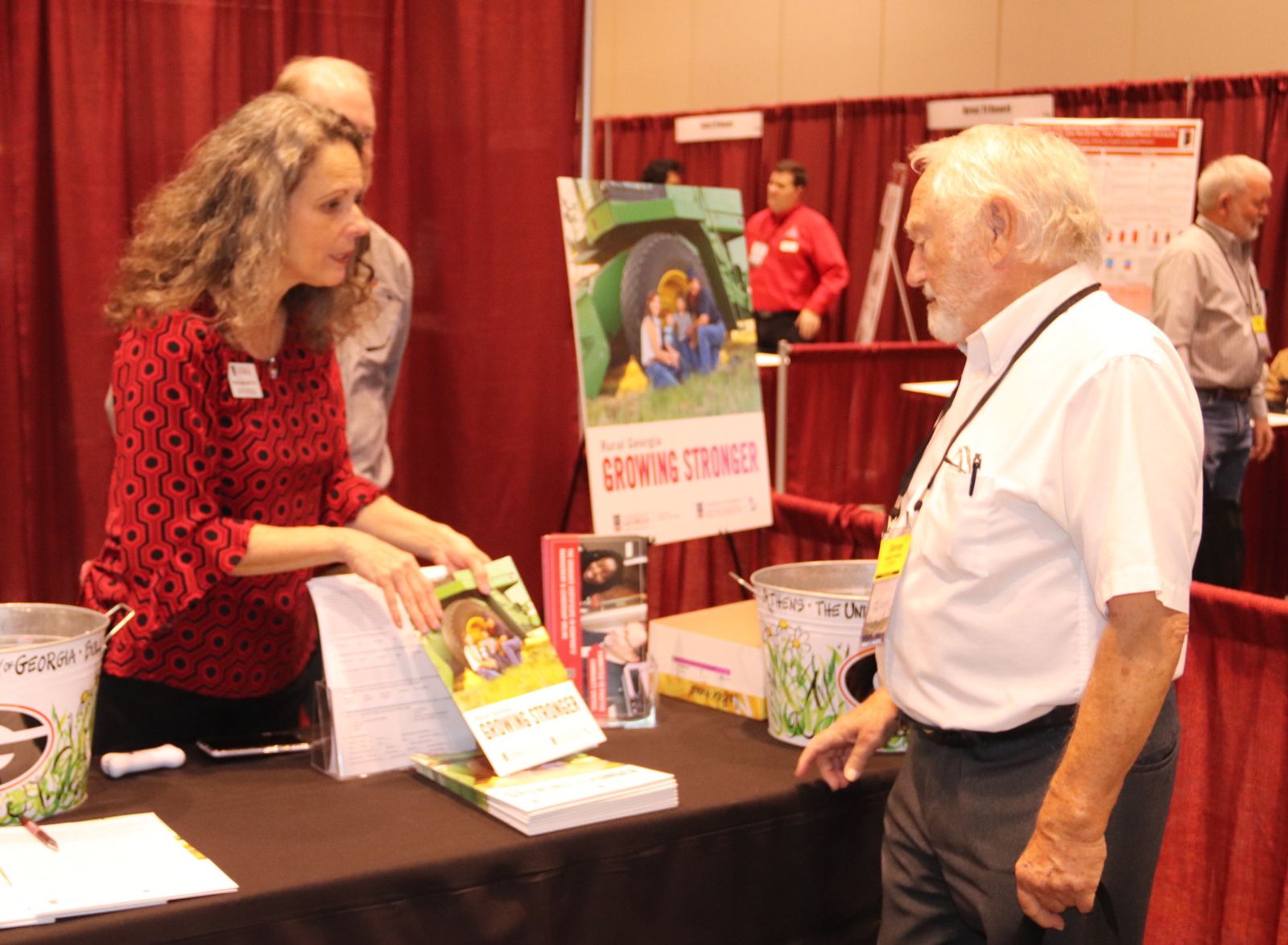 UGA School of Social Work Dean Anna Scheyett, left, surveyed farmers at the 2019 GFB Convention about their stress levels.
Photo by Jay Stone
The survey also asked farmers how confident they were they'd know what to do to intervene if they knew someone who was struggling with emotional or behavioral issues. Forty percent told Scheyett they were not confident.
"It's not a comfortable subject, but it's one we've got to talk about," Scheyett said.
Fast forward to this spring. Like everyone else, Georgia farmers have found themselves wrestling with the COVID-19 pandemic, which has brought new challenges like market interruptions. The pandemic has also increased the isolation of an occupation that by its nature was already isolated.
"One of the great kind of buffers and protectors for stress is having a strong social network," Scheyett said. "Now, not only do we have stress, but we're supposed to be isolating, so our network feels weaker."
On March 19, the federal government declared agriculture a critical infrastructure industry essential to the COVID-19 response, which meant farmers and those in agricultural jobs could keep working. But changing consumer habits upended how and where agricultural products are normally sold, creating one more uncontrollable factor for farmers to deal with.
How can I manage my stress?
Scheyett offers these recommendations for managing stress and its effects on you:

The COVID-19 pandemic has affected virtually every facet of life. Because the pandemic is all-encompassing, it has prompted non-stop news coverage. That doesn't mean you have to watch or hear or read all of it.
"I think you really have to limit your consumption of news. Initially I think a lot of people get kind of obsessive about it," Scheyett said. "I think it's OK to turn the TV off."

"You have to think about the place that feels safe for you to go talk. Maybe it's a spouse. Maybe it's your doctor, maybe it's your preacher or a friend. There are counseling centers where you can go and get professional help," Scheyett said.

"If you're starting to think things like, 'I can't get out of this, life is not worth living,' then please go talk to somebody professionally."

Find a few minutes in the day to pause and breathe. Pay attention to your health.
"When people are working constantly and very stressed, they don't stop to drink water, they don't stop to eat well. They don't stop to get enough sleep," Scheyett said. "So, take care of yourself physically. What crop ever failed because of 10 minutes? Taking a 10-minute walk or sitting for 10 minutes and drinking a bottle of water. It's not going to ruin your farm. But it might ruin you if you don't do it."

Convert the time you might have spent consuming news into something that makes you happy or serves others.
For example, Scheyett said, "Go somewhere else and think about starting a project writing notes to people in assisted living facilities who are isolated. How can I turn that into something positive, how can I do something positive?"
UGA offers stress resources
The UGA School of Social Work has collaborated with UGA Cooperative Extension on the Rural Georgia: Growing Stronger project. The project's website, www.gfb.ag/ruralgagrowingstronger serves as a clearing house for a wide variety of resources for individuals who may be struggling and for people and organizations seeking ways to help.