GFB News Magazine
Sunbelt Ag Expo back in business
---
Posted on November 11, 2021 7:00 PM
---
By Jennifer Whittaker
Attending Sunbelt Ag Expo this year was like going to a family reunion after you haven't been to one in a while. With Expo canceled last year due to COVID-19, ag enthusiasts were eager to return when the gates opened Oct. 19-21 for the 43rd show.
"This is going to be the best Sunbelt. Why? Because we're having it," Sunbelt Expo Executive Director Chip Blalock joked during the opening ceremony. "This past year has been a hard year on live events. Thanks so much for all of our farmers, exhibitors and attendees for coming back in such a big fashion."
Virginia shined as the 2021 Sunbelt Expo Spotlight State of the Year. Virginia's exhibit highlighted the commonwealth's cattle, cotton, equine, peanut and tobacco production.
Visitors learned about Virginia's agricultural history and ag advancements during the past 400 years that led to the commonwealth's ag and forestry sectors having a combined total economic impact of $70 billion on the state's economy.
Southeastern farmers honored
2020/2021 Georgia Expo Farmer of the Year Lee Nunn and nine other state winners vied for the Swisher/Sunbelt Ag Expo Southeastern Farmer of the Year Award. Nunn, a Morgan County Farm Bureau director, grows wheat, soybeans, cotton, corn and winter field peas. He also owns a custom farm service business harvesting crops for other farmers, has an ag construction company building farm structures and fencing for other farms, and operates a small trucking company.
South Carolina's Bob Hall, a fruit and vegetable producer, was named the '20/'21 Swisher/Sunbelt Expo Southeastern Farmer of the Year. Hall and his wife, Susan, of York, S.C., grow a variety of fruit and vegetables on their farm and operate three fruit stands as part of their Bush-N-Vine Farm.
Other state representatives for the Swisher/Sunbelt Expo Southeastern Farmer of the Year were: Alabama's Thomas Ellis; Arkansas' Jamie Anderson; Florida's Rick Roth Jr.; Kentucky's Stephen Kelley; Mississippi's Joe Edmondson; North Carolina's James Lamb; Tennessee's Jay Yeargin; and Virginia's Charles Isbell Jr.
Article continues below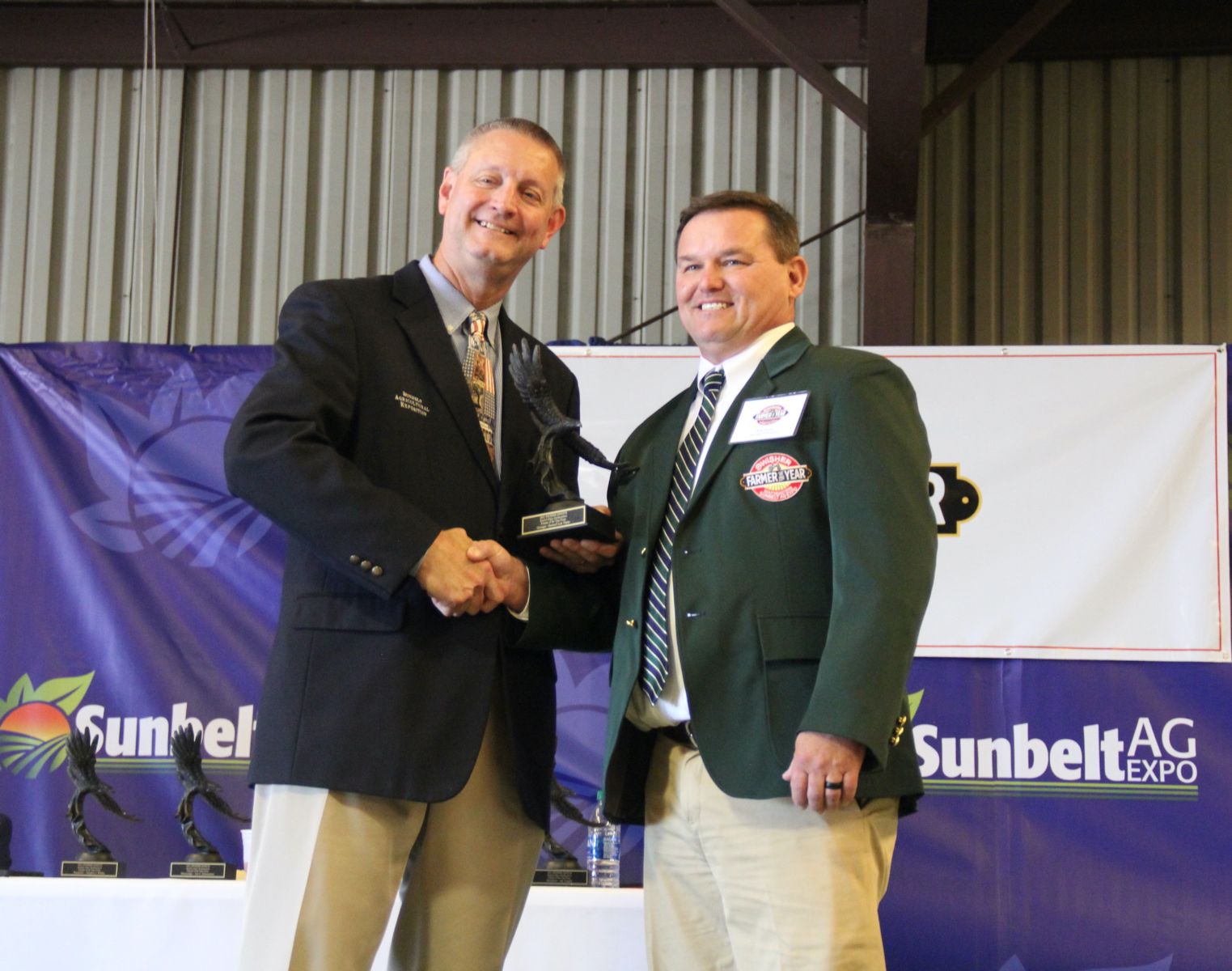 GA Expo Farmer of YR LEE NUNN
Sunbelt Ag Expo Executive Director Chip Blalock, left, congratulates Morgan County farmer Lee Nunn for being Georgia's representative in the '20/'21 Swisher/Sunbelt Expo Southeastern Farmer of the Year contest. | Photo by Jennifer Whittaker
Kemp applauds farmers
"Farmers are so important," Gov. Brian Kemp said while speaking at the Expo lunch on opening day. "You can't stay home as others can when there's bad weather or a virus shuts things down. We appreciate what you do to keep us fed."
Kemp discussed efforts the state has made in the past year to bring new jobs and business to Georgia, saying, "We had a record year for job development in Georgia. Seventy-four percent of the projects and jobs have happened outside of Metro Atlanta."
He thanked members of the Georgia General Assembly, Georgia Agriculture Commissioner Gary Black and various associations for working together to bring economic growth across the state.
Shiny new farm equipment
Checking out new farm equipment is a big part of the Expo experience for many attendees.
John Deere unveiled its CP 770 cotton picker at Expo. Although the new picker was available for farmers to order last year, Expo was the first farm show the new round-bale cotton harvester was demoed at, John Deere Customer Support Manager Seann Cox said. About five of the pickers have already been delivered to farms in South Georgia, JD Customer Support Manager Bob Long said.
Long said the company's CP 770 cotton picker has a larger cab that is quieter than previous models and offers farmers better visibility. The cab of the CP 690 model can fit inside the CP 770 cab.
Article continues below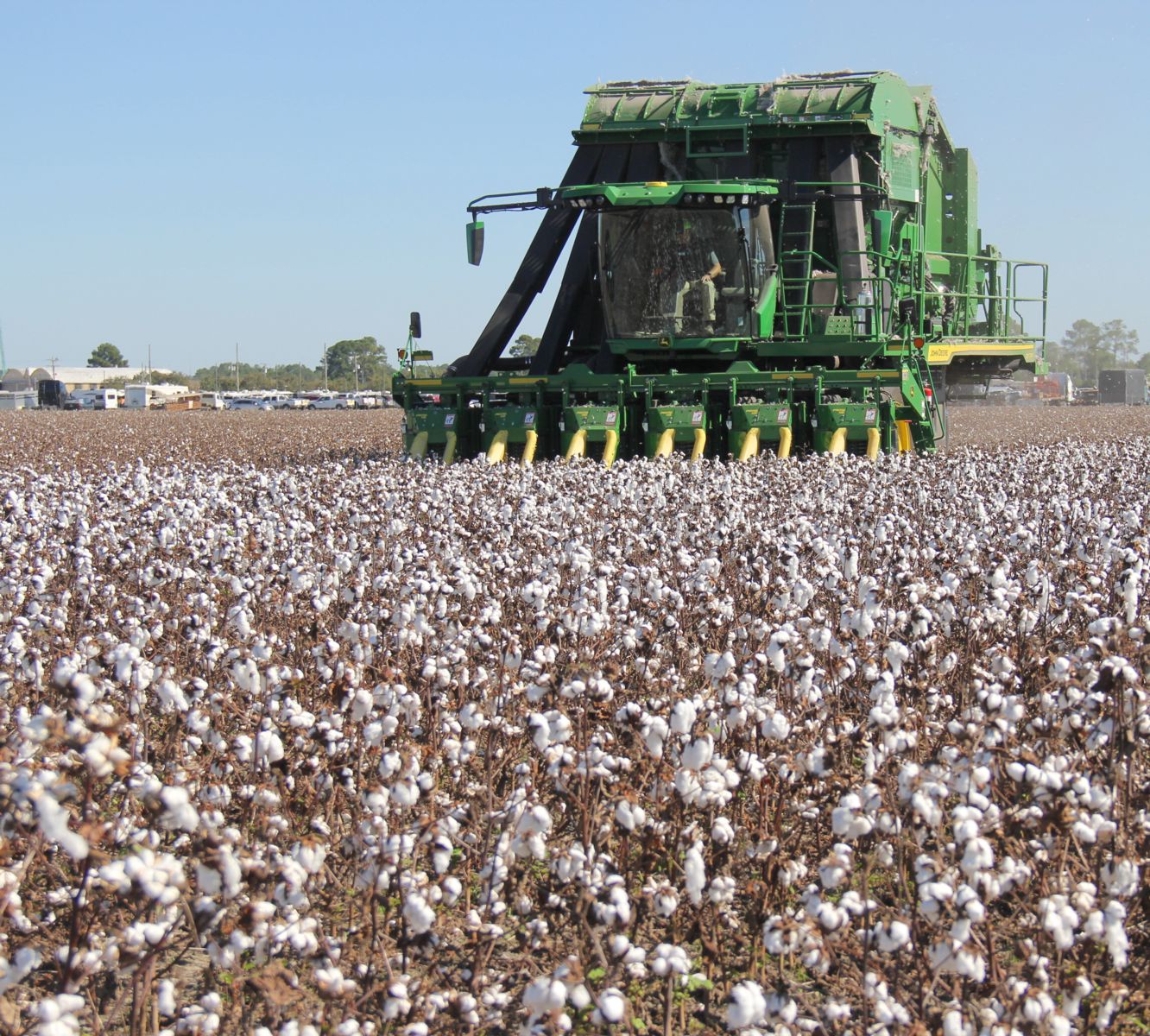 The six-row picker runs on a 13.6 Liter engine versus the 13.5 L engine in the CP 690 picker, Long added, which makes the 770 model about 20% more fuel efficient than the CP 690 model.
The CP 770 model can run up to 4.6 miles/hour compared to the 4.4 miles/hour speed of the CP 690, Long added. "This may not sound like a big deal, but over the course of a day's harvesting it adds up," Long said.
The CP 770 cotton picker can produce a bale with a maximum diameter up to 96 inches. Farmers may set the picker to produce a 94-inch round bale if they prefer, Cox said.
Kelly Manufacturing Company (KMC)'s 7406 peanut picker was used to harvest the Expo farm's peanut crop. Attendees were also able to see KMC's stalk shredder in action in the cotton and peanut fields. Shredding the stalks of both crops after the cotton and peanuts are harvested, helps reduce pest populations and speeds the process of returning organic matter back into the soil.
Massey Ferguson displayed its redesigned 5S and 8S tractors, which AGCO Marketing Product Specialist Adam Sills said were retooled with user experience in mind.
"You think about your car, the operator experience. Our engineers interviewed a lot of farmers from around the world. Big farmers, small farmers, men, women, custom applicators. We really wanted to get what they want out of a tractor," Sills said. "The No. 1 thing was the cab. They want comfort."
The cabs on both tractors have new comfort features such as placing the operator joystick in the armrest and having tiltable steering wheels that allow for easier cab entry and exit.
The 5S, designed for use by hay and livestock producers, is available with 115 hp to 145 hp and is built on the same frame as the Massey Ferguson 5700S series tractors. The 8S, designed for row-crop farmers, is built on the company's 7700S large frame format.
The 8S, available with 205 hp to 265 hp, is configured with a 9.5-inch gap between the front of the cab and the rear of the engine box, allowing enhanced cooling of both the engine and the cab and a quieter ride.
Kubota rewards a veteran
Master Gunnery Sergeant Tracy Robinson (USMC-Ret.) Tracy Robinson, received the one-year use of a Kubota M8 tractor from Kubota Division Manager John Sargent, and Southern Tractor & Outdoors owner Mike Horne on behalf of the Farmer Veteran Coalition's Geared to Give program.
Robinson, an Early County Farm Bureau member, grows row crops on about 700 acres. He has farmed since leaving the Marine Corps in 2011 by exchanging his labor for the use other farmers' equipment.
Article continues below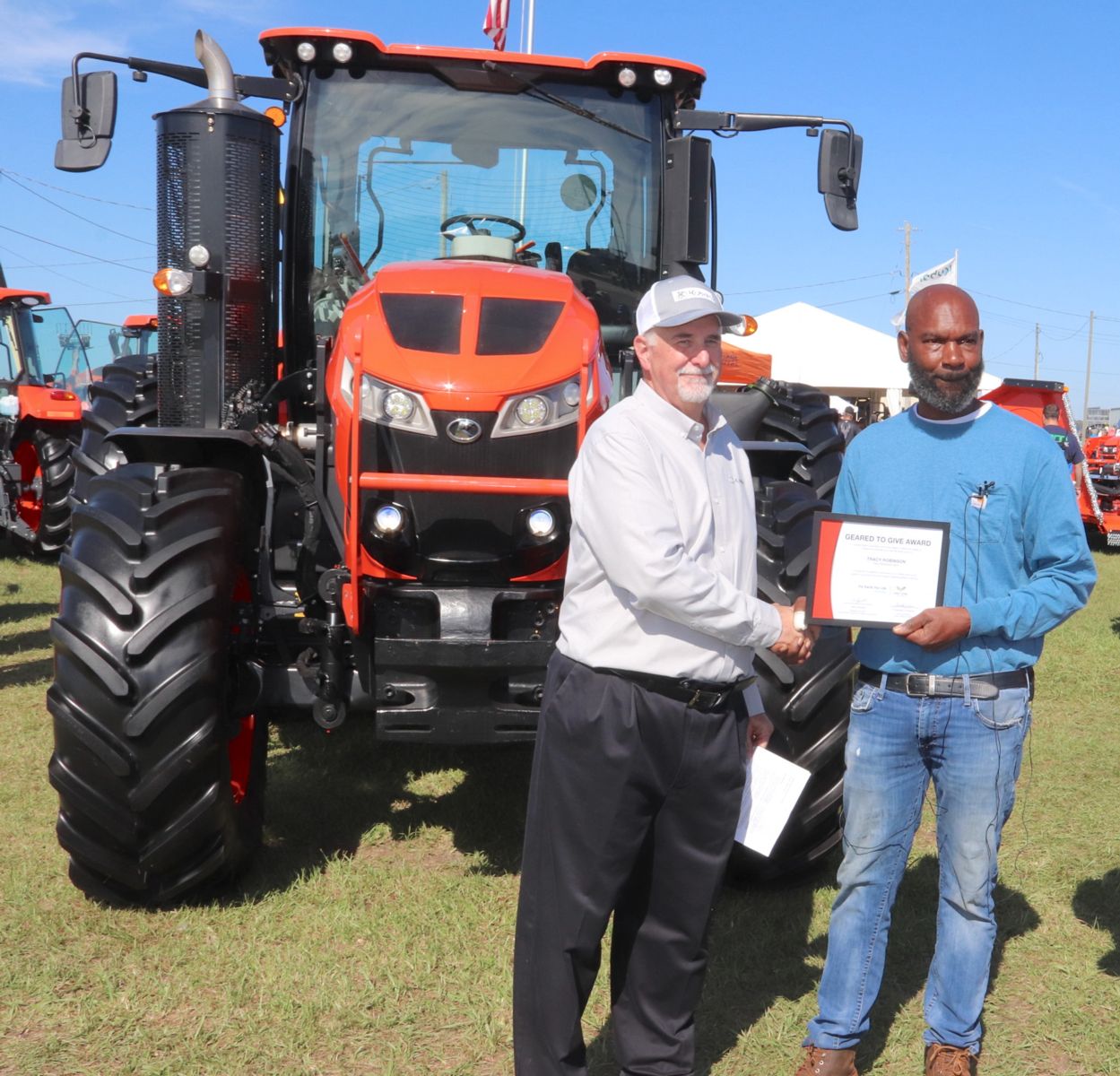 Master Gunnery Sergeant Tracy Robinson (USMC-Ret.) Tracy Robinson, right, accepts the one-year use of a Kubota M8 tractor from Kubota Division Manager John Sargent. Southern Tractor & Outdoors owner Mike Horne provided the tractor on behalf of the Farmer Veteran Coalition's Geared to Give program. | Photo by Jay Stone
GFB promotes Ga. farmers
Georgia Farm Bureau and Georgia Department of Agriculture staff greeted Expo visitors who stopped by the Georgia Agriculture Building. GFB staff recruited new members and discussed how Georgia Farm Bureau works to advocate for farmers and teach consumers how their food is grown.
Jay Stone contributed content to this article.