GFB News Magazine
Morgan Co., UGA teams win Expo/GFB Advocacy contest
---
Posted on November 17, 2022 7:00 PM
---
By Jennifer Whittaker, Georgia Farm Bureau
College and high school students competing in the Advocacy in Action event, held Oct. 19 at Sunbelt Expo, experienced what it's like to be an ag lobbyist.
Morgan County High School (MCHS) FFA prevailed over Crisp County High School (CCHS) FFA and Villa Rica FFA from Carroll County for top honors in the contest's high school division. The UGA College of Agricultural & Environmental Sciences team beat Auburn and Abraham Baldwin Agricultural College in the collegiate division.
Georgia Farm Bureau (GFB) sponsored the 2nd annual contest to prepare the next generation of ag advocates.
As they traveled the Expo grounds meeting with Georgia Rep. Sam Watson, Georgia Peanut Commission Executive Director Don Koehler and Georgia Cattlemen's Association Executive Vice President Dale Sandlin, all teams pitched legislation that would permanently increase the amount trucks hauling ag goods can carry from the current 80,000 lbs. (plus a 5% variance) to 95,000 lbs.
Each team was paired with an ag policy professional who lobbies for Georgia agriculture to give the contestants pointers as they delivered their pitches. GFB appreciates Nathan Humphrey of the National Federation of Independent Small Business, Hunter McBrayer with Alabama Farmers Federation and Jake Tench with Georgia Agribusiness Council for serving as team coaches along with GFB staff Jeffrey Harvey, Alex Bradford and Jake Matthews.
The top three high school teams were selected from 15 entries. ABAC, Auburn and UGA were the only college entries. In the first round of competition, all teams that entered were asked to submit a 2-3 minute video discussing the importance of tax exemptions for farms and agribusinesses.
The MCHS FFA team, consisting of Jalyn Fish, Sydney Fish and Karoline Norton, advised by Rachel Kinsaul, won $1,000. The CCHS FFA team comprised of Maelee Dean, Ryan Kelly and Abigail Kendrick, advised by Jesse Kelly, won $800 as the 2nd place winners. Villa Rica FFA's team of Brody Blair, Chesnee Cartwright and Kalaya Willliams, advised by Bennett Jacobs, won the 3rd place prize of $600.
UGA team members Kaelyn Morgan, Benjamin Easter and Sydney Lamberth, advised by Drs. Jessica Holt and Abigail Borron of the CAES Agricultural, Leadership, Education & Communication Department, won the $1,000 1st place collegiate prize. The 2nd place prize of $800 went to the Auburn team comprised of Kade Griffith, Abigail Lane and Hunter Watkins, advised by Dr. Kim Mullenix. ABAC team members Maddie Anne Davis, Nate McKinney and Colton Peacock, advised by Greta Collins, won the $600 3rd place prize.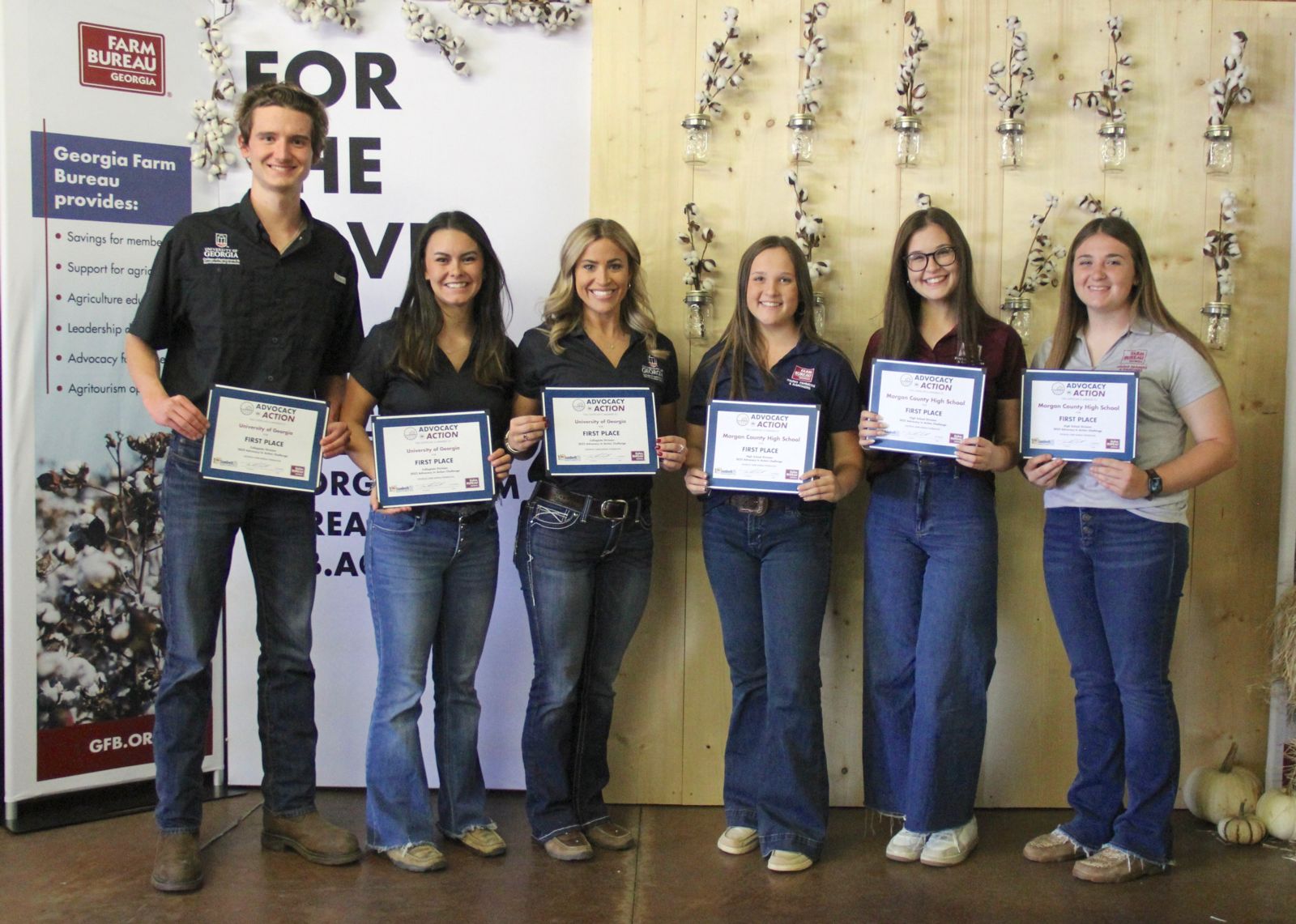 Congratulations to, from left, UGA students Benjamin Easter, Kaelyn Morgan & Sydney Lamberth and to Morgan Co. High School students Jalyn Fish, Sydney Fish & Karoline Norton for winning 1st place in the collegiate and high school divisions of the Advocacy in Action Contest at Sunbelt Expo. / Photo by Jennifer Whittaker