GFB News Magazine
McCall inducted into Georgia Ag Hall of Fame
---
Posted on May 22, 2022 8:00 PM
---
Georgia Farm Bureau President Tom McCall was inducted into the Georgia Agricultural Hall of Fame April 9 during the 66th UGA College of Agricultural & Environmental Sciences (CAES) Alumni Association Awards event in Athens.
Established in 1972, the Georgia Agricultural Hall of Fame honors individuals who make extraordinary contributions to Georgia agriculture and/or agribusiness. Nominees must also have impeccable character, outstanding leadership skills and achievements in other areas.
McCall, who grows grain and livestock on his Elbert County farm, served in the Georgia House of Representatives from 1995 through 2020, representing House District 33. During his tenure, he served on the House Agriculture & Consumer Affairs; Natural Resources & Environment; Transportation; and Game, Fish & Parks committees. He chaired the House Agriculture & Consumer Affairs Committee from 2005 until 2020.
He and his wife, Jane, have two adult children: Al (wife Rachel) and Katie M. Archer (husband Bristol) and two grandsons, Winn and Wilkes.
Hailed as "one of Georgia agriculture's most modest and influential stewards" during his induction, McCall was instrumental in getting the Georgia General Assembly to pass legislation during his 25-year tenure that benefited Georgia farmers, such as bills in 2009 and 2019 that protected producers' right to farm and operate agritourism businesses.
"You don't do anything without your family helping you," McCall said. "And family is not always blood. I have my family, my Capitol family and now my Farm Bureau family."
Prior to his legislative career, McCall was the 1982 GFB Young Farmer Chairman, president of the Elbert County Farm Bureau, a member of the Farm Service Agency's Elbert County committee, a Georgia Farm Bureau director from 1984 through 1996, and a soil conservation district supervisor.
A former 4-H'er, McCall received the 2016 Georgia 4-H Green Jacket Award and a National Honorary American Degree from FFA in 2005.
McCall is an active volunteer with the Friends Helping Friends Club, a nonprofit organization dedicated to providing inclusive educational opportunities to special-needs students in Elbert County at no cost to the school system or students served. The McCalls' daughter, Katie, formed the organization in honor of the couple's late son, Bud.
Poultry pioneer J. Henry Massey was posthumously inducted into the hall of fame. Many credit Massey's work with UGA Cooperative Extension during the 1950s and 1960s for the success of Georgia's poultry sector.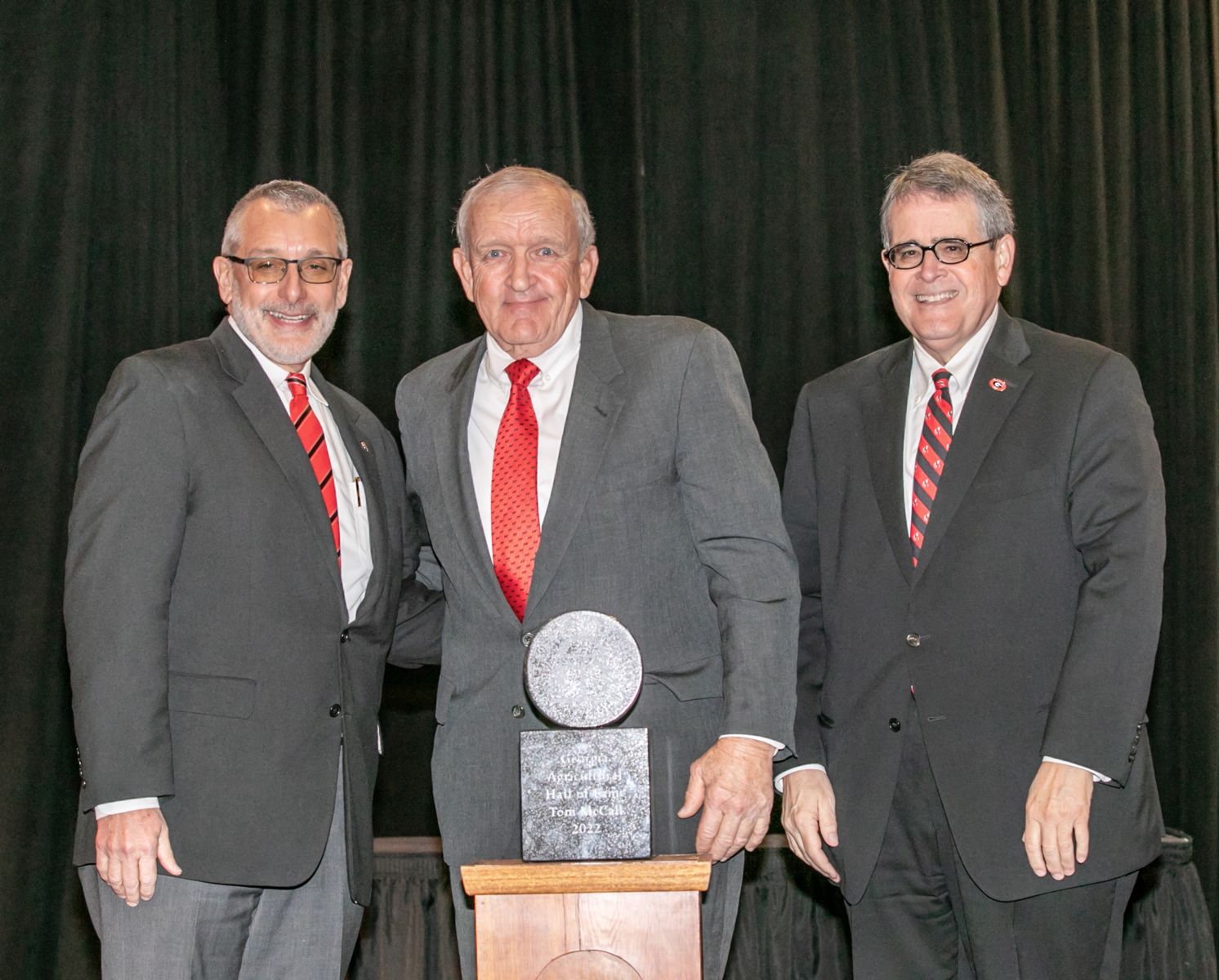 UGA College of Agricultural & Environmental Sciences Dean Nick Place, left, & UGA President Jere Morehead, right, induct Tom McCall into the Georgia Agricultural Hall of Fame.
Photo by Blane Marable for CAES